High Strength CBD Gel Capsules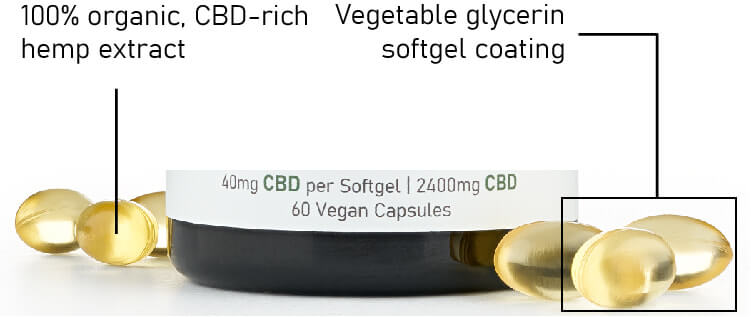 Since the Farm Bill of 2018, many people have tried to capitalize on the boom of CBD and other hemp-based vegan CBD products. Unfortunately,  a side effect of this is improperly labeled, or low-quality CBD products. There is even a report the Food and Drug Administration announced in 2020. This report acknowledges the falsely labeled CBD products they found during their investigation. We aren't telling you this to scare you, but it is important you know the real truth about the situation our industry is in.
Thankfully, New Phase Blends sets the standard in CBD products. Our vegan CBD gel capsules are nothing short of the best vegan CBD on the market. You may find a product of similar quality, but you will not find anything better. All products are carefully made in a GMP certified facility. The hemp used to make these vegan CBD gel capsules is 100% organic. It's some of the highest quality hemp that exists on the planet. Every single product batch is tested by a third party organization that we have zero ties with. The result of this hard work is what you see here.
We guarantee the results of our products, or you can simply ask for a refund in full. We don't ask questions. Offering a money-back guarantee on our products is a testament to how confident we are in the quality of our products. Click the button below to learn more about how vegan CBD pills may help you.
Our CEO guarantees your complete satisfaction with our 'pure' CBD softgels. If you are unhappy with your vegan CBD pills, just return it to us within 30 days of your purchase. That's it! Refunds will be handled within 48 hours of receipt of the return item.
Common Questions About Vegan CBD Gel Capsules
FDA disclaimer: none of the statements on this webpage have been approved by the FDA. These statements have not been evaluated by the Food and Drug Administration. These products are not intended to diagnose, treat, cure, or prevent any diseases. You should consult a licensed physician before starting any supplement, especially if you are pregnant or have any pre-existing medical conditions.