CBD Oil Drops for Energy and Focus
Latest News Network Coverage on 'go':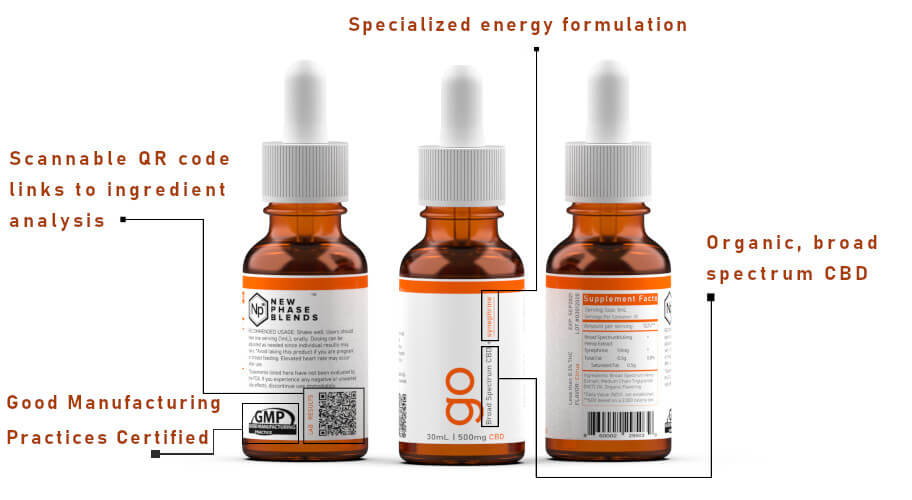 "Go" CBD Oil for Energy by New Phase Blends takes full advantage of the focus-enhancing properties of natural synephrine, combined with a low dose of CBD for an energy boost. Perfect for morning or mid-day use, "go" is formulated to enhance your mental acuity and give you a burst of energy.
Formulated with Synephrine, MCT Oil, and CBD for Energy and Improved Focus
Synephrine is an alkaloid found in a naturally-occurring mixture of phytochemicals in the rind or fruit of bitter orange. It's a caffeine-like stimulant that can increase your focus but doesn't come with the energy crash that's often associated with taking coffee and caffeine-based energy drinks.
Synephrine is also frequently used as a natural weight-loss or energy stimulant that increases fat oxidation rates during exercise. In other words, synephrine helps you burn more fat during physical activity. 
Meanwhile, MCT oil is a natural supplement derived from a fat known as medium-chain triglycerides. MCT is known to stimulate the body's production of ketones — an energy source for the brain that also enhances focus.
By combining CBD, synephrine, and MCT oil, we've created a formula that improves your concentration and increases your energy levels.
Building on the Potency of CBD
New Phase Blends is one of the first — if not the first — CBD and hemp companies to recognize the fact the CBD can be used for energy and not just sedation. 
Cannabinoids alone are great, but when blended with other natural compounds, a synergistic effect occurs like nothing else we've seen. To create "go", we mixed synephrine in small doses of 10mg per serving with lower doses of premium-grade CBD extract to deliver the most powerful CBD-based energy supplement on the market.
"Go" CBD Oil for Energy is backed by our money-back guarantee. If you are unhappy with your purchase, just return it to us within 30 days of your purchase and we'll give you your money back within 48 hours — no questions asked. Order now!
Common Questions About Using CBD for Energy
FDA disclaimer: none of the statements on this webpage have been approved by the FDA. These statements have not been evaluated by the Food and Drug Administration. These products are not intended to diagnose, treat, cure, or prevent any diseases. You should consult a licensed physician before starting any supplement, especially if you are pregnant or have any pre-existing medical conditions.