Dealing with nagging chronic pain? Anxiety problems?
Doctor's pills don't help? There might be hope. It comes in the form of several CBD benefits that you may not even know about.
CBD Benefits to the Rescue!
Cannabidiol, also known as CBD, has become a highly sought-after treatment for many kinds of chronic pain and as well as many mental disorders.
Praised for its anti inflammatory properties that have been proven in various clinical trials, CBD is quickly gaining popularity all over the world.
Today, the medical cannabis market is abundant in quality CBD oil products. So, yeah, I guess it's no wonder that CBD may be confusing to understand how different products work and what medical conditions they can be used for.
What is CBD Oil?
CBD oil is made from the cannabis sativa plant. It is one of the hundreds of cannabinoids which are chemical compounds found in the cannabis plant.
CBD, or cannabidiol, is a non-psychoactive plant compound derived mainly from industrial hemp plants. CBD derived from industrial hemp is legal in all 50 states because it contains negligible amounts of THC, the intoxicating compound in marijuana.
CBD is considered a superfood because of its unique ability to activate cannabinoid receptors and other non-cannabinoid receptors, including vanilloid and serotonin receptors. These cannabinoids regulate basic physiological functions such as immune response, inflammation, stress response, relaxation, etc.
Cannabis is composed of two main plants: hemp, and marijuana. The two main cannabinoids that differentiate the two are CBD and THC.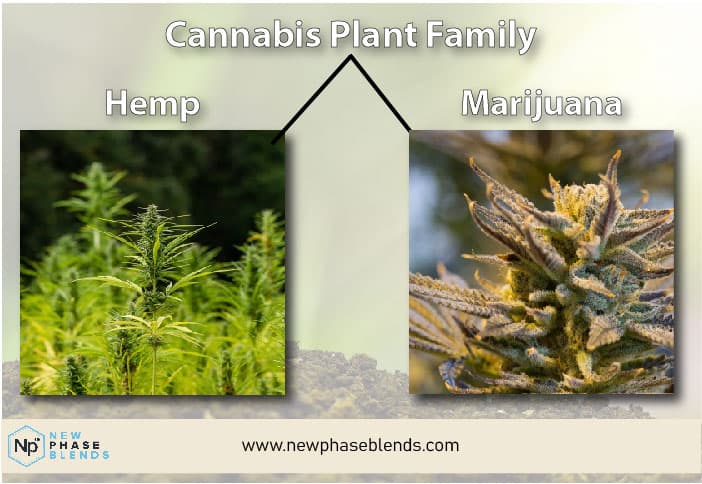 CBD is a non-psychoactive cannabinoid that cannot make you intoxicated (or high) but has certain health benefits.
Tetrahydrocannabinol (THC) is the psychoactive cannabinoid. It can make you high. However, it also carries significant health benefits for many areas of the human body.
Proponents of CBD-only derived products enjoy the fact that you can get a lot of health benefits without the sensation of being high or experiencing hallucinations.
Comparing CBD vs THC
Related read: CBD vs THC The Differences Explained
As we just mentioned, these are two different cannabinoids found within cannabis. Just because they are both in cannabis, doesn't mean they do the same thing, though.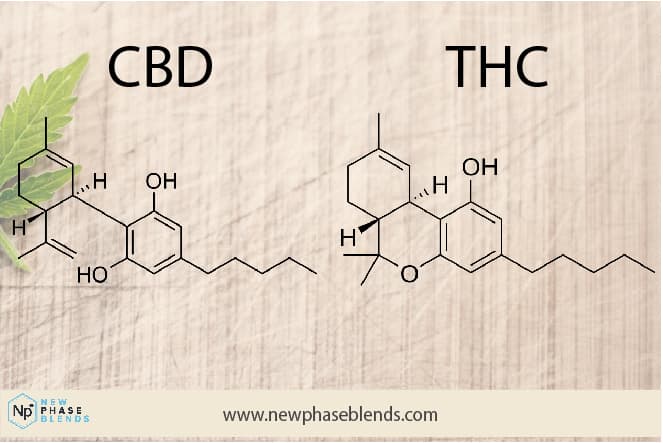 Everyone knows that THC will get you high. CBD, on the other hand, will not. This is probably the most misunderstood party about CBD. People tend to think that just because CBD is in cannabis, it will get you high.
How CBD is Made?
CBD is an organic ingredient derived from the cannabis plant. Once CBD is extracted from the plant, it is then combined with oil, or other medium that will make the final product.
Some of the most common oils used in the production of CBD oils is coconut oil, and hemp seed oils. These are added to the heavily concentrated extract to help even out the dosing, and make an easily measured form of CBD.
In a nutshell, this is how CBD oil is made.
CBD Is Very Popular
As the popularity of CBD grows, more and more products such as food, beauty, dietary supplements, and drinks are now made using all kinds of CBD oils and.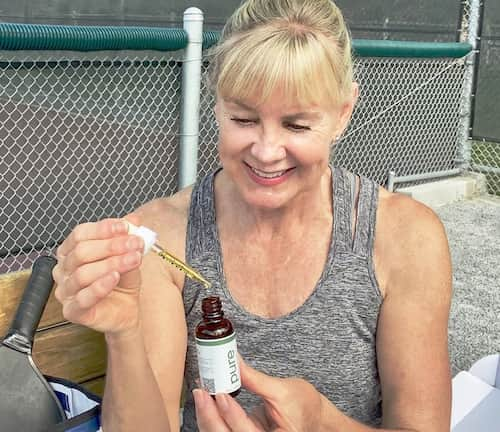 The growing number of clinical trials in war veterans as well as in individuals with PTSD are promising.
Certain scientific studies show that CBD can help with symptoms of various anxiety disorders, chronic pain and boost the immune system.
Can CBD Help With Your Problems?
We went to town and gathered the top 8 health benefits of CBD. The data we have collected is backed by clinical trials and scientific research. We also cover any potential side effects and point out all the safety concerns related to CBD products.
Enjoy 15% off your order of 'pure' CBD gummies by entering coupon code gummies15 at checkout!
How is CBD Beneficial to the Body?
Let's go ahead and get into some of the actual reported benefits of taking CBD products.
1. CBD as for Pain
For thousands of years, ever since the first time humans have felt the pain of stubbing a toe, they've been on a never ending search for something to soothe the pain. This goes for other common ailments such as a headache.
Today, with the advancing scientific research on the cannabis plant, we are much more knowledgeable about its effects.
A number of different qualities of CBD make it a potential candidate for therapeutic use. The neuroprotective effects suggest that CBD may help with inflammatory and neuropathic pain.
The pain relief comes mostly due to the wonderful mechanism in our body called the endocannabinoid system.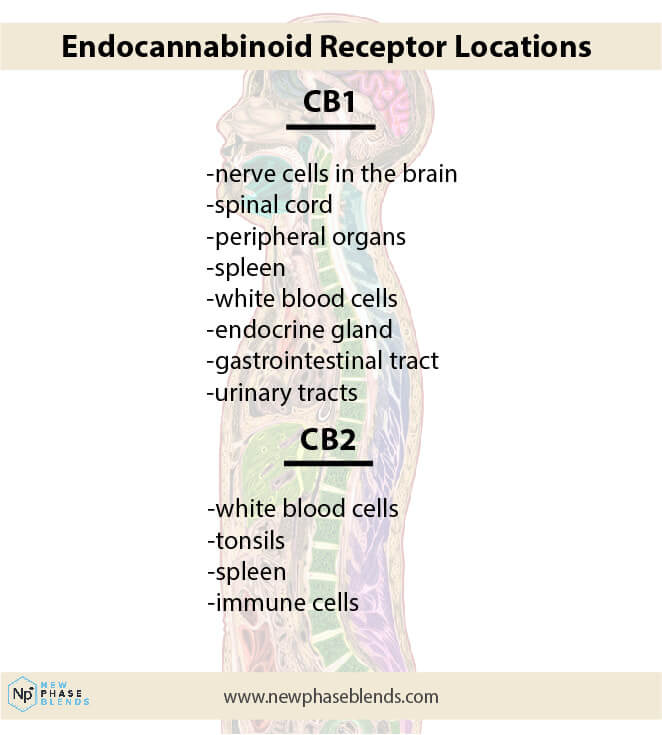 The endocannabinoid system works in tandem with the Central Nervous System (CNS). It also regulates a number of bodily functions such as pain, sleep, mood, appetite as well as the immune system response.
By default, the human body produces endocannabinoids naturally.
Cannabinoids are neurotransmitters that bind to cannabinoid receptors in the CNS. It is believed that many people around the world have developed a condition called "endocannabinoid deficiency". This means that the body is unable to produce enough cannabinoids on its own to support a healthy body.
This is why clinical trials have shown that CBD may help with reducing chronic pain due to binding to the cannabinoid receptors. This is confirmed by significant reduction of inflammation in different parts of the body.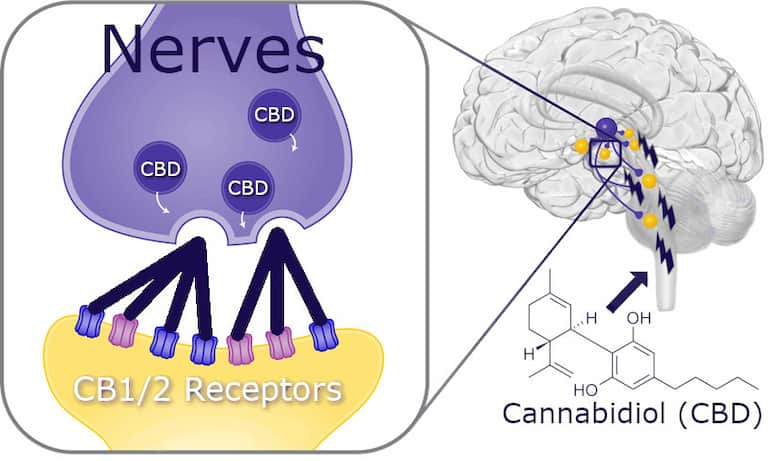 Another study explains how cannabinoids suppress inflammatory and neuropathic pain by binding to the alpha 3 glycine receptors.
There are many other studies that support the anti inflammatory properties of CBD but further research is needed to fully understand the full profile of this substance. That said, loads of people report that using CBD for pain works well for them.
CBD With THC
In many cases, CBD works in tandem with THC to create more powerful effects to relieve pain. Nerve pain and conditions such as multiple sclerosis (MS) and rheumatoid arthritis have been tested by.
One such example of a medication that the Food And Drug Administration (FDA) approves is Sativex. It is an oral spray legal in many countries used to treat pain and multiple sclerosis.
What is great about this cannabis plant product is patients with multiple sclerosis have observed significant improvements in pain, muscle spasms.
Ease Symptoms Of Rheumatoid Arthritis
When it comes to pain management, CBD is unlike anything else in the alternative and complementary medicine world.
Additionally, there is existing research that suggests that CBD may serve as pain relief for rheumatic diseases.
Rheumatoid Arthritis is an autoimmune disease that causes inflammation and painful swelling in different parts of the body.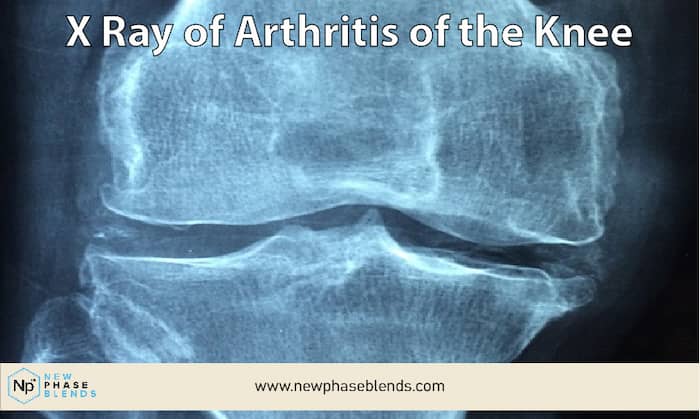 CBD's anti inflammatory properties have promising effects on lowering the negative effects of pain associated with the inflammation related to arthritis.
Get Rid of Your Pain Medications And Try CBD
It is a fact that CBD helps with all kinds of pain due to its impact on the CNS. CBD effectively cools down the human body by binding to the cannabinoid receptors.
When combined with THC, CBD can further lower negative effects of pain associated with arthritis and other autoimmune diseases.
2. Lowers Anxiety And Reduces Mental Health Disorders Symptoms
Living in today's fast-paced world can bring on a lot of anxiety issues and mental health disorders.
The impact of a stressful job or situation is undeniable in this day and age. Stress can have major adverse effects on your everyday life, affecting overall quality of life and wellbeing.
Typically, anxiety is treated with a number of pharmaceutical drugs that bring on a host of side effects such as insomnia, impotency, and headaches.
Other prescription medicines are potentially addictive. Patients can potentially develop dependence.
Now, we are not looking to be dependent on anything that could cause harm.
This is where CBD oil comes to save the day.
Several studies have shown CBD's power in fighting anxiety disorders. Since cannabidiol is a naturally occurring chemical in the body, many people opt for this natural approach.
Fight Depression With CBD
The soothing properties of CBD may be the best effect of the herb, the main reason for its use.
The Brazilian Psychiatric Research Institute has published research on anxiety in 57 men in an online simulation. Some had placebos and the others were given 300 milligram, 400 gram and 400 mg of CBD prior to the event.
It was found that a dose of 300 mg was most effective at reducing symptoms of anxiety which consequently lowered depression.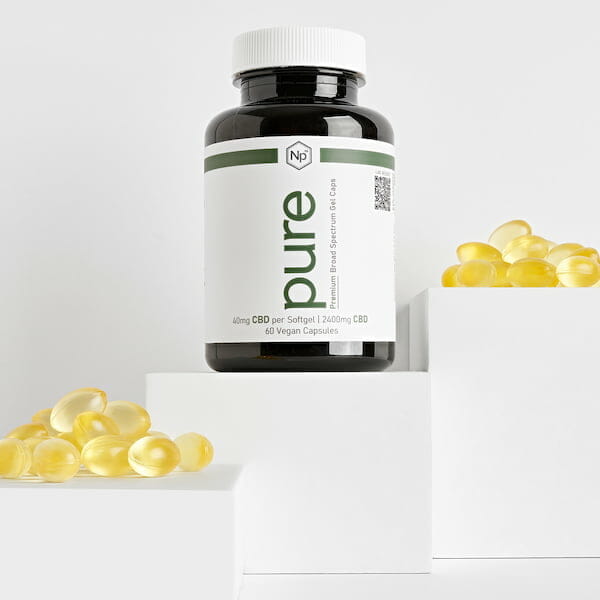 Enjoy 15% off your order of 'pure' vegan CBD softgels by entering coupon code pure15 at checkout!
Interestingly, no significant change was reported when researchers administered a CBD dose of 150 mg as well as a much higher, 600 mg dose.
In terms of a higher dosage, too much activity in the receptor can result in over stimulation and undesired effects. Using higher doses of CBD might not have a positive impact on your problematic symptoms.
One thing is clear, there is a lot of scientific research and studies that support CBD's anti anxiety mechanisms. Since CBD is so complex, researchers are studying all cannabinoids in order to better understand its uses for potential treatment of other mental health disorders.
3. Cancer Symptoms
During cancer treatment, chemotherapy takes a huge toll on the human body. Although CBD may not cure cancer, it can potentially ease some of the serious side effects of cancer treatment.
Chemotherapy wears out your body to the point that you don't want to eat anything. All you want to do is throw up. The pain is unbearable. There is no will to live.
Several cases of patients have shown the efficacy of a THC + CBD combination in cancer patients on chemotherapy.
What was reported was a significant improvement in pain. The appetite was also increased and the patients started consuming more calories and being more active. This in turn made their bodies stronger and able to handle the cancer related symptoms better.
It should also be noted that the symptoms related to the cancer treatment showed significant reduction when using a THC + CBD extract. The cancer related pain was simply more bearable.
Mixed Vote For Cancer
All things considered, there are mixed opinions on the efficacy of CBD due to the lack of conclusive data for CBD being an anti cancer agent.
That being said, it is good to remember that many cancer patients do not survive the treatment due to their body getting weak while on medication.
For this reason, many people try to incorporate CBD into their regime in order to improve certain cancer-related symptoms and potentially make them stronger to fight against cancer.
4. May Help With Neurological Disorders
Research is clear that cannabinoids bind to the receptors all of the body. Including the brain.
The major component of the cannabis sativa plant, CBD is considered as a promising agent after proving its health benefits in numerous clinical trials.
Since CBD is able to interact with so many different areas in our body, it is clear that it also protects our brains from neurological dysfunctions by stimulating certain degenerated parts of the nervous system. It is believed to treat neurodegenerative disorders.
For this reason CBD may be beneficial for restoring damaged brain functions in a car crash for example.
Once the cannabinoids enter our system they send signals to the brain and spinal cord to help stimulate their functions. This can potentially benefit those with neurological disorders coming from endocannabinoid deficiency such as Alzheimer's Disease, Parkinon's Disease and multiple sclerosis.
Seizures And Epilepsy
There are several anecdotal accounts where patients with epilepsy who took 1 to 2 grams of CBD oil per pound of body weight show a significant reduction in the frequency and intensity of seizures.
A study of patients with severe epilepsy confirms this case. The patients experienced 36.5% less seizures overall.
Related read: Using CBD for Seizures
The same goes for children with Dravet syndrome which is a type of epilepsy. Those children also showed a significant improvement with their outbreaks when ingesting CBD oil compared to a placebo.
Although there is some limited data showing that CBD may help with sleep disorders in patients with Parkinson's Disease the data is quite limited, unfortunately.
Due to this fact, there is not enough scientific data and evidence to claim that CBD may be effective in treating Parkinson's Disease.
But not all is lost.
In 2018, the FDA approved Epidiolex, a CBD-derived prescription drug for two types of epilepsy: Lennox-Gastaut syndrome and Dravet syndrome.
In 2020, Epidiolex got another approval from the FDA to treat rare diseases such as tuberous sclerosis complex.
This is a good sign for the future of CBD as tuberous sclerosis is a rare genetic condition.
FDA Approved CBD Items
CBD is proven to treat several severe forms of epilepsy as well as help with some rare conditions such tuberous sclerosis or Dravet syndrome.
Alleviate ALS symptoms
Amyotrophic lateral sclerosis (ALS) is a neurological disorder causing brain cells to weaken.
Currently, there is no exact explanation for the existence of ALS.
ALS can be hereditary in certain cases.
There has been no known cure for the causes of ALS.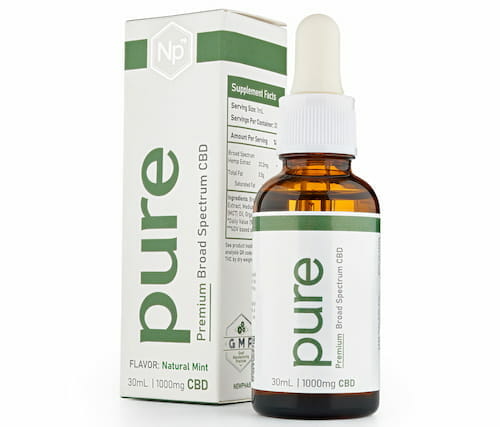 Enjoy 15% off your order of 'pure' CBD drops by entering coupon code pure15 at checkout!
Research shows people with ALS have a similar entourage impact that PTSD does. The patients received the combination of CBD and THC in varying dosages in response to different reasons and dietary preferences.
The findings of this study suggests that there is significant evidence to support the use of cannabinoids in pharmaceutical treatment of ALS patients.
It has been shown that cannabinoids may delay ALS onset.
The downside of this study is that most tests were conducted in animals. Also the study focused on improving the symptoms of ALS not controlling its progression.
Again, the CBD-derived product Sativex is still mentioned here as an approved medication for clinical use and growing interest in combining it with other medications to possibly enhance existing therapies.
5. For A Healthy Heart
As we have discussed in this article already, CBD has anti-inflammatory, antioxidative qualities which may help reduce the risk of acquiring a heart disease. In doing so, CBD may benefit heart health.
But does CBD help with high blood pressure?
This study is clear on the fact that a single dose of CBD oil can result in lowering blood pressure as CBD interacts with the arteries of the heart.
It is further added that this could be due to vasodilation which in essence shrinks the blood vessels and makes it easy for them to flow in the bloodstream.
This is great news for everyone who is seeking new ways of lowering blood pressure.
The effects of CBD's numerous healing properties also potentially lower LDL by helping the arterial walls relax so that it lowers overall pressure and excess cholesterol is flushed out.
What CBD did in this case is it improved the flexibility of the arteries which allowed for a smoother blood flow.
We all know that high blood pressure puts you at risk for quite a few heart conditions such as stroke, heart attack or metabolic syndrome.
Enjoy 15% off your order of 'soothe' CBD balm by entering coupon code soothe15 at checkout!
In a controlled study, healthy men were put in a standardized stress test to increase blood pressure.
The groups with a single dose of CBD experienced lower blood pressure in general compared those who did not use CBD.
The different accounts we have mentioned here support the idea of CBD bringing many potential benefits for a healthy heart.
6. CBD Helps With Post Traumatic Stress Disorder
PTSD is in the same family of anxiety related disorders. It is usually caused by a horrifying event or situation. Some of the can be:
dramatic road accidents
sexual assault
fatal health conditions
death of family member or friend
As we've mentioned earlier in this article, CBD has been widely studied in treating anxiety disorders.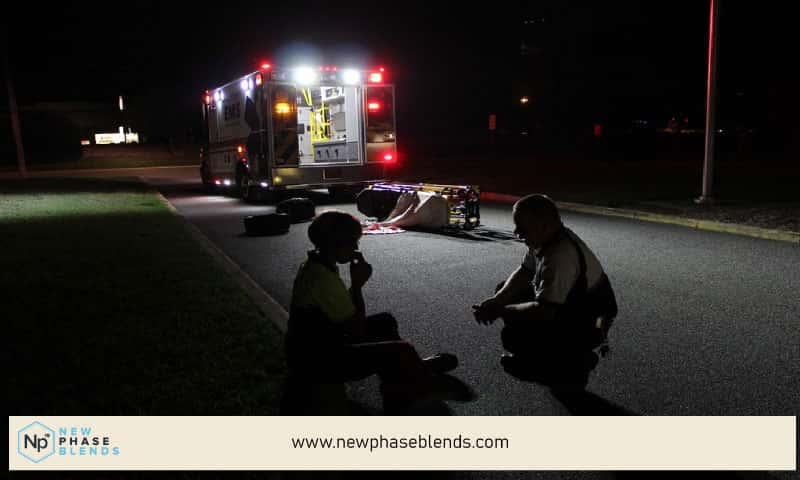 To go a little bit further, let us look at a study on CBD and PTSD-related symptoms in adult patients.
The tests are clear that the non-psychoactive cannabinoid compound found in the cannabis plant may have a positive impact on rodents with post-traumatic stress disorder (PTSD). This could be a great indicator for using CBD for PTSD.
Again, this is believed to be due to the interaction of CBD with the endocannabinoid system.
By activating specific neuropathways and downplaying others, CBD has been seen as promising for a number of neuro-psychiatric conditions.
This is one of the few available clinical studies on CBD regarding this topic today.
Make sure to always stay up to date with the latest research and laws on CBD.
7. CBD Oil for Sleep Improvement
Substantial evidence points toward a calming effect for CBD in the central nervous system.
This creates the perfect environment for good night's sleep. Interest in CBD as a treatment of a wide range of sleep disorders has exploded. There are few clinical studies that show positive results in patients with insomnia who supplement with CBD.
Since CBD can't make you high it should not interfere with REM sleep. This is rather different for THC only products that can influence REM and deep sleep.
Enjoy 15% off your order of 'sleep' CBD drops by entering coupon code sleep15 at checkout!
However, CBD is kind of hit or miss for sleep. What does that mean?
It simply means that for some people it works, for some it doesn't. This could possibly explain the idea of endocannabinoid deficiency that many people could be suffering from. Most people with severe sleep issues will look for a melatonin and CBD combination for deep sleep.
In other words, different people have different problems. If one person is unable to produce enough cannabinoids of their own, they might greatly benefit from CBD supplementation.
The ones who are not deficient in cannabinoids, but still have sleep problems might try to look for other solutions to their sleeping problems like a CBD and melatonin combination. This seems to be the best bet when using CBD oil for sleep.
Perhaps it's too much coffee or a bad diet? Don't hesitate to let us know in the comments.
8. Used To Treat Drug Addiction
Drug addiction is a global problem. People of young and old are suffering from substance dependence.
This creates a situation where more problems arise due to dependence and withdrawal symptoms. Oftentimes when a person decides to stop using a specific substance, they will be suffering from withdrawal symptoms. The length of withdrawals depends on how long they have been using the said substance.
A study conducted on treating addiction disorders is clear on the positive effects of CBD on neurotransmitters responsible for addiction.
CBD may be beneficial on the impact of cannabis, and tobacco.
What is more, CBD may also be beneficial in drug addiction due to its effects in the treatment of common substance-use disorder. There is ongoing research being conducted to confirm if CBD can be effective in fighting alcohol addiction.
What to Expect When You Start Taking CBD
When you start using CBD products, you won't necessarily feel anything like you would from using marijuana.
There is no high, or sense of euphoria associated with CBD use. Many people simply report that their discomforts become much more manageable. For example, if you had severe joint pains in your knee, after using CBD oil you would probably not feel the pain as much.
Is CBD Oil Addictive?
No, CBD is not addictive. In fact, many people use CBD oil to help cope with recovering from addition to substances.
The face that CBD is non-intoxicating makes it basically impossible to become physically addicted to. There are no feelings you get from taking CBD oil that would make you become addicted.
Is CBD Legal?
State medical marijuana laws vary in each individual state. That being said, CBD products such as CBD oil derived from hemp (contains no more than 0.3% THC) are legal on the federal level.
Related: Is CBD Legal in Your State?
If CBD oil comes from marijuana (contains more than 0.3% THC), it is federally illegal. State laws, however, vary widely.
Cannabis Sativa Plant Gray Areas
Still, you should definitely check the legal status of CBD in your state.
It is also worth checking the label on your CBD product and looking for an approval from the FDA. Many CBD products might not have this approval.
Side Effects Of CBD Products Is it Safe?
Generally, CBD is considered very safe for using. Adverse, debilitating or even strong side effects are almost non-existent.
That said, there are few cases of side effects that come with CBD use:
dry mouth
reduced appetite
fatigue
diarrhea
Some individuals experience different side effects such as vivid dreams, and nightmares.
There are also cases where CBD may interfere with other prescribed medications. Be sure to always consult with your healthcare provider if you are taking multiple medications.
Tips for Finding Good CBD
Here are some additional steps you can take to ensure that you are getting a good CBD product for your specific situation.
Check With Your Doctor
If you are taking any medication prescribed by your doctor you should check if the product you are using can be replaced with another. If not, then you may need to consult the doctor further in order to stop or finish the medication. The interactions can be severe and harmful.
Please do not take this lightly.
Make Sure Your CBD is High Quality
There are many CBD products out right now. It is easy to get lost and confused when swimming through the sea of CBD vendors literally.
After all, these are successful alternative solutions trying to break into mainstream medicine.
CBD is spreading like wildfire and goes beyond just CBD oil. It's everywhere now. You can now buy CBD brownies, CBD shakes, CBD pills, CBD soap, and CBD everything. Exercise caution when buying some of the more bizarre CBD items they are likely just a novelty, and won't do much of anything.
It is important to take the time and research not only the different products and brands on the market, but the type of the products themselves.
Different Spectrums
The sheer number of varieties of CBD products is astonishing. Not everyone understands the difference between broad-spectrum CBD oil and full-spectrum CBD oil from the get go. You can watch the video above for more details, but generally a broad spectrum product will not have THC, while a full spectrum can have up to 0.3% THC.
Another thing that needs attention in your quest for health with CBD is the correct dosage. This topic often gets overlooked and misunderstood.
For example, if you are dealing with oral CBD in liquid form such as oil and a CBD gummy bear, the latter might be easier to measure since it comes in pieces.
Experiment Safely
Experiment with different doses at different times for different purposes. You might not even have a reaction at all. There are several examples of dosing based on age, weight, problem, fitness. But the secret definitely lies in testing. Try it for yourself and see what happens. Every situation is different and every condition is treated differently.
Some may take longer to kick in, while some may take a shorter time.
Third Party Testing Is Key
Make sure the product you are about to buy has been tested by a third-party for quality not in house. This ensures the validity of the ingredients and contents of the package. Again, the quality and dosage is crucial here.
All New Phase Blends products offer third party testing. You can scan the QR code on any product we sell, and it will instantly bring up the corresponding lab analysis.
You should also be aware that some CBD products are marketed in a way that it is unclear whether it is pure CBD, or that it does not contain THC, or contains other derivatives not mentioned on the label.
There are cases, however, where CBD is more effective in treating certain problems if it is combined with THC. Proponents of CBD-only products might miss out on some benefits of THC, so keep this in mind.
Thankfully, there is substantial scientific research and data that paints a bright future for CBD users.
Is CBD Good to Take Everyday?
It certainly seems that way. There have been extremely few reported negative side effects from using CBD everyday. Admittedly, there are also no long term studies on the use of CBD over a very long span of several years.
Since CBD is still relatively new it is wise to be careful and double check with your personal healthcare professional. Your doctor may help you pick the right CBD product for your specific problem or condition. There are many solutions available as well as different ways of ingesting CBD.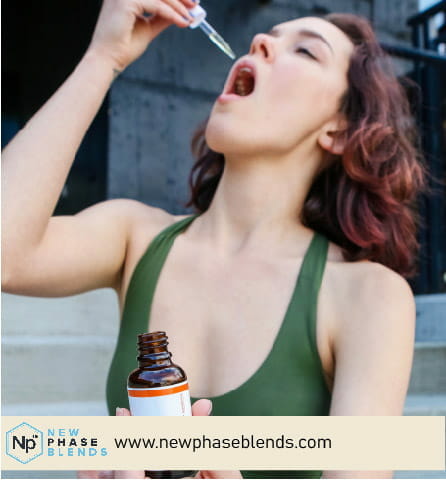 Save 15% off your order of go CBD for energy by entering coupon code go15 at checkout.
Conclusion
Some studies suggest that CBD may help with substance abuse disorders, mental health disorders, and certain types of anxiety issues. However, more research is needed in humans to find out more about these potential effects.
That said, many people report that CBD has changed their life, in that it helps them deal with their discomfort much easier.

Many independent institutions in the United States and all over the world are conducting scientific studies to study the hundreds of different cannabinoids in CBD. CBD is one natural substance that can be used to treat several conditions and symptoms. Whether you are using it to treat insomnia, anxiety, or chronic pain, CBD can provide relief in many areas without the side effects of prescription medicine.
References
Cannabis and Cannabinoid Research: https://www.ncbi.nlm.nih.gov/pmc/articles/PMC5549367/
Library of Medicine: https://www.ncbi.nlm.nih.gov/books/NBK425762/
National CBD for the Treatment of Alcohol Use Disorder: https://clinicaltrials.gov/ct2/show/NCT04873453
Neuropsychopharmacology: https://www.ncbi.nlm.nih.gov/pmc/articles/PMC7608221/
State Medical Cannabis Laws: http://www.ncsl.org/research/health/state-medical-marijuana-laws.aspx