Better CBD. Better Results. Better Living.
Shop Our Best Selling CBD Items
New Phase Blends CBD Company and Online Store
Welcome to New Phase Blends' online CBD store. We're a veteran-owned and operated CBD organization providing a full range of CBD products. Our headquarters is proudly based in the USA, at sunny West Palm Beach, Florida. Our store offers only pure CBD oil and CBD topical products you can find – and it all comes with free shipping within the USA. Stop trying to waste time looking for subpar CBD products that will do nothing for you when you can get high-quality CBD products quickly, and easily, through our online store.
You'll also find both broad spectrum and full spectrum hemp extracts when shopping. All products are tested for, and contain, almost no THC (less than 0.3%). You might find a product of similar quality, but you will never purchase anything better. Enjoy a 30 day money-back guarantee on all purchases
Real People. Real Reviews. Real Relief.
See what people just like you have to say about New Phase Blends' products! Our reviews matter.
Dr. Philip Agrios
@DrAgrios
For last two years, I have been getting acne after shaving below my lip and on my chin. I have used so many different products that have not worked. Even went to the dermatologist. When I stated to use Glow, it took about a week for me to notice some results that I would consider exciting. It has been two months now and I have been using it after shaving and before bed, I would say that 99% of the condition is gone, with maybe something there that is not that noticeable. I highly recommend this product because it worked for me.
Marissa Delano
@Marissa997
I like to consider myself a hemp guru. I have tried well over 30 brands of different kinds, and your company (BY FAR) has the BEST IVE EVER HAD! It helps with my aches and pains far better than anything else I've ever tried in the industry. If you have a referral program, I really want to be a part of it. I have lots of friends who could benefit from your products.
Gina Palmetto
@PalmettoBugz
I love your insta! I ended up going with the pure 2000mg and it is actually better than a higher strength dosage I was taking by CBDistillery. I am pleasantly surprised! You have my business! I also love your weekly email campaigns. It isn't spammy at all, and there is always an excellent deal waiting inside the email.
Michelle Guoly
@MichelleG02
I struggle with nighttime anxiety and it makes me not get much sleep. It's been going on since I can remember. Your sleep product is amazing. It makes me go to sleep within 30 minutes. I am going to try the gummies next! I cannot tell you how much of a life changer this has been for me. Struggling to get through your day without sleep is miserable, and now I don't have to do that anymore.
#NewPhaseBlends sells the best CBD balm I have ever used. At my age, my joints are becoming very important and they often hurt a lot. I apply soothe and within minutes I can feel the relief. I really cannot believe how well this product works. I normally stay away from natural products because they just dont work that well for me, but not in this case.
CBD oil, CBD Gummies, CBD Pills, and More...
New Phase Blends creates oral CBD products for sale that are some of the most effective on the marketplace. Many brands try to replicate what we do, because our hemp products work – and work well. We combine organic, premium CBD oil that's rich in CBD and other extremely effective compounds that aid in giving real relief through numerous proven health benefits. Getting your discomforts under control can be as simple as eating a CBD gummy. The benefits of a CBD gummy, or other CBD edible, can be life changing.
There is almost no THC (less than 0.3%) in the hemp used to make these quality CBD products. That means they are completely non-psychoactive and non-addicting.
From patent-pending CBD oil for sleep formulations, to vegan certified CBD softgels – we have you covered when it comes finding relief from some of the aches and pains of everyday life.
Topical CBD Balms and Creams
Visit the CBD shop and check out our range of topicals and creams designed to aid in offering relief. There's much more to hemp-derived goods than CBD oil or gummies.
While CBD oil is a fantastic full-body approach to managing discomforts, a topical CBD balm is what you may prefer if you are suffering from conditions like arthritis, joint pains, muscular soreness, or any other localized forms of pain/inflammation. 
Our skin is filled with different cannabinoid receptors that can process topical CBD balm in a different way than oral CBD. These receptors can utilize the absorbed CBD and get to work on providing you the relief that you need, and deserve.
See the difference for yourself. Our user testimonials prove the worth, quality, and value of your CBD purchase with New Phase Blends.
Why Try CBD From New Phase Blends?
Struggling with symptoms such as pain, anxiety, sleep issues, or joint troubles? CBD could be the natural approach you need to put a stop to these discomforts. For example, many people rely on our patent-pending CBD gummies for sleep to help get a good night's rest again.
Cannabidiol (CBD) is one of at least 124 compounds known as cannabinoids found naturally in hemp — a plant under the cannabis family. It is a non-intoxicating compound that interacts with the network of cannabinoid receptors our body, known as the Endocannabinoid System (ECS). Research shows that CBD oil products interact with these receptors and help regulate vital bodily functions such as: sleep, metabolism, inflammation, and immune responses.
Interesting: View a comprehensive list of cannabinoids by clicking the link.
Pure CBD For Pure Benefits
Many people report the benefits of CBD are real, and sometimes life changing. New Phase Blends' CBD products contain hemp derived ingredients which may help improve sleep quality, pain reduction, and inflammation relief.*
We combine these botanicals with a pure, organic hemp extract to provide you with some of the safest, most effective products in existence.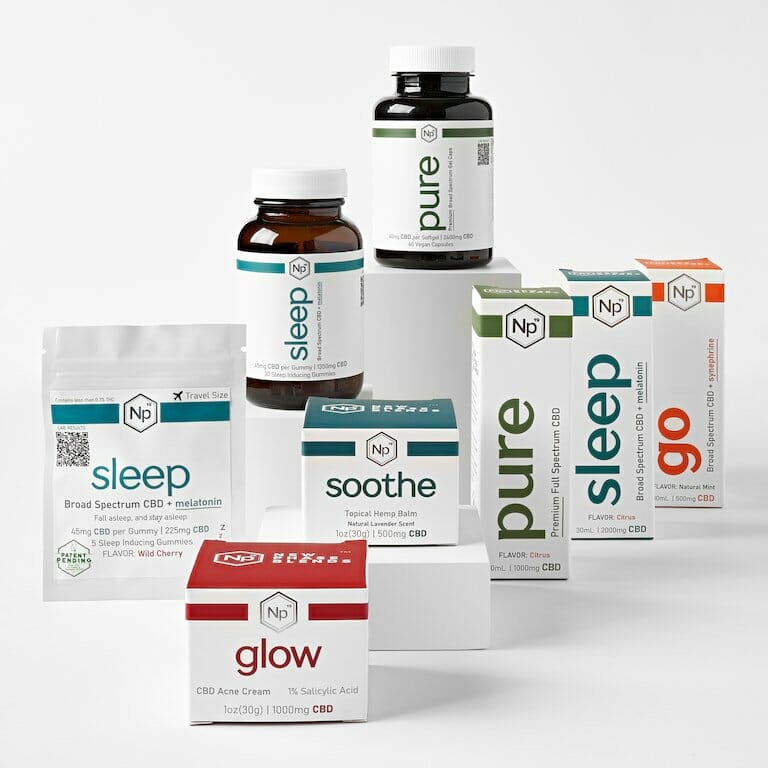 Premium Product Categories