Your CBD Starter Kit ($185 value)
I love this starter kit. It comes with everything I need, and the discount is just phenominal.
Overall, very pleased with this bundle. I am new to CBD and was kind of overwhelmed trying to pick something out. This did the trick. The gummies work so fast, its really incredible.
I'm not new to CBD, but this package is so competitively priced that I just have to buy it. As usual, everything ya'll make is just top notch. No complaints here.
Take the Confusion Out of Buying CBD
New to CBD? Looking to purchase hemp-derived goods, but just don't know where to start?
Maybe you are ready to start your CBD journey, but you truly don't know where to begin?
Well, your daily CBD routine just got easier.
New Phase Blends has the answer in our unique CBD starter kit bundle. All of our best selling CBD products are in this insanely well priced package. Buying CBD has never been easier. Starter kits are the way to go for those that are new to CBD, or unsure of which products they should try.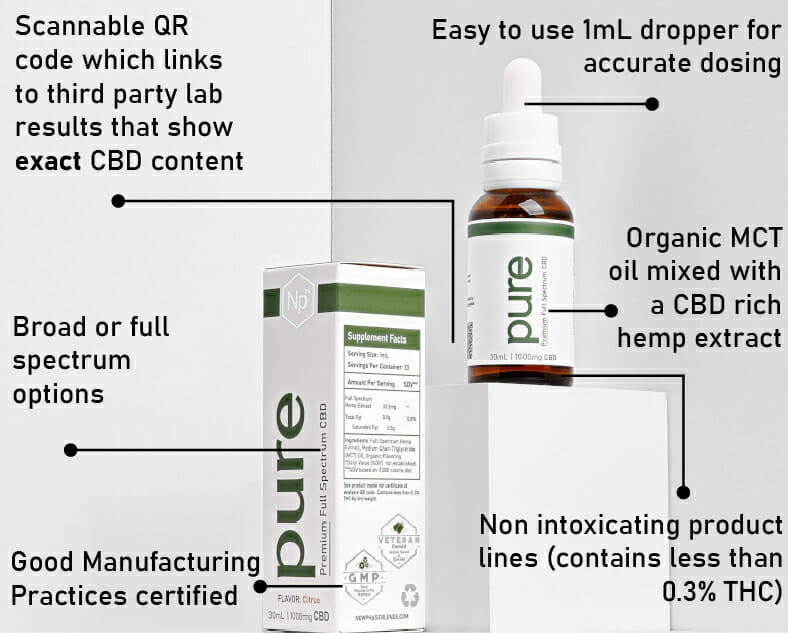 Third party testing is essential to finding high-quality CBD. All CBD sold by New Phase Blends will come with a scannable QR code that links to what's called a certificate of analysis, issued by a third party lab.
Check out our variety of CBD goods. Relief is a few clicks away.
Take A copy of 'CBD Essentials' On Us
Start reading all about CBD products immediately upon ordering. While you wait for your shipment to arrive (we don't charge for standard shipping by the way) you can get up-to-speed on everything CBD.
Items You'll Find In Our Starter Kits
Here are some snapshots of the products found in this starter pack. You can click on them to view their own individual product pages, if you want to learn more about the individual items this pack contains.
Nothing is altered at all if you buy the CBD starter kit. We include the real products in their true form. Some starter packs contain a 'diluted' or 'dumbed down' version of CBD items. Not ours.
CBD Starter Kit Questions
*FDA disclaimer: none of the statements on this webpage have been approved by the Food and Drug Administration. These statements have not been evaluated by the FDA. These products are not intended to diagnose, treat, cure, or prevent any disease. Medical advice should be sought before starting any supplement. If you are pregnant or nursing consult with a doctor. Medical advice should be sought if you have any pre-existing medical conditions. If you take other prescription medications, a doctor's advice should be sought. Site void where prohibited.