New Phase Blends is a veteran-owned and operated online CBD company that originated in West Palm Beach, Florida. We specialize in creating pure CBD oil, supplements, and topicals formulated to help improve your quality of life.
In 2014, our founder and CEO Dale suffered a serious spinal cord injury while serving on active duty in the US Army. After multiple surgeries and a completely fused cervical spine, he developed the passion to discover natural and holistic alternative remedies to some of the harshest medications on the market.
It's this same passion for health and wellness that gave birth to New Phase Blends. Our vision is to make CBD oils, supplements, and topicals more accessible to Americans — giving them the same benefits that have put Dale himself on the path to recovery and a better quality of life.
At New Phase Blends, we are committed to creating helpful products that address all kinds of common ailments. We continually strive to develop unique formulations that combine the health benefits of pure CBD extracts with active botanicals whose properties work synergistically with CBD.  The result is what you will find in our range of CBD oils, balms, creams, and supplements — holistic products backed by years of research and rigorous testing.
It is my intent to offer an effective product line to people who are suffering through some of life's toughest challenges. My number one priority is offering nothing but the best hemp-based products to others so they can feel the same level of relief I've been able to. - Dale
Founder and CEO of New Phase Blends
Simple.
Effective.
Exclusive.
Nothing But the Best CBD Products, Guaranteed!
New Phase Blends' unique formulations combine premium-quality organic CBD extract with potent natural supplements, such as synephrine, melatonin, and salicylic acid, among others. This allows us to develop products that leverage the unique ability of CBD to work in harmony with other botanicals and organic ingredients.
In our opinion, the best CBD oil products utilize this type of formulation.
Using this approach, we've created a line of CBD products for sale that provide relief against a wide spectrum of common ailments, from social anxiety and insomnia to chronic pain and low energy. If you are ever unsatisfied with your New Phase Blends product, we'll give you your money back — no questions asked.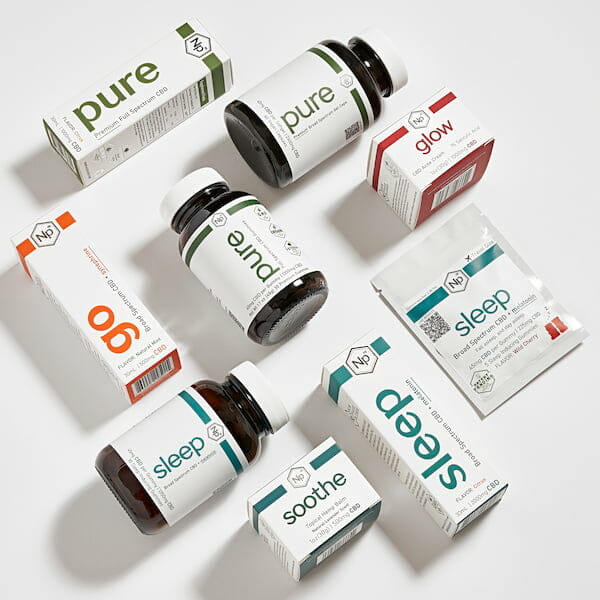 New Phase Blends and Third Party Lab Certificates of Analysis
In a time when so many people are exploiting the popularity of CBD by slapping a label on any product, it has never been more important to be careful about where and whom you buy your CBD items from. We're all about third party testing. Everything you find here will include a certificate of analysis.
At New Phase Blends, we take great pride in our high standards for the production and rigorous testing of anything we sell. The production facility we use has earned the coveted GMP certification that many CBD companies apply for, but only a few receive.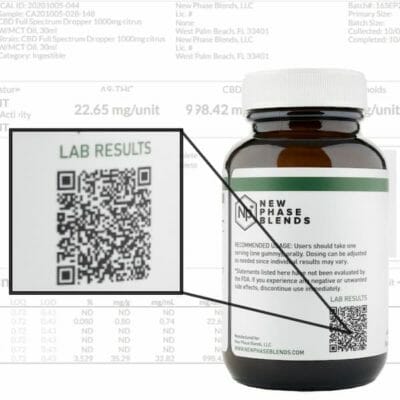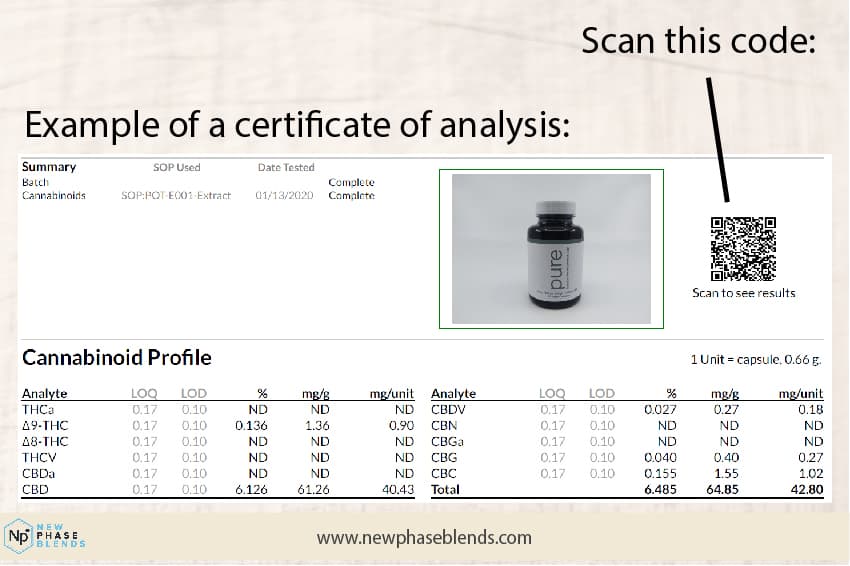 CBD Certificates and Recognition
From seed to sale, the quality of the product in your hands is closely monitored to ensure your health and safety.
Related: Find CBD Near Me
Our entire supply chain, from our partner farmers to extractors and manufacturers, are all Good Manufacturing Practices (GMP) certified. This means that every batch of CBD oils, gummies, and topicals are certified by a third-party analysis — which guarantees their quality and consistency with international standards. You can rest assured that all New Phase Blends products are free of any harmful chemicals and unwanted cannabinoids.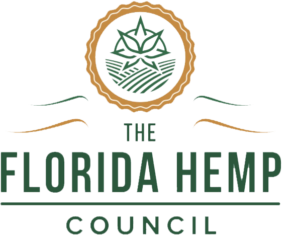 New Phase Blends is a proud member of the Florida Hemp Council. The Florida Hemp Council provides the necessary resources to Florida's growing hemp industry by working with local organizations to ensure that they are complying with best practices, using sustainable growing and production methods, and overcoming the challenges of a rapidly-evolving industry. New Phase Blends also provides our knowledge and expertise to help grow the industry, while ensuring that unethical practices and misleading brands are kept at bay.
Common Questions About New Phase Blends
FDA Disclaimer: none of the statements on this webpage have been approved by the FDA. These statements have not been evaluated by the Food and Drug Administration. These products are not intended to diagnose, treat, cure, or prevent any diseases. You should consult a licensed physician before starting any supplement, especially if you are pregnant or have any pre-existing medical conditions.