Cannabidiol, commonly known as CBD, has been a substance of interest for many, known for its potential health benefits, particularly in pain management and sleep improvement. In the United States, a growing number of people are turning to CBD for its therapeutic properties. Statistics indicate that up to two-thirds of the adult population grapples with sleep issues like insomnia, prompting many to explore CBD as a potential remedy. While the compound has been shown to have anti-inflammatory and pain-relieving properties, its role in sleep enhancement is still under investigation. Despite the lack of large-scale studies, there's quite a bit of evidence to support that CBD products may positively affect sleep quality as they help people with anxiety disorder and other similar health issues.
In this article, we'll examine how broad-spectrum CBD can have a positive impact on sleep and sleep-related problems. Since many online sellers may label products such as gummies with statements such as "CBD gummies for sleep", it is worth knowing if it is a valid statement.
Can CBD Products Help With Sleep Disorders?
Sleep Disorders encompass a broad spectrum of conditions that consistently affect one's ability to achieve restorative sleep, essential for optimal health and daily functioning. Insomnia, the most prevalent of these disorders, is characterized by persistent difficulty in falling or staying asleep but which can disrupt a healthy sleep cycle.
Sleep apnea, another common condition, involves repeated breathing interruptions during sleep, which can lead to severe health complications if left untreated. Narcolepsy is marked by excessive, uncontrollable daytime sleepiness and sudden muscle weakness, while restless legs syndrome causes an irresistible urge for people to move their legs. This can also be accompanied by various uncomfortable sensations. All of these sleep disturbances can have a significant impact on a person's health and well-being.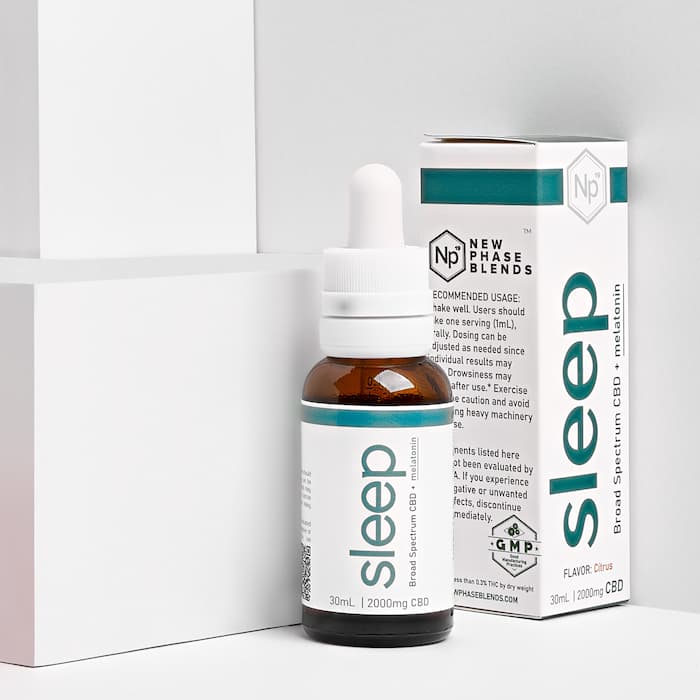 Other sleep disorders include circadian rhythm sleep-wake disorders, where the internal clock is misaligned with the environment, leading to difficulties in sleep timing. Parasomnias, such as sleepwalking, night terrors, and REM sleep behavior disorder, involve abnormal movements, emotions, and perceptions that occur during different sleep stages.
These disorders can stem from various factors, including but not limited to genetic predispositions, neurological imbalances, psychological stress, physical illnesses, issues relating to the central nervous system and lifestyle choices. The consequences of untreated sleep disorders extend beyond fatigue, impacting cognitive functions, emotional stability, and physical health.
How CBD Gummies, Oils, and Tinctures Help With Poor Sleep
CBD's influence on sleep is thought to be multifaceted. It interacts with the body's endocannabinoid system, which plays a role in regulating a variety of functions, including sleep. This system affects sleep-related chemicals and the sleep-wake cycle, which is crucial for maintaining a healthy circadian rhythm. Although the exact mechanisms by which CBD may improve sleep are not fully understood, it has attracted scientific interest as a potential way to manage sleep disorders and health conditions that affect sleep quality.
There have been a few small-scale studies exploring CBD as a treatment for sleep disorders. For instance, while CBD can cause sleepiness, its effectiveness for treating insomnia may depend on the dosage. In the case of sleep apnea, cannabinoids have shown promise in preventing breathing interruptions during sleep in animal studies, but human research is still in its infancy. Similarly, research on CBD's effects on narcolepsy is ongoing, with mixed reports from individuals on its efficacy.
The choice between CBD oil and gummies mainly boils down to personal preference, and what the doctor recommends. Most people may not prefer to ingest full-spectrum CBD oil, so gummies make taking a daily dose less of a chore and more enjoyable.
CBD Dosage To Improve Sleep Quality
Determining the right CBD dosage for sleep can be complex. Some studies suggest that different dosages can either induce sleepiness or make falling asleep more difficult. It's crucial for individuals to start with a low dose to gauge their tolerance and consult a healthcare professional, preferably one who specializes in sleep, to obtain a dosage recommendation tailored to their specific needs.
If people who take CBD for chronic pain also feel sleepy after taking it or fall asleep right away, they may want to ensure that they are taking the right dose. That said, how much CBD you take shouldn't be an educated guess; instead, it should be recommended by a professional.
Summary – Sleep Better With CBD
CBD has emerged as a potential sleep aid for those seeking a sound night's sleep or those suffering from a sleep disorder that is ruining their quality of life. While it offers many benefits, including the possibility of improved sleep quality and pain relief, it's important to approach its use with care.
While an off-the-shelf certified CBD product may not harm you in the way drugs do, it is still worth consulting with a professional as ongoing research continues to shed light on the optimal use of CBD for sleep and other health-related benefits. For more information on the relaxation benefits of CBD, consider reading about the best CBD for relaxation.