Dosing CBD oil for anxiety is a popular topic of discussion, mainly because of the (lack of) dosing instructions for CBD oil products. What was once thought to be a trend now seems to be an excellent way to deal with anxiety, stress, and depression – among other things. If you are wondering how much CBD oil for anxiety you should be taking, this article will address this, and much more. The right CBD dose for anxiety reduction can be a little tricky to figure out, but it's not overly difficult.
TL;DR – How much CBD to take for anxiety will vary slightly, depending on your severity, and type, of anxiety. Those who suffer from generalized anxiety should start by taking one serving of pure CBD oil (33mg) by New Phase Blends, two to three times a day. Those suffering from anxiety attacks should consider a stronger dose at 66mg, upon onset of the panic attack.
How Much CBD Oil for Anxiety Reduction Do You Need to Take?
There are many therapeutic benefits of using CBD for certain health conditions, but this article will focus largely on the amount of CBD you should take to help anxiety symptoms. Also, please keep in mind that CBD products haven't been officially approved to help treat anxiety conditions, yet, so there are no official guidelines for use by the Food and Drug Administration. This is what makes dosing guidelines difficult to establish for many users.
According to tens of thousands of customer reviews and feedback, most people will use between 25 mg and 75 mg of CBD per dose to help their anxiety. The reason this range varies so much is because most people will respond to the CBD slightly different.
Dosing Pure CBD Oil for Anxiety
For starters, a 33 mg dose of CBD oil for anxiety should suit most people well. This would be a single, 1mL serving of our pure CBD oil tincture in a 1,000 mg CBD per bottle strength.
The great part about CBD oil is that it works pretty fast. Once you figure decide how much CBD oil to take for your anxiety, just squeeze the drops under your tongue and hold there for about 1-2 minutes. It will be absorbed via the sublingual vein where the CBD can bypass the digestive tract, resulting in a quick and efficient way to help relieve your anxiety.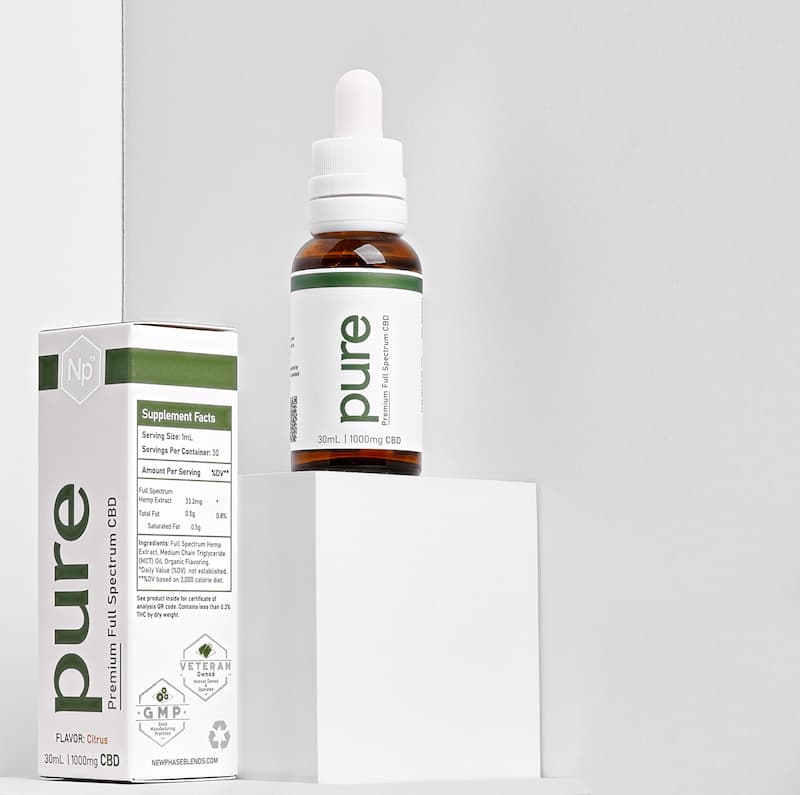 That saves a lot of time, and users report feeling the CBD oil work for their anxiety within about 10 minutes.
Using Your 1mL Dropper
Draw out 1mL in the dropper included. There are marks on the dropper that make this simple to measure out. Next, squeeze out the oil droplets under your tongue, and hold there. This allows your sublingual vein to distribute the CBD into your bloodstream quickly, and efficiently.
How Many CBD Gummies Should You Take For Anxiety?
Full article: How Many CBD Gummies Should I Take For Anxiety?
As with the CBD oil mentioned above, how many CBD gummies to take for anxiety will depend on how much CBD is in each gummy.
For example, one New Phase Blends pure CBD gummy will contain 45 mg of CBD. This 45 mg gummy is a great serving size to tackle your anxiety. One gummy is slightly more than the 33 mg of CBD oil recommendation we gave earlier, BUT some of the CBD will be destroyed by your digestive tract.
While you are consuming slightly more, the entire gummy's worth of CBD will not make it into your bloodstream.
While easier to use, the gummies do take slightly longer to work. Most people report feeling the effects of CBD within about 30 mins to an hour. If you struggle with anxiety throughout the day, try taking a gummy in the AM, and again in the after noon. This way you can keep a steady supply of CBD in your system.
Dosing CBD for Stress and Anxiety Combined
Customers with a generalized anxiety disorders and excess stress are often given a dose of cannabidiol (CBD) between 25 mg and 75 mg, twice a day. Stress and anxiety combined is a really, really difficult thing to deal with. Hopefully the CBD can take the edge off for you, so you can better manage your day and life.
Related: Using CBD for Stress Relief
How Many MG of CBD Do I Need For An Anxiety Attack?
First of all, stick with using CBD oil drops from a relatively strong CBD tincture if you struggle with anxiety attacks. Anxiety attacks should be able to be managed with around 66 mg of CBD drops, which would be one serving (1mL) of the New Phase Blends pure CBD Oil in 2,000mg strength.
Why Take CBD Oil Drops?
If you take CBD in the form of pills or other edibles, it could take anywhere from 30 minutes to over an hour (on rare occasions) to help curb your anxiety attacks down to a manageable level. If you smoke, vape, or use any other method to inhale CBD, you will also feel the effects quickly. This is because when you inhale CBD, it gets into your bloodstream faster. For this reason, some people prefer CBD vape pens for anxiety management.
I'd like to remind you that even though inhaling CBD items can work fast, New Phase Blends does not sell or condone the use of smokable products. There are simply too many health risks associated with them right now.
Stop Panic Attacks With CBD
CBD, or cannabidiol, has been studied as a potential treatment for anxiety and panic attacks. While research on CBD's effects on panic attacks is still in its early stages, some studies have suggested that it may help to reduce symptoms.
If you are considering using CBD for panic attacks, it's important to talk to your healthcare provider first to determine if it's a safe and appropriate option for you.
CBD Oil Dosages For Depression
Full read: CBD for Depression
Depression CBD oil dosing falls under the same guidelines as general anxiety disorders CBD dosing (mentioned above). Since depression typically occurs throughout the day and night, you should dose your CBD throughout the day.
The CBD oil dosage for depression would be a serving around 25 – 75 mg of CBD, taken two to three times per day. Space your dosing out by several hours. As usual, only take the least amount of CBD needed to help get a grip on your depression. If you struggle with chronic depression, you should really consider seeing a mental healthcare professional help you tackle the root cause of this.
How Much CBD Oil Should I Take For Mood Swings?
Using CBD for mood swings is a relatively new concept. Sure, we all know through the numerous customer reports that CBD can help someone when anxious or depressed, but I bet you didn't know it could energize help your mood swings – did you?
Try out smaller doses of CBD to help your mood. Doses as low as 15 mg could do the trick for you.
The science is lacking in this department, however, the Journal of Cannabis Research claims that "were helpful in alleviating symptoms of cannabis-related disorders, schizophrenia, social anxiety disorder, and comorbidities of ASD, and ADHD with moderate recommendation."
How Long Does CBD Take to Work For Anxiety?
Full article: How Long Does CBD Take to Work For Anxiety?
How long CBD takes to work for anxiety depends on which type of product you take. Here are some estimations for time until the effects can be felt:
CBD oil drops (under the tongue) – 15 mins
CBD gummies – 30 mins to 1 hour
CBD pills – 30 mins to 1 hour
CBD vape pens – 5 to 10 mins
Related: How Long Does CBD Stay in Your System?
Is Topical CBD Good For Anxiety?
No, topical CBD will not help treat anxiety. Topical CBD, like balms, is great for helping relieve pain and inflammation in specific areas of your body, but it won't help relieve anxiety symptoms. Stick to CBD oil or CBD gummies for your anxiety and depression symptoms.
The FDA's Guidelines on CBD Dosage
CBD products have not been approved by the Food and Drug Administration. This means CBD products should not make medical claims on their labels. It also means there is no established CBD dosage to help offer suggestions for anxiety relief, or any other relief. Using CBD for anxiety is largely done by trial and error at the individual user level. There are some studies that have tried a different CBD dosage for anxiety, but a vast majority of CBD dosage information comes from the thousands and thousands of user testimonials.
Summary – How Much CBD is Needed For Anxiety?
When there is too much stress and worry for one person to handle, it can be hard to deal with. If you have never used CBD for anxiety before, you should start with a small dose of 25 milligrams, and gradually increase it only as needed. Most customer reports mention using between 25 mg and 75 mg of cannabidiol to help their anxiety.
The goal is to use the least amount of CBD possible in order to feel a relieving effect.
Without a doubt, people effectively use CBD for anxiety. We can look at the thousands upon thousands of user testimonials on the CBD market, and even reference some studies on this. 
References
The Permanente Journal: https://www.ncbi.nlm.nih.gov/pmc/articles/PMC6326553/
Journal of Cannabis Research: https://jcannabisresearch.biomedcentral.com/articles/10.1186/s42238-019-0012-y