Best CBD Companies
Lets talk about a question I hear all the time. "Hey Dale, What are the best CBD companies?"
If you've noticed, CBD use and products are exploding across the country. It's easy to feel overwhelmed by the amount of CBD companies out there. The Food and Drug Administration has the authority of regulating CBD product labeling and monitoring therapeutic claims for CBD. However, the responsibility for making an informed purchase is on you the consumer.
Some important considerations when selecting a product are:
safety
quality
transparency
price
In this article, we take a look at some of the basics in determining what makes the best CBD companies.
Testing Certifications
Third party testing from a reputable source is the only way to know what, exactly, is in a product. The gold standard in these tests is an ISO/IEC 17025 certification. However, only the best lab testing organizations will have this.
ISO/IEC 17025 is a company level accreditation. It's based on a standard published by the International Organization for Standardization (ISO). Specifically, it is an outline of general requirements for the competence of testing and calibration laboratories. This standard has two main sections:
management requirements (related to the operation and effectiveness of the quality management system within the laboratory)
technical requirements (related to the competence of staff and calibration of equipment)
The standard also gives requirements related to quality management. Examples of these are document controls and corrective actions.
This accreditation is for all organizations performing tests, including third-party laboratories.
Company Certifications
Knowing a producer's certifications and manufacturing processes is certainly something everyone can appreciate. Think of it like a food critic at a restaurant. Is the kitchen clean? Are the ingredients wholesome? Is the dish prepared properly? This knowledge allows the consumer to make informed choices before buying. As an example, some of the best CBD company certifications include:
a certificate showing the use of organic hemp
Good Manufacturing Practices review with verification
contains no more than 0.3 percent THC, according to the certificate of analysis (COA)
QR scannable code for chemical analysis
Here are some examples of certification stamps:

What are Good Manufacturing Practices?
Good Manufacturing Practices (GMP or cGMP) is an important system. It ensures that products are consistently produced and controlled. As a result, this system follows quality standards. Its designed to minimize the risks involved in any CBD production that cannot be eliminated through testing the final product.
This certification is designed to lower the risks (as much as possible) associated with any production that cannot be removed through testing the final product. There is no certified standard for GMP stamps, so most companies design their own once they receive this certification. It's a long and very hard process to get certified.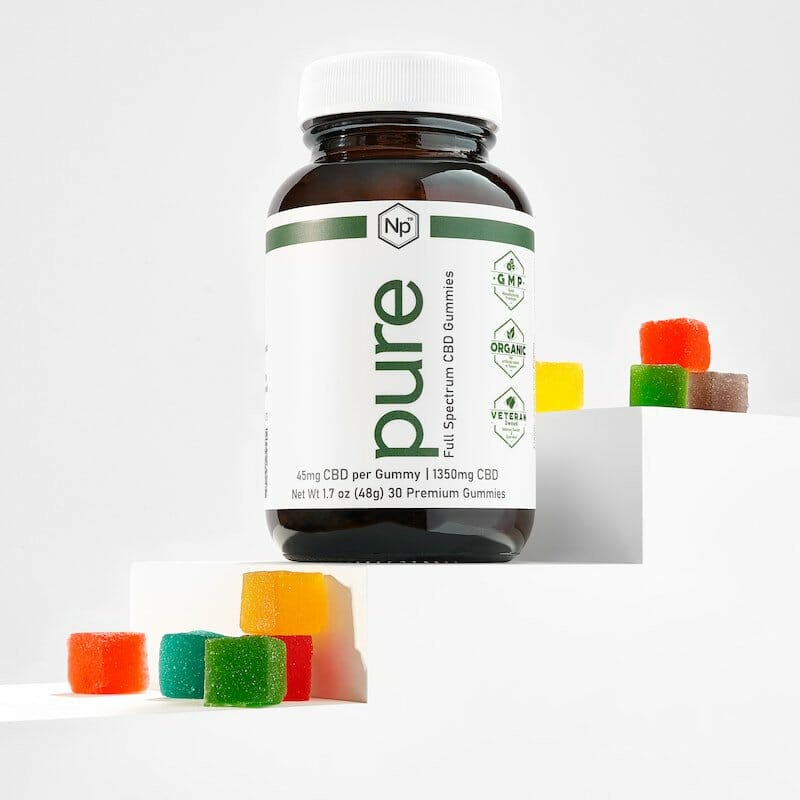 Most importantly, all 3rd party firms that confirm these standards are state licensed. The FDA governs the standard. The best CBD companies only produce GMP products. Thinking about buying CBD products? If it doesn't have the GMP stamp, do not buy it.
What is a Certificate of Analysis?
The best CBD companies will offer an easily viewable Certificate of Analysis, or CoA. A CoA is a document that establishes a product was tested by a third-party lab. This report makes sure your CBD product meets certain specifications of safety and quality.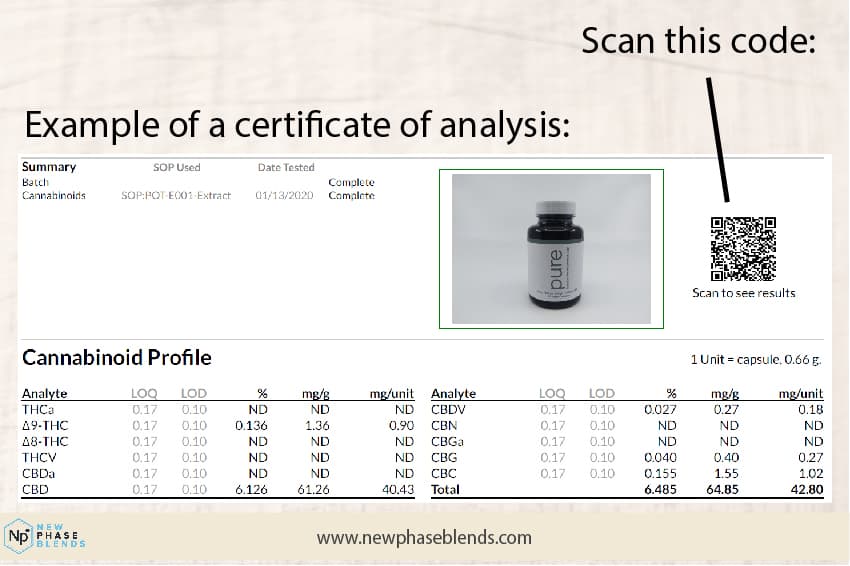 The results will be issued in the form of a CoA for each batch produced. Moreover, only the best CBD companies will link this to a scannable QR code on the product.
The CoA will also show the exact chemical testing results. You will know precisely what you are putting in your body. As you can see in the picture above, it breaks down the exact CBD content as well. There are much more to these reports. Click here to learn how to read a certificate of analysis.
Certificates of Analysis Are IMPORTANT When Choosing the Best CBD Company. All CBD products should be subjected to third party lab testing as a sign of quality.
This test result displays information such as the average CBD-to-THC ratio, presence or absence of pesticides, heavy metals, and microbial contaminants. There are a lot of companies that do their own lab testing (which is pointless because they can basically write anything they want to on the lab results), or don't do any lab testing at all.
These certificates can be hard to read or understand, so I suggest checking out our article on how to properly read a certificate of analysis here.
Only the Best CBD Companies Produce Organic Products
Just like wholesome ingredients in the kitchen, the best CBD companies use 100% organic hemp. Organic farming lowers the risk of environmental pollution. It also helps reduce greenhouse gas emissions. This is affected by severely restricting the use of manufactured chemical fertilizers and pesticides. These come from petroleum products.
Certified organic farmers avoid the use of most synthetic pesticides. Unfortunately, synthetic pesticides are used in conventional farming now days. Chemical pesticides and herbicides have been linked to birth defects, obesity, diabetes, ADHD, and other health problems.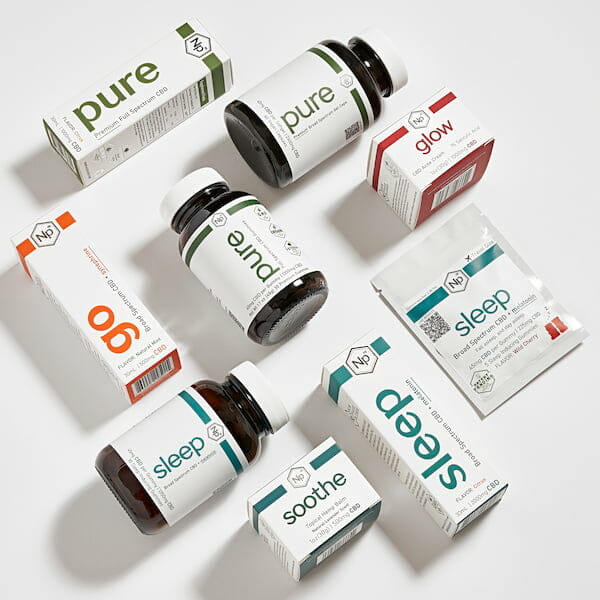 Pay attention to the carrier oils, too. Most CBD tinctures use an oil as a carrier oil to mix the CBD rich hemp extract into. This process makes a consistent dose of CBD per serving size. As long as you know what your body is allergic to, you will know which carrier oils suit you best. New Phase Blends always recommends MCT oil as a carrier oil.
Other companies use different carrier oils, and that's ok. Just know what works best for you. When trying to choose a good CBD company, if you run into people that tell you a specific carrier oil is horrible, and only theirs is the best, run away fast!
They are only trying to get a sale, not educate you in the best way possible.
Look For a THC Concentration of 0.3% or Less
What makes a THC content of less than 0.3% worth considering? First of all, it's a federal law. After the passing of the 2018 Farm Bill, hemp products were federally decriminalized, as long as they contained less than 0.3% of THC.
Also, a THC concentration this low will have absolutely no psychoactive side effects (it won't get you high). Anything above this level is considered a marijuana product and is most likely regulated by the state.
Indicators of User Trust and Brand Reputation
Customer reviews can give a potential buyer some of the best insights into whether a product is worth purchasing. As a result, an established brand with proven efficacy will typically have a decent amount of real user reviews.
The best CBD companies will have a mixture of great reviews, good reviews, and even bad reviews. Make sure the reviews you read are real, not a ton of made up reviews in order to drive up ratings. Poor CBD products will likely have a load of poor reviews.
The FDA tries to help limit bad CBD products hitting the marketplace.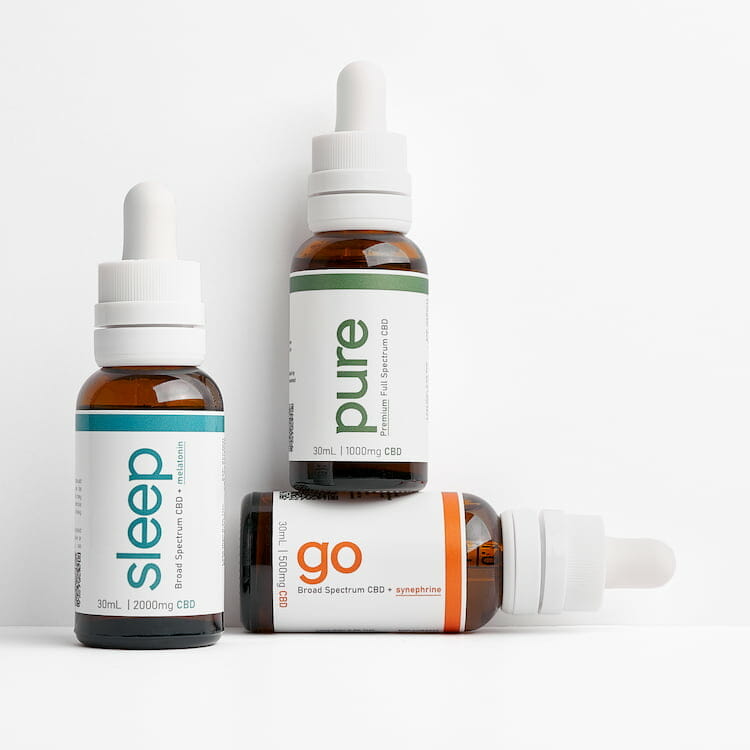 The FDA has a list of companies that fail to meet their safety standards. As a result, the FDA actively looks for companies that violate these regulations. When this happens, the manufacturer is notified. This is often in the form of a warning letter. This warning letter lists the violation(s), such as:
poor manufacturing practices
problems with claims for what a product can do
incorrect directions for use
mislabeled or under-dosed products
Click here to search the FDA Warning Letter database.
Reputation is usually the first point of reference when you intend to purchase anything not just CBD products. It is always important that you ask around for recommendations on what has worked for people that you know.
This will give you a general idea of what to expect both from the product, and from the company itself in the form of customer service.
You should also look out for certifications from regulatory bodies or experts in the field. The higher the number of recommendations, the more likely it is for the product to meet your needs and be legitimate.
Pricing
Most people reading this article realize CBD is not cheap. The best CBD companies will offer a fantastic product with great pricing. Try not to fall for either suspiciously cheap or ridiculously expensive CBD products. The cheapest products will not contain enough CBD to have a noticeable effect. The most expensive products are likely overpriced.
The most expensive ones, some with concentrations of up to 600 mg per serving, will not be anymore effective at blocking pain signals to the brain than one with 60mg. There are clinical trials that prove this.
The average cost per milligram of CBD in 2020 was $0.099 (about 10 cents). Full-spectrum products (products with CBD, THC, and other cannabinoids) are the most expensive. They have an average CBD cost per milligram of $0.104.

For example, this author suffers from significant joint damage (with chronic pain) in his wrist. Therefore, he requires a 1000mg salve for effective pain relief.
From experience, 500mg proved too little. Increasing the dosage to 1500mg did help control the pain. However, he felt no different from a 1000mg formula. You will need to do some trial and error yourselves.
There is a CBD Price Point for Everyone
Why pay more for no real difference? As a result, finding the sweet spot between dosage, relief experienced, and price tag is the name of the game.
Enjoy 15% off your entire cart from New Phase Blends' CBD Shop. Enter the coupon code 'CBDblog' at checkout. Click here to shop now!
Most people's goals are to purchase the best CBD products at the most reasonable price. Advertising an expensive product does not guarantee a better result.
PLEASE remember this.
There are SOOOO many CBD products that are priced incredibly high. Some of the brands are popular, but they are ripping people off. CBD is expensive to make, but it doesn't have to cost several hundred dollars for one tincture.
I cannot stress this enough just because it's expensive doesn't mean it is a good product.
Types of CBD Products
CBD products come in the form of oils, lotions, edibles, or even inhalants. These CBD products have different routes of application and different times for effects produced in the body. CBD gels and lotions, for instance, are great for topical application and localized pain reduction.
CBD tinctures, on the other hand, promote more of an overall body experience for pain reduction, or mental well-being.
If you are using CBD for it's medical efficacy, please make sure to choose a company that specializes in this. When choosing a good CBD brand, you will undoubtedly run across people who sell crazy items like CBD toothpaste or CBD soap.
These are considered novelty items, in my opinion, and the company is most likely just slapping the name "CBD" on the product to try to get sales. You generally can't go wrong with topicals (CBD creams) or tinctures (oral use).
Legal Status of CBD Products in Your Area
Is CBD legal in your region, state, or country? Don't forget to read about all the rules and regulations guiding the use and purchase of the products in your region. Since the Farm Bill of 2018 was introduced, industrial hemp containing less than 0.3% of THC content by dry weight has been legalized at the federal level in all 50 states.
Not every country has the same rules, so when choosing a good CBD company make sure it's legal in your area. For example, CBD is legal in the EU as well, but there is an additional requirement for CBN to not be present in the hemp extract either. Slightly different nuances like this are important, and you can get in trouble if you don't pay attention.
Wrapping Things Up
Hopefully you found some use out of this article. You should now know exactly what the standards are for the best CBD companies. Above all, the product should be perfect in terms of:

ISO/IEC 17025 third-party product testing
Certified Organic
Good Manufacturing Practices certified
QR scannable code for chemical analysis
Positive and sensible product reviews
Appropriate amount of CBD for what you need
Price range that suits you
Lastly, I sincerely hope you find the relief you are looking for. There are plenty of honest CBD companies out there that make a product to suit your needs.