This article is focused solely on answering the question: Can I use CBD oil for anxiety? Does CBD oil help with anxiety symptoms? While treating anxiety normally requires medication and/or therapy, many people are finding the use of CBD beneficial for generalized anxiety issues. According to thousands and thousands of customer reviews, using CBD for anxiety management is a great way to help deal with this crippling discomfort. If you are one of the many unlucky people who struggle with anxiety disorders, post traumatic stress disorder, or even a social anxiety – you're going to want to read this thoroughly.
New Phase Blends is one of the most trusted brands in the CBD industry, and it all comes down to customer satisfaction. Our customers are pleased with how our CBD for anxiety offers them relief. This is because we use tested and trusted manufacturing techniques that bring nothing but quality products for your enjoyment.
TL;DR – Taking CBD oil for anxiety is a great way to help yourself calm down when you are overly anxious, or while having a panic attack. Many people report that their anxiety decreased after the effects of CBD kicked in.
CBD for Anxiety
Is your anxiety beginning to overwhelm you? Does it feel like nothing you do can help manage your anxiety levels, and even if something might help a little, that particular product doesn't do much, or does its efficiency wears off after a few days?
People have used many natural and pharmaceutical products and practices, for example, supplementing with CBD oil for anxiety disorders, but do these products actually work?
You should consider these essential questions when choosing a product to help you get through some of the most challenging days. 
When most people reach this stage, they start researching in an attempt to find a product that will actually help them manage their anxiety levels.
Can CBD Oil Help with Anxiety?
Yes, CBD oil can help with anxiety relief. In fact, CBD tinctures may be precisely what you need to get your anxiety levels under control. 
When considering your anxiety levels, it is vital to understand that while CBD may help manage your overwhelming anxiety levels, the underlying cause of the anxiety still needs to be addressed. Medications and supplements can help manage the anxiety, but they will not cure it.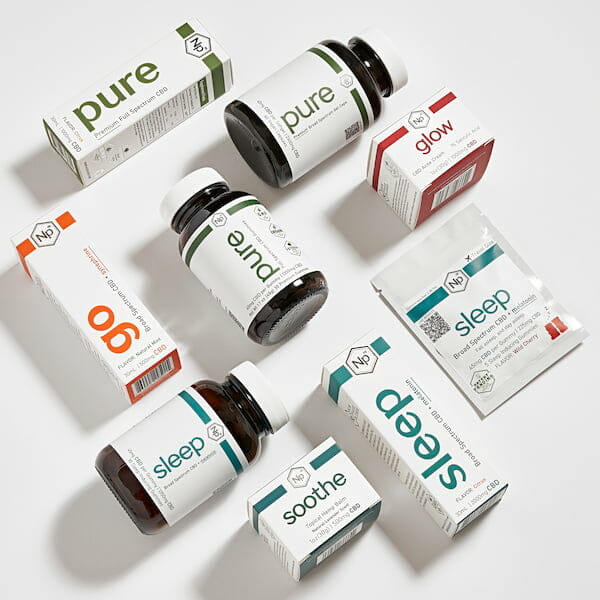 Tested, trusted, hemp-derived CBD products are the tools to help you cope and not feel the intensely debilitating effects of stress. 
Some people find more relief from CBD-rich products than they do with pharmaceutical drugs. Products like CBD gummies for anxiety are becoming increasingly popular because they are extremely easy to get, and they work quite well. This is coming from thousands of user reviews on taking CBD oil for anxiety.
Anxiety Can Be Crippling!
As someone who has dealt with moderate anxiety, I first want to acknowledge you for what you are going through. Severe anxiety can be straight-up crippling, and it can lead to panic attacks and feelings of isolation.
Related: CBD vs THC for Anxiety Management
It may, however, give you at least a bit of comfort to note that anxiety is a relatively common occurrence in people.  That statement isn't meant to downplay what you're going through. Instead, it helps you realize that many people can get out of their anxiety rut.
When anxiety starts to affect your social life negatively, it is considered a disorder. Many different kinds of anxiety cost people their quality of life: 
Generalized anxiety disorder
Daytime anxiety or night-time anxiety
Anxiety as a result of post-traumatic stress disorder
Generalized social anxiety disorder
Separation anxiety disorder
Many other anxiety-related disorders that are caused by mental health conditions and psychiatric disorders such as obsessive-compulsive disorder. Anxiety can really do a number on your day to day life, and people will do almost anything to find relief.
CBD Oil Benefits Anxiety Disorders
It is essential to remember that many moderate to severe forms of anxiety and stress disorders may require a psychologist, counselor, or even psychiatrist.
There is nothing wrong with visiting a healthcare professional, and it is their job to help people get over what people like you, or someone you know, is going through. Your therapist or counselor will be able to give you practical advice and tools to understand your anxiety and what causes it.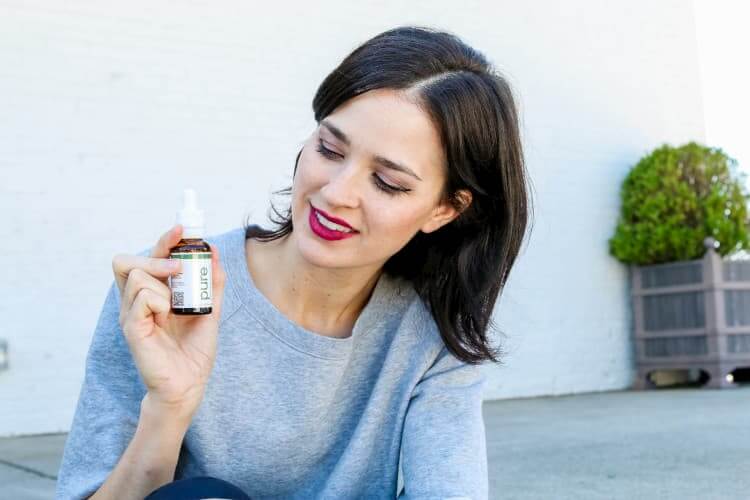 The feelings might not go away, and you might still feel the effects of stress and anxiety. Some of the best CBD can help you overcome or manage those feelings. If you haven't already tried it, the next time you experience anxiety, pop a CBD gummy and wait.
You'll feel the effects that will calm you down soon enough.
Although you may feel like you are so deep inside of a black hole, you should know that getting out of that hole may not be as hard as you are convincing yourself it is.
Tested Cannabidiol Oil for Anxiety – The Benefits
Pure CBD Products for Sale by New Phase Blends
Did you know that thousands of people rely on cannabidiol oil for anxiety? Cannabidiol (CBD) is derived from the hemp plant; the oil is an extract that has been proven to benefit your health and mental health in many ways.
The therapeutic effects of natural CBD can help reduce the impact of many anxiety-based symptoms. 
Some of the symptoms of anxiety that CBD products can help fix include:
Insomnia – Lack of sleep and sleep deprivation is one of the number one causes of anxiety and a sign of severe stress. CBD can help you get the rest that you need. Using CBD for insomnia is quite effective.
Racing heart – increased heart rate is one of many general anxiety symptoms; CBD can help lower your heart rate to a normal pace. A panic disorder often comes with racing heart beats, too.
Management of pain – Chronic pain and inflammation are common contributors to anxiety. CBD for pain relief is well documented. 
Treatment of substance abuse – Withdrawal from substances can cause severe anxiety. CBD is non-habit-forming and helps many people manage substance abuse.
Reduction of blood pressure – High blood pressure can cause feelings of anxiety. CBD help reduce pressure and ensure that your heart is healthier.
Improved sleep quality – Poor sleep can impact your waking life. Feelings of fatigue and being tired can worsen mental health issues and panic attacks. CBD's effects often lead to better sleep.
Anxiety is difficult for some as it manifests in several different anxiety symptoms, and they are not always the same.
Does CBD Oil Calm You Down?
Many people report the therapeutic effects of include feeling a sense of calmness overtake them after using an effective dose of CBD, or similar CBD product. This is because of how the CBD interacts within our bodies, and why it is a great idea to consider using CBD for anxiety. Studies show with verifiable tests that people can actually get relief from their high levels of anxiety.
It will not cause an extreme sedation like Xanax would, but it will help take the edge off and get you to relax some.
Discover: Tinctures With 1,000 mg of CBD
CBD and PTSD: Does It Help?
Post traumatic stress disorders, like other anxiety disorders, in children and adults can be hard to manage. CBD products help reduce many PTSD symptoms that can exacerbate anxiety. PTSD symptoms can be extremely hard to deal with, so anything that can help is very much appreciated.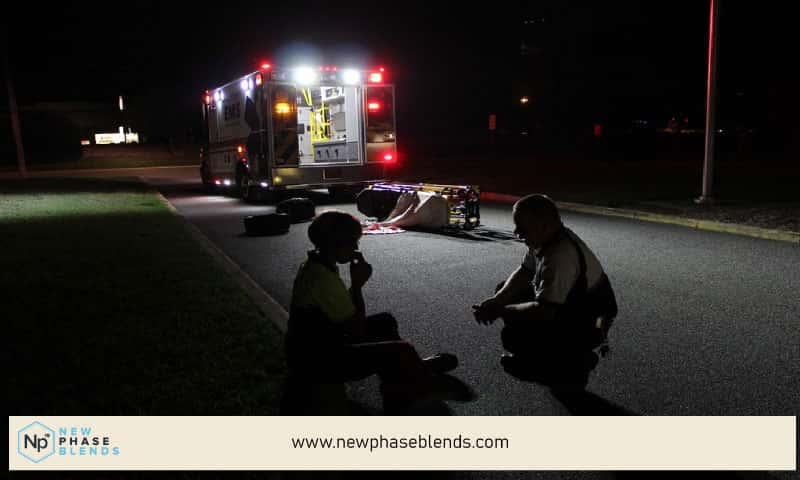 PTSD is absolutely a nasty beast that can cripple even the most mentally tough individuals on the planet. If you are struggling with PTSD, please consider reaching out to a healthcare professional (if you already haven't). Talk with them about adding CBD to your regimen.
New Phase Blends is a veteran owned and operated organization. Of all the generalized anxiety disorders, PTSD hits home with us. So many of our service members are dealing with this, and to be able to help them cope with PTSD symptoms is the least we can do.
CBD Oil for Anxiety in Adults
Using CBD for anxiety in adults is quite effective. At New Phase Blends, we use accurate, medically reviewed, scientific data to prove our stance on CBD use. Let's go over some recent medically reviewed studies that show a positive benefit to CBD use for treating anxiety issues.
These are just four of many peer reviewed studies on the use of cannabidiol that show CBD significantly reduced anxiety.
There are tons of studies currently taking place, and their results will only strengthen the answer to the question, "Can I take CBD to manage anxiety?" The answer is a resounding yes, as these studies show.
Now that we know you can use a CBD treatment manage anxiety effectively, let's get into some CBD products and how to use them to reduce your feelings of anxiousness and stress.
Does CBD Oil Help With Anxiety?
CBD products do help with anxiety, as mentioned previously. Keep in mind, though, that some CBD products have THC in them. That said, it won't be enough THC to get you high.
Cannabidiol, or CBD, is a natural plant chemical that comes from the cannabis plant. There are over 120 known cannabinoids, and CBD is simply one of them. Have you heard of THC?
THC is another cannabinoid that most people are familiar with; however, THC is psychoactive; using CBD will not give you psychoactive effects, meaning choosing CBD will not make you feel high – at all. This is the major difference between CBD and THC.
CBD Products for Sale by New Phase Blends
One of the most popular benefits of CBD and hemp oil is they can offer relief without having any euphoric feelings or getting 'high.' 
CBD also has a wide range of therapeutic effects that span through a range of neuropsychiatric disorders originating from complex central nervous system mechanisms.
If you prefer to completely avoid THC, stick to our broad spectrum CBD oil.
Why Would CBD Cause Anxiety?
The only reason CBD might cause anxiety for some people comes down to THC content. If you purchase CBD items with a high THC content, this can cause certain side effects like paranoia and anxiety. Not everyone likes THC for this exact reason.
Make sure you purchase legal CBD. Legal forms of CBD products will never have over 0.3% of THC in them, so you don't have to worry about feeling the potential effects of THC.
Versatile Relief
CBD comes in various forms: drops, edibles, beverages, and vaping cartridges are just a few of them. Most people prefer CBD gummies for anxiety or sublingual CBD drops, and these two methods work fast and efficiently. After all, we want our anxiety levels down as quickly as possible when they skyrocket, don't we?
Note: Many CBD brands will tell you that they offer the best CBD on the market yet will not prove the purity of their product. Choosing the right CBD brand that gives you a certified CBD tincture with clear labels and easy access to information is vital.
Ask the company if third-party labs test their product. The best CBD products will have these lab tests conducted on them.
Third-party lab testing ensures that you are not spending money on products that are full of harmful chemicals and nasty ingredients that diminish the healing properties of the CBD.
How to Take CBD For Anxiety
Related article: How to Take CBD Oil
Generally speaking, someone looking to try CBD for the first time should always start with the lowest effective dose and only increase that dose as needed. Like any other substance, your body can develop a tolerance to CBD, and taking more than you need will only develop tolerance more quickly.
There are many different types of CBD products that you can choose from; these are the two most recommended types of CBD:
Sublingual CBD drops
CBD Gummies for anxiety treatment
Let's get into the differences between each type of CBD product for anxiety, because this will affect how you take CBD for anxiety. When dosing with CBD, try eating a meal that has healthy fats and easy-to-digest foods before dosing. 
Sublingual CBD Oil
Sublingual products get into the bloodstream quickly (within 2-10 minutes) and work very well for anxiety relief. These are generally the fastest acting, high-quality tinctures (next to vaping).
Due to the vaping crisis in 2019/2020, New Phase Blends chooses not to carry any smokable products.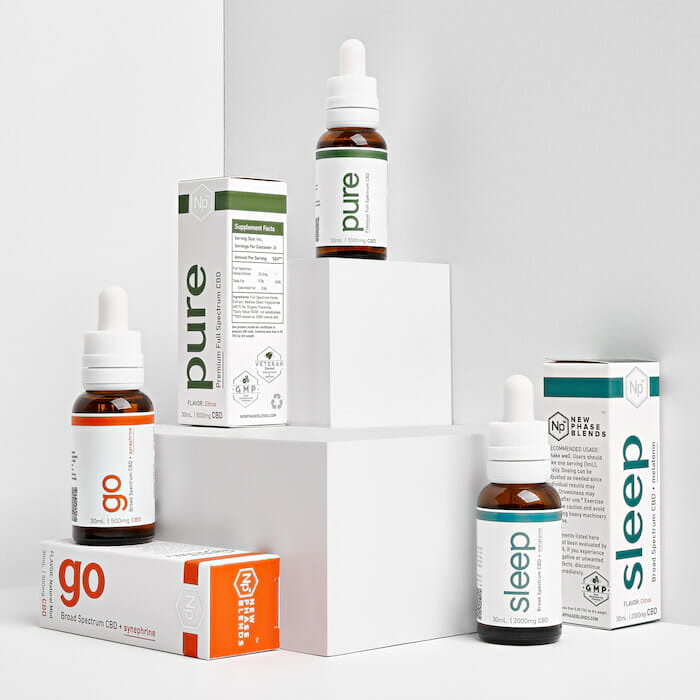 Sublingual CBD products work so fast because the sublingual vein absorbs them while the drops sit under your tongue. This vein then carries the CBD into your bloodstream extremely quickly and efficiently.
How to take sublingual CBD Oils:
Place the drops under your tongue
Hold them there for 2 minutes
Wait for the CBD to relieve anxiety
How Much CBD Oil Should You Take to Help Your Anxiety?
1ml of a New Phase Blends CBD tincture is a perfect CBD dosage to help your anxiety. As you learn how your body manages it and copes, you can progress your CBD dosage to more, or less. Keep in mind that CBD may work differently for people, depending on their dose. Always start with the least amount needed to feel positive effects.
How much CBD oil you should take is very dependent on the user. While some doses may work for some people, others may need more or less.
CBD Gummies for Anxiety
Using gummies for anxiety is also a popular and effective method. Most people can feel the soothing effects of CBD gummies for things like panic attacks within 10 – 20 minutes. Taking CBD gummies for anxiety relief is popular for a reason – they seem to work quite well.
CBD Gummies for Sale by New Phase Blends
Gummies are a rage in the CBD world. They are inconspicuous and work well, and they are easy to carry around and easy to supplement with other alternatives. Most gummies are a single serving form, meaning you take one gummy, and that's one serving.
They also work reasonably fast, although not as fast as the sublingual CBD drops. CBD doses are simple with the gummies, too. One gummy is generally one serving. That's it!
How to Take CBD Gummies for Anxiety:
Take a recommended serving's worth of gummies (one gummy), place them in your mouth and chew the gummies. Sit back and wait for the effects to kick in.
The great thing about gummies is they can be used for different forms of relief. Considering using CBD gummies for pain relief? That's okay. Need some help coping with anxiety? Try a gummy.
How Does CBD Affect Anxiety?
Many people with anxiety worry about the effects of prescription medications or their impact on their health. When we understand the root causes of anxiety and the many benefits of CBD, we begin to see that it is a wholesome alternative to harsh chemicals.
The fast relief offered is welcomed.
As a side note, there are many other increasingly popular cannabinoids, like CBD, that people are attempting to use for anxiety. So far, CBD rules the roost over other compounds. People have tried delta 8 for their anxiety, CBC, CBN, and it just seems that they don't quite compare with CBD products.
Cannabis Oil for Anxiety Benefits
There are many benefits to taking cannabidiol oils to help you manage any feelings of anxiety. 
Non-Habit Forming – you are not at risk of forming a habit or becoming addicted. Studies have shown that CBD exhibits no habit-forming or dependency side effects.
No Psychoactive effects – whether you take broad or full-spectrum hemp extract CBD, you will not experience psychoactive effects; you won't get high.  
Easy to use – The dropper is easy to use; drop it into your mouth and keep it under your tongue, or pop a gummy in your mouth and chew it. 
Discrete – The packaging is discrete and fits into your bag or purse. Unlike medical marijuana that gets you high and has a distinct smell, a tincture or gummy is not noticeable for many people. There is no stigma attached to taking CBD. 
Many health benefits – many health benefits have a positive effect on your overall health with daily CBD use. 
Drug panel safe – CBD will not show up on a drug test as it doesn't contain enough THC to get you high or have any psychoactive impact on your mind. 
Natural – CBD is unlikely to interact with other medications; when in doubt, speak to your doctor on how likely it is to react to your current prescriptions. Alternative medicine has been used for many years to treat anxiety as a safer, more natural alternative.
Cognitive-behavioral therapy – CBD works well with other effective treatment programs such as CBT and talk therapy.
These cover most of the benefits in using CBD.
How Long Does CBD Stay in Your System?
So, how long does CBD stay in your system? Technically, CBD can linger for weeks in your body after using it. While this is trace amounts, it is still detectable for a while.
CBD breaks down after 6-8 hours of being ingested. It doesn't completely go away for weeks, though.
Does CBD Stop Panic Attacks?
Studies have explored the potential use of CBD, or cannabidiol, as a treatment for anxiety and panic attacks. While research in this area is still ongoing, some evidence suggests that CBD may help to alleviate panic attacks. However, it's important to consult with your healthcare provider before using CBD for panic attacks to ensure that it's a safe and suitable option for you.
Does CBD Oil Relax You?
Yes, it can be relaxing for some people depending on how much you take. Remember, you won't necessarily feel the affects of CBD, but some people do feel a bit relaxed. This is why products like CBD oil and anxiety go hand in hand.
Does CBD Work for Anxiety?
Many studies show that CBD does work for anxiety. Anxiety is a broad term, and some people have much worse conditions than others. That said, it never hurts to at least try using CBD to see if it works for anxiety you might be experiencing.
It is a natural, safe, alternative to many other medicines people resort to for their anxiety problems.
What Does CBD Oil Do for Anxiety?
CBD, essentially, helps take off the edge for those that experience anxiousness, racing thoughts, or other forms of anxiety. Keep in mind that it will not cure your anxiety and make it go away for ever. That would require extensive work with a counselor, therapist, or other mental health professional.
What you can count on from taking CBD oil, is to help better manage your symptoms so you can go about your daily activities in a more pleasurable way.
Summary – CBD For Anxiety
We discussed a lot in this article about CBD oil and anxiety. Here are some of the take-aways for those who like a recap or prefer to skip to the conclusion:
There are many different forms of anxiety
A lot of studies show that CBD can be used to relieve anxiety
Those who want to use the top CBD items for anxiety management should use sublingual CBD drops, as they work the fastest
Many clinical studies are underway that support the general use of CBD for anxiety and other debilitating mental health conditions that impact your quality of life. The CBD industry is still relatively new, and it is in a constant state of discovery. Many more benefits are being discovered daily. 

Remember, if you are suffering from severe anxiety, consulting a mental healthcare professional is highly recommended, and they will get you on the right path. Also, keep in mind that even the best CBD will help relieve anxiety symptoms, but CBD will NOT cure your anxiety disorder. 
You need to get to the root of what's causing it, and a healthcare professional is trained to do that. When in doubt, reach out. Your mental health is essential; CBD can help you improve your quality of life. 
Talk to your CBD brands you buy from, too. Ask them questions if you have them. While they aren't medical professionals, they will be able to point you in the right direction.
This article is focused solely on answering the question: Can I use CBD oil for anxiety? Does CBD oil help with anxiety symptoms? While treating anxiety normally requires medication and/or therapy, many people are finding the use of CBD beneficial for generalized anxiety issues. According to thousands and thousands of customer reviews, using CBD for anxiety management is a great way to help deal with this crippling discomfort. If you are one of the many unlucky people who struggle with anxiety disorders, post traumatic stress disorder, or even a social anxiety - you're going to want to read this thoroughly.
URL: https://www.newphaseblends.com/can-i-take-cbd-for-anxiety/
Author Name: New Phase Blends
Published Date: 2021
Appearance Headline: Cannabidiol as a Potential Treatment for Anxiety Disorders
Appearance URL: https://www.ncbi.nlm.nih.gov/pmc/articles/PMC4604171/
Appearance Author: Neurotherapeutics
Appearance Published Date: October 2015
Alternate Name: True
References
BJGP Open: https://www.ncbi.nlm.nih.gov/pmc/articles/PMC7330185/
Cannabis and Cannabinoid Research: doi 10.1089/can.2019.0052
Frontiers in Psychology: https://www.frontiersin.org/
Healthline: https://www.healthline.com/health/anxiety/separation-anxiety
J Am Pharm Association: https://pubmed.ncbi.nlm.nih.gov/31866386/
Mayo Clinic: https://www.mayoclinic.org/
National Institute of Mental Health: https://www.nimh.nih.gov/
Springer Neurotherapeutics: https://www.ncbi.nlm.nih.gov/pmc/articles/PMC4604171/