If you are looking to clear up some confusion surrounding a proper CBD gummies dose, this post is for you. How many CBD gummies should I eat? Is there a common CBD dosage when it comes to gummies? These are all common questions people have when trying to eat CBD gummies to get a grip on their discomforts – don't worry, you aren't alone.
The issue with finding a CBD gummies dosage is, it can be straight-up confusing at first. Don't worry, though. We'll help you understand everything related to dosing these delicious and beneficial edible candies.
TL;DR – Use about .25 mg of CBD / pound of body weight to achieve your intended results. At night, you can consider using a little bit more. For example, if you weigh 150 lbs, you would take about 37.5 mg of CBD.
How Many CBD Gummies Should I Eat?
CBD gummies have exploded in popularity due to their convenience, taste, and potential health benefits. With so many options on the market, many first-time users wonder – how many CBD gummies should I eat? There's no definitive answer, as optimal CBD gummy dosage depends on several key factors.
One gummy may contain different amounts of CBD (listed in mg of CBD) in each gummy.
For example, for all New Phase Blends CBD gummies, we recommend using one gummy, as needed. Each gummy contains 45 mg of CBD, which is much stronger than many other products on the market. User testimonials report that our gummies work better than a lot of other brands.
If the gummies you purchased do not have these instructions, or serving sizes, please do not use them. There are far too many fake, or sub par CBD products on the market these days and you may have been scammed, unfortunately. Stick with only high-quality products from now on.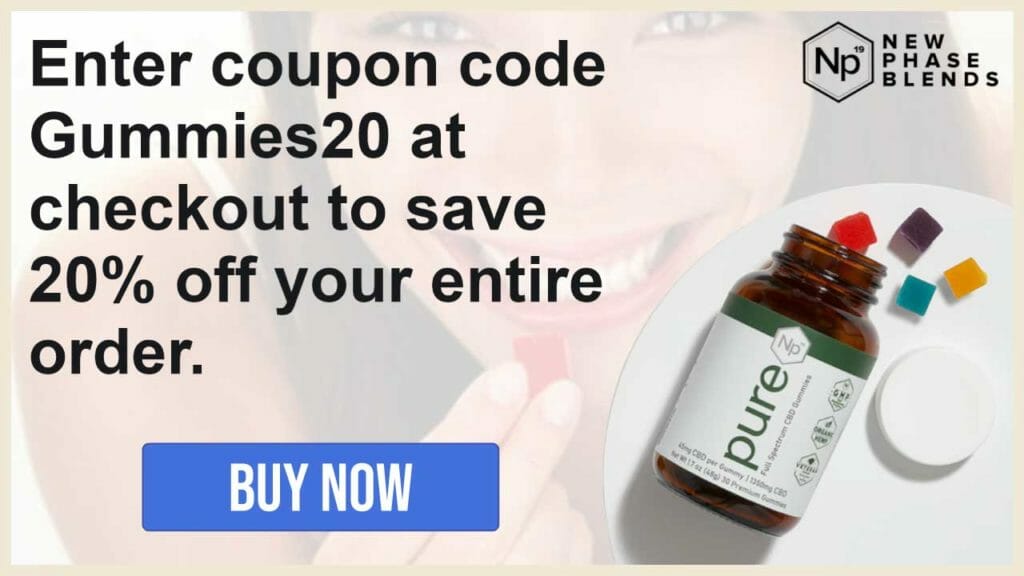 Exceeding these recommendations is not advised. All properly produced gummies will come with serving sizes and instructions for use. This makes finding your CBD gummy dosage simple.
Determining Your Ideal CBD Gummy Dosage
Why are you thinking of taking CBD products? Figure out what prompted you to eat a CBD gummy. Is it pain reduction you are after? Maybe you need help sleeping. Is your anxiety sky rocketing lately?
Unlike pharmaceutical drugs with standardized dosing, there are no official guidelines for proper CBD dosage. The optimum number of CBD gummies to take will vary based on:
Body Weight
Heavier individuals may need higher CBD doses because body weight affects how substances are distributed and metabolized. As a general guideline, take 1-5mg of CBD per 10 lbs of body weight. So if you weigh 150 lbs, that would equate to 15-75mg of CBD. Start on the lower end and increase gradually as needed.
Desired Effects
Are you looking for mild relaxation or more intense pain/inflammation relief? For mild effects take 10-15mg CBD, moderate 15-30mg, and strong 50mg+. Stronger desired effects need higher CBD gummy doses.
Condition Being Treated
Those using CBD for general wellness may need a lower dose (15-25mg) than chronic pain patients (50mg+). Dose will also depend on condition severity. Start low and increase dose until you find relief.
CBD Concentration Per Gummy
Check labels for CBD content per gummy. Lower concentrations like 5-10mg will require more gummies than higher 25-50mg options. Buy gummies based on your ideal dose.
CBD Spectrum Type
Full spectrum and broad spectrum gummies that contain other cannabinoids and terpenes alongside CBD tend to be more potent due to the entourage effect. You may need fewer of them than pure CBD isolate gummies.
Body Chemistry
Factors like age, gender, genetics, and health influence how your body reacts to CBD, so your ideal dose could differ from others. Start low and adjust your dose based on effects you experience.
CBD Gummies Dosage Calculator
Remember, the right CBD gummy dosage hasn't been officially established by anyone. We have gathered a lot of feedback from our users, and come up with a calculation to get you in the ballpark, though. Use the calculator below to help you determine a good CBD dose. This is calculated off of body weight, which we will explain later.
This calculator accounts for using 0.25mg of CBD per pound of body weight at a time. For example, if I weigh 200 pounds, I would take 50mg.
This is typically a great starting point for most people, but remember, CBD dosages can vary from person to person.
Bioavailability of CBD Gummies
CBD gummies have lower bioavailability than oils or vapes since CBD is absorbed through the digestive system. You may need a higher dose to achieve equivalent effects as other methods.
Most people enjoy CBD gummies because they are so simple to take. There is no measuring out liquid, or applying a cream, or dealing with vape devices.
All you do is eat one gummy, which is one serving, and wait for the results. That's all there is to it! CBD edibles are easy to carry around, too. You can't spill them, and you can easily grab a handful and put them in a travel case when traveling.
How Many CBD Infused Gummies Should I Take For Anxiety?
Did you know large scale anxiety studies using CBD gummies for anxiety are finally becoming mainstream? A good example comes out of the Permanente Journal in January of 2019.
The doses used in this study were 25 mg/day to 175 mg/day. The results were extremely promising, with 79% of the study group reporting decreased anxiety at the conclusion of the three 3 month trial.
Other notable studies have used much higher dosages and produced impressive results as well, but we feel these doses (100, 300, and 900 mg/day) are not realistic because of the cost. You do not need that much CBD, per day – at all.
How Many CBD Gummies Should I Take For Sleep?
The research mentioned above actually helped shape the sleep product line by New Phase Blends. These patent-pending sleep gummies are specially formulated to help you get a good night's rest again.
One gummy will likely be a good amount to help your sleep issues, regardless of your bodyweight. These gummies also come in a CBD tincture form. The amount of CBD in a serving in these products is somewhat high, but not too high.
The synergistic effect in a dose of CBD mixed with melatonin works extremely well. This means your CBD products do not have to have as high of a dose of CBD in order to achieve an intended effect.
What is the CBD Gummy Dosage For Pain?
For pain, optimal gummy dosage typically ranges between 50-100mg. Severe pain may require higher doses starting at 100mg. For example, some chronic pain patients report requiring doses between 100-200mg for adequate relief.
Increase gradually in 25-50mg increments and monitor effects closely to avoid unwanted side effects from too rapid an increase.
Consider using about .25mg of CBD / pound of body weight at a time. For example, if I weigh 200 pounds, I would take 50mg of CBD. The right CBD dosage for gummy administration is around 45mg – depending on your bodyweight. For most brands, one gummy will be a single dose.
Following proper dosing guidelines and adjusting your CBD gummies intake based on your body's reactions can help you experience their full benefits. Consult a doctor before use and purchase lab-tested gummies from reputable brands.
*FDA disclaimer: none of the statements on this webpage have been approved by the Food and Drug Administration. These statements have not been evaluated by the FDA. These products are not intended to diagnose, treat, cure, or prevent any disease. Medical advice should be sought before starting any supplement. If you are pregnant or nursing consult with a doctor. Medical advice should be sought if you have any pre-existing medical conditions. If you take other prescription medications, a doctor's advice should be sought. Site void where prohibited.