Are you looking for a natural and effective way to treat seizures? This article explores taking CBD oil for seizures and why it works. With so cannabis research done these days, there is overwhelming evidence that CBD oils can effectively treat neurological conditions like epilepsy and other health issues, including chronic pain.
TL;DR – While CBD oil still isn't recognized as a dietary supplement, cannabidiol has been approved in a pharmaceutical form for the treatment of certain seizure disorders. If there is one that that CBD may do well, it's managing different types of seizures.
Medical marijuana is also becoming a widely accepted solution when it comes to managing seizures.
How effective are all of these supplements when you want to actually control seizures, though?
Let's find out.
What is CBD Oil?
CBD oil is a form of cannabis oil made from CBD-rich cannabis extracts. It is derived from either marijuana or hemp plants, which are both family members of the cannabis plant.
It's worth noting that CBD products extracted from the marijuana plant contain higher levels of THC, which is the cannabinoid that produces a euphoric feeling of being "high" in those who take enough of it.
Related: Is CBD Oil Legal in Texas?
Purified CBD oil from hemp plants only contains trace amounts of THC (usually below 0.3%) and thus doesn't have any psychoactive effects. CBD oil is known for incredible health benefits, and this includes epilepsy.
There are many (124) other different cannabinoids that can all potentially trigger different health benefits. Some of these are: cannabigerol (CBG), cannabinol (CBN), and cannabichromene(CBC). You can check out our growing list of cannabinoids.
Many studies show how purified CBD can reduce seizure frequency.
How Does CBD Oil Help Epilepsy?
According to the World Health Organization, as many as 50 million people worldwide have epilepsy. The Michigan Epilepsy Foundation claims that about 1% of all Americans suffer from some form of this neurological disorder.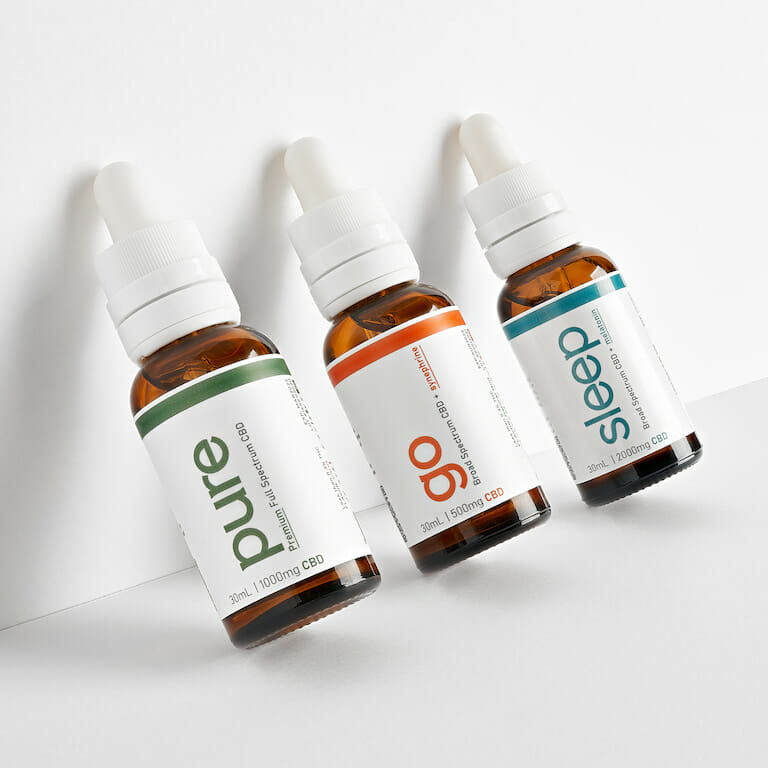 There are many different forms of epilepsy, and all of them can put the sufferer in grave danger when an unprovoked seizure occurs.
Many sufferers don't react to antiepileptic drugs (AEDs). It either doesn't reduce the convulsive seizure frequency, or the side effects are so severe that the person cannot continue taking the anti-seizure medication without severely compromising their quality of life.
Drug-resistant epilepsy compromises every aspect of the sufferer's life, and many turn to natural ways to treat seizures.
Research by the U.S. National Library of Medicine National Institutes of Health Studies has shown that medical marijuana and other CBD products derived from the cannabis plant can be highly effective in helping people who have treatment-resistant epilepsy.
Accepted Medical Use of CBD Products for Seizures
In June 2018, the U.S. Food & Drug Administration (FDA) approved EPIDIOLEX®, one of the commercially available CBD products, as an accepted medical treatment for seizures for two of the most common epilepsy syndromes, Dravet Syndrome and Lennox-Gastaut Syndrome.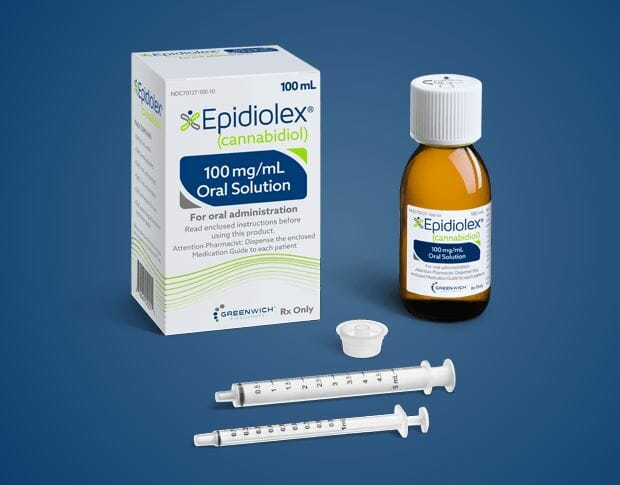 EPIDIOLEX® is a 99% pure CBD oral spray that has undergone three double-blind, randomized, placebo-controlled clinical trials with patients that have either Dravet Syndrome or Lennox-Gastaut Syndrome. Both are common forms of childhood epilepsy that can lead to poor or delayed development of a child's language, intellectual aptitude, motor skills, and communication skills.
During the clinical trials, the EPIDIOLEX® was administered to one group and a placebo to others. The CBD oral solution significantly reduced the seizure frequency in comparison to the placebo group. It also improved other symptoms like anxiety and insomnia.
EPIDIOLEX® became the first FDA-approved treatment that could control seizures in people suffering from Dravet Syndrome.
Interaction of CBD and Other Medications
As explained above, prescription CBD oil can help treat epilepsy and various other health problems. But what if you want to use CBD products with other medications?
Many people who use CBD oil have reported that their seizures decreased without any side effects, whether they use CBD isolate, broad-spectrum CBD, or full-spectrum CBD oil.
It is not known precisely how CBD and other epileptic medications interact. In some studies, people who used the FDA-approved epilepsy drug EPIDIOLEX® experienced elevated liver enzymes. However, the adverse effects were mild, and doctors recommended that liver enzymes and medication levels be monitored while using CBD oils.
Other than this, CBD is generally considered a safe option with minimal side effects, even with other drug interactions.
If a trustworthy manufacturer manufactures your cannabis products, you can rest assured that it's relatively safe to use. New Phase Blends is a proud member of the Florida Hemp Council, and our complete supply chain is Good Manufacturing Practices (GMP) certified – from our extractors and partner farmers to our manufacturers.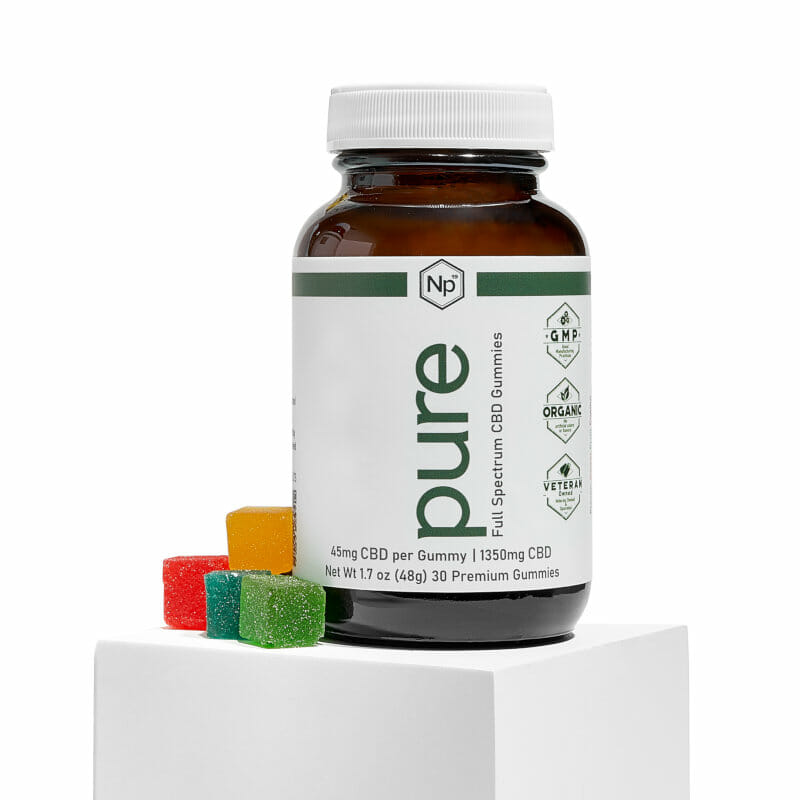 This means that every product is third-party lab tested, which guarantees absolute quality and minimal risk of adverse effects.
However, you should always consult with your doctor, especially if you're worried about medication interactions.
Can CBD Oil Stop Seizures?
Research studies from as early as the 1970s have proved the effectiveness of hemp extract to treat seizures in animals. The researchers tested both CBD and THC oils as anticonvulsants on mice. The cannabis products were effective in preventing the mice from having more seizures.
These early experiments concluded that an interconnected network of neurotransmitters called the endocannabinoid system might partially regulate seizure activity.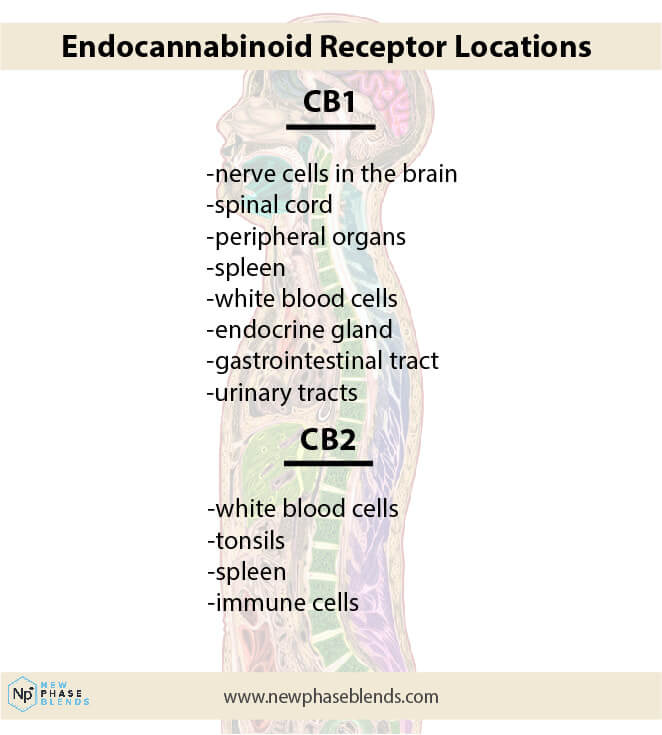 The endocannabinoid system's job is to maintain balance in our bodies. It maintains our chemical balance and controls biological functions like motor control, sensory perception, appetite, inflammation, and sleep.
It also sends signals to our bodily systems through endocannabinoids, which are chemical messengers.
The endocannabinoids bind to cannabinoid receptors in our brains and all through our bodies. This helps the endocannabinoid system to maintain our equilibrium so we can function as healthy individuals.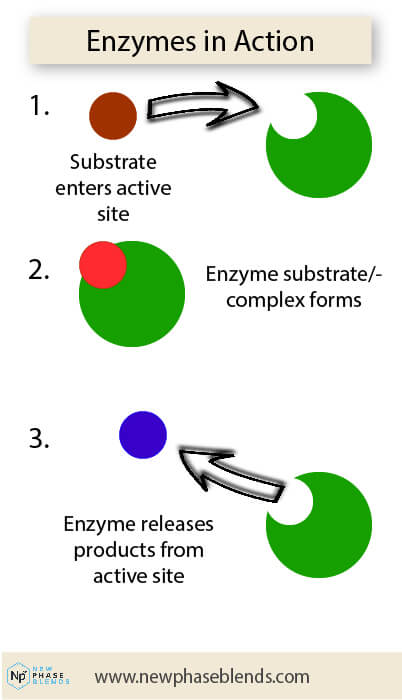 Once the endocannabinoids have done their work, enzymes break them down to prevent them from over accumulating.
Recent Research on CBD Oils for Seizure Control
Academic research institutions like the University of California and the University of Texas Health Science Center have done extensive research into the health benefits of CBD in comparison to other medications.
Several clinical trials and case studies analyzed the effects of THC and CBD on conditions that cause seizures, including treatment-resistant epilepsy.
Because of the psychoactive properties of THC, the focus shifted to CBD oils. Effective medications without psychoactive effects will always be preferred by medical professionals over medications with psychoactive effects. Makes sense, right?
Related article: How Does CBD Work?
CBD products have been extensively studied for pediatric neurology conditions like pediatric epilepsy. Findings show they are highly effective in treating childhood treatment-resistant epilepsy forms like Lennox-Gastaut Syndrome and Dravet Syndrome, and more.
The potential clinical benefits are massive!
The Science of Seizures and CBD Use
Cannabidiol (CBD) is a cannabinoid, just like the ones our bodies' produce (endocannabinoids). When we ingest CBD oil, it can affect the cannabinoid receptors and also act on other pathways.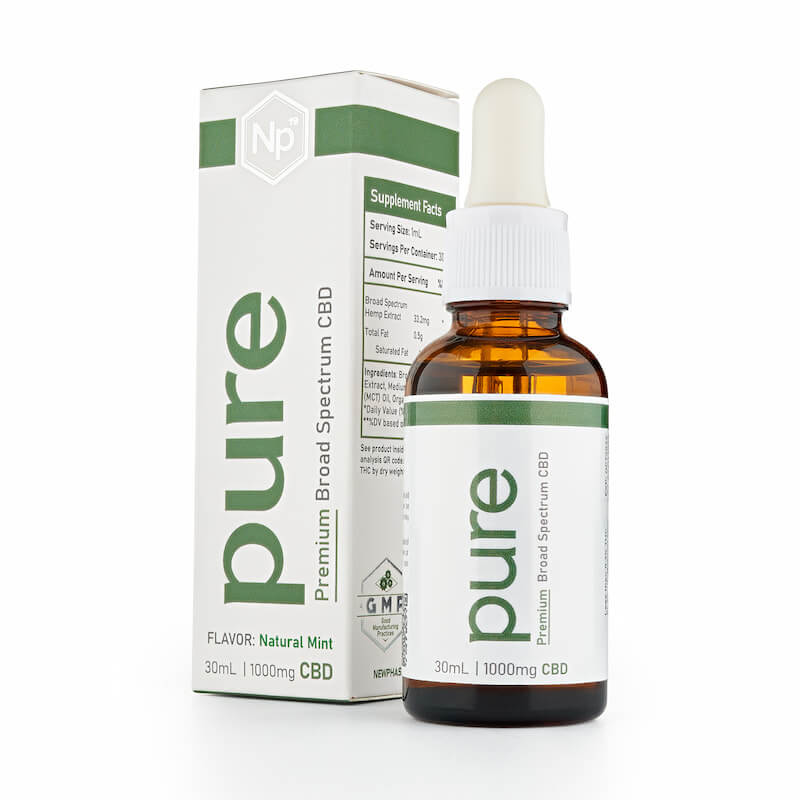 Although many scientific research and peer-reviewed studies have been done about CBD and its effects, scientists still don't know exactly how it works for seizures.
The following three observations may explain the positive effects of CBD oil:
#1. Endocannabinoids are Neuroprotectants
Neuroprotectants lower the risk of neurotoxicity causing seizures. When somebody takes purified CBD oil, they bring more cannabinoids, like cannabidiol, into their system.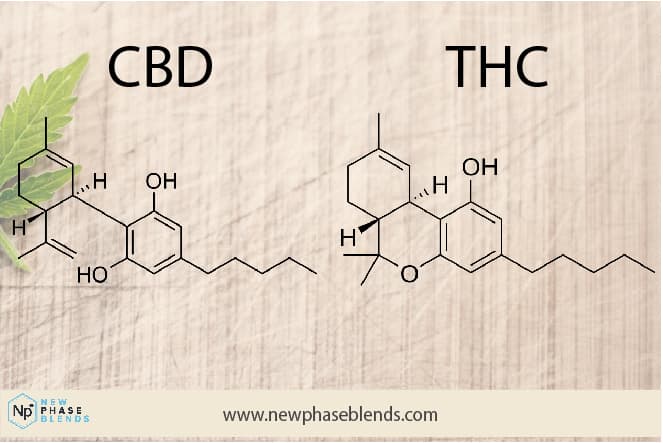 Because these endocannabinoids have neuroprotective properties, they may improve the endocannabinoid system's performance.
#2. CBD May Help Modulate Neuroexcitation
The process of neuroexcitation is linked to seizures. If your endocannabinoid system functions correctly and you add additional cannabinoids to strengthen it, this can be lowered.
So, if you take CBD oil to add more cannabinoids to the system, it can help prevent neuroexcitation. 
#3. CBD is Anti-Inflammatory
Inflammation in the brain increases the risk of seizure frequency.
By reducing neuroinflammation, CBD oil could help reduce the frequency and the severity of seizures and so help treat epilepsy.
Can You Develop a Tolerance to CBD Oil for Seizures?
Those who have treatment-resistant epilepsy are prone to what's called a "honeymoon" period when they switch to a new type of treatment. This means the treatment seems to stop being effective after a few months of taking it.
In 2018, scientists studied the effectiveness of CBD oil after a few months and found that it also began to wane.
The study observed almost 100 patients. Around a third developed a tolerance to the CBD products after around seven months.
From this point on, they had to increase the dose of cannabis oil to maintain its healing effects. When the dose was increased, nearly 50% of the people in the study experienced their previous response levels.
It's important to note that, despite the tolerance developed, CBD oil still proved to be an effective way to treat seizures in the long run.
How to Use CBD Oil to Treat Seizures
Most people will choose a CBD item, like pills or CBD tinctures, and start to supplement with them. Keep something in mind though…
CBD oil is available in many forms. The only FDA-approved CBD treatment for epilepsy, EPIDIOLEX®, is a CBD product that contains 99% pure CBD.
This, however, is a pharmaceutical product, but there are more natural forms of CBD oil widely available on the market. Remember, while these items contain CBD, double check with your doctor before self-medicating for seizures.
How you use CBD oil is up to you, but if you want to use cannabis products in a more natural form, you could consider these options:
CBD Oil Tinctures
A CBD tincture is simply a small bottle filled with CBD oil. This is one of the most effective and popular ways to take CBD. The drops are taken under the tongue with a dropper. There it is absorbed into the bloodstream, where it begins its work.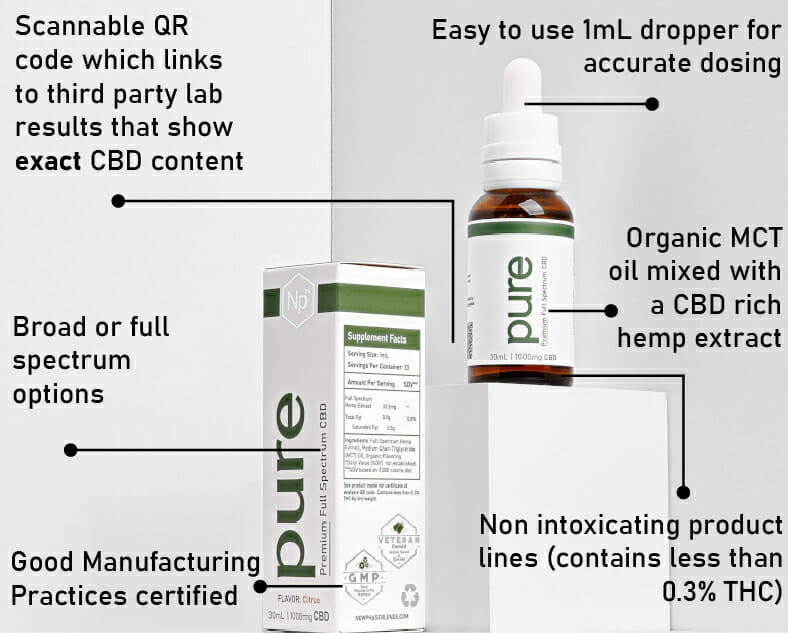 This form of CBD provides a fast-acting and consistent absorption rate.
CBD Oil Capsules
CBD oil capsules are no different from any other type of pill. Think of it as CBD in a pill form. This option offers a fixed dose of CBD in each serving, and you swallow it just like any other pill. Because the dose is fixed, getting it right is easier than with CBD oil drops.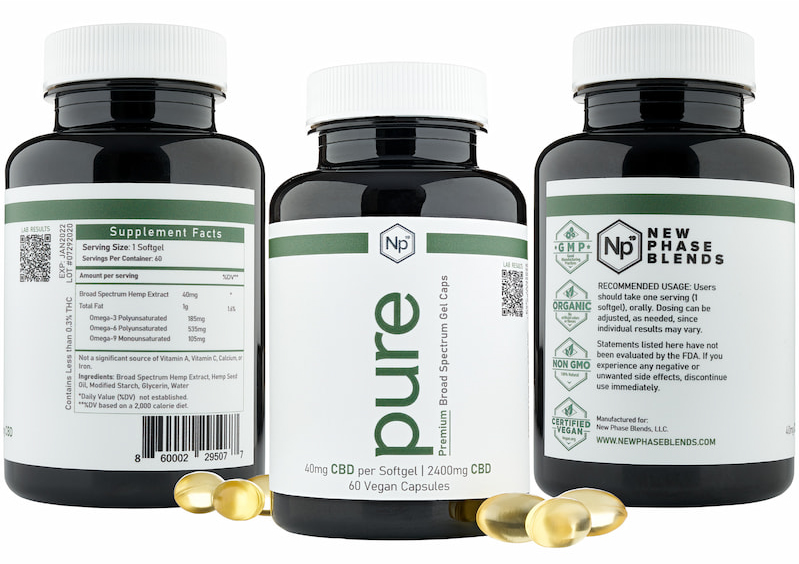 You'll also avoid the natural hemp plant taste.
CBD Vape Oils
This form of CBD is inhaled and delivers more CBD to the system than any other method. However, it's not discreet and relies on the person enjoying "smoking" something.
New Phase Blends doesn't support smoking or vaping CBD, due to several linked issues with this method of ingesting compounds.
What is the Best CBD Oil?
The best form of CBD oil is the one the person is most comfortable with taking and one that best suits their lifestyle and budget. It also depends on what their doctor recommends. Please remember that any CBD oral solution is only as good as its ingredients and manufacturing process.
All the products at New Phase Blends are made with premium ingredients through an all-natural production method, ensuring the best quality.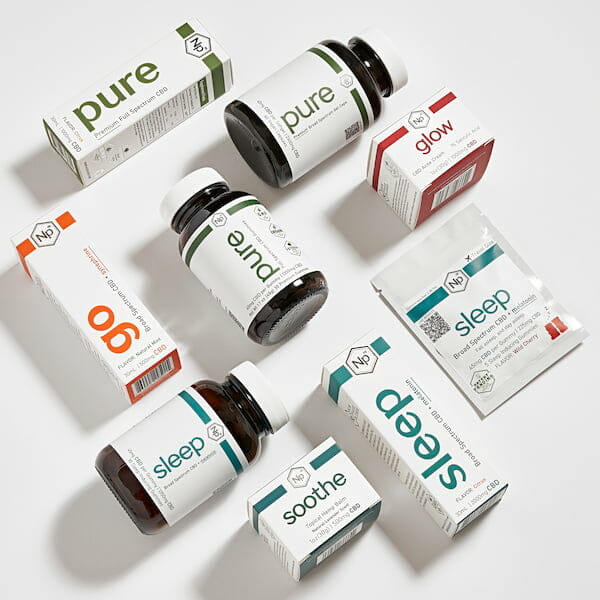 It's difficult to say what the best CBD oil and dosages are to take for seizures. But if you want to try it to see if it can alleviate symptoms, take a look at the New Phase Blends online shop.
We stock a full range of premium natural CBD products. Don't forget to talk to your doctor about taking CBD and discuss any other possible drug interactions you could expect.
CBD Oil Dosage for Epilepsy & Seizures
Finding the right dose of CBD oil to take for your needs can be tricky. As with every new medication, it's best to take a conservative approach and increase the dosage slowly.
Start with the lowest effective dose you can find, and work your way up from there. All CBD items should come with a recommended serving and supplement facts panel on the packaging. This will give you a guideline of where to start.
If it doesn't have these sections on the product, please stay away from that brand.
Doing this will minimize the chance of side effects and leave room for adjusting the dose over time. The optimal CBD dose to treat seizures will depend on factors like:
The concentration of CBD in the oil.
What form it is administered in.
The cannabinoid spectrum (full-spectrum CBD, broad-spectrum CBD, or CBD isolate)
The weight, age, and metabolism of the person.
Lifestyle choices.
Other medications the person is already taking.
Again, if you actually suffer from seizures, work with your doctor to figure out the right dose of CBD for your body. They know you, and your medical condition(s), better than anyone else.
Also, how long it takes the CBD to work can depend on several different factors, like the size of the breed and age of the dog. Keep this in mind when dosing.
A Word on CBD Oil Manufacturers
There are so many different CBD oil manufacturers that claim they produce the best CBD oil. Some brands make high-quality products and can back their claims up with third-party lab testing.
On the other hand, other irresponsible manufacturers take advantage of uninformed consumers by using unrealistic promises, buzzwords, and deals that are literally too good to be true. If you want to find a natural, pure, and potent CBD oil brand, you must look at manufacturers that make organic products with proper quality assurance.
Also look for QR codes that actually link to a third party lab analysis. This report will show EXACTLY how much CBD (and other compounds) are really in your product.
At New Phase Blends, we're so confident with our products that we offer a money-back guarantee. If you don't like it, send it back within 30 days, and we'll refund you within 48 hours!
Using CBD Oil for Seizures: Will It Really Help?
Cannabinoids have proven beneficial effects on various ailments and health problems, including treating seizures and epileptic conditions like Lennox Gastaut Syndrome and Dravet Syndrome.
Currently, epilepsy is the only FDA-approved condition for CBD treatment. If you want to try CBD oil products to treat seizures or help control treatment-resistant epilepsy symptoms, we hope that this guide has helped you better understand how it works.
Just remember to start slowly and get a medical opinion before using CBD products to aid in any seizure management.