Chewing on tasty CBD gummies is, without a doubt, one of the best ways to take cannabidiol (CBD). In addition to being portable, discreet, palatable, and easy to digest, there's promising evidence that CBD gummies can help in dealing with anxiety. That's right, using CBD gummies for anxiety management not only works for thousands of people, but they work really well.
Over the last few years, times have become hard and an increasing number of people are dealing with lots of stress if not depression. In fact, according to statistics, about 19% of U.S. adults are suffering from anxiety.
TL;DR – Taking CBD gummies for anxiety is quickly becoming a popular, and safe, way for people to address their overwhelming anxiety and stress. Many people get the results they've been looking for, in a tasty, healthy gummy form.
In this guide, we'll look at everything revolving around the use of CBD in treating anxiety. Keep reading to learn more about high quality CBD gummies and anxiety disorders.

What are CBD Gummies?
CBD gummies are essentially a form of edible CBD. They're designed in the form of a chewable or munchable food that contains the compound CBD, which is extracted from the cannabis plant.
They have emerged as a popular supplement in the CBD products industry, and there's evidence that it's great in help people with their anxiety levels.
A hemp extract is pulled from the industrial hemp plant. This hemp extract is then made into things like CBD oils, delicious CBD gummies, or a number of other CBD products. The CBD content in a final product depends on a several different factors.
Did you know that both hemp and marijuana make up the cannabis plant family? Yup, it is true. While hemp and marijuana look identical in their plant forms, there one big difference is THC content. Marijuana contains high levels of THC. This is why people get high after using it.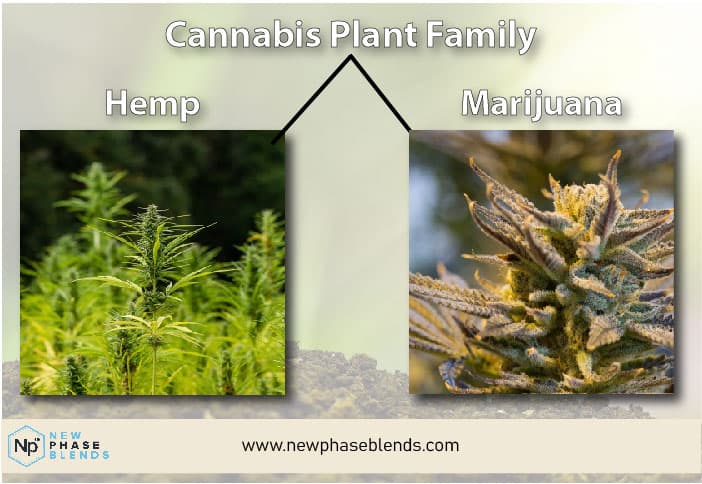 Hemp, on the other hand, will only contain levels of THC that don't pass 0.3%. This is actually a law, and farmers must ensure their hemp crops never pass this level. CBD companies also need to ensure their products don't pass this level either.
How? Well, it's done by third party lab testing.
Third Party Lab Testing – A Critical Requirement
When you go to choose CBD gummies, look for QR codes that show you the exact CBD content (among other things) of your CBD edibles. You simply scan it with your phone, and it links to a third party lab analysis.
This lab report, also called a certificate of analysis, will show you all types of useful information about the cannabinoid content of your gummies. It will show things like:
CBD content
Other cannabinoid content
Pesticide residuals
Heavy metal screenings
Unlike tetrahydrocannabinol (THC), CBD doesn't cause any form or feeling of intoxication that's commonly associated with the cannabis plant.
Remember – both hemp and marijuana make up the cannabis plant family. THC is largely found in marijuana, but there is barely any in hemp. By law, CBD products derived from hemp need to contain less than 0.3% THC content. This amount is not even close to an amount required to get you high.
CBD gummies offer a potent dose of anxiolytic CBD in the form of delicious gummy candies. It is this anxiolytic ingredient in CBD that's believed to help in reducing anxiety.
Brand reputation is a very important thing to take into account when trying to find the best CBD gummies. While some brands might claim they make the most delicious CBD gummies, is that necessarily what you are looking for?
Enjoy 15% off your order of 'pure' CBD gummies by entering coupon code gummies15 at checkout!
While taste is definitely important, I would argue it's more important that other CBD gummies for anxiety actually work.
Different Spectrums of the Best CBD Gummies For Anxiety
The CBD market is filled with many different spectrum gummies. For this reason, it's important you understand some of the different terms you will likely see when buying gummies.
CBD infused gummies may come in three main varieties of spectrums. They include:
Full spectrum CBD gummies, broad spectrum CBD gummies, and CBD isolate gummies. Let's go ahead and cover the differences. Regardless of the type of CBD edibles you are looking at, you will likely run into these options.
Broad-spectrum CBD
This type of CBD product contains all forms of phytochemicals (plant chemicals) within organic hemp, except for THC. Broad spectrum CBD products will contain near 0.0% THC levels. Some broad spectrum products are also considered THC free.
Full-spectrum CBD
Full spectrum CBD gummies contain all forms of phytochemicals found in the cannabis plant such as oils, hemp, terpenes, and other types of cannabinoids. It also has traces of THC, but no where near enough to make people high.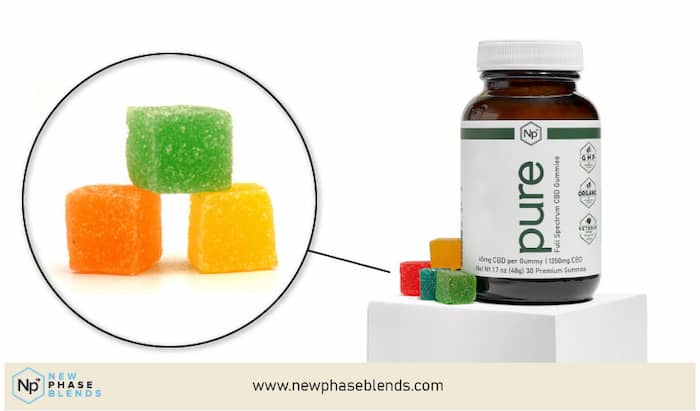 Because the Food and Drug Administration (FDA) is yet to put any regulations in place on approved nonprescription CBD products. For this reason, CBD brands and consumers alike may confuse these terms and misuse them.
This is why it's important to seek your doctor's advice before using any form of CBD gummies to treat anxiety, especially if you have questions about how they might affect your health.
CBD Isolate Gummies
Pure CBD isolate is the purest form of CBD, as it is strictly the CBD molecule isolated from everything else. It looks like a fine, white powder after the isolation process is complete.
Many people prefer either broad or full spectrum, because you are getting ALL of the benefits of cannabis without the THC. CBD isolate is considered THC free.
New Phase Blends doesn't sell anything that only contains CBD isolate.
Why?
Well, our customers appreciate all of the different cannabinoids within broad spectrum CBD gummies or full spectrum CBD gummies. While CBD is great, other cannabinoids can also offer different benefits that CBD may not.
Related article: What is a cannabinoid?
You can find affordable CBD gummies, regardless of which spectrum you prefer. The one thing you need to be concerned about is that there are no harmful chemicals or weird artificial sweeteners in them, which you can tell by scanning the QR code that we spoke about earlier.
While New Phase Blends is a great CBD brand that puts emphasis on educating people about CBD, only your doctor knows your healthcare situation.
How CBD Works In Our Bodies
The human body is known to have numerous different receptors. While these receptors are protein-based chemical compounds in your cells, they act differently to different reactions or stimuli. The receptors that are known to interact with cannabinoids, like CBD are the CB1 and CB2 receptors.
These receptors are found in the Endocannabinoid System (ECS).
While the ECS isn't fully understood, it's known to be a complex cell-signaling system that plays a critical role in regulating and controlling various bodily functions including:
Mood
Appetite
Sleep
Memory, and
Reproduction
Again, scientists are still trying to fully understand how CBD affects CB1and CB2 receptors. But even with that, CBD is known to alter serotonin transmission and signals.
Serotonin is a neurotransmitter that plays a critical role in your mental health. That being said, people who have low serotonin levels are more likely to suffer from depression and anxiety.
In essence, the treatment of depression and anxiety can have to do with boosting serotonin levels properly.
Why Choose CBD Gummies For Anxiety and Stress?
Even though the FDA hasn't approved the use of CBD in treating anxiety, there's convincing evidence that CBD can be used in reducing anxiety. Traditionally, medical treatment for anxiety revolves around prescribing drugs such as Xanax, Benzodiazepines, SSRIs, Klonopin, and many more.
Unfortunately, these drugs are known to have adverse side effects. They're also addictive and can be misused.
If you're wondering how pharmaceutical anti-anxiety medications are dangerous to your health; they work by inhibiting the GABA receptors in your brain. This will, of course, slow down the electrical activity of your body thereby alleviating any common sign of anxiety.
The only problem is that the situation will be perfect for a period. Your body will then form a tolerance to these medications by removing the GABA receptors.
Once the GABA receptors are eliminated, you'll be at the mercy of these drugs and you'll need more and more to have the same effects. This is because the nervous system will go into hyperdrive, which will then lead to an extreme state of anxiety. Excess stress will occur at this time too.
At this point, you'll become addicted to these drugs and over-reliant on them.
But on the other hand, CBD gummies (and CBD in general) are known to work naturally with our bodies. They work naturally with ECS in regulating our moods, physiology, and our overall wellbeing. This is exactly why CBD is used in reducing anxiety.
So instead of using synthetic medicines, which have serious side effects, you can consider using CBD gummies to manage anxiety but only after consulting with your doctor.
Struggling With Night Time Anxiety?
For whatever reason, a lot of people either experience anxiety at night, or during the day. There seems to be a fair split between the two.
If you are someone who struggles with a racing mind, and anxious thoughts that just won't go away once you lay down for bed, you need to consider using a night-time gummy.
New Phase Blends sells the popular, patent-pending sleep product that uses both CBD and melatonin in order to induce sleep in people. Not only will this help you fall asleep, but the specific formulation will help you stay asleep.
Enjoy 15% off your order of 'sleep' CBD gummies by entering coupon code gummies15 at checkout!
How many times have you been able to drift off into a sleep, only to wake up an hour or so later? You probably can't get back to sleep since your anxiety starts to kick in, again. This is a rough cycle, and it's hard to break.
These night-time gummies are some of the best, if not THE BEST, in the CBD industry.
How Do CBD Gummies Relax You?
Even though a generalized anxiety disorder is treatable, only 36.9% of those affected seek treatment. Interesting, right?
One of the main reasons why a huge majority of those suffering from anxiety avoid treatment is due to the negative side effects and the adverse dependency linked with anxiety medication and the stigma of mental health issues.
Fortunately, an increasing number of people are shunning synthetic or rather pharmaceutical anti-anxiety medications. Instead, they're turning to CBD gummies, and other CBD products, as a safer and more efficient way of dealing with anxiety.
When you consume premium CBD gummies or any other form of CBD, for that matter, it interacts with your nervous system via the ECS. CBD will indirectly engage with the cannabinoid receptors of the ECS (CB1 and CB2).
This system does several different things for us as far as health benefits are concerned, but relaxation is one of benefits we're concerned about with this article. When we are anxious, we aren't relaxed, are we?
This will then stabilize your nervous system by boosting serotonin levels, which then positively influences your moods and behavior. This can create a significant amount of stress relief and relaxation.
Sometimes it is our mindset, or general mood, that can just ruin our day. Hemp derived CBD products can help give us a bit of relief in this regard, which can lower anxiety symptoms.
How to Use CBD Gummies for Anxiety
Related: How Much CBD Can I Take?
Needless to say, taking the best CBD gummies is as simple as chewing on a tasty snack. While the act of chewing is known to calm the nerves, the CBD gummy and flavors extracted from the CBD gummies will calm your mind, and offer a better platform for stress response.
Regardless of which reputable CBD brand you buy from, read the label and instructions for use. Most of the time, one gummy will equal one dose, or one serving.
Eat one gummy, and wait about 30-45 minutes. For some people it can take up to an hour to begin to feel stress and anxiety go away. Keep this in mind. First time users should only take one gummy and wait at least two hours before taking a second.
Enjoy 15% off your order of 'pure' CBD gummies by entering coupon code gummies15 at checkout!
These gummies have natural ingredients that work naturally with the ECS to calm down the nervous system, offer a tranquil state of mind, and positive response to stress. Unlike other forms of CBD such as oils or vape, CBD gummies are tasty, convenient, discreet, and easy to use.
CBD extract is easy to dose in a gummy, too. The best CBD gummies utilize organic hemp extract that is rich in cannabinoids, like CBD.
While most CBD gummies will taste fine, there are some brands that use strange, chemically treated hemp extracts, or strange artificial flavors, which result in a horrible taste. Avoid these types of CBD edibles.
The bottom line is, eating CBD gummies is as simple as it sounds – you simply eat one gummy, which is typically one serving, and wait for the results.
How Fast Do CBD Gummies Work For Anxiety?
How fast you can feel the CBD start to work depends on several different factors like body size, fat content, when you ate the gummy, what your tolerance is, etc…
Most people report feeling the effects of relaxation and anxiety relief within about 30 mins to one hour.
How Many CBD Gummies Should You Take for Anxiety?
There's no one-size-fits-all dosage for CBD gummies when it comes to addressing your anxiety. The right dosage will vary between individuals. Just like other types of medications, the right dosage may depend on a couple of factors such as age, gender, tolerance, metabolism, body weight, and of course, the severity of the condition.
Related read: How Many CBD Gummies Should I Eat?
With that in mind, it's important to note that CBD gummies usually come in 30 or 60 count bottles, and different CBD gummies range from 5 mg to 50 mg per gummy piece. As such, the right dosage may also depend on the concentration levels of CBD in each gummy.
What MG of CBD Gummies Are Best For Anxiety?
Edible CBD products come in a variety of different flavors, and dosages. New Phase Blends' top CBD gummies contain between 40 – 50mg of CBD, just to give you some context. Gummies with under 20 mg of CBD per gummy are considered extremely low dosed, and you should probably second-guess the company you bought them from before buying again.
I hear all-to-often about people who end up purchasing CBD products that barely have any CBD at all in it. It's a real shame, and an all-too-common scam these days.
You can consider taking two gummies if you have gummies with very low CBD extracts. If you do not feel any change in mood after some time, you can consider taking another, and reassess your situation.
However, (and this is important) do not immediately dose on CBD gummy after another. You have to keep in mind that the CBD has to pass through the digestive system to offer effective results, and this can sometimes take a while.
Related reading: Comparing THC and CBD for Anxiety Relief
Generally, oral medication may take between 40 and 90 minutes to take effect and the same applies to CBD gummies. The length of time it takes to digest depends on a number of different factors, like CBD potency, the quality of CBD gummies, your metabolism, age, etc…
Safety and Side Effects of CBD Gummies
As we've mentioned a couple of times in this article and as supported by evidence, the right form of CBD gummies for anxiety should be well-tolerated by humans, and is considered safe. This may be hard to believe but CBD doses as high as 1000 mg are safe for humans and may not have harmful side effects. This means that the more normal CBD potency of between 25-50 mg per CBD gummy shouldn't have side effects at all.
This, however, doesn't mean that consuming CBD gummies for anxiety may not trigger unwanted reactions. You have to always remember that taking an excessive amount of these CBD gummies may lead to the following:
Dizziness
Lethargy
Dry mouth
Appetite fluctuation
Irritation
Diarrhea
CBD can also have various reactions with various pharmaceutical medications.
So if you're under any form of medication, it would only be appropriate to consult with your doctor on the use of CBD gummies. This is essential in finding the right CBD products, establishing the right routine, and avoiding negative effects or interactions.
Final Thoughts On Managing Anxiety Symptoms
Using CBD gummies for anxiety is becoming very popular. To this end, the importance of CBD gummies when it comes to alleviating anxiety and depression can no longer simply be assumed.
CBD products are popular for a reason – they seem to work well for so many people. Whether people are using full spectrum CBD, CBD isolate, or broad spectrum CBD, they are getting the results they want without the harsh side effects of stronger medications.

Although FDA is yet to approve the use of CBD gummies for anxiety treatment, reliable scientific studies show that CBD is effective in reducing anxiety. As such, it's only a matter of when (not if) CBD oil, or other CBD products will be the official medication for anxiety and depression.
For now, you can consider ordering CBD gummies mentioned in this article from reputable sources., like New Phase Blends. They offer a 30 day money back guarantee on all products sold. The only use organic and natural ingredients, too.
More importantly, make sure that you consult with your doctors before indulging in any form of a CBD product.
We understand that there are excellent products out there from excellent brands like fab CBD, joy organics CBD gummies, Cheef Botanicals, royal CBD products, exhale wellness, and some others of the most trusted CBD brands. Thanks for choosing us, we appreciate it.
References:
National Institute of Mental Health: https://www.nimh.nih.gov/health/statistics/any-anxiety-disorder
Anxiety and Depression Association of America: https://adaa.org/understanding-anxiety/facts-statistics
Pain Journal: https://www.ncbi.nlm.nih.gov/pmc/articles/PMC6319597/
Food and Drug Administration: https://www.fda.gov/consumers/consumer-updates/what-you-need-know-and-what-were-working-find-out-about-products-containing-cannabis-or-cannabis
Frontiers in Neuroscience: https://www.frontiersin.org/articles/10.3389/fnins.2020.00923/full
*FDA disclaimer: none of the statements on this webpage have been approved by the Food and Drug Administration. These statements have not been evaluated by the FDA. These products are not intended to diagnose, treat, cure, or prevent any disease. Medical advice should be sought before starting any supplement. If you are pregnant or nursing consult with a doctor. Medical advice should be sought if you have any pre-existing medical conditions. If you take other prescription medications, a doctor's advice should be sought. Site void where prohibited.