Drivers across the nation are beginning to flock to CBD products for their proven relief. Can truck drivers safely use CBD oil, though?
Yes, truck drivers can use CBD oil, but there are some things you need to be aware of first.
Lets keep on truckin' and dive into this topic a bit deeper.
What is CBD?
CBD, also known as cannabidiol, is a non-psychoactive, non-intoxicating chemical that comes from the cannabis plant species 'industrial hemp.'
CBD shares the outer space in the cannabis plant with THC. Many studies continue to show CBD may have a ton of beneficial properties, with the most popular of these being:
anti-inflammatory
anti-oxidative
pain relief
anti-seizure
anxiety relief
In these medical field studies, CBD has proved its worth in a large amount of trials. The more research comes out, the stronger the evidence appears.
CBD is a Derivative of the Cannabis Plant?
Cannabidiol is contained within the cannabis plant species. This doesn't mean it has the same effects as marijuana, though. It simply comes from a cannabis plant.
Readers should keep this info in the back of their head while reading this article. It will make things a bit easier to digest.
CBD is a non-psychoactive sister molecule to THC. While they are similar in build, CBD can't get the user high. It is not physically possible. As long as your CBD oil is hemp-based (not marijuana-based) it will not have much THC in it. United States Federal laws on CBD oil require CBD products (all of them) to be extracted from hemp. As long as CBD comes from hemp it is federally legal.
You see, hemp-based CBD can't legally contain more than 0.3% of THC. For perspective, a THC amount of 0.3% is so minute that it cannot get people high.
Interesting fact: the amount of THC allowed by federal law is so low that you could take several servings of CBD and still not feel high. Taking several servings is not recommended.
Using CBD is a completely natural way to treat certain ailments. Since CBD was legalized, research has skyrocketed. That being said, the FDA is still figuring out how, exactly, to make CBD an official dietary supplement.
Until then, it cannot be classified as such, and no medical claims can be made in an effort to sell CBD.
Is CBD Illegal for Truck Driver Use?
No, it's not federally illegal. As long as CBD meets the hemp guidelines we spoke about earlier, it's legal. In addition to being legal, you can use CBD while driving since it is non-intoxicating.
If you look at state by state regulations, it can get tricky. Just because CBD is legal federally, doesn't necessarily mean that each state has legalized CBD. It's kind of confusing, I know.
Keep in mind that most states adopted the Farm Bill of 2018 guidelines. There are only a few that have somewhat weird laws about CBD. Marijuana-based CBD is legally different than hemp and is heavily controlled (it's classified as marijuana).
As time goes on, though, states are continuing to soften these CBD laws.
Related: How Long Does CBD Stay in Your System?
What is the Farm Bill and Why Should I Care?
The 2018 Farm Bill brought about a new age for hemp growers, and hemp-based products. This bill deliberately took hemp off of the controlled substances list. Hemp is now legally defined as cannabis containing less than 0.3% THC by weight.
It's only a matter of time before marijuana is removed from this list, as well. We've seen many different states move forward with the legalization of marijuana within their state boundaries. These states, among other incentives, are able to reap the rewards in the form of billions of dollars of taxes each year.
Truck Drivers and CBD
CBD is legal in the Unites States so long as it conforms to all requisite state and federal standards. As such, truckers can freely use any number of CBD products, from salves to creams to oils, with no legal issues.
I have a Class B CDL, use several New Phase Blends broad spectrum CBD products, and have never failed a drug test. New Phase Blends' broad spectrum products contain roughly 0.0% THC, so I am comfortable doing this.
That said, FULL spectrum CBD products contain limited amounts of THC (less than 0.3% by weight) which potentially can trigger positive drug test results (BAD)
Related: CBD – Is It Bad For You To Use?
Broad and full spectrums are a bit different, so let's go ahead and cover these types of CBD extracts/products.
Broad vs Full Spectrum
I mentioned earlier that I only use broad spectrum CBD products, but what does this even mean?
Broad spectrum and full spectrum CBD are the two main types of CBD extracts commercially available. The difference is simple, yet important to our discussion. Broad spectrum products CONTAIN NO THC.
Full spectrum products, on the other hand, can contain up to 0.3% THC by weight. It is unlikely, BUT DEFINITELY POSSIBLE, to test positive for THC at this level.
Always look for a scannable QR code on your CBD products. This code will link to a real-time lab analysis on the different types of cannabinoids within your CBD product. Never purchase a product that does not include a scannable QR code. This code exists on all CBD product labeling.
In 2020, the FDA did their own study on CBD products and their labeling accuracies. The result? Roughly 21% of the products they tested we improperly labeled, and did not have the correct amount of CBD or THC as advertised.
CBD can be expensive. It's important that your money goes a long way. Being a victim of a scam is never good, for anyone.
Curious what else to look for when purchasing a CBD product? Read this post by clicking here. I'll let you know what to look out for when buying a CBD product. It's an easy, but very important read.
Truckers and the DOT Drug Testing Process
Anyone interested in this topic probably already knows this, but the Department of Transportation mandates urine drug test samples for "safety sensitive" employees. In 1991, Congress passed the Omnibus Transportation Employee Testing Act. The act required DOT agencies to implement drug and alcohol testing for what it terms "safety sensitive" workers.
The DOT's drug screening rules are listed within Title 49 of the Code of Federal Regulations.
To qualify as a "safety sensitive" employee, one must hold a job that impacts his/her own safety and the safety of the public. Some of the DOT departments that maintain these standards are:
Federal Motor Carrier Safety Administration – CDL holders who operate commercial motor vehicles carrying 16 or more passengers, or vehicles that transport hazardous materials.
Federal Aviation Administration – including flight crews, flight attendants, aircraft dispatchers, and security.
Pipeline and Hazardous Materials Safety Administration – operations, maintenance, and emergency response workers.
Federal Railroad Administration – hours of service act personnel, engine and train workers, signal service workers, and train dispatchers.
Federal Transit Administration – vehicle operators, controllers, mechanics, and armed security.
What Drugs Does the DOT Test For?
All DOT drug tests use a uniform 5 panel urine test that must be sent to a lab (no fast result dipstick tests). The compounds it tests for are:
Marijuana metabolites/THC
Cocaine metabolites
Amphetamines (including methamphetamine and MDMA)
Opioids
Phencyclidine (PCP)
These drugs are the most common. The department may test for other drugs, but these tests are typically done under the suspicion of that particular drug's use. The random drug screenings stick to the 5 panel test.
These 5 panel tests are actually fairly accurate, which is a good thing. Why? Because the more 'cheap' the drug test is, the more likely that you can be flagged as a false positive for THC. Since CBD and THC are molecularly similar, very poor quality drug tests don't seem to be able to distinguish the two from each other. This may present a false positive.
Remember, you can triple check your product by scanning the QR code. It will show a report similar to this one: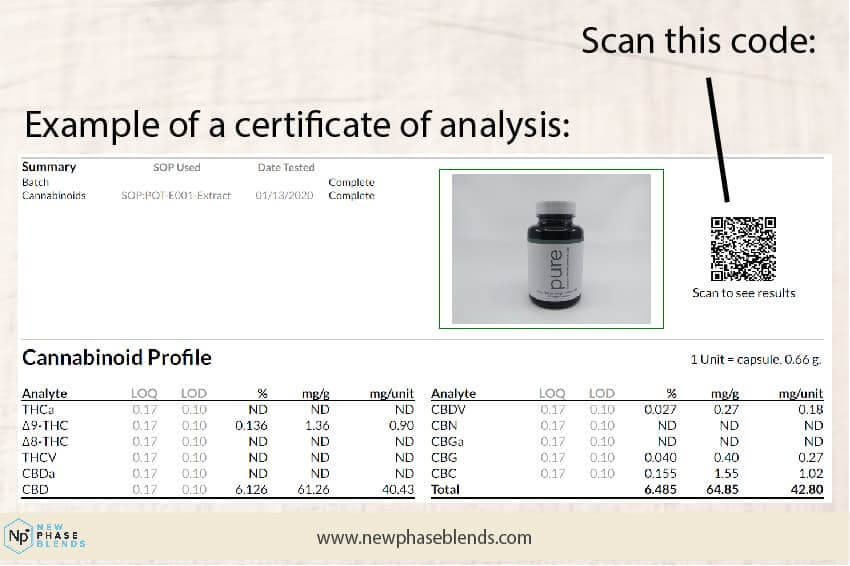 Look for the THC content, and make sure it shows as below 0.3% to remain federally legal.
When are Truckers Required to Get DOT Drug Tests?
The are several times when these tests are mandatory:
Pre-employment: at some point before you begin you work duties.
Reasonable suspicion/cause: if a supervisor reasonably believes that you are under the influence of drugs.
Random testing: testing must be random within the company. Quarterly testing is normal.
Post-accident testing: required if is involved in an accident meeting specific criteria. An alcohol test must be administered within 8 hours, a drug test within 32.
If a trucker driver fails a test:
Return to duty testing: after a violation of the alcohol/drug rules. One cannot return to any DOT job before this occurs and may be subject to further 'surprise' testing at least 6 times in 12 months. Observer controls these tests.
Follow up testing: these take place after a return to duty. A substance abuse counselor will manage the follow up testing for up to FIVE YEARS following an incident.
What Happens if I Fail a Drug Test?
If one fails a DOT drug test, regulations require the employer to immediately remove the employee from any DOT sensitive job. This is why it's so important for truckers to use CBD the correct way. Remember, broad spectrum CBD , or even a CBD isolate, is the way to go. There may be other consequences as well, like the permanent loss of certification or license.
The answer to "can truck drivers use CBD" should include how to do it safely, in terms of job security. The best way to ensure that your product contains no THC is to buy from a reputable company that lets the consumer access the chemical analysis via the QR codes mentioned previously.
New Phase Blends is a veteran owned and operated CBD company, and we offer nothing but premium CBD products. We also offer a 30 day money-back guarantee on everything we sell (eBooks excluded). At least give us consideration before purchasing – I know you'll be happy with your purchase. If for some reason you aren't, just ask for a refund 🙂
Conclusion – Can Truck Drivers use CBD Products?
Yes, broad spectrum CBD use is perfectly safe for commercial drivers. Here are some things to look for to make sure your CBD product falls within the federal guidelines for use:
Hemp-derived CBD (not marijuana-derived)
It must contain no THC
I recommend that the CBD labels include a QR code that scans to a third-party lab result
Triple check that you are not purchasing a product with THC
That about wraps up covering the legalities of CBD within federal transportation standards. If you are worried about possessing CBD on the open road, you don't have to worry. It is 100% legal.