Back pain affects millions of Americans every year. According to the American Chiropractic Association, it is one of the most common reasons for missed work and the second most common reason for doctor's visits, outnumbered only by upper-respiratory infections. Lower back pain is the single leading cause of disability worldwide.
The pain can range from a dull, constant ache to a sudden, sharp sensation that leaves the person incapacitated. Pain can begin abruptly after an accident, by lifting something heavy, or it can develop over time due to age-related changes in the spine. Statistically, around 31 million Americans experience low-back pain at any given time, and it is most prevalent among adults aged 30 to 50 years.
In the quest for relief, CBD oil (approved nonprescription CBD products), a hemp-derived CBD product, has emerged as a popular alternative. Derived from the cannabis sativa plant, CBD is touted for its therapeutic properties minus the psychoactive effects of its cousin, THC. Anecdotal evidence and some studies suggest that CBD can help alleviate chronic pain, including back pain, for many individuals.
What Is Broad Spectrum CBD?
Broad-spectrum CBD is one of the three primary forms of cannabidiol products used to treat pain. Unlike full-spectrum CBD, which contains all compounds of the cannabis plant, including THC, broad-spectrum CBD is processed to remove any traces of THC. This ensures that users can benefit from the pain-relieving benefits of cannabinoids and terpenes without the risk of psychoactive effects or legal complications associated with THC.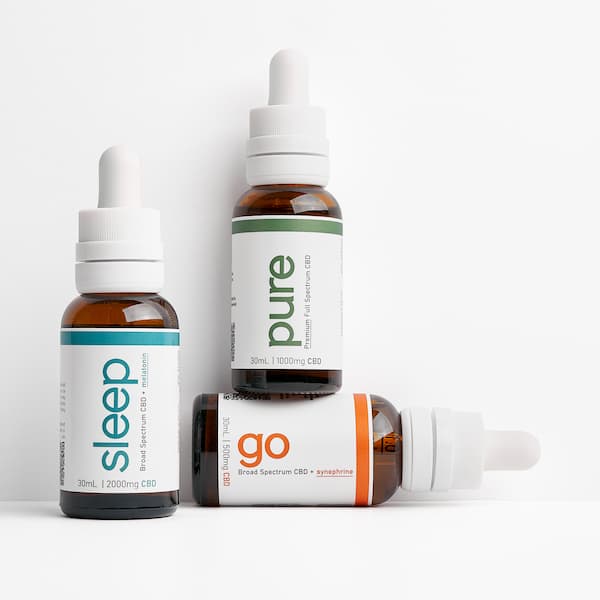 Broad-spectrum hemp-derived CBD products are made by either adding cannabinoids to CBD isolate or by removing THC from full-spectrum extract. It differs from CBD isolate, which is 99% pure CBD without other cannabinoids.
Treating Chronic Pain With CBD
A systematic review aimed at determining the efficacy and safety of CBD for chronic pain has shed light on its potential as a therapeutic agent. The review, adhering to the PRISMA 2020 checklist, sifted through five databases and concluded with 12 publications that met the inclusion criteria. The findings suggest that CBD, due to its non-intoxicating properties, could be a viable alternative to opioids to alleviate pain.
CBD and THC, both derived from Cannabis plants, interact with the body's cannabinoid receptors but produce different effects. THC is known for its psychoactive properties, whereas CBD does not produce these effects. This distinction is crucial for individuals seeking pain relief without altered mental states. The review highlighted that while regulations on CBD vary worldwide, there is growing evidence supporting its benefits not only for chronic pain but also for improving sleep and overall quality of life.
The conclusion drawn from the systematic review is clear: CBD holds promise as a safer alternative to opioids for chronic pain management for chronic pain patients. However, the review also emphasizes the need for more clinical trials to establish CBD's clinical and statistical significance. That is something which may take a couple of years.
In What Form Is CBD Best For Back Pain Relief?
When it comes to back pain relief, CBD is available in various forms, each with its advantages. Oils and tinctures are popular for their ease of use and ability to deliver CBD directly into the bloodstream via sublingual absorption. This method can provide quick relief, essential for acute back pain episodes.
Topicals, such as creams and balms, are applied directly to the skin over the painful area. They are ideal for localized pain and can offer targeted relief, with the added benefit of combining CBD with other pain-relieving ingredients like menthol or capsaicin.
Edibles and capsules offer the convenience of precise dosing and the longest-lasting effects, as the CBD is released slowly during digestion. However, the onset of relief is slower compared to oils or topicals.
Vaping CBD provides the quickest relief but comes with potential respiratory risks and is not recommended for individuals with respiratory issues or those who are concerned about the health impacts of vaping.
The choice of CBD form depends on the individual's specific needs, preferences, and the nature of their back pain. That said, it is important to evaluate individual health claims by sellers and consult a doctor, especially if you're suffering from severe pain.
Drawbacks of Using CBD for Chronic Back Pain Relief
While CBD is generally well-tolerated, there are potential drawbacks to consider. Some users may experience drowsiness, which can benefit those with sleep disturbances due to pain but may not be ideal for daytime use when alertness is necessary. Dizziness, another possible side effect, can be a concern for individuals with balance or mobility issues.
Dry mouth is a commonly reported side effect of CBD, and while it is typically mild and manageable, it can be uncomfortable and may contribute to dental health issues if not addressed. Low blood pressure, though less common, can be a severe side effect, particularly for those on blood pressure medications or with cardiovascular conditions.
It's essential to consult with a healthcare professional before starting CBD, especially for those with pre-existing health conditions or those taking other medications.
Summary
CBD oils and edibles offer a promising alternative for those suffering from chronic back pain, with the potential to alleviate discomfort without the psychoactive effects of THC. However, it is essential to consider the form in which CBD is consumed, the quality of the product, and the possible side effects. This applies to both products you ingest as well as topical CBD products.
As with any treatment, it is advisable to consult with a healthcare professional before starting CBD, especially for individuals with pre-existing health conditions or those taking other medications. The ongoing research today, coupled with a better regulatory framework, means CBD could become a mainstay in the management of chronic back pain.