Knowing exactly how to buy good CBD oil, or more importantly, the right CBD oil for YOU, goes beyond walking into a store or clicking the checkout button.
It requires the buyers to have a good knowledge of CBD oil and how it can affect their health. While it is true that the cannabis plant (the plant CBD comes from) has a lot of therapeutic potentials, proper considerations must be taken not to purchase the wrong item.
If you don't pay attention to what CBD oils you're about to buy, you may end up with heavy metal toxins and pathogenic microorganisms into your body, and this is not an exaggeration. In this article, we will examine the factors to consider when choosing the best CBD products for YOU.
I emphasize YOU, because everyone is different and we all may be looking for slightly different relief.
Choosing the Right CBD Oil Spectrum Types
Spectrums refers to the combination of cannabinoids (CBD), terpenes and essential oils in a single CBD oil. They determine the scope of activity of the product and also how well the body is able to process them. Whenever you are choosing the best CBD products for sale, it is important to look out for those containing minor levels of CBG, CBN and CBC (i.e. full spectrum and broad spectrum).
As a general rule of thumb, full spectrum CBD oil can contain up to 0.3% THC by dry weight, and broad spectrum CBD products should contain no THC. These two spectrums are a huge part of the CBD market.
There is also CBD isolate, which contains 99.9% CBD, with no other terpenes or cannabinoids. CBD isolate is not very popular, for this reason. That said, some people do prefer it.
These might seem like minor differences, but they are all things to consider before you go and buy CBD oil.
Certifications for Good CBD Oils
This is one of the most neglected aspects when buying CBD tinctures. Most buyers are only interested in the potential health benefits of CBD and nothing else. If you approach choosing CBD oil for sale in this way, you will be disappointed.
So many people assume that since it is in a nicely designed bottle with a fancy CBD brand label, then that's all that is needed. This can be dangerous. While CBD boxes and other packaging will list important aspects of what's contained inside (ie: QR codes, ingredients, CBD content, etc…), the packaging alone shouldn't be your main factor of determination.
Before purchasing any CBD oil, it is important to study the certificate of analysis, or CoA (please click this link to read more about certificates of analysis, and how to read them).
This is a scientific document from a lab accompanying each batch of CBD oil, and it comes in handy in informing the buyers about the chemical make up of the CBD oil. The CoA provides information about the cannabinoid profile, terpene profile, CBD-to-THC ratio, heavy metal and microbiological test. It will tell you exactly what is in the CBD oil you are thinking about buying.
This should be accessible in the form of a QR code that is scannable by your phone. Once you scan the code, it will instantly bring up the CoA for you to review.
Recommendations by Others
The best CBD products should also come highly recommended by previous users. It is important to take note of how the previous customers felt about the item you intend to purchase. To achieve this, you can either conduct an online survey by reading the customer reviews, or ask family and friends to recommend a good product.
A website can make all of the positive claims they want about their CBD oils, but real reviews by real people will certainly tell you all the information you'll want to know.
*Please note that some of the online reviews may have been influenced purely to make a sale. You can usually tell a fake review from a real one, though. Just scan through some review sections while browsing.
Pricing Needs to Be Right
The most expensive CBD products may not be the most effective. Take note of the features you need, have a budget in mind, and go out to look for a certified brand that can meet that can meet that need without compromising quality. Usually, but not always, more certified and legitimate CBD will be slightly more expensive.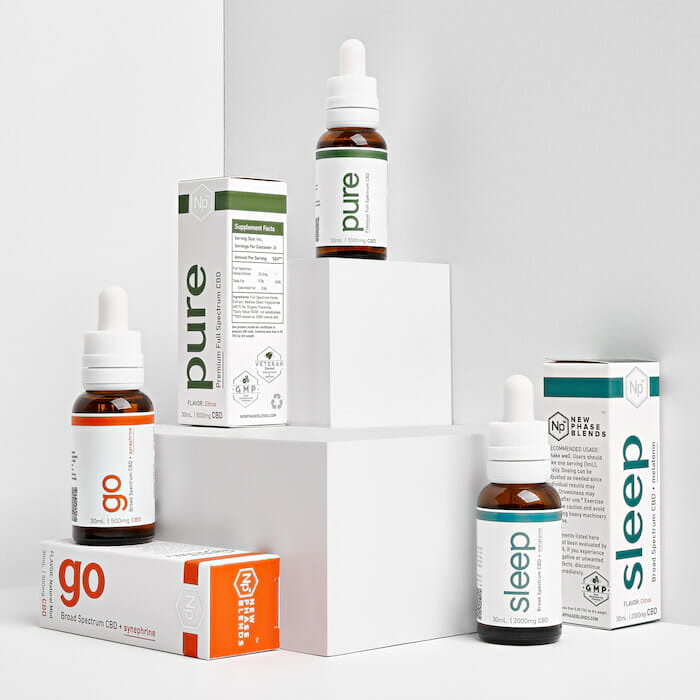 This is because they will have stamps like the GMP certification, organic product lines, or other positive certifications that may require more money in overhead from these companies.
Methods of CBD Extraction
The industrial hemp plant is the main source of hemp oil. After growing large fields of industrial hemp, it needs to go through processes to extract a CBD rich hemp oil which is then used to make CBD oil.
Buying CBD oil extracted using ethanol and supercritical CO2 extraction techniques are safer than those from toxic hydrocarbons like hexane and pentane. In my opinion, the best CBD oils utilize this extraction method.
Most CBD isolates undergo a purification process which utilizes toxic solvents.
New Phase Blends chooses to use supercritical CO2 extraction because, to date, it is the most effective extraction method. Supercritical CO2 extraction also leaves no residual chemicals behind. I would highly recommend looking for products that use this method. The best CBD items have no residual chemicals in them.
Word of Caution About Hemp Seed Oil
Here's a little trick that some CBD companies try to get away with, unfortunately.
Hemp seed oil and CBD oil are not the same thing. Guess how much CBD is contained within hemp seeds?
Hemp seed oil contains zero CBD. While the seeds are a decent source of healthy fats that's all it is.
I tell you this because some CBD brands try to sell the oil from pressed hemp seeds (also known as cannabis sativa seed oil) and pretend that its CBD oil. Well, now you know it's not. Don't be fooled by this when looking for CBD tinctures or other CBD products.
Several studies have been conducted on the oil extracted from pressed hemp seeds. Every single one concluded that there are no beneficial cannabinoids, like CBD, within hemp seeds.
Conclusion | How to Find Good CBD Products
In this article, I covered a majority of the things you need to look for before you buy CBD oil online. There's something else I want to get across to you, too.
While CBD isn't an old substance, the market is brand new. You will likely run into a lot of 'know-it-alls' that confirm you need to only stick with one type of product using one spectrum.
This is not the case. The best CBD oil is a product that works best for you. It's really not that difficult to find high quality CBD.
Please, if you get nothing else out of this article, please be sure to use what works best for you. Look for the following to make sure you choose a great item:
QR codes that link to a third party lab result
Easily reachable customer service departments
Organic hemp
Great recommendations and reviews
That about covers what to look for when buying CBD oil. Be sure to subscribe via the footer on the bottom of every page. We send out weekly offers and information about high quality CBD that you will not find anywhere else.