Is there a difference between hemp oil vs CBD oil? Are they even the same thing? What about cannabidiol oil vs hemp oil?
Confused? Don't be.
I'm sure many of you have at least noticed these different products. What exactly is the difference, though, and why has this question been raised so many times?
What is the Difference Between Hemp Oil and CBD Oil?
Cannabidiol (CBD) comes from the hemp plant, which is one of the different types of the cannabis plant. Until the Farm Bill of 2018 was passed, hemp was a controlled substance due to its association with marijuana.
Hemp plants are an important crop for us. For thousands of years, hemp plants have been used to create building materials like rope and fibrous blocks. People have also used things like hemp oil for their health conditions for just as long.
That's great, but what does all this have to do with hemp oil and cannabidiol (CBD) oil products?
Defining CBD Oil and Hemp Oil
For one, the Farm Bill also opened the floodgates for the legal production of CBD oil. Because the CBD oil industry is so young and still not regulated, there's often confusion about the terms found on product labels.
This leads to terms like hemp oil and CBD oil being used, interchangeably. To cut a long story short, here's how the two differ:
they don't.
That's right. Hemp oil and CBD oil are the same thing. Both terms are used to describe the cannabinoid-rich extract that comes from hemp. This extract is then mixed with a carrier oil, like MCT oil, and sold as CBD oil.
Other names you might run into: cannabidiol oil, hemp extract oil, CBD tinctures, hemp CBD oil.
Many people use CBD oil or hemp oil products for their potential health benefits to help deal with things like anxiety, inflammation, and pain.
You see, when things aren't regulated, there are both positives and negatives that go along with this lack of regulation.
A negative part of hemp oil not being regulated, is there is no legally defined terms. This leads to people making up their own terms. Sometimes, these terms spread and are just as prevalent as the original names or terms for products.
That's what has happened here. When comparing CBD oil vs hemp oil, there really is no difference.
The Hemp Plant vs. Marijuana: What's the Difference?
Although both the marijuana plant and hemp both make up the cannabis plant, they are different in one major way.
Marijuana contains a high amount of tetrahydrocannabinol (THC) — the chemical that creates the "high" of using marijuana. Hemp, on the other hand, typically has low concentrations of THC.
Because of this, industrial hemp is classified as the cannabis sativa plant which is different from the marijuana plant.
For hemp to be grown legally, farmers must ensure their crops contain no more than 0.3% of THC — barely enough to create any psychoactive effects.
Hemp Oil / CBD Oil Cannot Get You High
This also explains why CBD oil cannot, and will not, get you high — the raw material used to make it simply doesn't have enough THC to make you even remotely high.
Imagine reaping all of the benefits of the cannabis plant, without having to get high. Well, this is now possible with hemp oil, or CBD oil.
The non-psychoactive effects of CBD oil products are one of the main reasons people flock to CBD. They love the fact that they can get the benefits from the plant, without having to worry about getting high.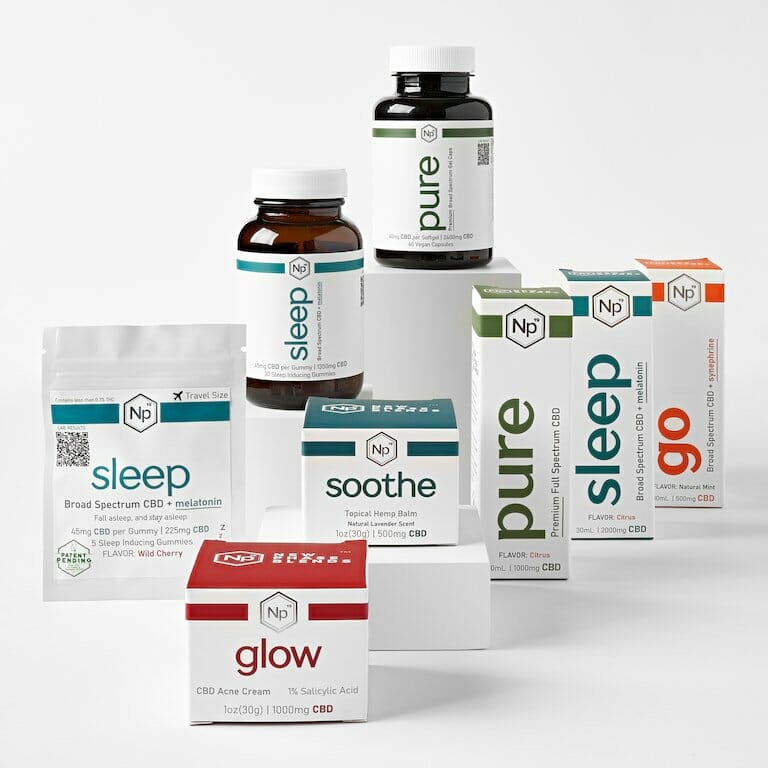 You also don't need a prescription for hemp derived products. You can buy CBD products online, or in your local health food stores. It's quite simple.
Hemp Seed Oil — A Commonly Faked Item
This is what you have to watch out for.
When buying CBD oil, you might run into this common scam. You may have also heard of hemp seed oil. As the name suggests, hemp seed oil comes from hemp seeds. In contrast, the beneficial compound CBD is only able to be extracted from the leaves, stalk, and flowers of the hemp plant.
Another name for hemp seed oil is cannabis sativa seed oil. This is because, as we talked about earlier, industrial hemp is classified as the cannabis sativa plant.
There are no cannabinoids, like CBD, in hemp seeds.
It is important to understand this. Hemp seed oil does not contain any CBD — at all! While hemp seed oil is a good source of essential fatty acids (which are actually good for heart health), it is not a good source of CBD, or any other cannabinoid.
When it comes to hemp oil vs CBD, this is an important distinction.
This is a big difference you need to know about when considering hemp oil vs CBD oil. You will get absolutely no benefits from CBD if you mistakenly purchase hempseed oil.
Unfortunately, the unregulated nature of the CBD oil industry has allowed for mislabeled CBD products to be sold online and in high street stores. Some of these products hardly contain any CBD as they use hemp seed oil.
These shady businesses also rely on the fact that many people aren't aware of these differences. People typically think, "Ah, yes, hemp seed oil is made from hemp, so it must have CBD in it!"
WRONG! In an article from Frontiers in Plant Science (2019), researchers analyzed the chemical makeup of hemp seed and (to no one's surprise) found no CBD.
Bottom line? Be careful about where you buy your CBD products. You can identify which brands have quality products, because they will show QR codes on their product labels that look like this:
These brands will have certificates proving the CBD content of their products.
These certificates are known as a CoA, or certificate of analysis. Reading a certificate of analysis is pretty straight forward. They have sections that show things like cannabinoid content, heavy metal screenings, and residual pesticide content.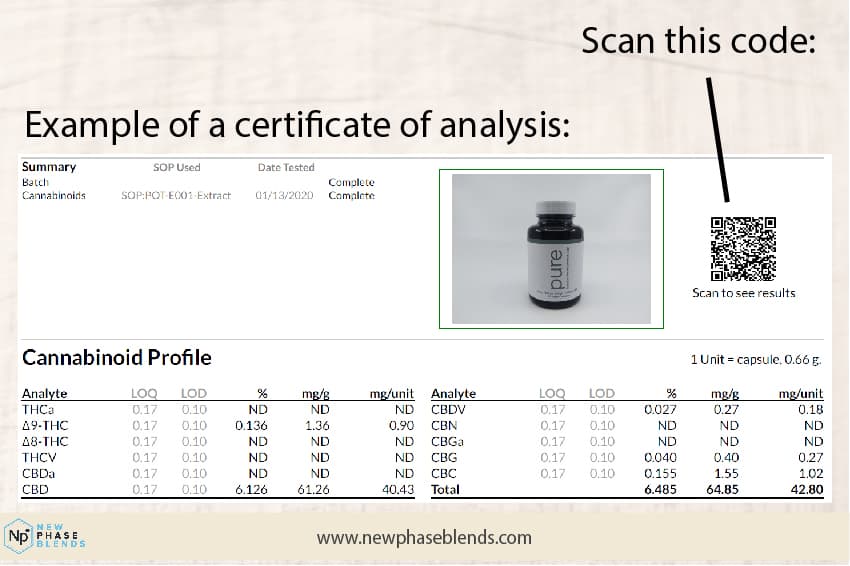 Hemp seed oil will likely not have these QR codes on them, at all, because the people selling the hempseed oil don't want you to know there is no CBD in it.
It's a fairly common scam in the CBD industry: to sell the seed oil under the guise of CBD oil. Please, don't fall for this.
Hemp Oil vs Cannabidiol Oil: Potential Benefits
Let's analyze hemp oil vs CBD oil and discuss some of the benefits associated with their use.
Multiple studies on hemp plants and CBD oils show potential benefits that come with their use. The top four most promising benefits involve skin health, insomnia, anxiety, and pain relief.
Skincare Benefits
Did you know that hemp derived CBD oil offers several skincare benefits? CBD can aid regulate oil production, heal atopic dermatitis, moisturize the skin, soothe inflammation, and work as an anti-aging formula for your skin. It's pretty incredible!
The skin also has cannabinoid receptors — proteins that are part of the endocannabinoid system (ECS), which regulates vital functions such as sleep and pain response. This means that the skin is another entry point for CBD to interact with the body.
CBD oil can also help fight acne growth and relieve skin disorders. It stops the abnormal activity of sebaceous glands that cause excessive production of sebum in your skin.
Remember, hemp seed oil doesn't naturally have CBD in it, so be sure to double-check your product if you're specifically looking for CBD. I can't stress this enough.
If you're concerned about using products for your skin, we encourage you to consult your dermatologist before using CBD. At New Phase Blends, we combined the nourishing properties of CBD with the anti-acne effects of salicylic acid to create Glow, our CBD cream for acne.
These two natural compounds work incredibly well together to help fight off acne. The salicylic acid cleans and clears out the pores, while the CBD-rich hemp extract reduces redness and swelling.
Insomnia Management
Hemp derived CBD oil can be quite beneficial for people suffering insomnia and poor sleep quality — and there's plenty of research to back it up. CBD has the potential to reduce the symptoms of insomnia and support deep, uninterrupted sleep.
Reports of falling asleep much quicker with the use of CBD oil for sleep are widespread.
At New Phase Blends, we combined melatonin with cannabinoids like CBD, CBG, and CBN to create Sleep, a patent-pending sleep aid featured on Yahoo! Finance and Weedmaps.
This broad spectrum CBD oil utilizes 2000 mg of CBD with 90 mg of melatonin in order to take advantage of the synergistic effect that occurs between melatonin and cannabinoids, like CBD.
The result is a CBD oil that excels at helping people not only fall asleep, but stay asleep, too.
Inflammation Relief
Hemp oil that's rich in CBD also has potential anti-inflammatory benefits for pain management.
Research shows that CBD can affect the body's CB1 and CB2 receptors and helps to manage chronic pain, arthritis pain, MS pain, muscle spasms, and spinal cord-related pain issues.
Related Post: How Does CBD Help My Pain?
Although more research is still needed, early studies show that CBD may relieve pain, inflammation, and improve mobility in joints. Both edible and topical CBD products can be effective in the fight against inflammation in joints or muscles.
Anxiety and Depression Relief
Anxiety and depression can drag someone down into the worst situations imaginable. Studies on CBD show that it may hold therapeutic potential for depression, anxiety, and other mental health challenges.
One of the most widely reported effects of CBD use is sedation or a feeling of overwhelming calmness. Many people use CBD for this effect.
Back Pain
A large percentage of the United States experiences some type of back pain. Instead of eating a bunch of NSAIDs, like ibuprofen, consider using CBD for back pain.
Many people report that after using CBD products, their back pain improved significantly.
Hemp Oil vs CBD Oil: Why All the Hype?
Well, it's because people are using different names to describe the same thing. This, naturally, stirs up conversation.
Always read the labels first, look for QR codes, and don't get trapped by some of the manufacturers incorrectly selling their products. Because interest in CBD is at an all-time high, shady merchants are taking advantage of unsuspecting customers with mislabeled products.
Do your research first, choose a trusted brand, and ask questions if you have them.
Key Takeaways in Hemp Derived Oils
This article aims to give you a better understanding of hemp oil vs CBD, and the source, health benefits, and uses of both hemp seed oil and CBD oil. If there's one thing to remember from this guide, it's that hemp is a plant while CBD is a chemical extracted from hemp.
Sometimes, products sold as hemp oil will also contain CBD — just check the label and ask for a certificate of analysis to verify its contents.
At New Phase Blends, our products are manufactured under strict protocols to guarantee consistent product quality. All CBD oils, edibles, and topicals are reviewed by a third-party laboratory to verify their CBD content. We also work with reliable couriers to ensure that all orders arrive in our customers' hands in perfect condition. Explore our product line today to learn more.