Would you use CBD for ADHD or attention span issues?! Yes, actually, we would highly recommend using CBD for attention deficit hyperactivity disorder. Are we kidding?
Absolutely not.
Here is why you should use one of the best compounds to use as an ADHD treatment. As many regular CBD users know, part of its popularity stems from its sedative effects. However, Did you know that CBD oil can have the opposite effect at lower doses?
Yes, that means if you take smaller doses of phytocannabinoids similar to CBD, you can boost cognitive function, which may lead to an increased attention span!
Let's discuss how CBD can actually perk you up and help increase your attention span while offering a cool focus for even your most unfocused days.
But First… How Does CBD Work?
Cannabidiol oil is a natural compound found in the cannabis plant both the hemp and marijuana plants are excellent sources of CBD. In the US, the 2018 Farm Bill legalized hemp plants, making hemp-derived CBD legal.
Cannabidiol is a compound that is extracted from plants that offer relief. While it is considered one of the most popular cannabis products, it is vital to remember that it is not the same as treating your conditions with pure marijuana or hemp plants. Marijuana-derived CBD products are not likely to work the same way as the THC content might interfere with the desired results.
The Metabolism and ADHD
The disorder impacts the dopamine neurotransmitter, which is needed for you to experience pleasure regulate your metabolism, moods, and your behavior. It would make sense that a compound that helps to maintain your metabolism and bring balance to your overall system would be one of the first places to seek relief. Well, CBD oil helps maintain the metabolic system within the body and brings balance to the inner workings of your hormones and other neurotransmitters.
CBD oil works on the mitochondria to enhance their activity. This results in the burning of more calories. That may reduce blood sugar abnormalities and unstable focus and attention levels.
Riding the Ups and Downs
The constant ups and downs people may feel throughout their day directly result from unsteady attention spans. Usually, this is because blood sugar constantly increases and decreases. What would make the blood sugar levels do this?
Related article: How Does CBD Help People?
Interestingly, it can range from a variety of things like what you eat, when you eat, or even chemical imbalances in the body. These imbalances are indicators of more severe issues like diabetes. As CBD oil works to maintain a constant and steady metabolic rate for your body, this can result in a much more stabilized attention span.
The Endocannabinoid System
We spoke about the cellular activity involved in using CBD to treat ADHD symptoms above, but there is another way that cannabinoids, like CBD, works.
All of us have an endocannabinoid system within us. It is responsible for various things, but maintaining overall homeostasis is known as its primary accomplishment. It accomplishes this, and other things, via CB receptors throughout our bodies.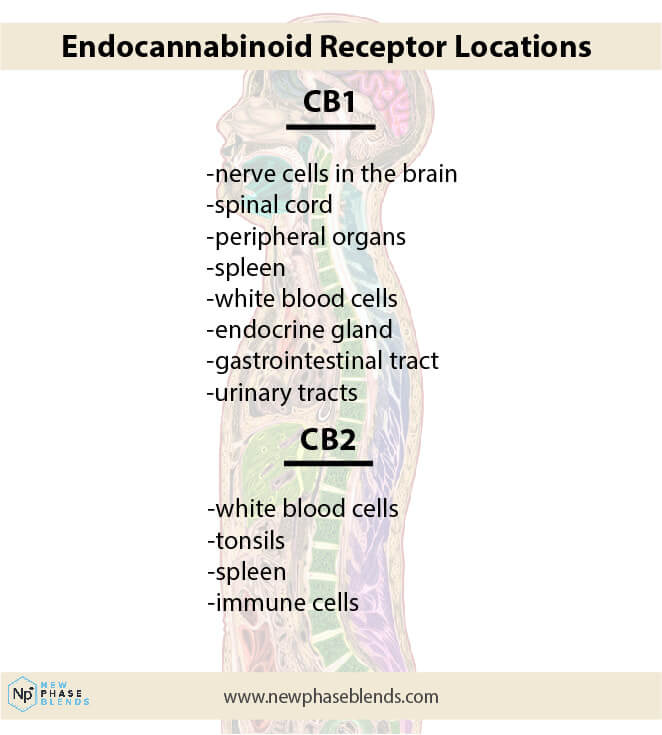 As you can see in the chart above, there are both CB1 and CB2 receptors. They are, basically, an entire system of cells that create a network of signals. CBD does not only work with one of the CBD receptors instead, but it also works with both, offering overall balance to the body and mind.
When you consume CBD oil products, they get to work by first getting into your bloodstream then activating a bunch of different cells within your spinal cord and brain stem.
The result of successfully regulated CB receptors is a wide variety of health benefits, including better mental health conditions.
CBD oil isn't psychoactive (intoxicating) either. While cannabis includes both the marijuana plant and the hemp plant, all legal CBD products are hemp-derived. This means there is a very minute amount of THC in it, which isn't enough to get you high – at all.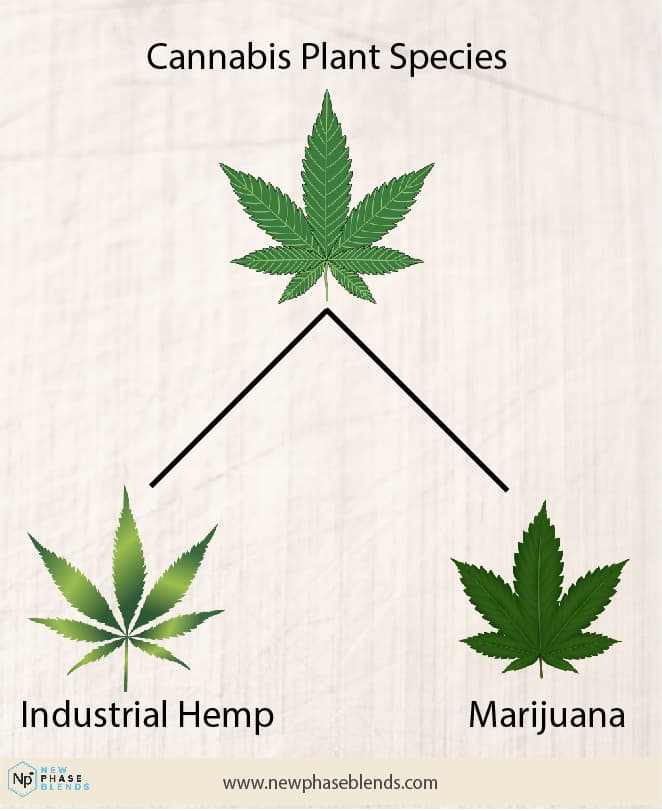 While medical cannabis is a prescription drug, legal CBD oil for ADHD is not. CBD is federally legal in the United States.
The key takeaway here is that medical marijuana is not the only cannabis product on the market. While medical cannabis is popular, it requires a medical marijuana card to purchase and is heavily controlled. THEREFORE, pure CBD oil derived from the hemp plant is the better option as it offers you a chance to find relief without the need for a prescription or the use of a controlled substance.
CBD Oil for ADHD
Now that we understand a little more about how CBD works let's dive into treating ADHD with CBD and bringing balance.
CBD oil for ADHD promotes increased attention span and focus in other ways. It also acts on the cells by stimulating cellular function and maintaining their fuel levels. Since the mitochondria are the cell's powerhouse, CBD helps keep them active throughout the day.
Smaller Doses Powerful Results
Taking smaller doses of CBD products for ADHD directly helps the mitochondria process nutrients. It can effectively break them down and turn them into excess fuel for the cell. This means that you can see an immediate increase in what you perceive as focus levels.
Inside the cellular walls lays the mitochondria. Take a look at the figure here to help familiarize yourself with what mitochondria look like:
PPAR Activation Using CBD for Attention and Focus
Interestingly, CBD products have proven to affect the cell's nuclei because CBD activates the peroxisome proliferator-activated receptors (PPARs). This stimulates a tumor-regression impact in the cells of humans.
Related article: Undeniable Facts About Cannabidiol, or CBD
A review on PPARs was conducted by a well-known scientific organization, Acta Pharm Sin B. Through clinical trials conducted, they reinforce that
"[once] PPARs are activated, they also regulate the availability of insulin, uptake of lipid processing, and control of energy."
Once CBD oil activates these PPARs, the individual will soon feel re-energized due to regulated and optimized cognitive homeostasis.
Using CBD for attention is much better than taking a caffeinated shot. At the same time, many with ADHD know that coffee or any other energy-stimulating drink won't impact them.
Sure, you will feel some effects from the shot. However, not long after taking it, your focus levels will crash, leaving you worse off than before. When most people think of CBD, they don't envision stimulating it.
They think of it as a sedative or something that will calm them. So far, this is not the case when taking smaller doses of CBD.
ADHD Medication Safety and Side Effects
When most people hear the term ADHD, the first thing that comes to mind is the amphetamine prescriptions and the adverse effects that go along with them. As primarily a stimulant, ADHD medication is made to force you to focus.
It seems that to treat ADHD, most doctors just prescribe medication and call it good.
I want to add here that your doctor can help provide professional medical advice regarding anything discussed here. Your healthcare professional understands you and your condition better than any online blog ever will.
Using Clinical Data to Manage ADHD
Clinical data shows that proper ADHD management is very tough on the person involved and their family. I completely understand this. If something is working well, it's tough to take a step back and focus on all of the adverse side effects because it is working so well.
Attention deficit hyperactivity disorder is prevalent in the US. The latest survey from the CDC is from 2016, and it states that roughly 6.1 million children have ADHD, or symptoms similar to it.
Treatment that Comes at a Price
If ADHD is treated with amphetamines for an extended period of time, there is a high likelihood of you experiencing the following:
Sleep difficulties
Depression
Paranoia
Panic attacks.
Mood changes
Anxiety
These are only a few of the more common side effects. If you use amphetamines, you should seek an alternative treatment – or at least try one out. Consider trying a CBD product, like the New Phase Blends Go, to help you out.
Related article: Using CBD for Energy
A Natural Alternative
Hemp-derived CBD products are becoming popular for many people across the globe for several reasons. While the medically reviewed ADHD medications that use CBD are almost non-existent, many people report that CBD from the cannabis plant really does help them or someone they know. It has been shown to help adults and children with side effects relating to ADHD and ADHD medications.
Is it safe to give a child CBD? Yes, it is. Many children that use amphetamine-based ADHD medications can benefit from symptomatic relief of side effects. The only CBD product that has been approved by the food and drug administration is Epidiolex; it is used to treat epilepsy and seizure conditions. It's prescribed to both adults and children. Its use has helped many people avoid harsh medications that come with a host of nasty side effects.
CBD products are not hard to find, either. You can easily buy CBD online; just make sure you buy from a reputable CBD brand – like New Phase Blends.
Choosing the Right CBD to Treat ADHD
Treating ADHD and symptoms of ADHD medication in both young adults, teenagers and children shouldn't be complicated. If you are merely looking for symptom reduction, reach out and speak to a reputable CBD company.
They will offer you advice and guide you through the right products. Some companies, such as New Phase Blends, have targeted products for focus and energy Such as the NPB 'Go' formulation. However, if you need to treat the side effects and manage those, it might be better to opt for a more straightforward CBD oil product such as the 'Pure' formulation, which comes in gummies, a tincture, and softgels.
Whatever you choose, just make sure you start with the smallest dose until you find the right amount that works perfectly for you.
The Advantages of CBD for ADHD
The use of CBD has become more widespread. Nonprescription CBD products are found in millions of homes across the globe; what are the real benefits of taking it to help reduce symptoms and side effects?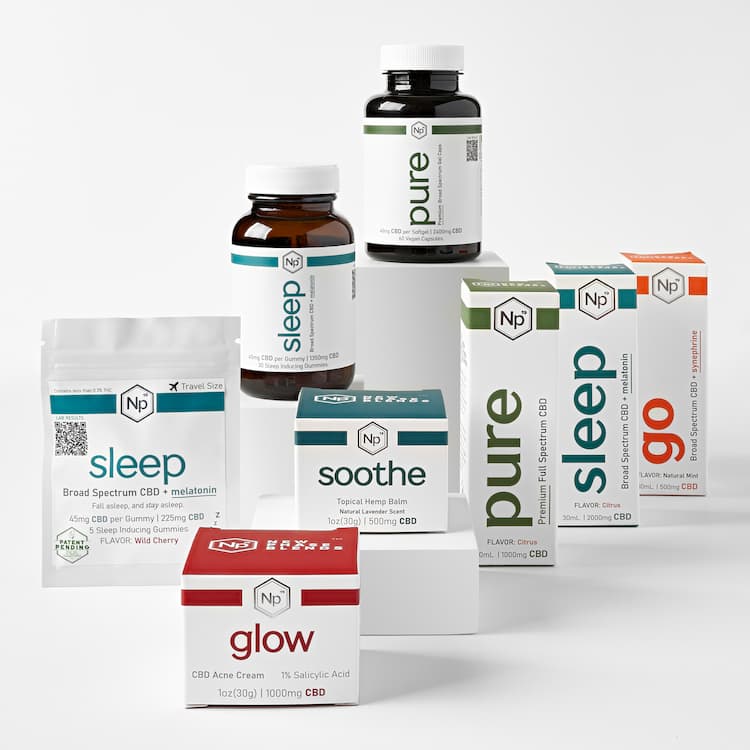 Natural CBD oils are a natural way to manage your symptoms.
Easy to use The product comes in many different forms, from easy to take softgels and gummies to tasty tinctures. The options are endless.
Calm Cool Collected That is the ADHD motto; small doses can genuinely offer you peace of mind and focus when it comes to CBD use.
Zero Risk There is no risk of cognitive impairment or suffering harsh side effects.
No Psychoactive effects As there are federal limits to the amount of THC allowed in a CBD product, you can be assured that you won't feel any psychoactive effects as THC is the compound that harnesses the plant's psychoactive properties.
Non-addictive unlike many stimulant medications, CBD is not addictive or habit-forming; you will not find yourself with a raging dependency on the compound.
Treats several conditions From posttraumatic stress disorder to social anxiety disorder and symptomatic relief of chronic pain, CBD has become a wonder compound that offers relief in all areas.
No Stigma Unlike marijuana use, CBD oil's popularity has just about removed itself from the stigma attached to marijuana. It is used by the elderly as well as parents of young children.
The effectiveness of cannabidiol oil is constantly being studied, which adds to why you should look into it, and how it can help you.
New Phase Blends' Approach on CBD for ADHD Symptoms
We were one of the first, if not the first, hemp-based companies to recognize this, but using CBD for increased focus is a thing now. Imagine addressing some of the ADHD symptoms by using specialized CBD products.
ADHD medication, and other forms of ADHD treatment, can be highly taxing on your body, and most are pretty addictive. Sure, some people need them to live a "normal life," but you should always try to treat your symptoms with the most natural, effective products possible before considering a prescription drug.

The premise behind our company is blending cannabinoids, like CBD, with other natural and well-known compounds. This results in greater relief.
Synergy to Bring Balance
Cannabinoids alone are incredible. However, when blended with these other natural compounds, a synergistic effect occurs like nothing else we've seen. We decided to mix synephrine (AKA bitter orange extract) in small doses. We use 10 mg of synephrine, per serving, with lower amounts of premium CBD extract. This delivers the most potent CBD oil for ADHD on the market, or so we like to think.
It's called "Go, "and people love it! Synephrine is non-caffeinated. Meaning you get all the benefits without the crash; it can deliver incredible amounts of cognitive focus and attention. Learn more about synephrine here.
So, in a nutshell, increased attention spans are a byproduct of using Go by New Phase Blends, but whoever would have guessed that? Plain ol' CBD oil isn't going to cut it.
Remember, keep your CBD in lower dosages. This may promote better levels of focus in your body and the most positive overall mental health. New Phase Blends' product called 'Go' takes advantage of this unique ability of CBD.
References:
Acta Pharm Sin B: https://www.ncbi.nlm.nih.gov/pmc/articles/PMC5518659/
Cannabis and Cannabinoid Research: https://www.ncbi.nlm.nih.gov/pmc/articles/PMC5569602/
*FDA disclaimer: none of the statements on this webpage have been approved by the Food and Drug Administration. These statements have not been evaluated by the Food and Drug Administration. These products are not intended to diagnose, treat, cure, or prevent any disease. Medical advice should be sought before starting any supplement. If you are pregnant or nursing consult with a doctor. Medical advice should be sought if you have any pre-existing medical conditions. If you take other prescription medications, a doctor should provide medical advice. Site void where prohibited.