CBD gummies have exploded in popularity as a convenient and tasty way to get the benefits of CBD. But not all CBD gummies are created equal. So, who actually makes the best CBD gummies on the market? Where can you buy them?
Introducing the Best CBD Gummies on the Market
Pure CBD Gummies, by New Phase Blends, are widely considered the best CBD gummies you can find in the United States. Why, though? Why do thousands of people continue to take these tasty, hemp-based treats, time after time? Why are people dropping other brands and going with the CBD-infused gummy treats made by this veteran owned company?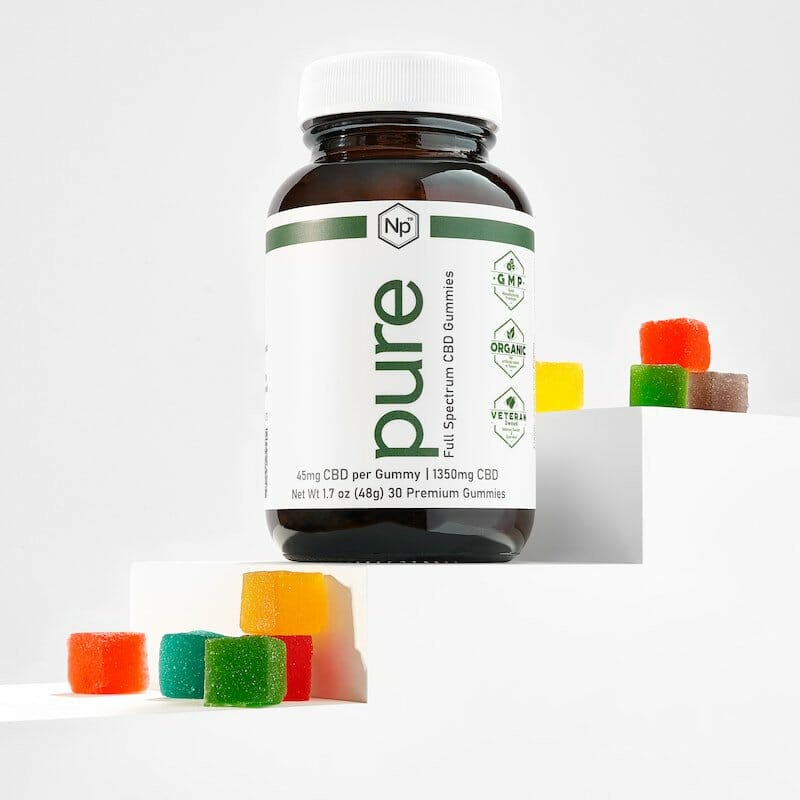 Tried and Trusted CBD Treats
Military veterans understand the physical and mental toll that service can take. CBD gummies made by veterans may be formulated to address issues like chronic pain, PTSD, anxiety, etc. based on firsthand experience. We like to think that if these gummies are trusted by the veteran community for relief, then they are likely to work for most people out there.
What to Look For in Quality CBD Gummies
When searching for top CBD gummies, here are some key things to look for:
Independent Lab Testing
Reputable CBD companies will have their gummies tested by independent third-party labs to verify the CBD content and check for contaminants. This testing ensures both safety and accurate CBD levels. Look for brands that make lab reports easily accessible.
Hemp Source
The best CBD gummies are made from organic, non-GMO hemp grown in the United States. Domestically grown hemp is subject to agricultural regulations and ensures a safe, high-quality product.
Full-Spectrum CBD Extract
Full-spectrum CBD contains all the naturally occurring compounds in the hemp plant, including trace amounts of THC along with terpenes and minor cannabinoids. This creates an "entourage effect" for maximum benefits.
Fair Pricing
Beware of CBD gummies that seem suspiciously cheap. Quality CBD and organic ingredients aren't inexpensive. Value pricing typically ranges from $0.07 to $0.10 per mg of CBD.
New Phase Blends: The Best Pure CBD Gummies
After comparing quality standards among various CBD gummy brands, New Phase Blends stands out as the top choice when it comes to their pure CBD gummies products. Here's why:
Rigorous Third-Party Testing
Every batch of New Phase Blends CBD gummies undergoes independent lab testing. Customers can easily access the Certificates of Analysis on our website.
Organic USA-Grown Hemp
New Phase Blends sources its premium hemp from organic farms. This ensures a CBD extract free of impurities.
Powerful Full-Spectrum Formula
The gummies include a full range of cannabinoids and terpenes for maximum effectiveness through the entourage effect.
Great Tropical Berry Flavor
There's no hempy aftertaste with these gummies! Customers love the tropical berry flavor.
Fair Pricing
At just $0.06 per mg of CBD, New Phase Blends prices offer outstanding value when compared to several other brands. Remember, just because gummies might be more expensive doesn't mean they are 'better.' While you do get what you pay for in the CBD industry, there is no reason to pay ridiculous pricing for great products.
Money-Back Guarantee
If for any reason the gummies don't provide results, New Phase Blends provides a money-back satisfaction guarantee. As long as you return your gummies within 30 days from the date of purchase, you'll be given a refund in full! Wow!
Get Potent Relief with New Phase Blends CBD Gummies
New Phase Blends CBD gummies provide a delicious and effective way to get all the benefits of CBD in a convenient chewable form. With their rigorous quality standards and money-back guarantee, New Phase Blends offers exceptional value in top-quality, lab-tested CBD gummies. If you're looking for the best CBD gummies on the market, New Phase Blends is the clear choice.