Wondering where to buy CBD tinctures (aka CBD drops)? CBD is fast becoming one of the most famous consumer products in the country. Researchers and scientists are discovering the potential benefits CBD and other CBD products can bring to the table with time.
The interest has kicked off a whole wave of brands competing to make the best quality, affordable CBD tinctures and products that users can enjoy at the comfort of their homes.
All the sayings and jargon around CBD at first can seem impenetrable for people out of the loop. That is why we've compiled a review of the five best CBD brands where you can find CBD products for sale. We understand that when you buy CBD oil products, like tinctures, it is quite difficult and overwhelming to look for where to purchase these CBD tinctures.
In this article, we will be discussing where to buy CBD tinctures. Here is a list of the brands we will be reviewing:
New Phase Blends (Top Pick and Best Overall Results)
CBDmd (Highest Potency)
Nuleaf Naturals (Best Organic)
Diamond CBD (Most Variety)
CBDistillery (Most Sustainable)
Where to Buy CBD Explained in Detail
A lot goes into finding the right spot to buy CBD oil. There's more to it than just picking out the best looking products, or the most expensive things for sale.
It normally helps to have a comprehensive review of different brands that are great. You can then narrow down the search accordingly. This is what we've done for you, the reader. Below you will find some of the best brands out there, and why we picked them.
Enjoy!
Buy CBD from New Phase Blends (Top Pick and Best Overall Results)
The first brand on our list is New Phase Blends (no surprise). This brand was established back in 2018 and is situated in West Palm Beach, Florida. The brand is dedicated to producing the purest and most effective CBD products that both experienced and new CBD users can enjoy.
New Phase Blends stands out in virtue of its extremely effective selection of CBD products. They offer traditional tincture blends, CBD capsules, edibles, gummies, and topical balms. This exotic brand makes CBD full-spectrum blends and broad-spectrum blends.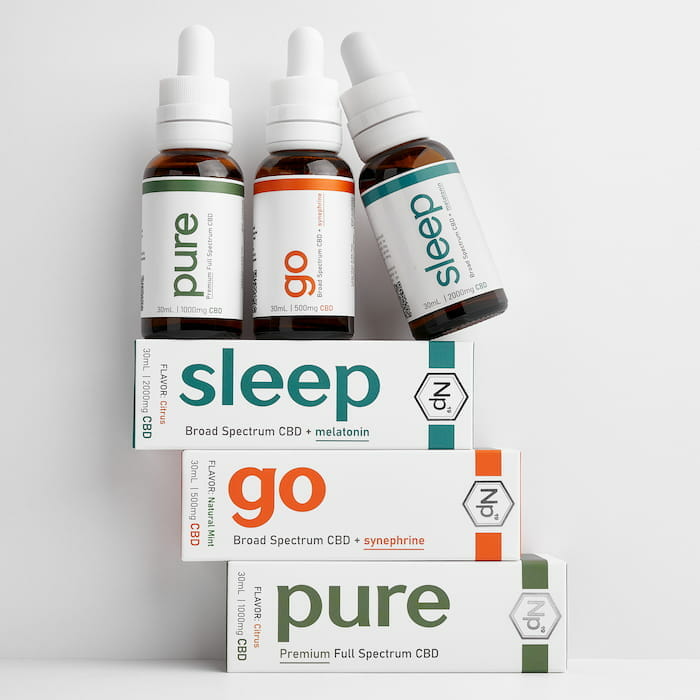 All products are grown with organic hemp and don't contain any strange chemicals, synthetic dyes/colorings or preservatives. They are popular for their high-quality products and unique collection/varieties of products for specific illnesses, such as their 'Sleep' product line, which consists of natural melatonin to fight insomnia. Buying CBD tinctures from New Phase Blends is definitely a safe bet.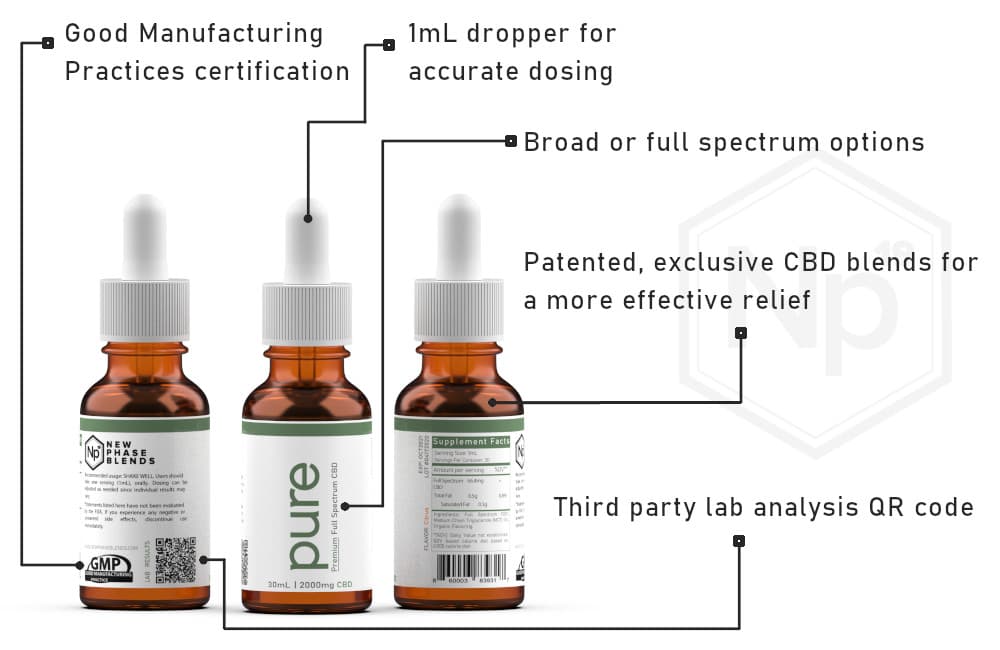 New Phase Blends is a veteran owned and operated organization. They have managed to secure patents in the CBD industry that are vetted through the US Patent and Trademark Office, hence the 'patent-pending' stamp all over their website.
The hold trials on their products, too, to make sure they actually work. Their products work well, and their research and development is why. No other company produces a CBD product that works as well as their CBD line.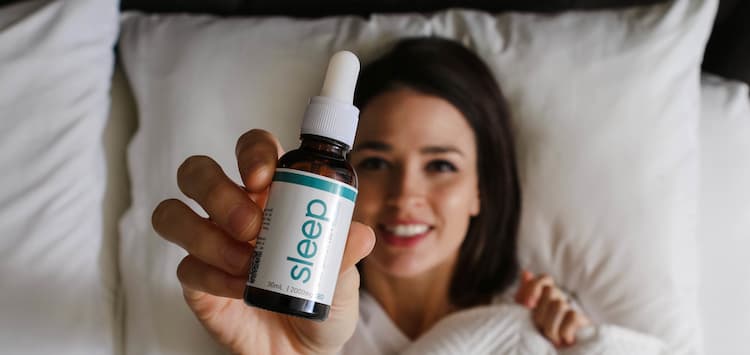 I guess there is something, after all, to blending CBD with other natural and well-known substances.
Check Out CBDMD (Highest Potency CBD)
The next on our list is CBDmd. CBDmd was established back in 2016 by Scott Coffman and Martin Sumichrast and is located in North Caroline. The brand offers unique blends and an exotic variety of products, including tinctures and treats for pets.
The brand is popular for its affordable prices and specialty blends; for instance, its selection of sleep and relaxation products. One thing that distinguishes CBDmd from its competitors is its competitive and affordable prices. When buying CBD tinctures, this is so important.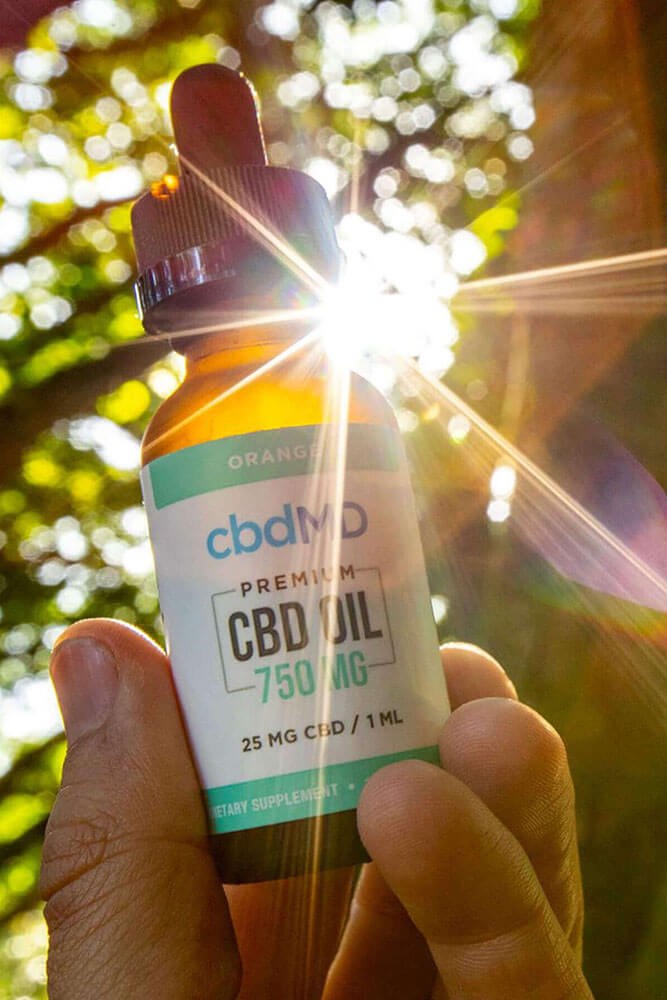 Their high-concentration blends cost a portion of the price of other brands. Their products don't contain THC, and are third-party ISO-certified laboratory-tested for purity and integrity. There is a link to their product listing accompanied by a lab report you can follow through at your leisure.
All CBDmd's products are produced with organically grown and locally sourced hemp. The brand also utilizes a sophisticated method of extraction known as flash chromatography hydrocarbon extraction. This method of extraction involved multiple stages of extraction to produce the purest blend.
The full-spectrum and broad-spectrum blends of CBDmd contain essential oils to give flavor and help in relaxation. All their products are completely vegan and do not contain synthetic dyes, chemicals, or flavorings. Also, all products are gluten-free.
Nuleaf Naturals (Best Organic)
The next list is Nuleaf Natural, a CBD brand out of Colorado. Born in 2014, Nuleaf Naturals is popular for its very high potency blends and has physical partner retail situated in all 50 states, along with its huge online store. This company revolves mostly on producing CBD tinctures and oil but has recently widened its product list to include edibles and gummies.
They produce full-spectrum blends; thus, their products contain qualities of THC. All products of Nuleaf contain a wide variety of cannabinoids, including CBD, THC, cannabichromene (CBC), and cannabigerol (CBG), among many others.
Related article: Best CBD Gummies for Sleep
Nuleaf Naturals products are produced using locally grown and sourced hemp directly from Colorado farmers that utilize green and sustainable cultivation techniques.
Their products are vegan and don't contain any synthetic dyes or chemicals. Expect a third-party lab test on all products. There is a link for each product listing linking it to the relevant laboratory reports to pursue them yourself.
Diamond CBD (Most Variety)
The very next brand in answering the question where to buy CBD tinctures, is Diamond CBD. This brand is also based out of Colorado and is one of many cannabis brands owned by Potnetwork Holdings. Diamond is unique because of its very large product selection.
They have listings for tinctures, edibles, oils, gummies, e-liquids, vaping products, and more. Only their oil listings consist of more than four pages of products.
All Diamond CBD's products have a link accompanied by a lab report that you can see by scrolling to the end of the page.
CBD Distillery (Most Sustainable)
Last but definitely not least on our list is CBDistillery. CBDistillery is a CBD company that is also based out of Colorado and was established in 2016. According to the home page, the brand relies on producing high-quality products at an affordable price.
They claim to have served more than 1 million satisfied customers across the country.
The best feature of CBDistillery is the affordability of its products. Their oils and tinctures cost only a portion of other brands' prices but don't skimp on quality.
There are hundreds of positive reviews, all of which claim their oils taste good and get the job done!
Conclusion | Where to Buy CBD Tinctures
The CBD world is rapidly changing; kudos to increased interest in the substance and generous capital investment from investors. As the science continues to be more established, there will likely be more FDA-approved CBD products hitting the market.


In the meantime, CBD has many potentials, and competition from existing brands has largely driven down the price. The CBD world is fast-changing ad there has never been a perfect time to try CBD products.
I may sound like a broken record here, but please make sure that you are buying from reputable brands. The brands on this list sell excellent CBD products, but not every company does. Keep this in mind when shopping for CBD tinctures.