Proper CBD gummies seem to be quite popular these days. Whenever we get a chance to do an honest brand comparison, we get excited! At New Phase Blends, we don't look to trash the competition – we look to give accurate comparisons so the consumer knows what's best for them. Some brands target users that other brands do not. We all know this by now. In this article, we compare Proper CBD gummies with our own, and take a look at the other CBD products Proper Canna Naturals has for sale.
Proper Canna Naturals
Proper Canna Naturals is a Colorado-based company that produces USDA certified organic CBD products. It was founded by Dan Arensmeier and Justin Brothers, who were inspired by the potential of the cannabis plant to benefit their families, friends, and communities.
The company started as a result of their research in the mid-2000s when Colorado legalized medical marijuana. They took a particular interest in industrial hemp and its benefits.
Proper CBD Gummies
Proper CBD gummies refer to high-quality, reputable, and safe CBD-infused edible products sold by a brand named Proper Canna Naturals. When looking for proper CBD gummies, consider the following factors:
Source of CBD: Look for gummies made from organically grown hemp, preferably from a reliable supplier in the United States or Europe. This ensures that the hemp is grown under strict regulations and without the use of harmful pesticides and chemicals.
Extraction method: The best CBD gummies are made using CBD extracted through the CO2 extraction method, which maintains the purity and potency of the compound.
Type of CBD: CBD gummies can be made using full-spectrum, broad-spectrum, or CBD isolate. Full-spectrum CBD contains all the natural compounds found in the hemp plant, including trace amounts of THC (less than 0.3%). Broad-spectrum CBD contains all the compounds except for THC, while CBD isolate is the purest form of CBD, containing no other cannabinoids or terpenes. Choose the type that best aligns with your preferences and needs.
Third-party lab testing: Reputable CBD gummies should be tested by an independent, third-party laboratory to confirm their potency, purity, and safety. Look for a Certificate of Analysis (COA) that provides information about the product's cannabinoid profile, potency, and any potential contaminants.
Ingredients: Proper CBD gummies should be made with high-quality ingredients, free from artificial colors, flavors, or high-fructose corn syrup. Look for gummies made with natural flavors and sweeteners, such as fruit juices or organic cane sugar.
Potency: CBD gummies come in various potencies, typically ranging from 5mg to 50mg of CBD per gummy. Choose a potency that suits your needs and follow the recommended dosage guidelines.
Brand reputation: Purchase CBD gummies from a reputable and well-reviewed brand. Look for customer reviews and testimonials to gauge the effectiveness and quality of the product.
Remember that CBD products are not regulated by the FDA, so it's crucial to do thorough research and only buy from trustworthy sources. Also, consult with a healthcare professional before using CBD products, especially if you have any existing medical conditions or are taking medications.
Proper CBD Gummies vs New Phase Blends CBD Gummies
Proper CBD Gummies come in two forms: gummies for sleep, and gummies for energy. Both gummies contain a slew of different natural ingredients. Both gummies also do not contain very much CBD in them – per gummy.
The Proper CBD Gummies contain 10mg of full spectrum CBD per gummy. The Proper Sleep Gummies contain 25mg of full spectrum CBD per gummy. In addition, you can find many other ingredients, such as:
Yerba Mate
Nootropic adaptogens of Wild Purple Maca Mushrooms
Wild Chaga Mushrooms
Blackseed Oil
Wild Ashwagandha
Chamomile
Hops
I'm sure there is a market for this huge mixture of plant-derived compounds, but at New Phase Blends, we stick to wholesome, pure CBD.
The New Phase Blends pure CBD gummies contain a whopping 45 mg of CBD per gummy! This is 4x the amount of a Proper CBD gummy. Our CBD gummies for sleep also contain almost double the amount of CBD per gummy (45 mg per gummy) when compared to the Proper Sleep gummies.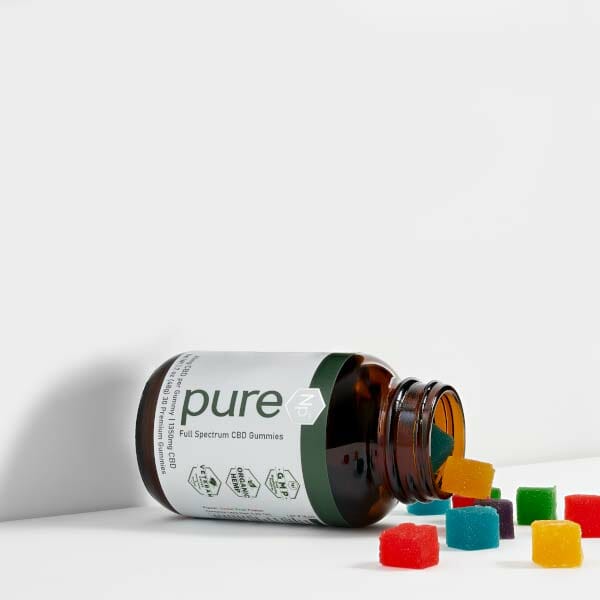 It appears that the Proper Canna Naturals brand simply chooses to use CBD, in addition to a ton of other ingredients.
At New Phase Blends, we stick to mainly CBD. You can find some melatonin in our sleep formulations, but that's it. We're all about wholesome, pure CBD gummies.
Other Proper CBD Products
Here's a list of the other products that Proper Canna Naturals sells, according to their online store:

Proper Canna CBD Topicals:
Winter Skin CBD Topical Bundle (sold out)
450mg Broad Spectrum CBD Oil Melon Ginseng Vitality+
Roll-On CBD 900mg Cooling Muscle Gel
CBD Oil Freeze Bundle
500mg Arnica CBD Topical Canna Salve
Rocky Mountain Chill 600mg CBD Muscle Gel
600mg Aloe Hemp Lavender Body Lotion
Proper Canna CBD Oils:
Vitality+ Full Spectrum CBD Oil 450mg Watermelon Ginseng
1200mg Vitality+ Full Spectrum CBD Oil Blood Orange Ginseng
1200mg Vitality+ Broad Spectrum CBD Oil Blood Orange Ginseng
High Strength CBD Oil Bundle
Dreamsicle Organic 1800mg Full-Spectrum High Concentration CBD Oil
Mojito 900mg Broad Spectrum Organic CBD Oil
Peppermint 600mg Full-Spectrum Hemp Oil
600mg Unflavored Full-Spectrum Organic Hemp Extract with MCT Oil
Related: Premium CBD Oils by New Phase Blends
Proper Canna CBD Capsules:
CBD Softgels 25mg Organic Hemp Oil
Related: Vegan CBD Capsules by New Phase Blends
CBD For Pets:
Pet 600mg Full Spectrum Peanut Butter Organic Hemp Extract
Canna Pet CBD 300mg Full-Spectrum Unflavored Hemp Extract
The products from Proper Canna include a variety of CBD oils, gummies, topicals, and pet products. The product list also shows different potency levels and flavors for some of the items.
Summary – Proper Canna Naturals Compared to New Phase Blends
While Proper Canna Naturals seems to be a decent CBD company, their products just do not compare to New Phase Blends' CBD line-up. Their CBD content alone just doesn't come close to what our products have in them. They also do not list all of their lab reports. For example, their CBD oil page only shows a certificate of analysis from July of 2020. As of the writing of this article, that's almost 3 years old!
Stick with New Phase Blends. There is a reason people love us, and it is because we offer premium CBD, at great prices, and truly care about your results.