Using hemp oil for acne treatment is a relatively new concept that is quite effective, believe it or not. In this article, we're going to go over a lot of details about facial skin, why it gets dirty, what causes breakouts, and how to clean your skin with the use of hemp oil (CBD oil) or hemp-based products.
TL;DR – Hemp oil (or CBD oil) excels at reducing the redness and swelling associated with acne. It will not clear out the skin, but it helps create a more presentable skin that isn't as embarrassing when experiencing breakouts. For this reason, using salicylic acid and hemp oil together, is the best approach.
For this article, hemp oil and CBD oil will be used interchangeably. I mention this because there is a difference, but because Google doesn't like CBD or cannabidiol, we will stick with the term 'hemp oil' for now.
Understanding The Skin
Most people have some semblance of skincare routine, whether it is a strict daily routine or a mild cleanser now and then. Dealing with your skin is a personal journey of exploration as you figure out what works for you and how to treat any skincare issues you might have.
The skin is the largest organ in the body; it protects you and keeps you together. Your overall health will impact your skin health. Issues like dehydration, poor diet, stress, and lifestyle all impact what should be glowing and dewy skin.
The Different Skin Types
Different types of skin require different methods of treatment. Many people turn to chemical medications such as Accutane to treat nodular acne and other skin issues. While this might not be the solution to all skin conditions, it is essential to understand the type of skin you have will impact how you treat it.
Oily Skin
Oil production in the skin can keep your skin hydrated and dewy; however, excess oil can be a problem for some. Excessive oil can lead to clogged pores, acne, and breakouts such as pimples and blackheads. At the same time, those with oily skin tend to benefit from more anti-aging properties and fewer fine lines.
The sebaceous glands produce too much sebum, also known as oil. This sebum can clog pores across the face, chest, neck, and back in excessive amounts.
It is genetic. However, this condition could be exacerbated by hormonal fluctuations and diet.
Dry/flaky skin
Dry and dehydrated skin is a typical winter skin condition that affects many people across the globe. Understanding that dry skin could be tight, flakey, and uncomfortable at times is not always a problem. Issues such as cracking and unsightly flaked skin are common complaints.
People with naturally dry skin will experience dull and moisture-less skin; this skin type is prone to fine lines, aging and wrinkles, skin conditions, and allergies.
Hemp Oil Basics
Once we understand the type of skin we are working with, we can begin assessing the kind of treatment it needs. Hemp oil is a powerful and natural product that can help you manage your skin no matter what the issues are.
Hemp oil comes from the cannabis plant. Production of hemp oil utilizes hemp flowers and hemp seeds to create a cold-pressed oil. The oil is rich in omega acids, essential fatty acids.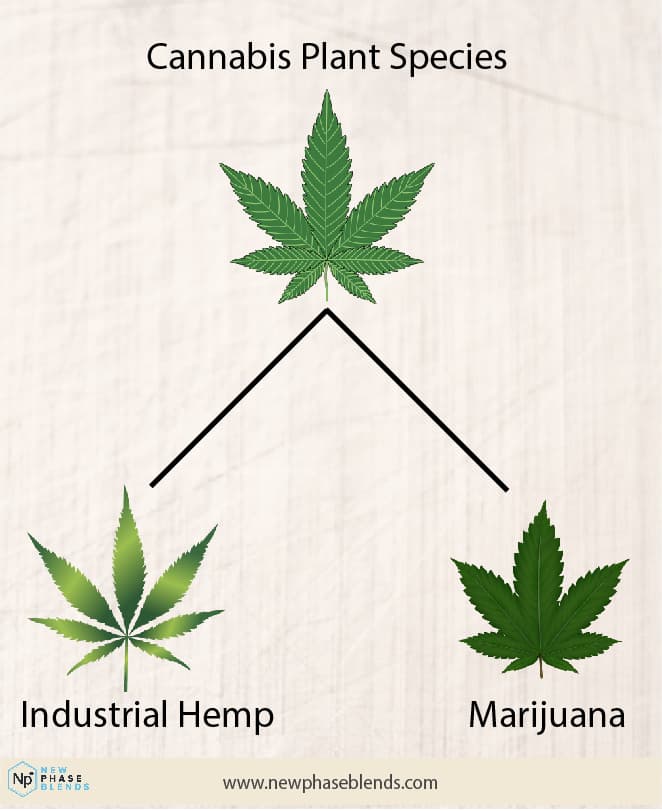 A note; Using CBD oil-based products if you are taking blood thinners is not recommended; always check with your doctor before doing so. Apply the oil directly to your skin might be the same in some cases; it is essential to check first as some CBD can pass through the skin barrier into the blood.
Hemp CBD Penetrates Pores?
If you haven't noticed by now, your skin is filled with pores. These tiny pores aid in many different functions, but the most common function is their ability to excrete water in the form of sweat. Sweat helps the human body cool off when it is too hot, and sweating is a vital part of helping regulate body temperature.
Go ahead and take a close look in the mirror. You will see a ton of pores. Wide pores can contribute to acne and other skin conditions such as pimples, blackheads, and whiteheads.
The pores look like tiny little holes all around your face – and that's precisely what they are. To add to the complication, everyone has a different style of pores.
Some of this is genetic, some of it is ethnic. Some people have large pores; some have tiny pores. According to Dove Medical Press," Chinese women were distinct from other ethnicities in having very low density and sizes." This is just one example of how ethnicity plays a part in dictating your pore design.
Interesting, isn't it? When our pores remain open, they become more prone to getting clogged or dirty, which is when things can get out of hand regarding clean skin.
Hemp Seed Oil for Acne-Prone Skin
This is where using hemp seed oil for acne gets interesting. Is hemp oil alone enough to treat your acne or skin breakouts?
No, it is not.
Please do not try to treat your breakouts or acne-prone skin with plain CBD. CBD from hemp extract is an oil, and it will likely make your skin issues even worse.
The exciting thing is when hemp oil is mixed with salicylic acid and used as part of a combined treatment method, the results are incredible! Salicylic acid is a well-known acne-fighting ingredient that gets into your pores and cleans them of the debris that causes a clogged pore.
This clogged pore ends up getting swollen, red, and sometimes has a white head on top. What I'm trying to describe here is a pimple. Unclogging your pores must become part of your skincare regimen if you genuinely want clean, clear skin.
Salicylic acid is a natural substance that comes from the willow tree, and the Inchem Organization confirms that salicylic acid is readily absorbed through the skin.
Why Use Salicylic Acid and CBD for Acne?
Now that you understand how salicylic acid works, let's discuss why we would combine it with hemp oil for acne treatment. One of the proven benefits of hemp oil is its anti-inflammatory effects, and why would we care about that for acne treatment?
Think about all of the times you had breakouts.
They are gross, red, and swollen around the localized area. Sometimes the breakouts are even painful! The anti-inflammatory effects of hemp oil (as long as it is genuine hemp oil with a rich CBD extract) help reduce the redness and swelling associated with breakouts, whiteheads, or acne.
A thorough study conducted by BioOrganic and Medicinal Chemistry came to find (intense scientific explanation warning!), "Modifications of the structure of CBD, namely the introduction of a carboxy group and replacement of the n-pentyl side-chain with a 1,1-dimethyl heptyl group, resulted in an anti-inflammatory agent called HU-320. In vivo, HU-320 like HU-239 did not exhibit a cannabimimetic profile but did produce anti-inflammatory clinical effects in a murine, collagen-induced arthritis model."
Great…but what does that even mean?
Applying Hemp-based Acne Creams
It means that when applied, CBD delivered localized, measurable anti-inflammatory effects. While the salicylic acid penetrates deep into the pores to unclog them, topical hemp works to reduce the clogged pores' visible signs (as it can calm inflammation). It's a one-two power punch combo!
Frequently Asked Questions:
When it comes to skincare, many people have concerns and issues that they face daily. Here are some of the most commonly asked questions regarding hemp oil products and how they impact your skin.
Does Hemp Oil Heal Acne Scars?
Using organic hemp oil to treat acne scars is becoming more common as it can help reduce inflammation as well as offering other health benefits such as:
Speeding up healing time
Stimulation of cell regeneration
Boosting natural collagen formation and production
These benefits offer your scars a chance to heal and settle. While you might have a slight blemish that remains, it should remove most of the marks.
A Skincare Routine
A daily routine involving washing your face with warm water and a light cleanser should be implemented; always make sure you use an approved soap or cleaner as some can leave your skin feeling dry and tight.
Once your face is clean and blotted dry, apply a light layer of topical CBD ointment such as the New Phase Blends Glow. Natural oils such as coconut and hemp are great for soothing skin and leaving it with a fresh glow, while the 1% salicylic acid treats acne.
Will Taking Hemp Oil Orally Help?
Using hemp and CBD as a daily routine as part of your dietary routine could, in theory, help you with your skin. However, taking too much CBD initially could lead to temporary digestive upset and other symptoms if you are already taking a CBD supplement.
While taking CBD orally can offer many skin benefits and help you journey to healthy skin, such as cell regeneration and anti-inflammatories.
For most skin conditions, though, a topical treatment made with pure oil is better as using hemp oil skin care products can help by cleansing the skin and offering it nourishment without clogging pores.
CBD Oil Products for Skincare
It is important to remember that the type of skin irritation or condition you are trying to manage needs to be assessed. If you have skin prone to acne and excessive oil production, you should opt for something with a little salicylic acid.
As your skin's oil production can vary depending on your diet, hormones, and lifestyle, it is essential to approach your skincare on a day-by-day basis.
Any CBD oils or products should be pure and use as few additional ingredients or harsh chemicals as possible. You shouldn't use any products on broken skin that can pass through the skin barrier and cause irritation or inflammation.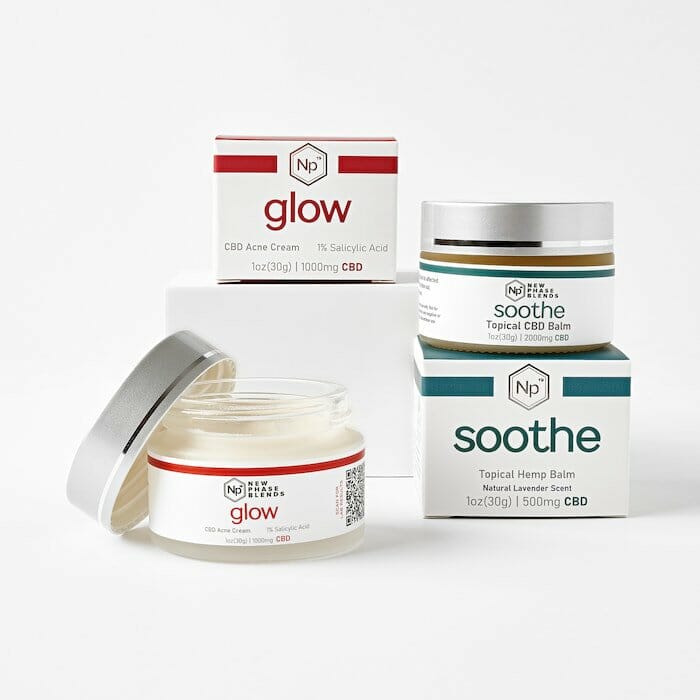 Choosing the right CBD enriched ointment or product is crucial. Always read the labels and reach out to ask the CBD company what is in their products.
At New Phase Blends our Glow CBD enriched ointment has every ingredient listed on the label. The full-spectrum CBD oil is third-party lab tested to ensure that it is pure.
Moisture; Hemp Oil for Acne Treatment
One of the negative sides to using salicylic acid is dry skin. The salicylic acid does great at unclogging pores, but the result is sometimes dry skin. If you have dry skin, to begin with, it tends to get even drier after using salicylic acid. Hemp oil for acne treatment can aid in adding moisture back to the skin.
You see, hemp extract bonds incredibly well with oil, and the hemp plant is filled with an oil that carries all of the phytocannabinoids in their natural form (CBD, CBG, CBN, etc.…) in it. Mixing the hemp extract with other oil bases (like coconut oil) acts as an outstanding carrier. Some oils are great for moisturizing our face. We now have a three-stage attack on acne: pore cleansing, reduction in swelling, and a re-moisturizing of the skin. This is an excellent approach for helping clean up your skin and maintaining a youthful appearance.
The Skin Benefits You Can Expect From Hemp Oil
There are numerous health benefits of taking hemp oil orally; some of those same benefits are great for your skin too!
Hemp oil-based skincare products are great for:
Powerful anti-inflammatory properties
Treat acne
Prevent future breakouts
Free from acne-causing agents
Removal of dead skin cells
Neutralizes free radicals
Reduce fine lines
Rich in Vitamin E and other essential fatty acids are vital for elasticity and new cell growth for younger-looking skin.
Regenerative properties – CBD can calm inflammation of the skin while simultaneously encouraging skin growth as new cells generate. Leaving your skin nourished and dewy.
Conclusion | Clearing Acne with Hemp CBD Products
As usual, I hope you got some value out of your time spent reading this article on using organic hemp oil for acne treatment. Keep the following in mind:
Topical use of CBD oil alone will not help with your acne
Salicylic acid paired with hemp extract is the powerful approach you need

We can still learn a lot about hemp and all of the uses its extract has for us. As time goes by, I guarantee there will be more scientific studies on the benefits of hemp for the human body.
It is amazing what a few drops of CBD can do for not only your mind and health but your skin too!
References
BioOrganic and Medicinal Chemistry: https://www.researchgate.net/
Dove Medical Press: https://www.ncbi.nlm.nih.gov/
Inchem: http://www.inchem.org/