Are you ready to say goodbye to your acne once and for all? Using CBD for acne relief is a relatively new approach to clearing up blemishes, and it is gaining in popularity – quickly! Acne takes a real hit on your self-confidence, and you may hesitate to engage in normal social activities when you're breaking out.
There's a new natural pimple treatment that has promising results, and it includes cannabidiol (CBD). Derived from the cannabis plant, this compound has popped up everywhere in the last few years.
It's used to treat symptoms of anxiety, depression, all kinds of chronic pain, AND acne. Let's take a look at how you too can use CBD for acne clearing effects.
TL;DR Using CBD for acne can actually work well, but you need to use specialized CBD products. Don't go rubbing CBD oil on your face, otherwise you could make it worse.
What is CBD?
CBD stands for cannabidiol. CBD is one of the hundreds of components of cannabis, which is a plant species made up of both hemp and marijuana. It is often the second most prevalent ingredient in unaltered cannabis extract next to THC.
While tetrahydrocannabinol (THC) is the main psychoactive cannabinoid found in cannabis, CBD is not psychoactive. It doesn't cause the user to get "high" or have any other mind-altering effects.
Related article: What Does CBD Stand For?
CBD products are made by extracting CBD from the cannabis plant and diluting it with a carrier oil, such as MCT oil, or hemp seed oil. It's gained a lot of momentum in the wellness world because it's been shown to relieve pain, reduce depression and anxiety, help with acne, benefit heart health, insomnia, and much more.
Cannabis contains two major plants: marijuana, and hemp. CBD from hemp will have little to no THC in it, while CBD from marijuana might have a lot.
Since using CBD for acne relief is a new approach to skincare routines, you probably won't find a ton of information on it like you would other compounds.
Cannabidiol Is a Safe Alternative
As the world of science continues to explore CBD's benefits, some have worried about its safety. However, the World Health Organization states that CBD does not exhibit any indication of abuse or dependence potential. A journal called Cannabis and Cannabinoid Research also published a study in 2017 that showed CBD as having a "favorable safety profile."
In June, the FDA approved the first-ever cannabis-derived medicine for seizures called Epidiolex.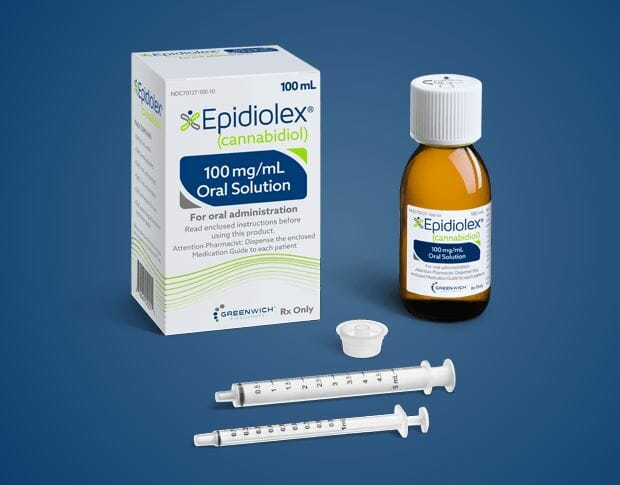 Slowly but surely, CBD is creating a name for itself in the world of science and medicine. With this success, scientists have done additional studies to see how CBD can aid other conditions.
Among them, acne has surfaced as one that CBD may positively impact. As with anything else here at New Phase Blends, we like to let the science do the talking, because that's the only information we can really count on – scientific information!
Related article: Side Effects of CBD Products
Let's get into the science behind using CBD for acne treatments.
CBD for Acne: The Science Behind It All
One of the most convincing studies done on treating acne with CBD is by the Journal of Clinical Investigation. In this study, researchers acknowledged the disappointing lack of curative anti-acne agents that currently exist in dermatology.
Enjoy 15% off your order of 'glow' acne cream by entering coupon code glow15 at checkout!
Acne vulgaris – currently the most common human skin condition – presents itself in the form of pustules, nodules, and/or cysts. These form when hair follicles are blocked with oil, bacteria, and skin cells.
So, in order to successfully use CBD for acne, the treatment needs to address these issues, at a minimum. So, how does CBD help with these issues you ask?
The Endocannabinoid System and Acne
In previous studies, the endocannabinoid system, also known as the ECS, had been deemed a promising choice for therapeutic possibilities. This was because it regulated cell growth and exerted anti-inflammatory effects.
The ECS is a part of your central nervous system that balances mood, memory, and appetite.6 It's one component of your body that balances how you feel.
Through research, scientists have also discovered that humans have numerous cannabinoid receptors in their skin.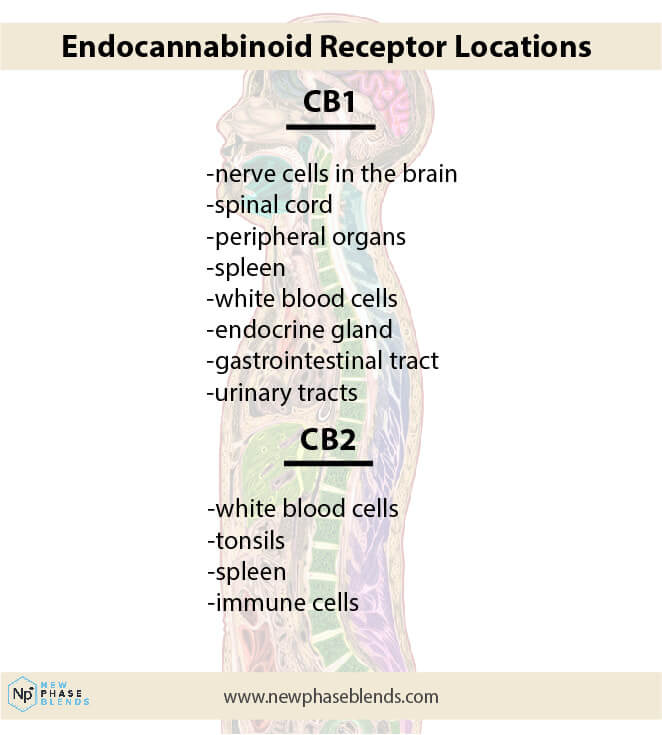 This causes the nerve fiber bundles, mast cells, sweat glands, and hair follicles to react during CBD treatment. Due to the anti-proliferative, and anti-inflammatory effects of CBD during these studies, researchers have deemed it a promising therapeutic agent for acne.
Treating acne with CBD to help address the inflammation often associated with acne is a revolutionary new concept.
An Interesting Study on Using CBD for Acne Management
In an article from the UC Davis Dermatology Online Journal, "the use of cannabinoids for the treatment of dermatologic conditions supported a broad spectrum of potentially useful applications."
When studying acne vulgaris, the study acknowledges that CBD suppressed sebocyte proliferation "via activation of transient receptor potential vanilloid-4 ion channels and exerted complex anti-inflammatory effects via A2a adenosine receptor-dependent upregulation of tribbles homolog 3 and inhibition of NF-KB signaling."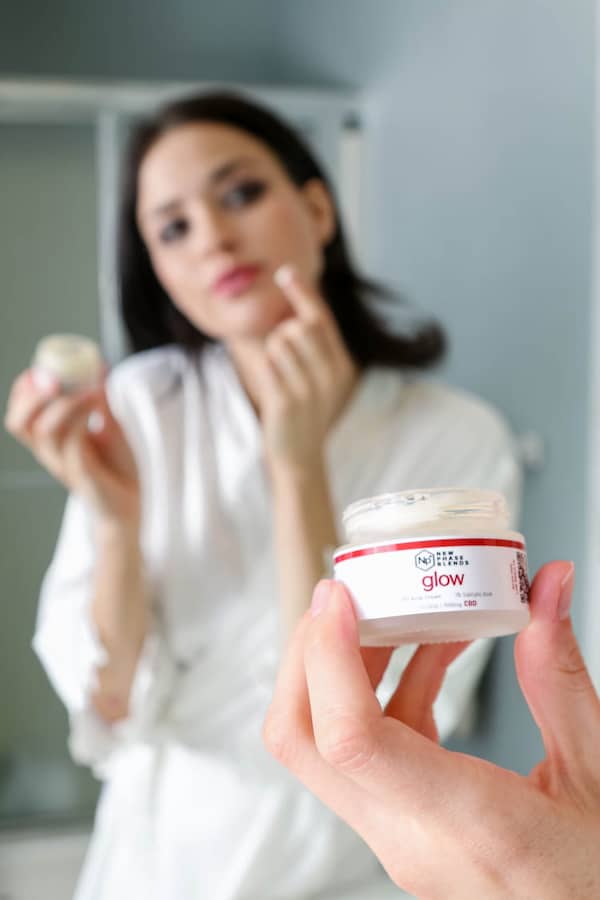 The study also highlighted that the use of a 3% cannabis extract cream had an effect on the sebum level and erythema in 11 patients with acne.
This was measured in a comparative study where the users applied the cannabis extra cream on the right cheek twice per day for 12 weeks and found a significant decrease in sebum level in comparison to a control cream that was used in the same fashion on the left cheek. These results were measured by a photometric device.7
Effective Acne Treatment for Teens
Teenagers typically experience some form of acne. While some get it worse than others, it still affects most teens in one way, shape, or form.
It can be devastating, too. Not only is your physical appearance altered, but your self-esteem can be destroyed if you get acne bad enough as a kid. Our CBD acne cream is an effective acne treatment for teenagers, though.
Keep this in mind for your kids, or someone else you know that has kids who might be struggling with acne issues.
Say Goodbye to Forehead Acne
Have you ever noticed that some people get acne in different areas on their bodies, or even different spots on their face?
Forehead acne may be the worst spot to get a bad acne breakout. Figuring out how to get rid of forehead acne can be a chore in and of itself. Lucky for you, you're on the right page that actually sells a product which can do this for you.
The search is now over.
Can CBD Be Used for Pimple Treatments?
If you want to treat acne with CBD, you can apply CBD acne cream as a topical solution. It will help reduce the localized swelling, redness, and pain of acne blemishes.
Over time, you will experience fewer acne blemishes, pimples, blackheads, and whiteheads. CBD acne cream helps to penetrate your pores and allow your skin to heal.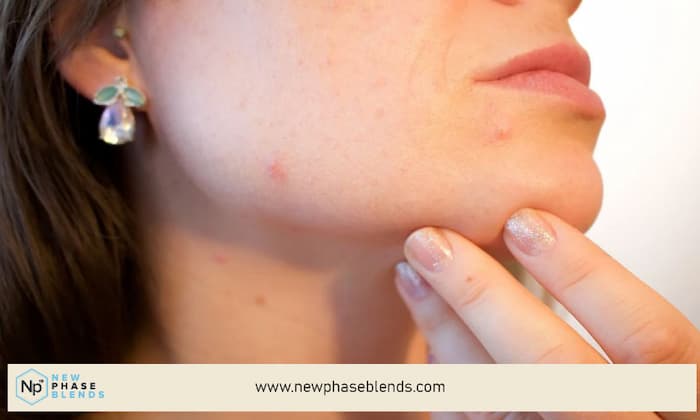 I'd like you to remember, though, that just CBD isn't enough to make your acne go away. The first step in a good skin care regimen is to clean your skin (we'll get more into this below).
Salicylic acid is a well-known acne fighting ingredient that does a fantastic job at cleaning out the pores.
This treatment works for both facial acne and body acne. This is because body acne occurs by the same mechanisms as facial acne, and antibacterial and anti-inflammatory properties provide the same benefits.
Which CBD is Best for Acne?
'glow' by New Phase Blends is a safe and easy-to-use topical cream. This is the latest approach to treating acne with CBD. It can be applied to the skin to help treat acne, foot inflammation, skin infections, bacterial infections, localized pain, etc.
Enjoy 15% off your order of 'glow' acne cream by entering coupon code glow15 at checkout!
Instructions for Using Glow
Shower or wash your face. Make sure you start with clean skin! You want to remove any excess dirt, oil buildup, or previously applied lotions, and creams. Cleaning the skin is super important – obviously. Glow's approach to treating acne with CBD involves pairing salicylic acid with CBD to help thoroughly clean the skin.

Apply a small amount of cream to the trouble areas of your face. While it's best to generously rub the ointment onto the affected area, you also do not want to apply more than your skin can absorb.

Be sure to keep the acne cream away from your eyes. If you do get some in your eyes, just flush your eyes with water for an extended period of time.

Use the cream as often as needed. Discuss use with your doctor or dermatologist. They will likely help you incorporate this into your skincare regimen.
Can CBD Make Acne Worse?
If you use the wrong type of CBD product in an attempt to 'clear your acne' you will potentially make your skin conditions worse.
Why?
Well, CBD comes in an oil form, naturally. The extract that comes from the hemp plant is a thick oil that contains many different types of plant chemicals CBD being only one of them.
Most people realize that making your skin even more oily will result in more breakouts and clogged pores. If you attempt to use something like a typical CBD balm or CBD oil, and just rub it on your face you will regret it.
There is a specific facial product you need to use made for clearing your skin not just plain CBD oils.
Formulating 'Glow'
The science behind creating glow is really interesting, isn't it? What's even more interesting is how CBD has a unique ability to work in synergy with other natural compounds.
In this instance, we paired CBD with salicylic acid, but where does salicylic acid come from?
Salicylic acid comes from the bark of the willow tree. It's a derivative of willow bark, and people have used to for centuries for many different things, including:
Relief from cramps
Inflammation management
Anti-bacterial agent
The anti-bacterial properties are we we put it in glow. For a natural compound, it does a phenomenal job and cleaning out our skin.
Enjoy 15% off your order of 'glow' acne cream by entering coupon code glow15 at checkout!
While New Phase Blends sells normal CBD products, we thrive in selling blends of CBD with other compounds.
Why?
The relief that you get from multiple angles of synergistic properties is MUCH more effective (and lasts much longer) than plain CBD.
Plus, everyone seems to be selling the same old plain CBD products. Everyone.
We simply take it to the next level 🙂
Our CBD Cream Will Clear Your Acne – Guaranteed
Ready to use CBD for acne and see real results?
While cannabis has long been used in natural medicine, science is finally bringing it to the forefront, and the evidence is fully behind CBD. It's a safe, natural, and effective way to treat acne. You can visit our store to try out our products and see how it works for you.

Remember, using CBD alone to treat acne will not cut it. You need the powerful synergies between both CBD-rich hemp extract, and salicylic acid to see real results.
References
Harvard Health Publishing (Harvard Medical School): https://www.health.harvard.edu/blog/cannabidiol-cbd-what-we-know-and-what-we-dont-2018082414476
Healthline: https://www.healthline.com/nutrition/cbd-oil-benefits, https://www.healthline.com/health/skin-disorders/cbd-for-acne
World Health Organization: https://www.who.int/medicines/access/controlled-substances/5.2_CBD.pdf
National Institutes of Health: https://www.ncbi.nlm.nih.gov/pmc/articles/PMC5569602/
National Institute of Health: https://www.ncbi.nlm.nih.gov/pmc/articles/PMC4151231/
The CBD Experts: https://www.thecbdexperts.com/is-cbd-for-acne-really-effective/
UC Davis Dermatology Online Journal: https://www.evms.edu/media/departments/medical_group/aesthetic_center_new/Cannabinoids_in_dermatology-_a_scoping_review.pdf (pages 4 and 5)