The CBD industry is one of the fastest growing industries we have seen in our life time. Cannabidiol, or CBD, comes from hemp extract that is rich in cannabinoids, like CBD, CBN, or CBG (to name only a few). While CBD became federally legal in 2018, is CBD oil legal in Rhode Island?
Keep reading to learn more about Rhode Island CBD laws, possession limits, and even where to buy CBD oil in Rohde Island.
TL;DR – The cultivation and processing of industrial hemp in Rhode Island became legal on January 1, 2017. CBD oil, and other hemp-derived goods are legal within this state. Buyers must be at least 21 years old to buy.
What is Cannabidiol (CBD)?
CBD stands for cannabidiol, which is a non-intoxicating, 100% natural compound derived from cannabis. Both hemp and marijuana fall under the cannabis family tree. CBD is the second most popular cannabinoid, next to THC, or tetrahydrocannabinol.
Studies show that CBD offers some of these potential health benefits: anti-inflammatory, analgesic, anti-seizure, neuro-protectant, pain-reliever, muscle relaxant, and anxiety relief.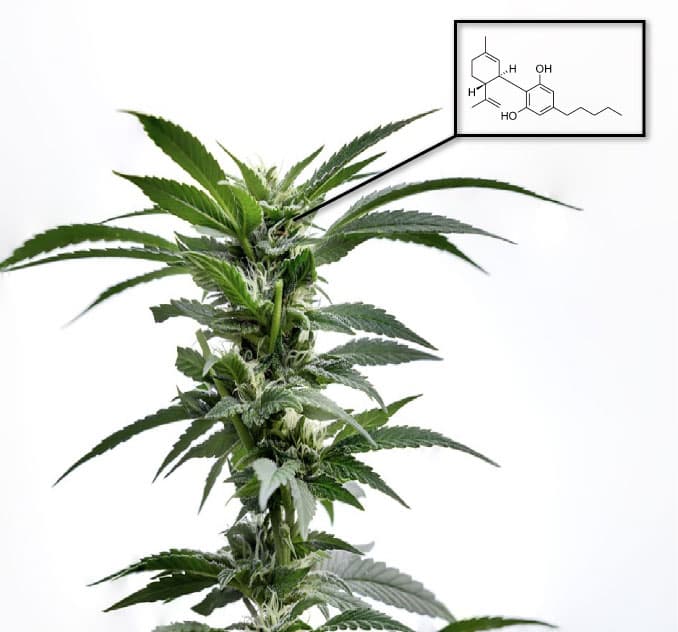 Unlike THC, CBD has no psychoactive effects. That means the user will not experience any sort of 'high' at all when they use CBD products. This is because CBD must contain less than 0.3% of THC to be legal. That isn't enough THC to make you feel high.
Related: What is CBN?
In the medical field, CBD is proving it's efficacy. With almost every research project that is conducted, it strengthens the medical efficacy of CBD. CBD treats the patients in a more natural way than other harsh medications. There is also little to no side effects that come with CBD use.
If it's such a wonderful compound, why is CBD illegal in some states? Good question. Soon, we'll get into the question: Is CBD legal in Rhode Island?
Related: CBD Gummy Benefits For The Body
CBD Oil Laws in Rhode Island
Rhode Island is among a few of those states that created an industrial hemp pilot program following the passage of the first Farm Bill 2014. In 2017, when the Hemp Growth Act was legalized, it differentiated marijuana and hemp by THC content. Hemp should contain a THC content of less than 0.3%. Marijuana will contain more than this, usually much more. Some levels of THC in marijuana are reported at over 20%.
In 2019, the act got an update, and the state authorized the sale of hemp-derived CBD products. Retailers can sell hemp based CBD products at a retail location. Licenses are even held by different companies, and you can view those licenses here. The update also restricted the sale of CBD products to people under the age of 21.
Furthermore, marijuana-derived CBD products are legal for qualified medical patients only. Click here to view the Rhode Island Medical Marijuana Program. This decision made in 2006 at a time when the legislature cancelled a veto from Governor Don Carcieri to legalize medical marijuana. Rhode Island became the eleventh state that did this.
The sale of CBD in food and beverages is regulated by the Rhode Island Department of Business Regulations (DBR). This department has specific requirements regarding the purchase of such food items. The DBR is working on it to introduce more regulations for retailers. Currently, any hemp-derived CBD infused product distributed in the state must follow the state and local food regulations.
In Rhode Island, CBD infused food products must have food-safe packaging and proper labeling. The product packaging must show all of the applicable information, from seed-to-sale, and proper warnings. Some examples of these information requirements are: the extraction method including solvents, product weight, CBD/THC content, and other cannabinoids contained.
Rhode Island follows the FDA guidelines, in that, CBD packaging can't make therapeutic claims. On the other hand, Marijuana-derived CBD products are legal but only for qualified patients under the medical marijuana program. The state has no confusing rules, like some other states do, regarding hemp or marijuana CBD products.
Licensing Requirements for CBD in Rhode Island
In Rhode Island, it is necessary for growers, handlers, retailers, and distributors to be registered by Rhode Island Department of Business Regulation (DBR). This department overlooks the hemp licensing procedures, product packaging, labeling, and regulation of seed certification methods.
Interested people can get a license application from the DBR website under the industrial hemp section (click here and scroll to the bottom). A background check is also to be expected after receiving the initial application from the interested parties.
The DBR has the responsibility of investigating and testing the crops. A 0.3% or less amount of THC content in the harvest is the requirement to get approval. Any plant exceeding this quantity will be destroyed, and the licensee will face a suspension or outright ban. They do not take this lightly.
CBD Possession Limits
Currently, hemp-derived CBD products are free of any possession limit in Rhode Island. Medical marijuana patients can hold up to 10 ounces of useable medical marijuana, in their original dispensary containers. Card holders can also grow up to 12 plants.
Why is CBD Illegal in Some States?
First of all, CBD is widely considered safe because of the minimal quantity of THC and it's potential benefits for human health.
2018 brought a revolution for hemp and hemp-derived products. The cultivation of hemp became federally legal with the Farm Bill update in 2018. A few of the cannabinoids in the Schedule 1 list got eliminated from the panel (like CBD) and became legal on the Federal level. However, that doesn't mean all states have the same laws.
The Food and Drug Administration has the authority of regulating CBD product labeling, regulating health claims for CBD, and finding a correct usage and dosage of CBD for recreational and dietary purposes. That being said, the FDA still has not authorized CBD for use as a dietary supplement.
That means, no one can make any claims to it's medical efficacy – yet. In the summer of 2020, the FDA began sourcing out many different brands of CBD in an attempt to find the proper dosage as a dietary supplement. I suspect this means they will be approving CBD for use as a dietary supplement very soon.
Since it still isn't approved as a dietary supplement, many companies are taking advantage of this. They will things like hemp-seed oil under the guise of CBD oil. They mislabel CBD content. For this reason, be sure you look for brands that have third party lab test results that are scannable via QR code on their products. DO NOT buy anything that is missing this.
Now, let's find out more about if CBD oil is legal in Rhode Island?
Where Do I Buy CBD Oil in Rhode Island?
Hemp-derived CBD products are widely available in many retail locations in Rhode Island. Residents can find CBD products in local grocery stores, pharmacies, food stores – the list goes on. It isn't very hard to find. There is an expectation for the availability of CBD to rise in the state as production increases.
New Phase Blends' online CBD store offers fast and free shipping to all states within the US. If you are looking for premium CBD products, check them out here.
Marijuana-derived CBD products are available only through registered dispensaries. Buyers must also have an active medical marijuana card, issued through the State of Rhode Island.
Discover: CBD Oil Balm
If you are looking for a great medical dispensary, Northeast Alternatives is an excellent choice. Northeast Alternatives is located in River Falls, MA, which is just across the Rhode Island border. Keep in mind, this is an out of state dispensary so you must have all of the proper documents required to purchase.
Confused on what to buy? Check out our CBD starter kit bundle. This bundle comes with several different forms of CBD products. You can see which type of product you like best. Maybe you like them all, maybe you prefer a balm, or a CBD tincture. With this kit, there is no guessing. You get it all.
Summary – Is CBD Legal in Rhode Island?
We should be clear on the answer to the question, "Is CBD oil legal in Rhode Island?" Yes. CBD is legal in Rhode Island. As research that revolves around CBD and other cannabinoids increases, CBD products will only become more popular. Before you buy CBD, remember to keep these points in mind…

CBD from hemp is legal. CBD from marijuana is not legal.
Only buy from trusted sources. Too many CBD products are being faked right now.
Look for premium CBD stores that offer third party lab results on all of their products. You can scan a QR code and instantly see the results for yourself.
References
Food and Drug Administration: https://www.fda.gov/news-events/public-health-focus/fda-regulation-cannabis-and-cannabis-derived-products-including-cannabidiol-cbd
Hartford Courrant: https://www.courant.com/news/connecticut/hc-xpm-2010-06-23-hc-rhode-island-casino-veto-0624-20100623-story.html
Health MJ: https://www.healthmj.com/cbd/rhode-island/
NORML: https://norml.org/laws/medical-laws/rhode-island-medical-marijuana-law/
Rhode Island CBR: https://dbr.ri.gov/
Rhode Island Hemp License List: https://dbr.ri.gov/divisions/medicalmarijuana/hemp_approvals.php
Rhode Island Department of Health: https://health.ri.gov/healthcare/medicalmarijuana/
State of Rhode Island: http://webserver.rilin.state.ri.us/BillText/BillText16/HouseText16/H8232A.pdf
Is CBD Oil Legal in the United States? A comprehensive, state by state legal guide by NPB.