Nerve pain and damage can cause severe distress at the best of times. It can leave you feeling hopeless and lost in a sea of pharmaceutical options that don't help with the pain; they manage it for a short time, often with terrible side effects. Seems like something CBD can help with, right? This article will discuss the benefits of CBD for nerve damage and pain relief. We will look at why it works and how to use it to reap the benefits properly.
A Look At Nerve Pain
There are many different types of pain that you can experience at any moment in life. It ranges from chronic pain caused by nerve damage to pain resulting from injuries. Whether the pain is short-lived or long term, for many, it can create a rain cloud over their days and cause a world of pain and disruption to the person suffering from it.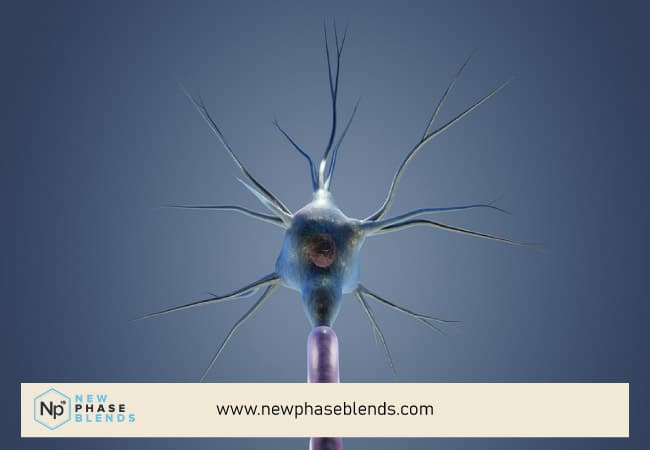 Not all injuries result in neuropathic pain, also known as nerve damage. Neuropathic pain is caused by nerves being damaged in an injury or as a result of a medical condition such as inflammatory autoimmune diseases.
These nerves are pathways to the brain and send messages back and forth throughout the body using the central nervous system. When these fiber bundles are damaged, they can cause pain.
Living With Nerve Pain
While further nerve pain research is required, it is well known to be debilitating for many people. This is something that many people live with daily. Depending on the severity and type of nerve damage, you could be facing chronic neuropathic pain or short-term pain due to the injury. You can treat it in several ways, and sometimes several methods need to be used to reduce nerve pain.
As researchdevelopes deeper understanding can be found in how damaged nerves interact with cannabinoids and how they can offer those that live with this pain much needed relief.
Causes of Nerve Pain
There are many different reasons why you might experience nerve or neuropathic pain.
Chronic inflammation
Rheumatoid arthritis
Diabetic neuropathy Painful sores caused by diabetes can lead to nerve pain in the affected areas.
Autoimmune diseases -Multiple sclerosis and neuromyelitis optica, Guillain-Barré syndrome are among the most common autoimmune diseases that cause damage to the nerves resulting in several symptoms such as muscle weakness, pain, and numbness.
Injury Severe cuts and burns can lead to damaged nerves, while other injuries such as car accidents and operations are also a culprit.
While this is not a completed list these are the most common reasons for this type of pain. Some can be managed and lead to stress and pain-free life, while others need to be addressed and treated daily. Treatments can range from topical cream applications to oral pain solutions such as using CBD gummies for pain.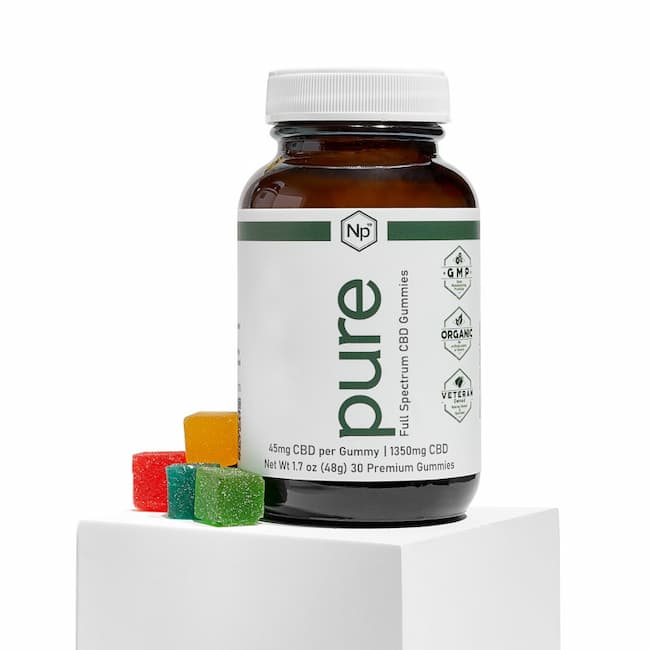 A combination of physical therapy and CBD oil can also benefit the healing process.
It is vital that you consult with a medical or healthcare professional before embarking on your CBD journey. Discuss your options to double-check whether CBD oils would be a good fit for you and whether they are safe to consume with any other medications you might be taking.
Chronic Pain Relief
Pain research is ongoing, and they are constantly in a state of discovery for new ways of treating nerve pain. However, for many, the journey of managing pain relief is a hard one to walk alone. It is often filled with remedies that don't work correctly or have addictive properties.
Dealing with chronic pain can be debilitating. Over-the-counter medications and prescription medication often only treat the feelings of pain; they don't treat the pain or the source of the pain itself. Prescription medications are created to offer short-term relief while the injured area heals.
They are not a long-term solution, nor do they promote actual healing.
Alternative treatments for pain management, such as CBD oil for nerve pain, are being explored for many reasons. They help reduce inflammation in the area and promote healing on a cellular level. CBD products offer a full spectrum of healing benefits from within while offering near-instant pain relief.
If you've heard of CBD, you likely know by now that many people use CBD oil for pain relief.
CBD for nerve pain A Gift From Hemp
You might wonder how CBD can treat pain caused by nerve damage?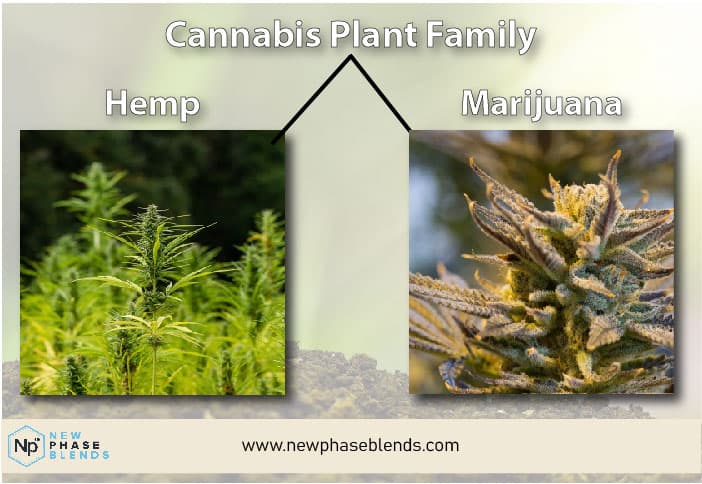 You are in the right place. CBD is, also known as cannabidiol, comes from the cannabis plant both marijuana and hemp plants contain CBD. In 2018 the Farm Bill was introduced, making hemp-derived CBD legal in the U.S as long as it has less than 0.3% THC.
It is easy to treat nerve pain without intense pharmaceutical side effects such as addiction or grogginess.
CBD oils are well known for their ability to relieve pain and offer healing benefits at the source of the pain. As nerve pain results from damaged fibers within the central and peripheral nervous system, it is vital to understand that healing those fibers is part of the healing process, not just relieving the feelings of pain.
Can CBD Help With Nerve Damage Pain?
CBD derived from hemp oils works by binding to cannabinoid receptors found within the body. These receptors are part of the endocannabinoid system (the ECS). Much like the central and peripheral nervous systems, the ECS is an integral part of the body.
It manages mood, pain, memory, learning,, and sleep, which are all affected by the ECS and its functioning.
To understand how CBD works, we need to look at its health benefits. CBD works with receptors within the ECS to produce beneficial results in your health and pain levels. It aids in the promotion of healing and stimulates nerve cells to regenerate.
This is an essential aspect of treating peripheral neuropathy and pain caused by damaged nerves. While not all damage to the nerve bundles can be repaired, it is vital to remember that you can improve it with the help of CBD.
The Health Benefits Of CBD
Let's take some time to discuss the other benefits of CBD.
Pain relief CBD works by slowing pain signals to the brain and spinal cord; this allows CBD users to feel pain relief and continue with their lives with as little pain as possible.

Targets inflammation CBD is well known for its powerful anti-inflammatory properties. It targets inflammation and helps reduce it. This helps manage any pain associated with inflammation which is particularly important in areas with damaged nerve fibers.

Cellular regeneration When healing, the generation of new cells is vital for your body; CBD offers cellular regeneration at the site of the damaged nerves aiding in the healing process of moderate to severe nerve injuries.

Immuno-regulation CBD offers pain relief and it also helps keep immune responses regulated. This is key to kickstarting healing in nerve-damaged areas of the body.
While there are no official CBD products for nerve pain, medically reviewed studies offer insight into how a high-quality CBD product can relieve many of the symptoms associated with damaged nerves.
CBD has another added benefit in the form of fewer concerns over safety and side effects compared to other medications and supplements.
What Type of CBD is Best for Nerve Pain?
While there might be one FDA approved CBD product it is used exclusively for seizures and not neaurpathic pain management. It is vital to note that there are no approved non-prescription CBD products. This makes it essential to use premium industrial hemp-derived CBD products from reputable CBD brands.
Before purchasing your CBD oils, make sure that you get precisely what you are looking for.

Ensuring that you use pure CBD oil products for neuropathic pain is vital; it can help you get the most out of your pain treatment and the healing process. At New Phase Blends, EVERY product we produce has a nifty QR that gives you access to third-party lab certification. You are guaranteed a pure product with no strange added ingredients or exceptionally higher doses of CBD than stated on the label.
Can CBD Heal Neuropathy?
No, it cannot. In fact, nerves are one of the hardest things to repair. Sometimes, severely damaged nerves are permanently damaged there is no fixing that.
However, it might be able to help deal with the side effects of neuropathy. For those who don't know, neuropathy is the damage of nerves that results in things like tingling, numbness, or an inability to use certain parts of your body effectively because of the nerve damage.
Neuropathy can be a real, real pain to live with. In fact, it was so bad for our owner Dale Hewett, it led him to trying out different CBD formulations to help with his own neuropathy from a spinal cord injury he sustained.
The Best CBD Oil for Nerve Damage
Anyone venturing into the world of CBD will quickly discover that it is full of products, from CBD isolate to CBD oils and even topical CBD applications. So how do we find the best CBD product for your particular needs? The answer lies in personal preference.
There are many different methods of taking CBD products, and oil tinctures are among the most commonly known products as they are fast-acting. The best CBD products may offer relief within minutes, depending on how they are taken.
New Phase Blends CBD Capsules
Our Pure CBD oil capsules are perfect for anyone that needs an easy-to-take daily CBD oil supplement. They are full of broad-spectrum CBD oil and offer relief within 20 40 minutes.
2400mg of CBD-rich hemp extract per bottle or a total of 40mg per CBD oil capsule
It contains CBDA and CBGA for added support
This broad-spectrum product is ideal for anyone that travels or wants a discrete solution for nerve pain. One caveat to capsules is that it doesn't work as fast as a traditional CBD oil tincture. It is perfect for general support and relief.
New Phase Blends Pure CBD Oil Tinctures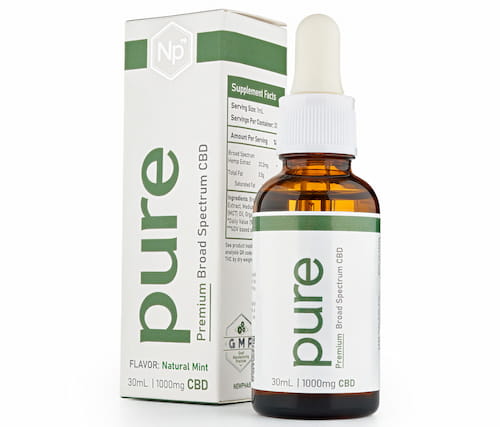 Tinctures are often the remedy of choice for many suffering from neuropathic pain. They get to work fast and are effective for not only pain but inflammation too! The NPB Pure CBD oils are also available as both broad-spectrum and full spectrum CBD tinctures and a range of strengths.
1,000-2,000mg of rich CBD oil per bottle
33-66mg of CBD per serving
CBD-rich, full spectrum or broad spectrum extracts: you choose.
This product is superior when it comes to instant relief. It offers the user long-lasting relief with tailored results. You are easily able to increase your dosage when needed, and the range of strengths makes it easy to find the perfect level for your pain management needs. Simply hold it under your tongue; it should begin working within 10 minutes.
CBD Gummies for Nerve Damage
Your daily dose has never tasted better. Gummies are perhaps one of the most popular products with those that enjoy the taste and experience of eating a delicious gummy. They are easy to take and are full of goodness.
NPB Pure CBD Gummies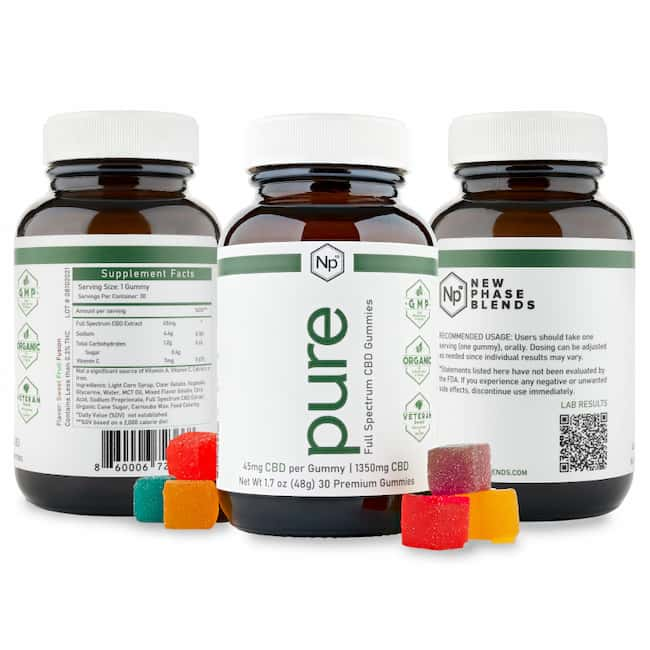 The NPB Pure gummies are made with premium 100% hemp-extracted CBD oil. They are a great way to take CBD as they offer flavor and power all in one.
45mg of full-spectrum CBD oil in every gummy
It contains CBDA and CBGA for immune support
While a CBD gummy is a fun way to get your dose, it does take a little longer to kick in. The comprehensive support they offer when it comes to relieving pain. They do offer an added benefit for those that are texture sensitive, as a CBD tincture can be a little difficult to swallow the first time you try it.
Topical CBD Balms For Pain
Another option that could be of benefit to you is topical CBD treatments. While the best CBD oils can offer relief and healing, sometimes you need a topical cannabidiol oil product to target the area in pain directly.
CBD cream offers you targeted relief at a moment's notice. It takes about 10 15 minutes to feel relief from the pain associated with the damaged nerves.
At New Phase Blends, each of our products is carefully vetted, and we offer a 30-day money-back guarantee on all products; if you are not satisfied, we won't be either.
Taking CBD Gummies for Pain
Some people report major success by using CBD gummies for pain relief. Pain signals stem from the nerves. They send signals throughout your body that are basically warning you that something is wrong with an area, or part, of your body.
This is why pain signals are felt. CBD can block pain signals, or dull them, resulting in relief from discomfort in this area.
How Much CBD for Nerve Damage: Dosages
Related read: CBD Dosage Guide
One of the most frequently asked questions we get about CBD is 'How much CBD is for nerve pain?' This question is dependent on your needs. It is recommended to start on the lowest dose possible and work your way up to a point where you are comfortable.
Oral CBD
Try starting with a 1ml dosage of a medium-strength CBD oil product taken orally. Capsules and gummies come in pre-defined dosages, take one and wait for it to kick in.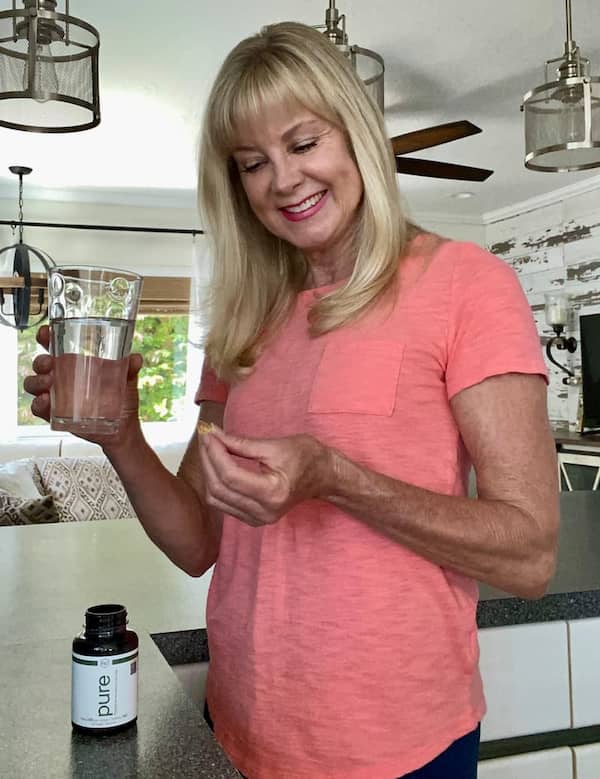 If one does not work as effectively, you might need to increase the strength of your CBD oil, OR you need to take an additional gummy/capsule. It is essential to understand that oral CBD oil products can take up to 40 minutes to work, depending on what you have eaten for the day.
Sublingual Tinctures
Taking sublingual CBD drops is one of the fastest ways to experience relief. When taking your CBD oil, place it underneath your tongue and hold it there for a few minutes. This will allow the CBD to osmose into your bloodstream offering relief in 10 15 minutes.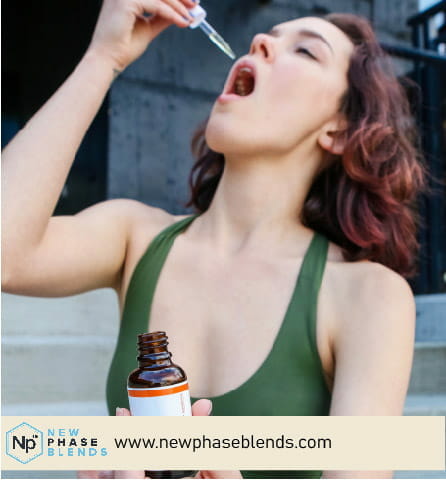 This delivery method is vital for those who need instant pain relief from damaged nerves. This superior method makes this compound powerful and beneficial over other medications.
Topical Balms
For topical cannabidiol balms, apply a small dime-sized amount of the cream directly onto the painful area and massage it in. Re-apply the balm as needed.
Final Thoughts on CBD Oil for Nerve Pain
When it comes to nerve injury, you might feel lost and hopeless as you suffer in silence. With CBD oils, you have the chance to live free of neuropathic pain, and heal from within. Symptomatic relief is not the only benefit of using high-quality CBD products, as it helps increase healing at the site of the injury. While more research is needed to understand its benefits fully, it is clear that it is a beneficial compound that works just as well if not better than other medications.

As many people move towards natural alternatives to treat patients, it is clear that taking CBD oil can offer widespread relief. If you need help finding the right kind of CBD oil product for your neuropathy pain, speak to a member of New Phase Blends for advice on the right product.