Why do you need to consider using CBD for fibromyalgia relief? What is the best CBD oil for fibromyalgia? This article comprehensively discusses CBD oil and its potential therapeutic effects in managing the stubborn, and very painful, symptoms of fibromyalgia. We'll also cover a CBD dosage for fibromyalgia, and some of the best methods for using CBD.
By the time you're done reading this, you'll have a good idea of what to look for in a CBD product, and some effective ways to use them in an effort to get the relief you deserve.
On a personal note, my mother-in-law struggles from a severe form of fibromyalgia, so this particular topic hits home for me.
Why Use CBD for Fibromyalgia Relief?
CBD, or cannabidiol, oil is a popular product prevalent in today's world. This compound is primarily extracted from the hemp plant, and mixed with a potent carrier oil such as coconut oil (MCT oil) or hemp seed oil.
There is a reason CBD is so popular, and it's because it works well. It is interesting to note, however, that this compound wasn't always federally legal like it is today.
In 2018, the Farm Bill was passed, allowing the federal legalization of hemp cultivation and sales across the states. This bill is what gave birth to the CBD boom of 2019.
In the US, cannabidiol (CBD) products must contain a percentage of less than 0.3% of tetrahydrocannabinol (THC) as mandated by the federal government. In the past two years since becoming legalized, demand for CBD products have dramatically increased due to their potential medicinal values, such as fibromyalgia management of pain and discomfort.
People are now able to get all of the documented medical benefits of the cannabis plant, without the psycho-active compound known as THC. The best CBD oil for fibromyalgia pains will most likely not have THC in it anyway, since THC does not attack nerve pain as well as CBD can.
You see, CBD is not psycho-active, at all, like THC. Most people are familiar with THC because of how it gets users high after consuming it. This is not possible, at all, through legal CBD products.
While hemp and marijuana both come from cannabis, hemp plants cannot contain enough THC to get you even remotely high. There is no possibility for you to feel any intoxicating effects from hemp-derived CBD.
Let's go over a couple of interesting studies about CBD and how it might be able to aid people. According to some preliminary studies conducted in 2017:
There is much, much more to CBD and how it can be used to offer relief from a variety of symptoms, but these are some of the more popular uses.
CBD is extremely effective at blocking pain through interacting with nerve signals, and also great at reducing inflammation. Nerve pain and inflammation are, perhaps, the worst parts associated with fibromyalgia.
For this reason alone, you really need to consider using CBD for fibromyalgia relief.
Different Types of CBD Oil for Fibromyalgia Relief
There are multiple CBD oils and tinctures sold in the market.
It is important to note that CBD is generally not regulated by the Food and Drug Administration (FDA). The only areas that the FDA seems to be concerned with is the THC content, and the fact that CBD has not been approved as a dietary supplement – yet.
For this reason, you need to be a little extra careful when buying CBD products.
In addition to the normal things you would do when buying a new product (checking reviews, calling customer service, etc…), you need to be on the looking for QR codes on labels that link to what's called a certificate of analysis, or CoA.
Related article: How to Read a Certificate of Analysis for CBD Products
When purchasing CBD for fibromyalgia relief (or any other form of relief), ensure the product has a valid certificate of analysis (COA). This CoA is simply a lab analysis report that will show whether or not the product has no contaminants or harmful substances. It will also list the content of CBD, and other cannabinoids, so you know exactly what you are buying.
Only the best CBD oil for fibromyalgia will have this easily accessible lab analysis.
Did you know the FDA conducted a recent study, and found that 21% of CBD products were mislabeled?
They discovered, after analyzing random CBD products, that a lot of products had much less, or even zero, CBD than what was reported on the label.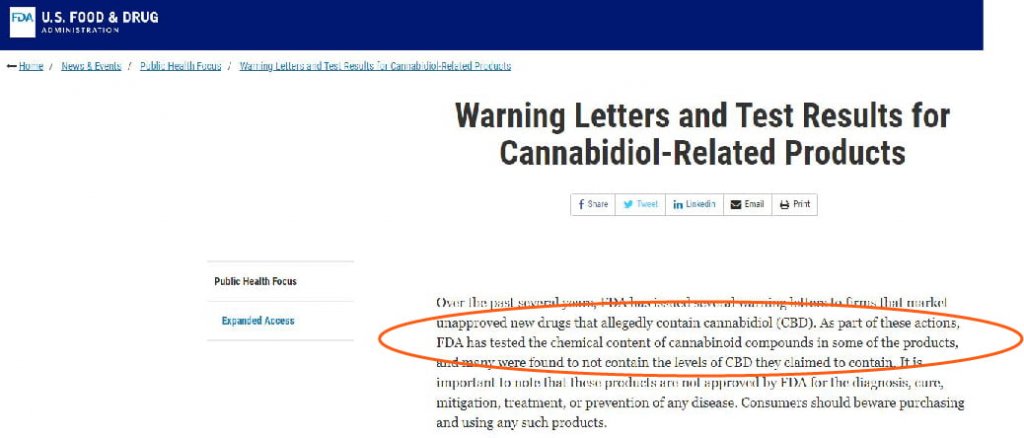 Different Spectrums of CBD for Fibromyalgia
If you are looking for the best CBD oil for fibromyalgia, you should review some of the following types of spectrums. Spectrums just refer to the different types of cannabinoids within the product.
This comes down to purely user preference. There is NO data that proves one spectrum is better than the other.
Related article: Broad Spectrum, Full Spectrum…What's the Difference?
When you buy CBD for fibromyalgia, you'll run into choices of different spectrums. The following information will help steer you in the right direction.
CBD ISOLATE
CBD isolate is referred to as pure CBD. The CBD oil will contain only the CBD cannabinoid – nothing else. The manufacturer excludes other compounds such as THC, CBG, CBN, terpenes, fatty acids, and other cannabinoids from the hemp extract used to make the oil.
In the manufacturing process, the cannabinoids are extracted from the plant, and CBD is exclusively filtered. It then undergoes a chilling process to ensure all chemicals or compounds are removed.
The main advantage of purchasing isolate CBD for fibromyalgia over the other types is that the product is generally cheaper.
The best CBD oil for fibromyalgia could potentially be an isolate, but it all depends on your body makeup.
However, you will not receive any of the other potential therapeutic effects from anything else in the hemp plant, since it has been removed.
FULL SPECTRUM
If you are looking for CBD oil for fibromyalgia, full-spectrum CBD is extremely popular. This product contains all the phytochemicals (plant chemicals) in the hemp plant.
Full spectrum compounds primarily include THC, fatty acids, terpenes, and other cannabinoids that exist in cannabis plants.
Remember, federal law requires that every CBD product have a THC concentration of less than 0.3%. This means while your full spectrum CBD for fibromyalgia might have THC, it won't be enough to get you high – at all.
There are benefits of full-spectrum CBD in managing the frustrating symptoms of fibromyalgia. The multiple types of cannabinoids from the cannabis plant extract have potential healing properties, and you're getting all of these.
CBD, while popular, isn't the only beneficial compound in cannabis. There are others like: CBN, CBG, and CBC. Full spectrum products will likely have a little bit of everything.
According to a study conducted in 2018, full-spectrum CBD oil has higher therapeutic effects than CBD isolate. You will experience the chemical synergies (also known as the entourage effect), thus minimizing the adverse effects of fibromyalgia.
BROAD SPECTRUM
The last spectrum, when it comes to CBD for fibromyalgia, is known as broad spectrum.
Broad spectrum is identical to full spectrum, except there is a non-detectable amount of THC.
The manufacturer includes all other phytochemicals of the cannabis plant into broad spectrum CBD products.
Broad spectrum is great for people who want absolutely no trace of THC in their bodies.
How Does CBD Work in Helping With Fibromyalgia?
The research about the efficacy of CBD in managing the symptoms of fibromyalgia is still in the infancy stage. It is not exactly clear how CBD works to manage this condition. According to the preliminary studies, the pain-relieving properties of this compound will minimize some of the painful effects fibromyalgia can bring.
What we do know is that CBD is great at blocking nerve pain signals, and reducing inflammation. These are usually the areas that both fibromyalgia patients the most. It makes sense, then, that CBD for fibromyalgia should be used to help manage your symptoms.
We have CB receptors all over our bodies, too. These receptors are known as CB1 and CB2.
CBD has a high affinity to the CB2 receptors located in the brain, which play a crucial role in managing inflammation and pain in the body. Once it attaches to the CB2 receptors, your body will produce natural cannabinoids, which binds to the CB2 receptors. The physiological effect dramatically decreases pain and inflammation in your body.
According to a study conducted in 2016, reduced natural cannabinoids in the body are the primary causes of conditions such as migraines and fibromyalgia. The best CBD oil for fibromyalgia will do a great job at providing more cannabinoids to your body for use.
It is important to note that if you have fibromyalgia, you will likely experience symptoms such as:
Chronic pain
Fatigue
Anxiety and mood swings
Sleep disturbances
Irritability
Ideally, CBD is an excellent choice for offering some relief from these nasty symptoms. Some of the other most recommended treatment regimens for this condition are adopting the best self-care techniques and making positive lifestyle adjustments.
How to Use CBD for Fibromyalgia
Before using CBD oil for fibromyalgia relief, it is important to consult a professional medical expert. Your doctor should advise you on the correct CBD dosage for fibromyalgia and warn you of any potential side effects.
Your doctor knows you, and the medications you take, better than anyone. Don't use the advise you find on the internet over your own doctor's advise, please.
That being said, some of the ways to use CBD oil include:
Use a functional 1mL dropper to place the CBD oil under your tongue
Keep the oil under your tongue for at least 60 seconds – the longer the better
You can also mix the CBD oil with food or drinks, if you prefer
Topical CBD can be applied to the skin on the areas causing discomfort, too
Perhaps the most popular way to use CBD for fibromyalgia symptoms is the mix CBD drops with the topical cream. While the drops are absorbed into your blood stream, the topical creams can penetrate local areas causing pain.
The result is a far superior way of approaching pain management. Attacking from two avenues is better than one.
The Best CBD Oil for Fibromyalgia
New Phase Blends carries a product called 'go.' This product is a broad spectrum CBD compound that contains all the beneficial compounds of the cannabis plant but does not contain any traces of THC.
The manufacturer also provides a valid CoA which you can use to analyze the phytochemicals present in the CBD oil. It is also a high potency product, and offers the best therapeutic effect for troublesome fibromyalgia symptoms.
Go contains 10mg of synephrine per serving to help aid in energizing the body throughout the day. Many people replace their daily caffeine intake with go, because it works so well – without any crash at all.
Since the fibromyalgia symptoms tend to fluctuate, your body will experience varying levels of pain and tenderness. This product is the best to handle those fluctuating symptoms throughout the day.
Some of the properties of this compound include:
500mg CBD per bottle / 16mg per serving
300mg synephrine per bottle / 10mg per serving
100% organic hemp
Great for daytime use
The correct CBD dosage for fibromyalgia will vary depending on your tolerance levels. However, the manufacturer recommends that you start with a serving of 16mg and work your way up from there.
Just squeeze the drops under your tongue, and wait for about 60 seconds before swallowing. Again, consider pairing this with a topical CBD balm.
The pure Premium CBD drops is a broad or full spectrum CBD oil for fibromyalgia that contains 100% organic hemp extract. This extract is rich in CBD and other cannabinoids.
These drops are meant to be placed under your tongue for at least 60 seconds while your sublingual vein absorbs the CBD into your bloodstream.
Once in the bloodstream, the CBD gets to work on inflammation or pain caused by conditions like fibromyalgia. The oil comes in different organic flavors, making it one of the best CBD oils for fibromyalgia.
This 'pure' product comes in both CBD drop, and vegan softgel CBD form.
This is where New Phase Blends excels. Sure, we offer premium CBD products, but our sleep aids are among the best CBD sleep aids currently available in the market.
In fact, this sleep aid is so powerful, it's been featured in several news outlets across America for it's unique ability to help even the most severe insomniacs fall asleep, and stay asleep.
This sleep aid uses a CBD rich, broad spectrum hemp extract. It also comes with a 100% money-back guarantee, like all other CBD items sold at New Phase Blends.
It comes in both CBD drop, and sleep gummies form.
The product is formulated with organic compounds ensuring that the final product sticks true to its' organic roots. It also comes with great flavors, which minimizes the taste and smell of hemp extract used in the product.
This is, by far, the best CBD oil for fibromyalgia if you experience issues with sleeping because of your condition. Nothing, and I mean nothing, comes close to helping with sleep like this.
Soothe Potent Topical balm is a great approach to using CBD for fibromyalgia. This topical balm is applied on the skin, where it penetrates deep into the area that requires pain management.
Our skin is filled with special receptors that make up our Endocannabinoid System. These receptors can process cannabinoids, like CBD, and put them to work for real relief.
CBD does a great job at dulling nerve pain, and reducing inflammation. Some fibromyalgia patients report excruciating joint pain.
Here's some more info on 'soothe':
500mg-2000mg of pure CBD in each 1oz jar – lots of uses
Fast absorbing oils used
Specialized formula that penetrates once exposed to the warmth of your skin
100% organic hemp extract, rich in CBD
Lavender scent
Fibromyalgia patients actually complain about joint pain frequently. By applying 'soothe' CBD for fibromyalgia, you are attempting to prevent your body from being able to swell, or create more pain signals for your nerves.
Simply put a dime-sized amount on the tip of your finger, and apply it to a cleaned, dry area for relief. Like all CBD products, start with the lowest effective amount, and work your way up from there.
How to Choose the Best CBD Oil for Fibromyalgia Relief
Numerous brands are blooming in the CBD space, and some may sell inferior or illegal products. Since the FDA does not regulate CBD products, some brands may improperly label their products and sell some products that are not actually CBD.
Related article: Hemp Seed Oil vs CBD Oil – What's the Difference?
We spoke about this earlier, so I'll go ahead and move on now.
Remember that a lot of CBD products seem to be the same, so knowing exactly how to filter out the good from the bad is crucial to a good experience with CBD for fibromyalgia.
ONLINE REVIEWS
Online reviews are important when reviewing the reputation of a brand/product. Positive reviews will indicate the quality and dependability of the CBD product.
Remember, companies can post fake reviews. Look for honest, real reviews by people. Look for names and email addresses associated with reviews.
Finally, look for bad reviews, too. If a CBD organization has 100 reviews, and all of them are perfect, well, that's probably a sign that they are fake.
Take referrals from friends or family members, too. A lot of people have tried CBD by now, so someone you know might be able to point you in the right direction.
REVIEW THE CoA
We touched on this earlier, but I'll go ahead and mention it again.
The CoA, or certificate of analysis, is a comprehensive lab report that a licensed independent laboratory prepares. This report analyzes some of the essential components of the product, such as:
Cannabinoid content: the certificate will identify the major types of phytochemicals available in the CBD oil.
Percentage of THC: ideally, legal CBD products should have a THC percentage of less than 0.3%.
A report of contaminants, such as pesticides or heavy metals.
Terpene content
How the product was manufactured or processed
The bottom line is, the best CBD oil for fibromyalgia will have these CoA accessible on the label via a scannable QR code. If a product does not have this, put it down and never look back.
THE CERTIFICATION OF THE BRAND
When purchasing CBD products, check for certifications the manufacturing company has. Ensure the brand is an actual company, and has the proper credentials to grow, manufacture, and/or distribute CBD products.
Here are some other certifications people look for when buying the best CBD oil for fibromyalgia:
Organic Hemp
Good Manufacturing Practices (GMP)
Vegan certified products
Awards for product quality
The Good Manufacturing Practices certification is a sign of premium quality CBD oil. These are additional standards that must be met when manufacturing and distributing CBD. It is a qualification that is granted through the means of periodic inspections.
If a CBD company sells GMP products, you are definitely good to go!
CBD Dosage for Fibromyalgia
The FDA does not regulate the correct dosage for CBD oil used to manage symptoms in chronic diseases. Before embarking on using CBD products to manage the symptoms of fibromyalgia, I highly suggest you consult your doctor.
Again, your doctor knows your medications and your health better than any random online website. That being said, let's talk about dosing CBD for relief from pain and inflammation.
Some factors to consider when selecting the correct dosage of CBD for fibromyalgia:
Your bodyweight
Age and gender
The severity of the fibromyalgia condition
Any existing allergies
For joint pains, the site of pain uses topical CBD oil; however, for chronic pain, consider CBD drops
CBD can interact with some medications
The formulation of the CBD oil (broad or full spectrum vs isolate)
Any underlying health issues
It is also important to note that CBD products may have some side effects, even though they are rare and normally very mild. In fact, a study in 2017 noted that the side effects from CBD weren't noticeable. The study did go on to mention, however, that the toxicology of CBD needed more research, in addition to other areas.
Here are some of the potential side effects people have reported from using CBD for fibromyalgia:
Appetite changes
Diarrhea
Fatigue
Weight changes
Insomnia
Irritability and drowsiness
Most of these side effects are reported from taking too much CBD. Most beginners should start by taking about 16-32mg at a time, and adjust from there as needed.
Key Takeaways | Using CBD for Fibromyalgia Relief
Fibromyalgia is a chronic disease. What's even worse is, fibromyalgia has no cure so to speak of, even with modern medicine.
However, some studies prove that CBD oil effectively minimizes the chronic pain that can sometimes be associated with this condition.
The best CBD oil for fibromyalgia will be able to at least offer you some relief, if not a significant amount. If you note any side effects after using the CBD oil for fibromyalgia, please let your doctor know. If the side effects are bad, please stop use immediately.
Many people who have fibromyalgia are on some type of medication already. For this reason, double check with your primary care provider about the possible interactions between CBD and those medicines. This is a precautionary measure – just to be safe.
Finally, ensure you only purchase quality CBD for fibromyalgia from reputable sellers in the CBD industry. Even if you don't purchase your CBD products from us, I want to make sure you get something that gives you the relief you deserve, and buying from cheap vendors will not accomplish this, unfortunately.