If you've ever bought CBD oil tinctures, you likely noticed a 1mL dropper that was included with your purchase. If you didn't recieve a dropper, you should really think twice about buying CBD oil from that particular vendor again. This CBD oil dropper is basically a measuring device that's used to help you get your dose of CBD. CBD droppers aren't that hard to use, but some people may need a quick instructional before taking their CBD oil with it.
In this article, we explain all you need to know about a 1mL CBD oil dropper, and how to use it the right way.
1mL Dropper For Measuring CBD Oil
This dropper in usually a small, glass pipette that has a rubber nipple on the end of it. Most droppers are contained within the cap of a CBD oil tincture, to make them simple to store.
In this picture, you can see an up close image of the 1mL droppers we include with our pure CBD oils that people buy from our online CBD shop. Notice the four distinct measuring marks on it. These marks are how you know, exactly, how much CBD oil you are pulling into the dropper itself.
CBD Oil Droppers Show Your Dosing
The four marks on our 1mL dropper show you the following serving sizes:
CBD oil sold by New Phase Blends will come with a serving size of 1mL. This is why these four marks are added to your dropper.
Dosing CBD can be a bit different for everyone. Some people may require exactly 1mL to get their intended effect. Others may need 1/2mL. Some people like to take over 1mL. These marks are important to have on a dropper because you know exactly how much of the oil you drew into the dropper.
Some companies include very, very poor quality 1mL dropper with their CBD oil. I won't name names, but a surprising amount of CBD companies just skimp out when it comes to delivering premium products. If you don't see markings on your CBD dropper, you will have no way to tell how much fluid you drew into the dropper.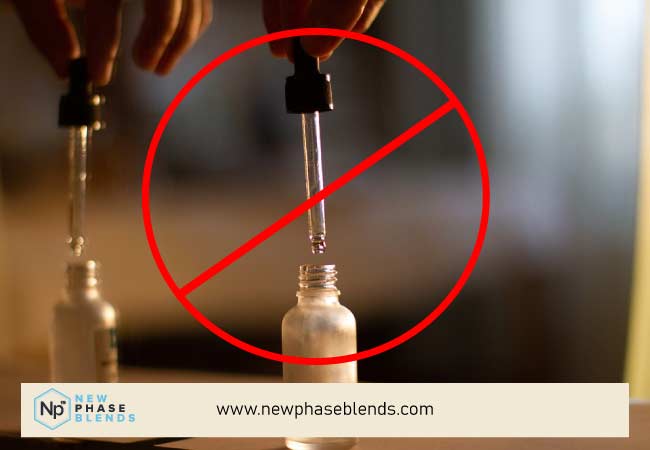 Please, do not use unmarked droppers like the one in this picture.
You will never know exactly how much CBD oil you take if you choose to use something like this. You will end up taking a slightly different dose every time you take CBD oil, which means you can have slightly different results each time.
How to Use Your 1mL Dropper
It's pretty simple to use the 1mL dropper. That said, here are the steps you should take to ensure you get an accurate dose of CBD oil:
Squeeze out any residual oil in the dropper so it appears empty
When empty, squeeze the rubber nipple forcing the air out of the dropper
While squeezing, put the dropper into the CBD oil tincture
Remove pressure and watch the CBD oil draw into the dropper
Strop drawing the oil once you notice the correct mL dose has been reached
Place the CBD drops under your tongue, and wait for the results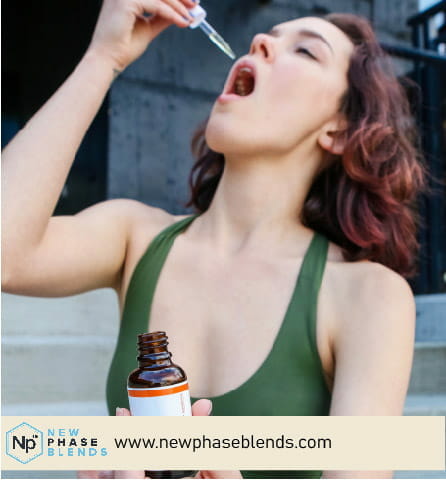 That's it! Simple, right? As long as you make sure your oil is at the right mL marking for your dose, you're good to go.
Again, make sure your dropper has accurate markings on it so you know how much oil to draw out. While it's not difficult to dose, some people new to the CBD world still have questions, and that's exactly why we made this short guide on using your dropper.
Storing Your Glass Dropper
Storing your glass dropper (or any other dropper for that matter) is really simple. After you took your dose of CBD, just place the dropper back into the bottle. If you have used your dropper for quite some time and are worried it may be dirty, you can run warm, soapy water through it. This will clean your 1mL dropper quite well. Let it dry, then store it with your other medicinal items.
That's it!
Related: How to Store CBD Oil
Summary – 1mL CBD Dropper
This guide on how to use your CBD dropper should help you out if you had any questions on how to draw out the CBD oil from your tincture.
Make sure you use a dropper with accurate markings on them – not a clear glass dropper with no marks. Premium CBD oil products will come with a good quality dropper.
If you don't like dealing with drawing out the oil and using a dropper, consider trying our pure CBD gummies or CBD capsules instead. While they take a bit longer to work, they require no dosing.