Many people are consuming different CBD items to help them find relief from different difficulties that life brings. From sleep improvement, to mood regulation, to anti-inflammatory effects, cannabidiol (CBD) seems to have it all. That said, there are different products that people prefer. This article will address the differences between CBD tinctures vs CBD vapes.
How are they different? Is one better than the other? Do they offer similar effects?
CBD Oils vs CBD Vapes
To date, the most common ways that CBD is ingested are through tinctures (oils), and vapes. Gummies come in at a solid third place.
Due to the widespread availability of CBD vapes and tinctures, it is important to understand which option presents the most benefits for you while delivering the fewest side effects for users. The use of CBD has minimal side effects for most users, but it's still important to use a product that works best for you and your situation.
Keep in mind that neither tinctures nor vaping fluid contains 100% pure CBD. This is normal. Usually, either will come in either a full spectrum or broad spectrum extract that is rich in CBD, along with other cannabinoids that may be beneficial in different areas.
Enjoying your reading so far? Sign up to become part of the NPB community and receive a free eBook, 20% off your next order, and access to ton of educational information about cannabinoids like CBD and Delta 8. NPB hosts, arguably, the largest collection of cannabinoid info on the internet. There is no better place to learn than our educational databse.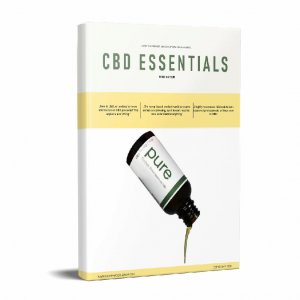 CBD Tinctures or CBD Oils
CBD oil is consumed by placing the oil or tincture underneath the tongue and then swallowing the tincture liquid, typically after 15 to 30 seconds. The sublingual vein located under the tongue acts as a delivery mechanism. It can deliver the CBD throughout your body very fast, because of how it bypasses your digestive tract.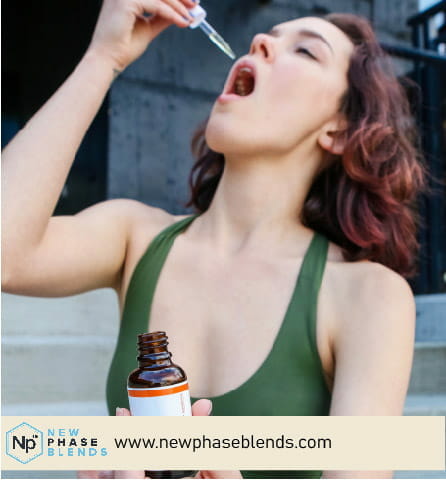 Pros of CBD Tinctures
Easy to use
Work within 5-15 minutes after using
Can come in high concentrated forms
Completely safe and natural ingredients
CBD Products for Sale by New Phase Blends
CBD Vapes
A CBD vape requires the user to heat a preformed CBD solution with a mechanical device called a vape. People then inhale the vapor, and similar to how one would smoke a cigarette or nicotine vape.
In order to make the CBD ready for vape consumption, the CBD is mixed with one of three agents commonly used in this process; vegetable glycerin, propylene glycol, or medium-chain triglyceride. Vitamin E acetate is often commonly used to dilute vaping fluid.
The agents used to produce vaping fluid are synthetic chemicals, which is where the potential problems come in.
Due to the unregulated nature of CBD, many companies want to sell as much CBD as they can, as quickly as possible. The unfortunate side effects of conducting business like this is poorly manufactured vape devices.
These vapes can have very unhealthy chemicals in them that lead to serious health risks. You just never know the quality of the vape juice that you will get.
For this reason, New Phase Blends does not buy or sell CBD vapes.
Interested in trying CBD products, but confused on what to buy? Don't stress. Check out our popular CBD starter kit. This bundle comes with several different types of CBD products. Test the products out and determine which ones work best for you.
Pros of CBD Vapes
Often cheap prices
Works fast – within minutes of inhaling
Which is Better? Tinctures or Vapes?
One isn't necessarily better than the other. Some people may prefer a tincture, while others prefer to vape.
As mentioned earlier, you need to be very careful who you buy your CBD vape juice from. There are a ton of poorly made vape products on the market, and some of these can lead to health risks.
As a personal choice, I prefer a CBD tincture over a vape. The tincture doesn't require an electric charge, it's simple to use, and while it may not work as fast as a vape – it still works within 5 to 15 minutes.
Are CBD Vapes Dangerous?
There is a significant amount of research out there to say yes, in fact, vaping is dangerous At the very least, vaping presents health risks or complications that CBD tinctures or CBD oils do not.
There have been reports of Vitamin E acetate being a potential health risk. Other chemicals used in the manufacturing process can present dangerous and unintended chemical reactions when heated.
The process of vaping is not endorsed by the American Lung Association, at all. "The devices when heated, can cause a chemical reaction in the vapor, posing further risk to the lungs – one reason the American Lung Association cautions people away from all vaping devices", says Erika Sward, National Assistant Vice President for Advocacy at the Association.
Summary – Comparing CBD Vapes vs Tinctures
CBD (cannabidiol) has been shown to have tremendous health benefits – when administered safely. There are many options for consumers to purchase CBD products for sale.
The important theme for consumers to understand is the method by which they choose to engage with the product can diminish the benefit by potentially introducing unintended health consequences.
Related: What Are CBD Gummies?
While tinctures can be slightly slower to take effect, they do not pose additional health risks to consumers as vaping does.
When it comes to selecting which option is best, it is critical to understand the benefits in addition to the risks.
If you're looking to purchase CBD, be sure to choose a safe way to consume the product. Also look for a reputable brand with positive reviews, such as New Phase Blends.
References:
American Lung Association: https://www.lung.org/quit-smoking/e-cigarettes-vaping, https://www.lung.org/lung-health-diseases/lung-disease-lookup/evali