If you are familiar with CBD products, it is not uncommon to have tried to compare broad spectrum vs full spectrum CBD. These are, simply, terms used to describe the content of different cannabinoids, or the presence of THC in a CBD product.
They are very important in giving the consumer a general idea of what to expect from the CBD product in terms of therapeutic benefits. If you are just coming across the words for the first time, then there is no need to worry, this article shall discuss the differences between these terms and what to expect from them.
TL;DR – Broad spectrum CBD has near 0.0% THC, while full spectrum can have up to 0.3% THC content. Neither CBD product types will get you high, though.
Different Spectrums of CBD Extract
A cannabinoid spectrum, or CBD oil spectrum, is a term used to describe the presence or absence of certain cannabinoids in a product.
The cannabis plant is rich in several plant-based chemicals including essential oils, cannabinoid compounds and terpenes. The combination of these compounds in a CBD product is what defines its spectrum.
The cannabinoid family consist of over 124 different members with THC (tetrahydrocannabinol), CBD (cannabidiol), CBG (cannabigerol) and CBN (cannabinol) as the most studied members.
CBD spectrums are classified as:
full-spectrum
broad-spectrum
CBD isolate
For this article, we will focus on the full spectrum CBD and broad spectrum CBD products.
For those who are interested, though, here is a picture of what CBD isolate looks like:
It's just white powder. That's it. The CBD molecules have been isolated from everything else – hence the name 'isolate.'
What is CBD? What does CBD Stand for?
Before we address the different spectrums, we might as well discuss a bit about what CBD is, what it stands for, and where it comes from.
CBD stands for cannabidiol, and it is one of approximately 120 different phytocannabinoids within the cannabis family. The term phytocannabinoid is a scientific term that means 'plant chemical.'
Cannabidiol became legal for use in 2018 after the Farm Bill was signed, and introduced as new legislation. The Farm Bill covered a lot of things, including legally distinguishing the hemp plant from marijuana, and legalized hemp and hemp-derived goods.
The catch is that hemp-derived goods, like different CBD oils, must contain less than 0.3% THC content. THC, or tetrahydrocannabinol, is another cannabinoid known for getting people high. THC remains under the controlled substances act.
THC stands for tetrahydrocannabinol. There are many different forms of THC, but the most popular forms are: delta 9 THC and delta 8 THC.
These are all cannabinoids, similar to CBD, but they are still completely different. THC is notorious for getting people high. This is why it remains on the list of controlled substances within the United States. It is also illegal in many different countries throughout the world.
THC can be found in high amounts within marijuana, and very low amounts in hemp. On the other hand, CBD is found in high amounts within hemp, and low amounts within marijuana.
What is the Difference in Full Spectrum and Broad Spectrum CBD?
Now that you know what the different types of spectrums are, let's take some time to discuss what makes them different.
Full Spectrum CBD Oil Products
Full-spectrum CBD oils contain all the naturally occurring compounds found in the cannabis plant, with a THC content nearing 0.3%. These compounds include terpenes, essential oils and cannabinoids (THC inclusive).
They are prepared with the sole aim of maximizing the potentials of the hemp extract for maximum benefits. Information gathered from scientific research has shown that the presence of CBD can inhibit the psychoactive side effects of THC; hence, the reason why THC is often found in full-spectrum products.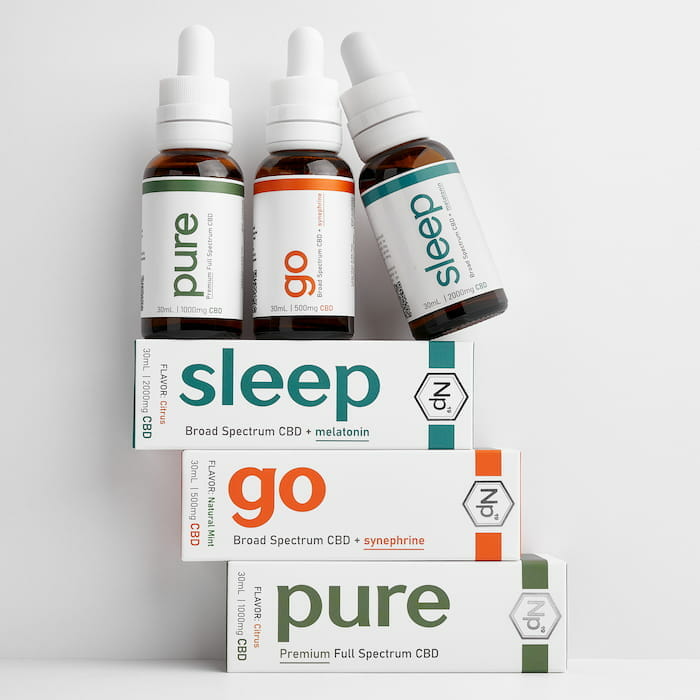 Because of federal regulations, it is required that all full-spectrum CBD oil products contain no more than 0.3% of THC.
Key Points of Full Spectrum Products
This is a term used to define CBD oils containing all the necessary chemicals found in the cannabis family of plants – except for THC.
A broad spectrum CBD product is widely utilized in cases where people are interested in enjoying the full benefits of the plant without the presence of THC.
Key Takeaways of Broad Spectrum Products
Will Either Spectrum Get Me High?
As long as you are taking legal, hemp-derived CBD oils, you cannot, and will not get high. This is because there isn't anywhere near enough THC in these products to cause any intoxicating effects.
Is Full Spectrum or Broad Spectrum CBD Better?
To be completely honest, there is no 'better' option. CBD, and other cannabinoids, can work differently for different people. There are also other compounds that come along with extracted cannabinoids from cannabis. These include terpenes, which are also beneficial.
Both spectrum extracts are nearly identical, except for the THC content.
If you think a bit of THC is better for you, than stick with a full spectrum extract.
We've talked a lot about THC in this article, so far. This may make some readers curious about CBD and drug testing, and whether or not you may test positive for anything on one.
While we have a full article on this (you should definitely check it out), I will summarize by saying this:
It is possible, but unlikely, that you can test positive for THC after using full spectrum CBD hemp extract. It is also possible to have a false positive on very poor quality urine drug tests.
If you are frequently drug tested, or have concerns, stick to broad spectrum extracts.
Does Full Spectrum CBD Have THC in It?
Yes, it does. Remember, by law, full spectrum CBD may contain up to 0.3% THC in that particular product. This is the major difference between the spectrums. While this amount of THC is not enough to feel, and not enough to get you high, it is still found in full spectrum items.
Difference Between Full Spectrum CBD Oil and Broad Spectrum CBD Oil
Choosing the right CBD spectrum is a product of choice – nothing else. One is not necessarily better than the other. Whatever spectrum CBD oil you choose, it won't get you high. Since the limits of THC are at 0.3%, it is no where near enough to cause an intoxicating reaction.
Some people want a broad spectrum CBD oil, because they do not want any trace of THC in their bodies – not even a little bit. That's just fine.
Others feel like the tiny bit of THC in the full spectrum CBD oil helps them a little bit. That's fine also.
There really is no right answer, as long as you are happy with the results.
Take into consideration your health conditions, body chemistry, and rules guiding the use of hemp derived CBD. Both products have been identified to produce outstanding results.
You can also consult with your physician for information on whether a full spectrum extract or broad spectrum extract best suits your needs.

If you feel you can benefit from the use of CBD, please head over to our CBD store and find the right fit for you.