Cannabidiol, or CBD, is one of the active ingredients in cannabis. While this compound is an essential component of marijuana, it is derived directly from the hemp plant and does not cause a "high" feeling by itself. This sounds great, but what do CBD gummies do for the body? Are there CBD gummy benefits?

For starters, the World Health Organization stated that in humans, CBD exhibited no effects indicative of abuse or dependence potential.
CBD products are readily available in most parts of the United States. It may be found in various forms, but products like CBD gummies are fairly common. These are classified as CBD edibles, which may help offer different health benefits, like relief from anxiety disorders, or being used to treat pain.
A CBD gummy can come in a wide range of flavors, shapes, and concentrations of CBD extract. CBD Gummies offer people an easy way to experience the benefits of CBD and their popularity has grown significantly since being introduced.
CBD Gummy Benefits
While CBD research is still ongoing, there are multiple studies that have promising results as far as CBD gummy benefits are concerned. Knowing the potential health benefits of using things like CBD gummies can help individuals make an informed decision when deciding whether or not to take them.
Related Article: How to Make Your Own CBD Gummies at Home!
Treatment of Chronic Pain
This is the most common reason why people take find CBD gummies useful. Some people are desperate to relieve pain, and I completely understand why.
Cannabis products have been used as pain reliever for hundreds of years, but the reason why they work so well has only become known more recently.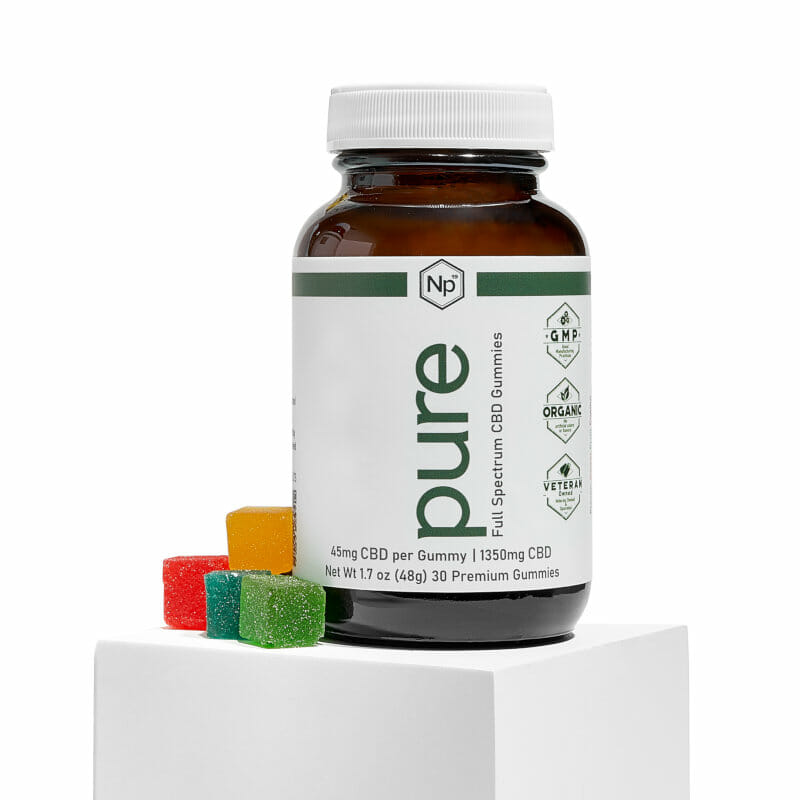 Scientists discovered that the components of a marijuana plant responsible for the pain-relieving effects is not just THC, but CBD too. These are two cannabinoids, out of over 124 different know ones. The list of cannabinoids is long, and research is always developing on how they can be used.
The human body has an endocannabinoid system which regulations functions such as sleep, pain, and immune response. The body can process cannabinoids, like CBD, by letting them bind to these receptors (CB1 and CB2) within the body.
That said, CBD acts slightly differently that other cannabinoids, in that it indirectly binds to receptors, whereas things like THC bind directly to the receptors. This is likely why THC is highly intoxicating, whereas CBD is not at all.
Related article: Try CBD Gummies for Pain
High blood pressure usually accompanies those who experience high levels of pain. There are also studies that exist which show that cannabinoids may help lower blood pressure.
Cannabinoid Receptor Activity
Studies have shown that oral CBD may help to reduce pain.
CBD influences (indirectly) the receptor activity of CB1 and CB2 receptors. This effect is why cannabidiol in the form of CBD gummies work (we think) for addressing inflammation and pain responses. When compared to a placebo, patients who received CBD reported at least a 30% reduction in pain levels.
For individuals who have diseases or conditions which cause chronic pain, CBD gummies may be an easy and effective way to alleviate some of their pain.
As you can see, these receptors are all over the body, including the nervous system, circulatory system, and immune system.
CBD works, essentially, by getting these receptors to do different things that end up offering relief from some symptoms people struggle with. Hemp products contain much more than just CBD, too.
Cannabis extract contain all sorts of beneficial cannabinoids, and scientists are discovering that different cannabinoids can offer different effects.
CBD Products for Anxiety and Depression
Another common reason why people might take CBD gummies is for CBD's ability to help manage their anxiety and depression. Both of these mental health problems are common and can have significant effects on health and overall well-being.
In fact, the World Health Organization estimates that depression is the largest contributor to disability around the world.
These problems are often treated with pharmaceutical medications but many of them have undesirable side effects. How much CBD people need to use is still being researched, but the best CBD gummies normally come in anywhere from 10 mg of CBD to 60 mg of CBD per.
Animal studies exist, along with several human studies.
So, as you can see, there is a good reason that people rely on things like CBD gummies for anxiety relief, or CBD oil for relief. Studies support this reason for use.
Study on CBD for Depression
The CBD industry has shown promise in developing CBD products like broad spectrum CBD gummies for a treatment option that results in a significant reduction in depression.
One medically reviewed study completed in Brazil provided men with CBD or a placebo before speaking in public. They found that a dose of CBD was the most effective at reducing anxiety. Although additional trials are needed, animal trials have shown that CBD has antidepressant effects in animal studies.
These effects may be due to the ability of CBD to act on the brain's serotonin receptors. This is a neurotransmitter which regulates mood. By affecting serotonin levels, CBD gummies may provide benefits with individuals who struggle with anxiety and depression.
Potential for Neuropathic Pain
Since CBD's primary activity has been shown in the brain, many studies have looked at the role of CBD when it comes to disease of the neurological system. Researchers believe that CBD may provide benefits for many of these disorders.
One of the most studied uses for CBD is treatment for disorders such as multiple sclerosis and epilepsy. Although additional research is needed, several studies have shown promising results.
Study on CBD for Epilepsy
One promising study looked at people who had severe epilepsy. They were provided with CBD and saw approximately a 36% reduction in their seizure activity. This was significant to individuals in the study as seizures can often be debilitating and reduce a person's ability to lead a normal life.
When it comes to treating seizures, there is actually a prescription CBD product by the name of Epidiolex. This is, currently, the only prescription CBD product.
Parkinson's Disease
Parkinson's disease is also a debilitating neurological condition where CBD helps. Several studies looking at treatment with CBD worked to reduce inflammation and also helped to prevent neurodegeneration.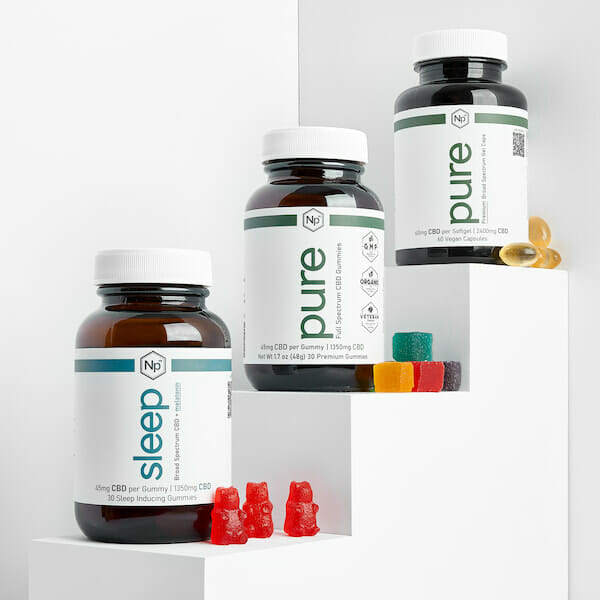 Individuals with Parkinson's may not be able to prevent decline completely, but can reduce their decline by the way cannabinoids act on the nervous system.
Alzheimer's Disease
A two-week course of higher amounts of CBD from cannabis sativa aided in restoring the ability of two proteins key to reducing the accumulation of "beta-amyloid plaque, a hallmark of Alzheimer's disease. It was also able to improve the cognition in an experimental model of early onset familial Alzheimer's."
I would like to see more CBD studies on conditions like these. A lot of people can potentially benefit from effective treatment with CBD.
Physical Side Effects
When people ask what do CBD gummies do for the body, they should know that even the top CBD gummies can have both positive and potentially undesirable effects. In general, CBD is tolerated by most people and considered to be a safe substance.
However, when people ingest CBD it may cause some undesirable effects such as diarrhea, or changes in appetite and weight.
Related article: How Many CBD Gummies Should I Take?
In some individuals, they may find that taking CBD gummies cause them to experience diarrhea. This may be partially due to the other components of the gummies such as gummies that are high in sugar, or potentially taking excessive amounts.
These side effects normally occur when taking too much CBD.
For individuals who are interested in the other effects, trying alternate sources may be best to determine if it can be tolerated.
Individual effects can vary significantly between people, though.
Finally, CBD is completely non-intoxicating. You cannot, and will not, get high from hemp-derived CBD.
You'll run into CBD products labeled as broad spectrum CBD, full spectrum CBD, or even CBD isolate. Broad spectrum CBD contains near 0.0% THC, full spectrum CBD contains near 0.3% CBD, and CBD isolate is ONLY CBD (nothing else).
Regardless of the spectrum you prefer when taking premium CBD gummies, there is not going to be enough THC in it to get you high. There are no mind altering effects when it comes to CBD.
Is CBD Legal?
Yes, hemp derived CBD products are federally legal in the United States. Most people are unaware of the fact that hemp and marijuana are both the same exact plant.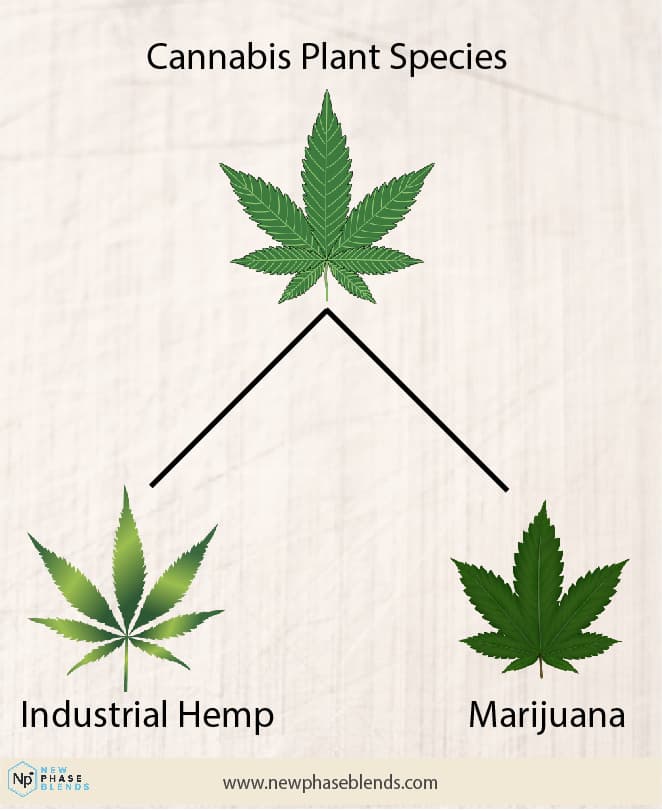 The only difference is the THC content in marijuana. CBD gummies, sometimes called hemp gummies, come from the hemp plant, and contain no more than 0.3% THC by law. This is no where near enough to get someone even remotely high.
This is why hemp products are legal, and marijuana products remain heavily controlled in most states.
Approved, nonprescription CBD products will always be made from hemp.
Using CBD for Sleep
If you're looking to improve your sleep quality, CBD all on it's own might not be the best approach. While some people find that it can reduce anxiety, which might help you fall asleep, most severe insomniacs require something a little stronger.
The best CBD gummies combine CBD with melatonin. This offers the best results in sleep management, and is going to be your best bet when you buy CBD gummies. Cannabinoids found in hemp seem to work extremely well when blended with melatonin, a natural hormone produced by our bodies that helps regulate our sleep/wake cycle.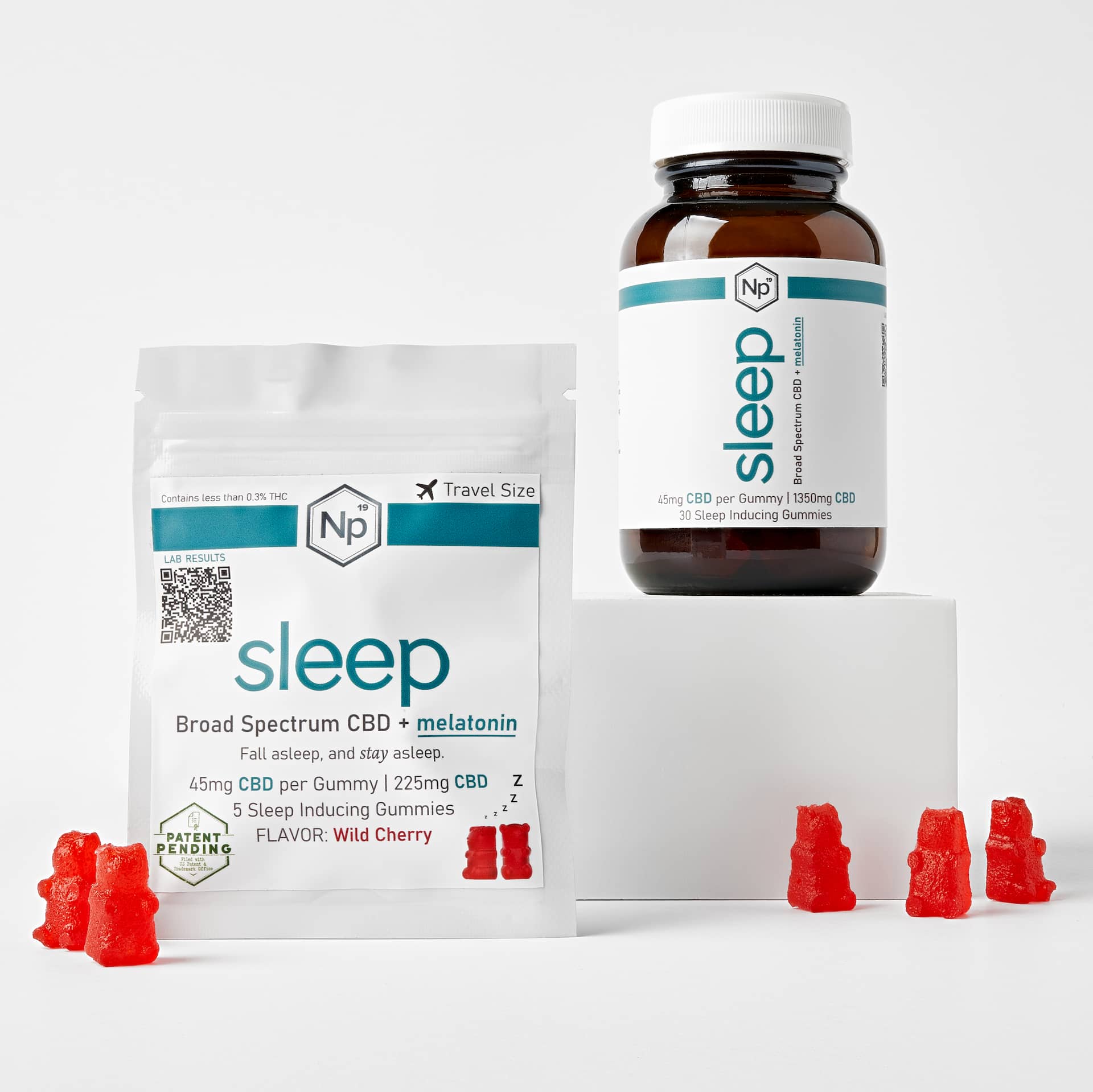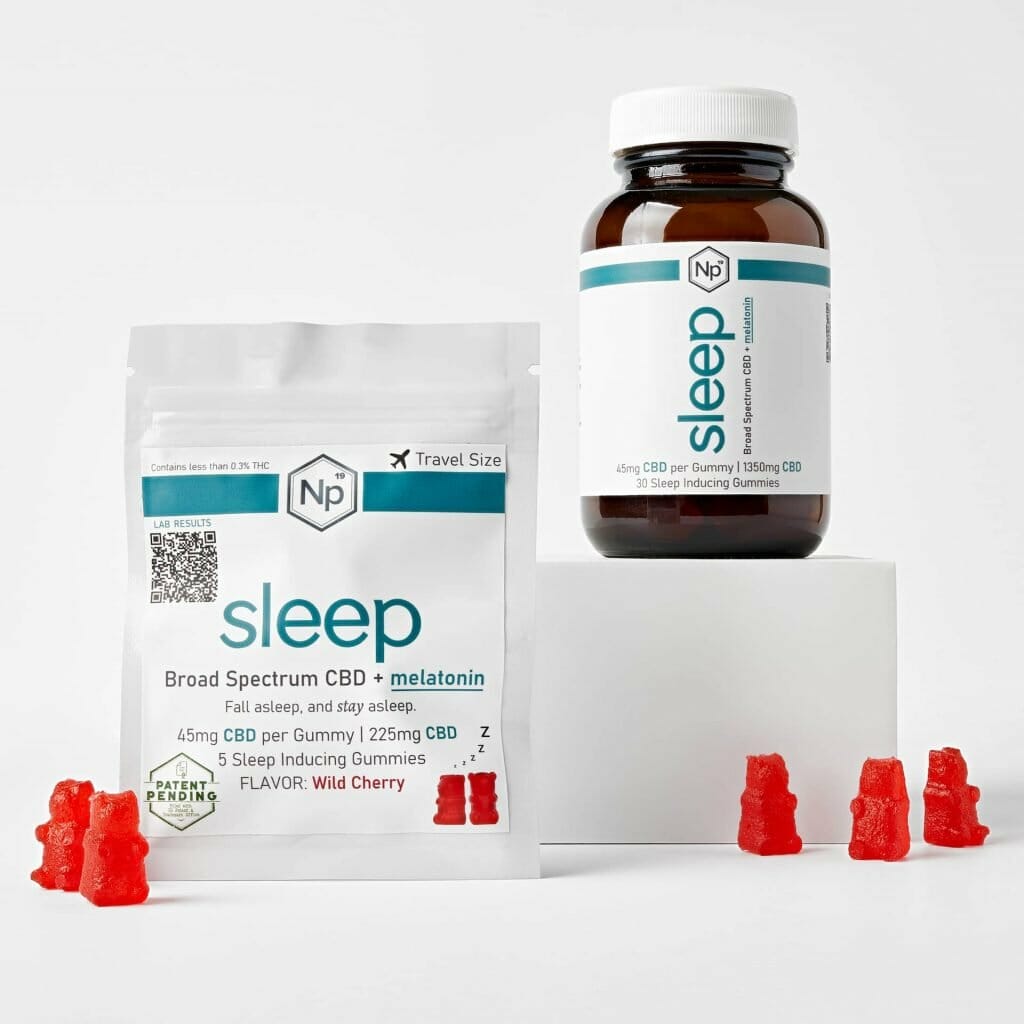 Our patent-pending CBD gummies for sleep revolve around this formulation, and they are incredibly popular.
While cannabinoid receptors process CBD which might help you fall asleep, the melatonin can aid in having you stay asleep.
Plus, eating a CBD gummy, and waiting to fall asleep isn't really hard to do, at all.
Experience the Benefits of CBD Gummies for Yourself
Although much more research is needed to fully understand the complete effects of CBD gummies, these are some of the effects which are fairly well understood.
With growing interest in the potential benefits and drawbacks to using CBD gummies, additional studies are ongoing and it's likely that there will be more information with every year.

For anyone interested in taking full spectrum CBD gummies (or any other spectrum), always talk to a doctor as they can offer you the best medical advice that is specific to you and your needs.
New Phase Blends is a producer of premium CBD oil (also known as hemp oil), CBD gummies, and a slew of other useful CBD oil products. Consider them if you are looking to try CBD. With their free shipping and a 100% money back guarantee, what do you have to lose?
We create some of the best nonprescription CBD products on the internet. What are you waiting on? Experience relief today. Buy CBD gummies from the best.
*FDA disclaimer: none of the statements on this webpage have been approved by the Food and Drug Administration. These statements have not been evaluated by the FDA. These products are not intended to diagnose, treat, cure, or prevent any disease. Medical advice should be sought before starting any supplement. If you are pregnant or nursing consult with a doctor. Medical advice should be sought if you have any pre-existing medical conditions. If you take other prescription medications, a doctor's advice should be sought. Site void where prohibited.