Using hemp oil for sleep can drastically increase both the quality and length of your sleep patterns. I would like to get one thing straight here: for the purposes of this article, I am using the terms "hemp oil" and "CBD oil" interchangeably.
To be technically correct, there is a difference, but with the way Google and other search engines are blocking the terms CBD, I chose to use the phrase "Using hemp oil for sleep" to avoid shadowbans and what not. Now that this is out of the way, let's discuss some ways that hemp oil can be used as a natural part of your sleep management routine.
CBD Oil for Sleep?
Unless you've been living under a rock (and if you have, that's fine!) for the last couple of years, I'm confident you've heard of CBD oil (a.k.a. hemp oil). Since the Farm Bill of 2018 was passed in the United States, CBD products flooded the marketplace.
Anything from CBD shampoo to CBD toothpaste (yes, toothpaste ?) can be quickly found via a quick google search. Some of these products are helpful, and others are simply trying to take advantage of the CBD boom. It is important to keep in mind that still, as of July 2020, the FDA has still not approved CBD for use as a dietary supplement. That means that claims about its efficacy cannot be made – because the government doesn't let us.
CBD oil gained popularity it's massive following that used CBD products to treat mainly pain. People are using CBD in record numbers to treat a lot of symptoms, but pain and anxiety reductions are by far the most popular reasons. Hemp oil used for sleep improvement is becoming more and more popular.
According to the US National Library of Medicine National Institutes of Health, "Cannabidiol (CBD), a Cannabis sativa constituent, is a pharmacologically broad-spectrum drug that in recent years has drawn increasing interest as a treatment for a range of neuropsychiatric disorders." Sometimes compounds can serve dual purposes. For example, Xanax is a well-known pharmaceutical drug that relieves anxiety. It can also help get better sleep since the sedative nature relaxes you to a point where quality sleep may be more achievable. We are beginning to see similar results with CBD.
4 Ways to Increase the Effectiveness of CBD Hemp Oil for Sleep
If we mix taking CBD products that are meant for sleep with effective habits to induce a wholesome sleep, we can really improve on the quality of sleep CBD products may give us. Let's go ahead and talk about establishing a good night-time routine that will definitely help you fall asleep, and stay asleep.
1. Choose the Right CBD Product for Better Sleep
There are tons of hemp oil or CBD oil products on the market. Some CBD oil for sleep is better than others. Do some research, and find one that works best for you. I am going to be biased here, but New Phase Blends sells a patent-pending CBD sleep aid called 'sleep.' It is blended with melatonin in a way that makes the product exceptionally effective at putting people to sleep. Click here to learn more.
Regardless of what CBD product you choose, please make sure it has a scannable QR code that links to a lab report. This is crucial, because a lot of companies are taking advantage of people by selling hemp seed oil under the guise of CBD oil. Hemp seed oil has almost no therapeutic value what-so-ever. In fact, it doesn't even have traceable amounts of CBD in it. Again, make sure you choose the right hemp product for sleep.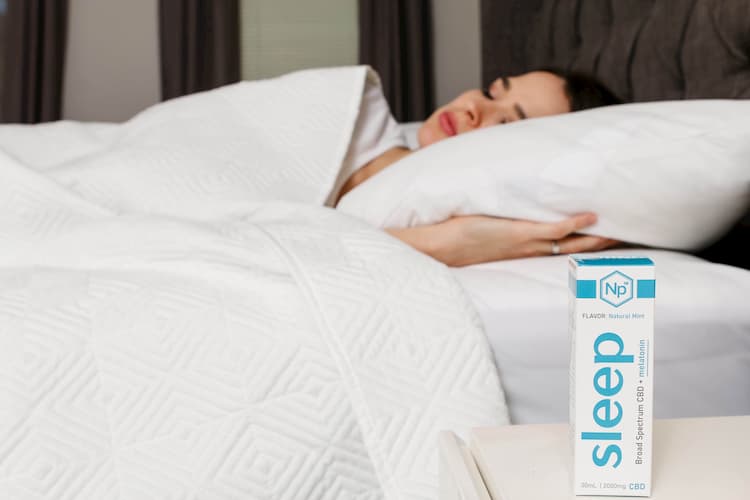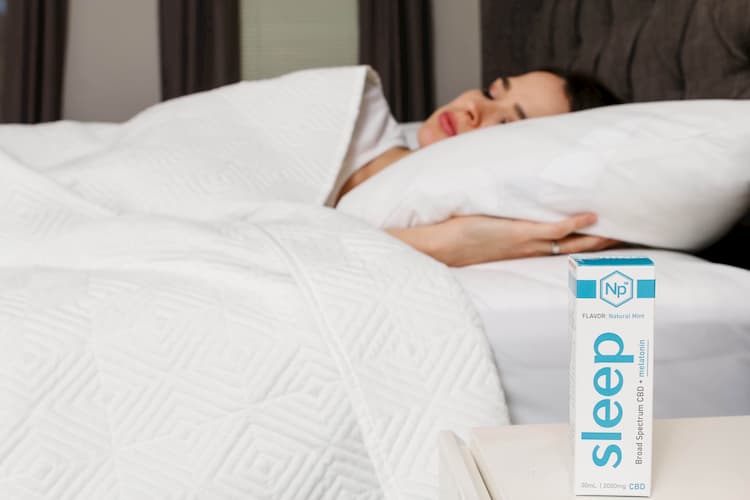 2. Establish a Pre-bedtime Sleep Routine
Something that a lot of people overlook is taking time to tell your body "Hey! I want to go to bed soon!" If you don't do this, you really need to try. Especially if you already have difficulty sleeping. Some people are fortunate enough to close their eyes, and before you know it, they are dreaming.
Most people aren't this lucky. We need to take time to relax, put down the phone, and calm ourselves down. Cellphones can actually transmit a blue hue in the screen lighting that tricks our bodies into staying up. Visible light is a big factor that can keep humans awake.
I recommend looking to find a nice, dark or dim, comfortable area and really taking time to focus on relaxing. Look into belly breathing if you haven't heard of it. Belly breathing is when you take deep, 4 second breathes in through your nose and exhales 4-second breaths out through your mouth.
Focus on breathing with your stomach area as opposed to expanding your upper chest for breathwork. If you concentrate on relaxing while doing this, it forces your heart rate to lower, thereby relaxing your entire body. Focus on doing this while you prepare to fall asleep. It is actually quite relaxing. I would recommend taking your CBD products about a half-hour before conducting your pre-bedtime routine.
3. Stick to the Routine!
Now that you have a routine, it's important that you stick with it. You know about building habits, right? Well, building a healthy sleep habit works the same way as building a healthy eating habit – you have to do it, repeatedly.
For some people, your routine may work instantly. For others, it will take several days or maybe even a week before progress is seen. The worse your sleep condition, the longer it will take to build a pre-bedtime sleep routine habit.
Don't lose faith! A vast majority of people who struggle with sleep issues do NOT need hard core pharmaceutical prescriptions…they just need new habits. Just keep at it.
Take your CBD oil, get into your routine, conduct some belly breathing exercises, and focus on relaxation. This method alone will help the vast majority of people with sleep problems that are not caused by a chemical imbalance.
4. Get Your Mind Right
Have you ever noticed that the more you try to force yourself to go to sleep, the harder it is to fall asleep? It sucks, doesn't it? When using CBD oil for better sleep, be sure to give your mind time to relax as well. Laying in bed, or anywhere else you can get comfortable, and having racing thoughts does not help – at all.
Just as our bodies need to relax, so does our brain. Incorporate a way to try to clear your mind of everything you can. This is much easier said than done, but it is necessary to get sleep. Have you heard of the phrase "counting sheep"? This is an ancient method of clearing your mind and letting it relax.
As long as you are counting, you are not driving yourself crazy with thoughts about work in the morning, or issues from earlier in the day. When using hemp oil for sleep management, it is crucial to let your brain just relax.
I hope these methods of using CBD oil for sleep end up helping you get the much-needed sleep you are looking for. Going without sleep is definitely a scary and frustrating phenomenon.
With some dedication to building better bed-time habits and research into a good CBD product for sleep, I feel confident that you can get back into a great sleeping routine.
If you are interested in supplementing with CBD products, please check out our store by clicking here. Until next time…