Using medical marijuana for insomnia is not a new concept. Most people that have used it notice they end up falling asleep shortly after eating everything in sight. While it might work for some, there are some psycho-active properties that people don't like. There are alternatives, though.
In this article, we'll review CBD, or cannabidiol, and compare using medical marijuana as a sleep aid vs using CBD to accomplish the same outcome.
TL;DR – Using either CBD or medical marijuana for insomnia are going to be effective. The main difference is marijuana will get you high, while CBD products will not. Marijuana is also not legal in a vast majority of states, while CBD is 100% federally legal within the US.
Why is Medical Marijuana for Insomnia so popular?
The use of cannabis for insomnia can be attributed to the presence of active components like cannabinoids (CBD, CBG, THC, etc…), terpenes, and essential oils within the marijuana plant.
These phytochemicals (plant-based chemicals) can interact with the body's neurotransmitters to promote relaxation, trigger hormonal balance, and pain relief.
Related: CBD for Insomnia
Medical marijuana works well in treating sleep deprivation and other sleep-related disorders like sleep apnea, restless leg syndrome, and insomnia.
Research has shown that while medical marijuana is safe, marijuana is illegal in most parts of the world. It requires a prescription and medical card in most states within the US.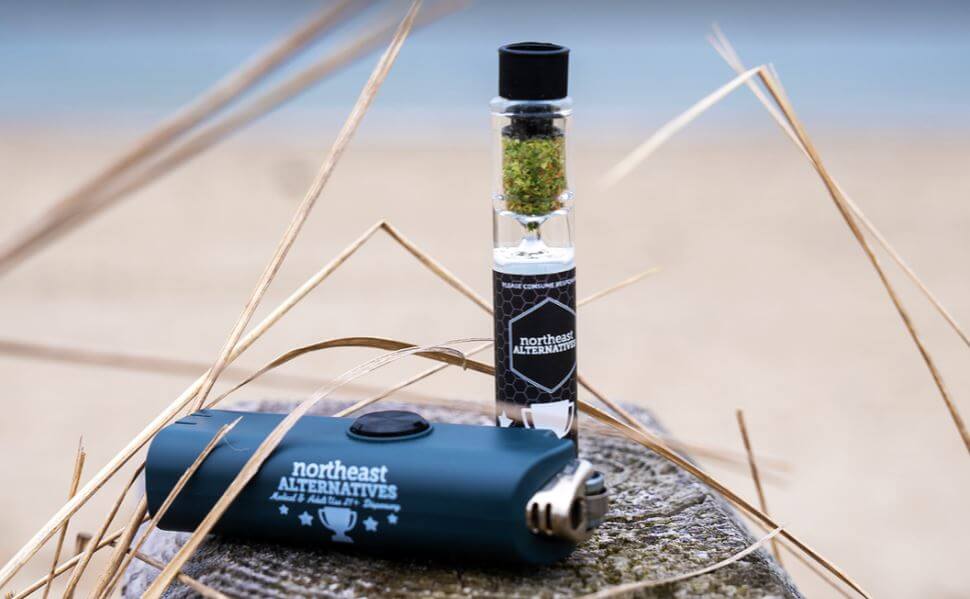 In addition, cannabis can alter brain chemistry and change the way we learn or retain memory. The high content of THC (delta-9 tetrahydrocannabinol) in cannabis can lead to mental illnesses involving psychosis.
Before we dive into how medical marijuana for insomnia works, I want you to keep in mind that there are other products that are 100%, derived from cannabis, and non-psychoactive.
Yes, there are other options when it comes to using cannabis for insomnia.
New Phase Blends sells a CBD oil for insomnia that comes in both CBD drop form, and gummy form. We'll get more into why you should consider this as an alternative later on.
More About Insomnia and Sleep Disorders
Insomnia is a sleep disorder that leads to the inability to stay, or fall, asleep. It is the most common sleep disorder affecting over 60% of the world. Sleep disorders encompasses a wide range of conditions, from mild anxiety to Narcolepsy.
While the disease is common among adults, it is not uncommon for teenagers and children to experience the same.
Discover: CBD Sleep Aid
The effects of the condition can either be acute (short-term) or chronic (lasting for a long term). While the acute forms of the condition may last for a day to a few weeks, the chronic form is quite consistent and may appear at least 3 nights a week for 3 months or more.
Insomnia is caused by several factors.
Primary causes include stress, noise, exposure to blue light, changes to a sleep schedule, and genes. The secondary causes are linked to mental health, use of medications, pain or discomfort, caffeine, hyperthyroidism, presence of other sleep disorders like restless leg syndrome, and sleep apnea, pregnancy, and mental conditions.
Guess what?
This long list of possible causes can be effectively managed with the right concentration of cannabis for insomnia.
Yes, you heard that right!
This is why medical marijuana for insomnia has continued to gain more popularity.
Is Using Medical Marijuana for Insomnia Better Than CBD?
While hemp and marijuana are often seen as the same plant, it is pertinent to note that they actually differ in their concentration of cannabinoids (plant chemicals).
Discover: The Best CBD Gummies for Better Sleep
If you want to use consider using cannabis for insomnia, you basically have two choices: hemp-based products, or marijuana-based products.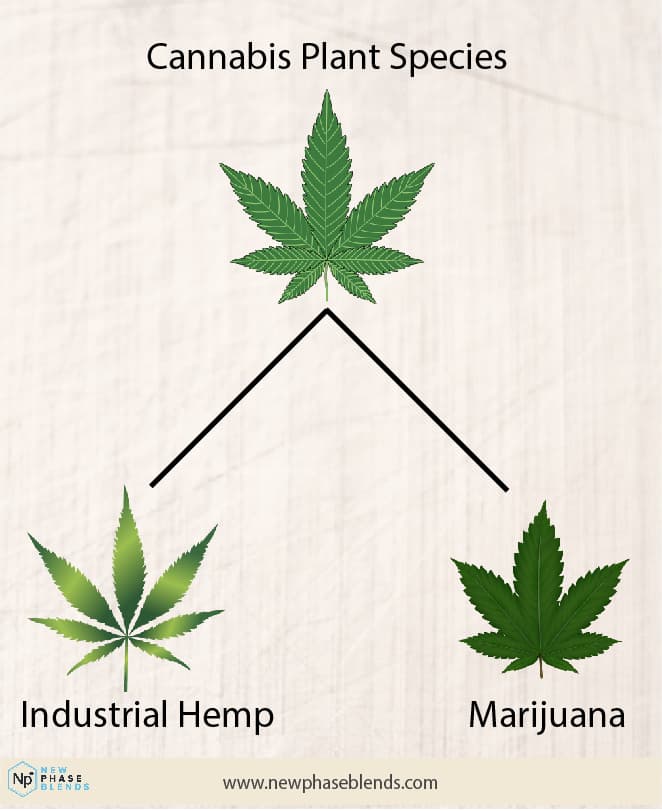 While medical marijuana is richly supplied with all forms of cannabinoids, including THC, hemp-based products have a much lower (almost non existent) amount of THC.
Related: THC vs CBD
While hemp might be low in THC, it's extremely high in other cannabinoids like CBG, CBD, and CBN.
The THC concentration of hemp is always limited to a max content of 0.3%, as recommended by the FDA. This is to remain compliant with the Agricultural Improvement Act of 2018, which legalized hemp.
Using medical marijuana for insomnia is popular because of the sleepiness that is associated with the 'high' caused by the THC. The THC content of marijuana, however, makes it an illegal substance in most regions of the world, while using CBD for insomnia is accepted as a 100% legal remedy for insomnia.
People are now able to use CBD for insomnia much easier than using medical marijuana for insomnia. It works just as well, if not better. Plus, it is legal. There's not fees, licenses, or applications needed.
You can find CBD product for sale online, or in a store, in a matter of minutes.
Imagine being able to reap all of the benefits of marijuana, without the psycho-active or addictive effects that can accompany it.
Consider This Instead
New Phase Blends is in the business of providing well-researched and expertly formulated CBD products that assist users with one disease condition or the other.
Our CBD oil for insomnia relief, and sleep gummies, are formulated from top-grade, organically grown hemp with less than 0.3% THC.
This means our products are non-psychoactive, and non-addicting. You're reaping all of the benefits from cannabis without the downsides.
To be crystal clear, our products that utilize properties of cannabis for insomnia have no THC because they are derived from hemp. They are completely different products that don't involve using medical marijuana for insomnia.
Since the official discovery of Cannabidiol (CBD) as an active component of the hemp plant, researchers have continued to focus their efforts at figuring out how it can aid in several conditions including:
sleep deprivation
anxiety reduction
pain relief
This approach all stems from using medical marijuana for insomnia.
A careful look at our CBD products for sleep shows an effective combination of CBD and other products that can promote a good night's sleep without stress.
Did you know our bodies contain receptors that CBD can indirectly regulate? This results in some of the relief that was mentioned above. Using cannabis for insomnia is only the beginning.
Products That Use CBD to Help Insomnia
There are a few different products that utilize CBD for insomnia relief. Let's take the time to go over what you should look for, before you buy.
Broad-spectrum CBD for Insomnia Management
Unlike what's found in medical marijuana, our products are more CBD-focused. They are formulated with 100% organic, broad-spectrum hemp extract.
These products have all the active cannabinoids that can promote a good sleep except THC, the highly psychoactive cannabinoid. With this, users don't have to worry about failing a drug test since there is almost zero THC (less than 0.3%) in our products.
Furthermore, since there is no THC, you won't get high. It's simply not possible. Broad-spectrum CBD is a go-to product for people who need better sleep.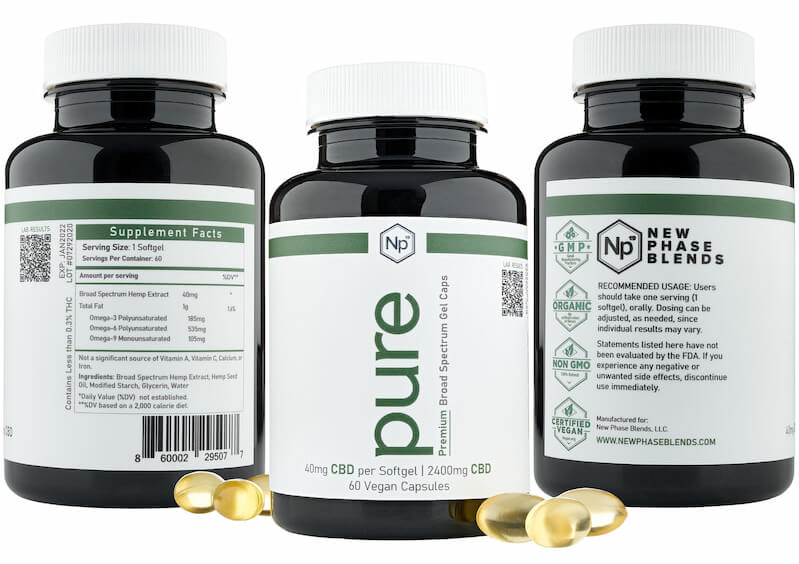 Keep in mind, however, that studies show CBD alone is a rather poor sleep aid if you are suffering from significant sleep issues. In order for a product that uses CBD for insomnia to be effective, it MUST contain a formulation with melatonin.
This creates a synergistic effect that creates a sleep aid like nothing else you've ever tried. We guarantee is.
CBD Acts in Synergy With Melatonin
New Phase Blends' sole priority is to provide relief. We create some of the best CBD products that promote healthy living with little to no side effects.
Our CBD products incorporate cannabinoids + melatonin because of the synergy between melatonin and cannabinoids, like CBD. The products were formulated by combining the relaxing power of broad-spectrum CBD and the sleep-inducing effect of melatonin for a good night's sleep.
What's melatonin? It's a sleep hormone, and it determines how we fall or stay asleep. Our bodies produce it all on our own.
How Using Cannabis For Insomnia Works
As stated earlier, medical marijuana and broad-spectrum CBD products have some wonderful properties that make them better adapted to solving the challenges of sleep deprivation.
We know using cannabis for insomnia works, it's just a matter of whether you want to use THC, or not. Remember, THC is heavily controlled throughout the United States. Stick with broad spectrum CBD for insomnia – you won't regret it.
Also, CBD is great at offering relief from many different things:
Pain relief
Chronic pain is one of the leading causes of insomnia in the world. It is associated with the discomfort that can disrupt a night of good sleep.
By interacting with the endocannabinoid receptors, and other neurotransmitters like GABA and serotonin, CBD can trigger pain relief, making the user feel relaxed.
Anti-inflammatory properties
The expression of CB2 receptors in the immune system serves as an active site for CBD activity. This can regulate the activity of the immune cells, keeping them under check.
Anxiety reduction
CBD can trigger the release of 'feel-good hormones' that promote relaxation. Our CBD oil for insomnia can help you get the sleep you so desperately need.
Related: CBD vs THC for Anxiety Attacks
Cannabis for insomnia improvement is now possible – without the psychoactive effects.
As a sign of quality and dedication to our customers' wellbeing, all of our CBD products are tested by third-party labs to give you complete transparency about what you are using.
Scan the QR code on our labels, and you will be linked to a report that shows exactly what's in that particular product.
Using CBD oil for insomnia is now an effective approach to sleep management.
Here are a couple of items that people find extremely helpful in battling insomnia, or night-time aches and pains that keep you from sleeping properly.
CBD Oil With Melatonin To Aid Sleeping
This line of CBD products features 2000mg of CBD and 90mg of melatonin in each tincture. This CBD oil for insomnia is designed for people battling with chronic conditions that require a strong approach to sleep management.
Related: CBD and Melatonin
Each serving provides 66.4 mg of CBD and 3mg of melatonin per serving to promote sleep and relaxation.
It was even featured on Yahoo! and Vogue as an extremely effective sleep aid.
The bottom line is, these CBD drops work wonders. If they don't, return them for all of your money back. We guarantee results, unlike many other companies.
CBD Gummies for Better Sleep
These CBD gummies for sleep were designed to do just that – promote deep sleep in users.
Related: How Many CBD Gummies Should You Eat For Sleep?
With an active concentration of 3mg of melatonin and 45mg of CBD per gummy, they allow users to gain access to one of the easiest CBD products on the market.
Gummies are incredibly easy to dose and are excellent for people who don't want to deal drawing liquid out in a dropper. Each bottle has 30 gummies that contain an effective formula of CBD oil for insomnia.
It also comes in a 5-day travel pack with fantastic cherry flavors. This travel pack is popular for long trips on planes or in vehicles.
These items work well at their job – aiding the body in falling into a calm, restful sleep.
Take the CBD oil drops, or gummies, roughly 30 minutes before your intended bed time. You'll begin to feel the effects pretty quickly.
Most users report starting to drift off within 30 minutes, or so.
Medical Marijuana for Insomnia vs CBD
Both medical marijuana and CBD oil for insomnia are great approaches to getting better sleep.
It all comes down to user preference. If you don't mind having to go through state programs, your doctor, and other local dispensaries for a sleep aid, then perhaps using medical marijuana for insomnia is for you.
This process can take months to be approved before being able to receive your prescription, though. Using cannabis for insomnia doesn't have to be this hard to use, though.
You can literally go to the store right now and purchase CBD oil for insomnia. It works just as effectively, if not better, and it's completely non-psychoactive.
Summary: Medical Marijuana Use for Insomnia Relief
Our CBD sleep aids also come with an active concentration of melatonin that promotes sleep and relaxation in users.
Please note that all our CBD products are federally legal within the United States. There is no need for any doctor's appointments, prescriptions, or state medical marijuana programs.
They are 100% organic with no chemical additives. They are safe for everyone, and require no prescription or doctor visits to get them. You can buy them online right now, or go to a store and purchase them.
Remember, when you use cannabis for insomnia, you have two choices: hemp-based products, or marijuana-based products. Hemp-based products will contain no THC, while marijuana-based products will contain high amounts of it.
See why even the most severe insomniacs are turning to CBD oil for insomnia. You'll be surprised, I guarantee it.