**The information in this article revolves around the patent-pending product called "sleep" from New Phase Blends. Click here for more information on this product, and how it can help you manage sleep more effectively. CBD can serve as an effective sleep aid, but not by itself. We'll discuss more below:
We now live in a world where sleep-related disorders are on the rise, thus creating a large market for sleep aids and pills. It is quite fascinating to note that about 70 million Americans[1] suffer from sleep-related disorders, thus creating a large market for sleep and relaxation pills. Although sleep is a natural process, which allows our body cells to regroup and focus on dealing with other activities, it is pertinent to note that the inability to fall or stay asleep can lead to several disease conditions including chronic pains, anxiety, and depression, reduced alertness, impaired memory, and many others.
[1] NHLBI (National Heart, Lung, and Blood Institute). National Sleep Disorders Research Plan, 2003. Bethesda, MD: National Institutes of Health; 2003
Information on phytocannabinoids, like CBD, and their effectiveness for sleep.
The ability of CBD to interact with the endocannabinoid receptors without eliciting psychoactive effects have been widely documented by several researchers. The use of CBD oil for sleep is not linked with any harmful side effect, thus making it a choice potential remedy for several conditions including the use discussed here, making an effective sleep aid.
Please note that CBD may undergo negative drug interactions with warfarin, clobazam, theophylline, and aspirin. These drugs depend on the activities of Cytochrome P450 in metabolizing such drugs hence leading to increased dosage. We, however, suggest that you consult your physician on the possible side effects of combining these drugs with CBD and other cannabinoids.
Information from the Anxiety and Depression Association of America has identified the role of anxiety and depression in sleep problems. The presence of stress or anxiety tends to worsen sleep-related disorders.
Sleep disorders can be triggered by a lot of underlying conditions, including anxiety and depression. The onset of these symptoms or conditions may alter the
cognitive response of the body, thus changing our sleep pattern or affect the sleep cycle. When CBD interacts with the ECS receptors, it can play modulatory roles in the body's cognitive response, can promote the body's immunity against diseases, and, most importantly, can also promote the rate of relaxation and sleep cycle.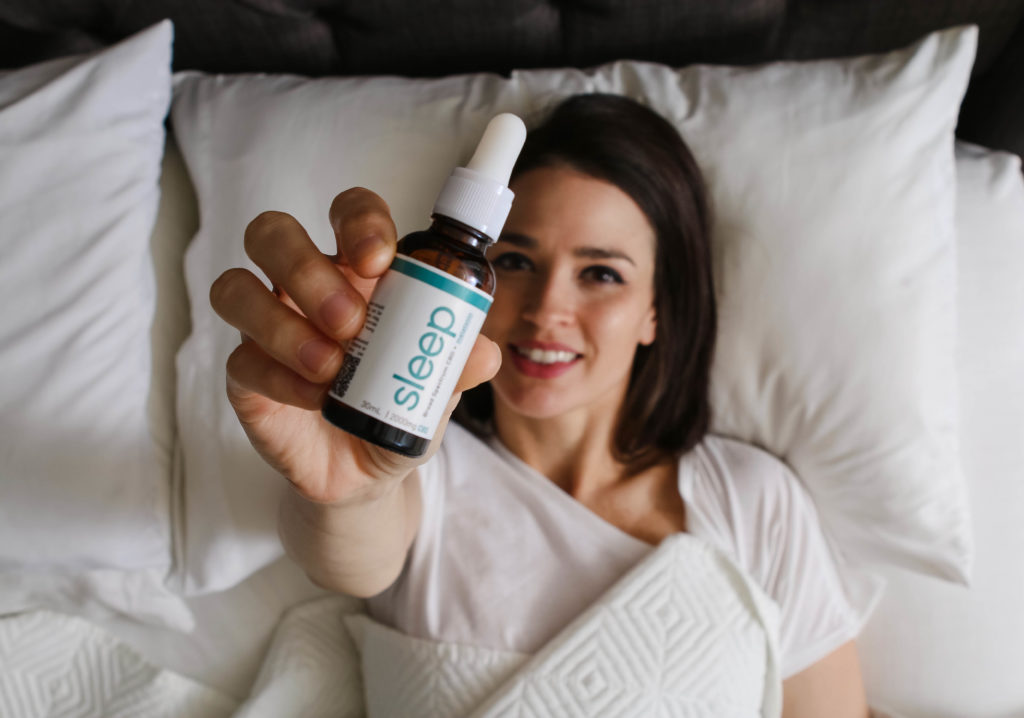 Information from research has shown how CBD can interact with the serotonin and GABA receptors to promote relaxation and focus[1].
In one of the research works aimed at exploring the possible roles of CBD in anxiety and depression, Blessing et al. (2015) documented the anxiolytic activities of CBD on the body. The researchers described CBD as a pharmacologically broad-spectrum drug with a potential application in neuropsychiatric disorders. In their report, they established a fact on how CBD may support the treatment of anxiety-related disorders, panic disorders, social anxiety disorders, obsessive-compulsive disorder, and post-traumatic stress disorder after acute administration of CBD.
There are also pieces of evidence in how CBD can interact with several receptors known to regulate fear and anxiety-related behaviors with emphasis on the CB1 cannabinoid receptor, the serotonin 5-HT receptor and the transient receptor potential (TRP)[2]. These receptors are known to play a direct role in the way CBD reduces the rate of anxiety and depression.
Blessing et al. (2015) discovered that at oral doses ranging from 300 mg to 600 mg, CBD could reduce experimentally induced anxiety in patients, thus supporting the use of CBD as a potential remedy for anxiety-induced conditions like PTSD, and other cognitive behavior. Reducing the rate of anxiety can also bring about improvements in the levels of relaxation and sleep.
What does all this mean? Is CBD effective for sleep or what?
The endocannabinoid system is a biological system consisting of cannabinoids and their receptors. Information from research has shown that the endocannabinoid system is responsible for controlling cognitive responses such as memory, mood, appetite, fertility, pregnancy, pre and postnatal development, and internal balance[1]. Apart from controlling the cognitive responses mentioned above, the ECS serves as the major system mediating the pharmacological effects of cannabis since the phytocannabinoids have a configuration capable of interacting with the ECS receptors.
Cannabinoids are the building blocks of the ECS. They are chemicals secreted by the body (endocannabinoids) or extracted from the cannabis plant (phytocannabinoids) and can interact with the
 ECS to promote internal balance. Cannabinoids are lipid-based compounds functioning as neurotransmitters in the body.
Sleep is therapeutic. It is actively involved in stress reduction, promoting heart health, enhancing mood, lowering blood pressure, improving memory, and boosting the response of the immune system to diseases. This is the reason why we feel relaxed and so refreshed after sleep or resting. The roles of relaxation in boosting wellbeing have been identified to reduce muscle tension and chronic pain, increasing blood flow to major muscles, reducing the activity of stress hormones, maintaining normal blood sugar levels, improving digestion, slowing your breathing rate, lowers the blood pressure and above all, slowing heart rate.
Just like every other function of the body, sleep and relaxation are controlled by the activity of hormones and neurotransmitters. Neurotransmitters like Serotonin and GABA together with hormones with like melatonin (the sleep hormone) have been identified as some of the major players in controlling sleep and relaxation. With the recent introduction of the Farm Bill of 2018, we now have access to more readily available, more natural, and a much safer alternative: phytocannabinoids like CBD.
Is CBD an effective sleep aid? While CBD alone can be somewhat sedative for some, the real synergistic effect comes in when properly mixed with melatonin. New Phase Blends' flagship product is based around this science, and the provisional patent that has been issued dives deep into exactly how this synergy can be orchestrated to receive a maximum benefit for those seeking real, deep sleep.
ENJOY EXCLUSIVE DISCOUNTS ON: CBD FOR SLEEP
References in this article can be viewed by clicking the footnote number after the paraphrase or quotation. Some of these references can be a bit heavy on the science side, but they are definitely worth a read.
Have interest in purchasing any hemp-based or CBD products? Please check out our store by clicking here. If you aren't signed up to receive updates like this and exclusive discounts on our products, please visit our homepage at www.www.newphaseblends.com and subscribe! It's quick and easy.
---
If you find interest in reading about CBD, you should check out the eBook "CBD Essentials", written by CBD expert and CEO of New Phase Blends, Dale Hewett.