When you take CBD oil, the effectiveness is determined by the method of consumption or route of administration, the concentration of the CBD taken, and the level of pain being experienced in the body. It's important to understand how to take CBD oil, so you get the most out of the health benefits CBD oil might offer you.
The method of consumption plays the most important role as far as the bio-availability of CBD is concerned. What is bio-availability? Caner.gov defines bio-availability as the ability of a substance (CBD in this case) to be taken in and processed by the body.
How you take your CBD oil products is directly responsible for the concentration of CBD to be released and available in our bloodstream for interacting with the cannabinoid receptors.
Popular ways that CBD oil, or other CBD items, can be delivered to the bloodstream are: orally, sublingually, vaporized/smoked (inhaled), and topically (on the skin). The choice of method is determined by the nature of your underlying condition and the aim of taking the product.
How to Take CBD Oil?
I am going to review the main ways that people take CBD oil. Keep in mind that this is a guideline, and if something works best for you then you should pursue that method. Everyone is different, and their bodies respond in different ways to CBD oil dosing and methods in using CBD oil.
Let's review the main methods of using CBD oil so you have a better understanding how to take CBD oil for the most effective relief possible.
1. Sublingual CBD Drops (Under the Tongue)
First of all, taking CBD is not hard. The best method of administering CBD oil for most people is via the sublingual route. This method requires placing a few drops of CBD oil under the tongue for about 30 seconds to 90 seconds to allow it diffuse into the bloodstream via the sublingual vein.
These few drops placed under the tongue deliver up to 35% of the CBD oil into your bloodstream with no complications. When used properly, CBD tinctures offer a higher bio-availability, which is safe for all ages regardless of the intending use.
CBD oil tinctures, also known as CBD oil drops, are often administered via a precisely measured 1mL dropper which helps the users draw out an exact amount of CBD.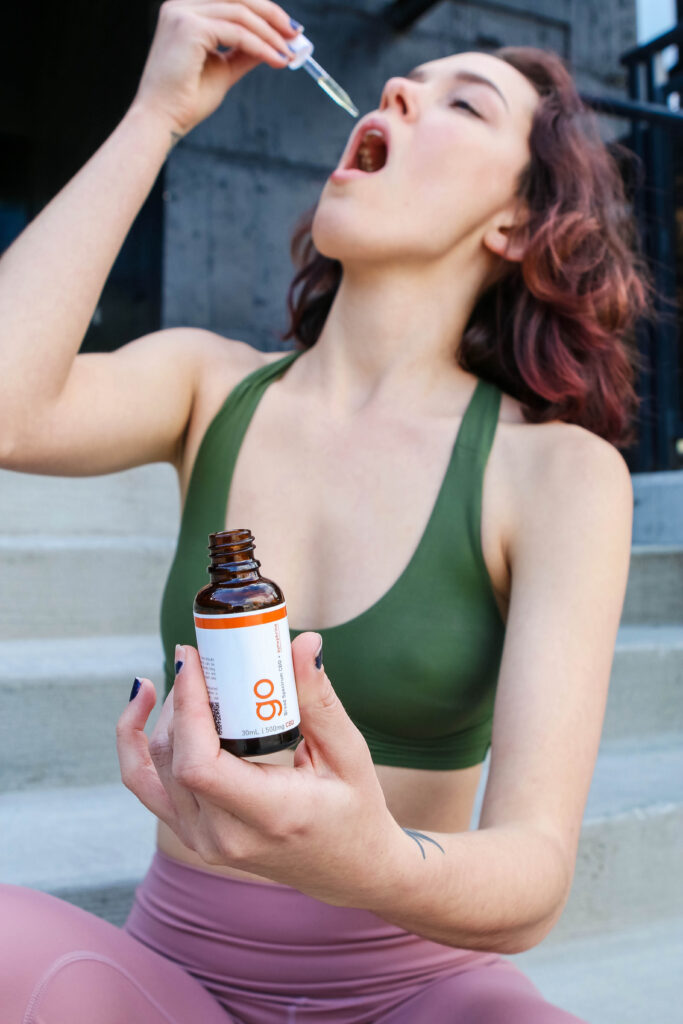 Here's a tip for what to look for when you take CBD oil. Try to find products that use organic MCT oil (coconut oil). MCT oil is filled with healthy fats which your body gets several health benefits from. Here are some of the benefits of coconut oil:
May encourage fat burning
May encourage healthy heart function
May protect your skin, hair, and teeth
Do a google search on the benefits of this wonderful oil – you'll be surprised how great it is for you!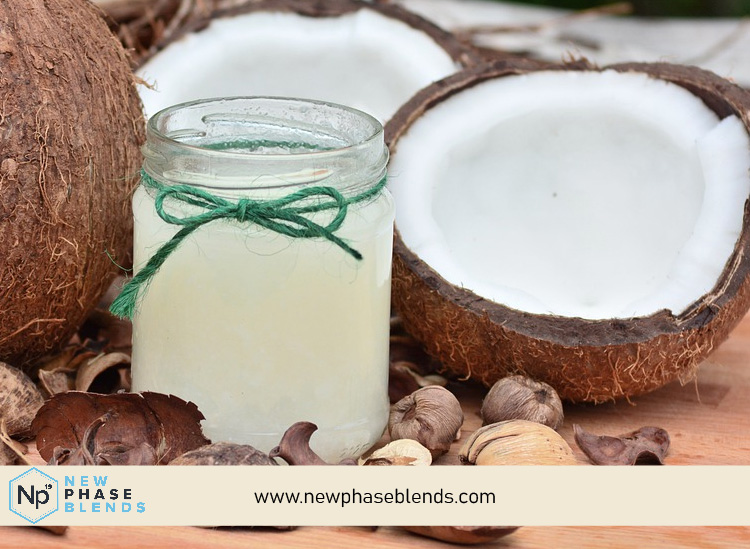 All CBD oil drops by New Phase Blends utilize an organic MCT oil as a carrier oil. We find that it just pairs extremely well with the hemp extract, and people tend to prefer this over some of the other carriers like grapeseed oil, olive oil, and hemp seed oil.
Other Methods for Using CBD
There are some other methods for administering doses of CBD oil. Here are a few others. While they are not technically as effective as the sublingual method, people still get great results.
Remember, you might respond better to one method of using CBD, than you do another. That's fine – stick with what works best for you.
2. Inhalation of CBD / Vaping
The second most active method of consuming CBD is via vaporized administration (vape pens). Although using vape juices can deliver up to 56% of the initial CBD consumed, it may be linked to some complications as not everyone will love to inhale the substance directly into their lungs.
As effective as it may sound, vaping CBD oil produces some unique risks. As of October 2019, more than "1200 cases of mysterious vaping-related illnesses and 26 related deaths" have been reported by the CDC.
Even though only 17% of the sample population consumed CBD oil via vapes, there is a need to be cautious. New Phase Blends chooses not to sell any type of vaping or smoking products. We also think you should look for alternative methods to take CBD oil.
3. Topical CBD (On the Skin)
The second most popular method (next to CBD oil) are CBD topicals. They are popular right now. I mean, very popular. Soothe, by New Phase Blends, is quickly becoming our second most popular CBD product. Topical CBD balm is meant to be applied to the skin around the area that is causing issues.
For example, if someone needs pain relief from sore muscles on their forearm, they would rub the CBD balm all over that specific area.
Our skin can direct the CBD to certain receptors that process cannabinoids, like CBD. These receptors can process cannabinoids, like CBD. They are part of our Endocannabinoid System. This is why CBD topicals should be considered by anyone with localized aches, pains, or inflammation.
CBD balms, lotions, creams, oils, and other similar products are made specifically to be applied to the skin. People who suffer from arthritis, joint pain, skin pain, and muscular pain will benefit the most from topical CBD.
A good practice is to pair a CBD tincture product (also know as CBD drops), with a topical product. The topical product kicks in quickly, exactly for the area of pain you need it to. The CBD drops will kick in shortly after. This is a powerful, two-staged approach to CBD product use.
4. Edible CBD and Beverages
The fourth (and least) effective method of administration is via CBD edibles such as CBD capsule form, CBD gel caps, and beverages. You can't forget CBD gummies, either.
Of all the oral CBD we sell, the CBD gummies are definitely the most popular. Many people prefer the discreetness, and simplicity of CBD gummies. Just take one out, and eat it. That's it. No measuring required. You don't have to figure out how much CBD to take, since one gummy is one serving.
Due to the CBD having to move through the digestive tract, this method can only deliver about 20% of the overall consumed CBD to your bloodstream. Oral consumption of CBD oil depends on enzymatic activation and may lead to waste. When people eat or drink things, they must go through the stomach, liver, and kidneys for processing.
The stomach contains intense acid that breaks down what you consume. Then the liver and kidneys act as a filter to separate the good nutrients from the bad things. Nutrients enter your bloodstream, and everything else goes to through the large/small intestine for further processing.
This entire process normally breaks down a large amount of the nutrients, and causes the bio-availability of a substance to decrease – a lot.
That said, many people prefer oral CBD over some of the other methods we covered. Remember, everyone is different.
Conclusion | Methods for Using Your CBD Oil
There you have. The different delivery methods mentioned above for taking CBD oil are the most popular means for consuming CBD right now. I want to remind you that if one method works best for you, then that method is the best for you. Everyone is different, and our bodies respond differently. To recap, these are the most popular methods to take CBD oil:
Sublingual (recommended as best)
Topical
Smoking/Vaping (not recommended)
Drinking & Edibles
People all across the US are starting to see for themselves some of the potential benefits of CBD oil. Make sure you are using the product correctly, as intended. Start with the lowest effective dose, and work your way up from there.
Always buy from a reputable CBD oil company, too. Make sure you aren't buying things like hemp seed oil, and always look for a scannable QR code.
This code will show you the exact cannabinoid content, so you know for sure you are buying real CBD oil, and not some knock off oil. Whether you are into using a CBD oil tincture, or CBD gummies, you need to make sure you find the right supplier.
If you found this article interesting, be sure to check out some of our other blogs on CBD oil.
References
Cancer.gov: https://www.cancer.gov/publications/dictionaries/cancer-terms/def/bioavailable
CDC: https://www.cdc.gov/tobacco/basic_information/e-cigarettes/severe-lung-disease.html#what-cdc-recommends
Evopure: https://www.evopure.co.uk/cbd-bioavailability/
Journal of Dermatological Sciences: https://www.sciencedirect.com/science/article/abs/pii/S0923181105000289
National Center for Biotechnology Information: https://pubmed.ncbi.nlm.nih.gov/20545522/
Springer: https://www.ncbi.nlm.nih.gov/pmc/articles/PMC3513449/
United States Department of Health: https://www1.health.gov.au/internet/publications/publishing.nsf/Content/drugtreat-pubs-front6-fa-toc~drugtreat-pubs-front6-fa-secb~drugtreat-pubs-front6-fa-secb-5~drugtreat-pubs-front6-fa-secb-5-1
*FDA disclaimer: none of the statements on this webpage have been approved by the Food and Drug Administration. These statements have not been evaluated by the FDA. These products are not intended to diagnose, treat, cure, or prevent any disease. Medical advice should be sought before starting any supplement. If you are pregnant or nursing consult with a doctor. Medical advice should be sought if you have any pre-existing medical conditions. If you take other prescription medications, a doctor's advice should be sought. Site void where prohibited.