If you're wondering how to use CBD oil for pain relief, you're not alone. Does CBD oil help pain? According to studies, 33% of adults in the United States have used CBD products at least once, and 64% of Americans are aware of CBD and/or CBD products. Another report has said that the worldwide CBD oil market is predicted to increase at a compound annual growth rate of 38% between 2020 and 2027.
All of that future growth reflects an industry and its products being embraced by more and more people every day, but why?
Well, using CBD oil for pain management seems to work – and work well. Let's look at items like full spectrum CBD oil and other hemp-derived CBD products, and see how you can possibly use them as part of your chronic pain management routine.
TL;DR – Using CBD revolves around the form of product you use. Balms are applied on the skin, edibles are eaten, oils are put under the tongue, and smokable items are inhaled. Always start with the lowest effective dose, and work your way up.
Does CBD Oil Help With Pain?
Of all the uses that people report using CBD oil for, using CBD oil for pain relief is probably the most widely reported success story.
There are several benefits to using CBD, or cannabidiol, but pain relief is something that CBD oil, or other forms of CBD, excels at.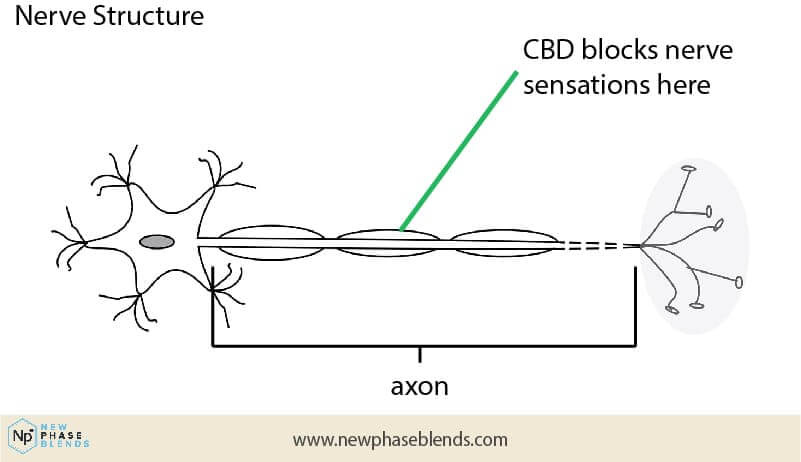 This is mainly due to how CBD can block pain sensations within the nerve. The anti-inflammatory properties of CBD help, too.
How will CBD Oil Make You Feel?
Cannabidiol, more commonly known as CBD, is a compound that has been shown to have many benefits, including the ability to make sensations of pain become dulled. Some people even report that using a CBD product makes them just "feel good" as well.
That's because CBD creates a relaxant effect on the body, making it hard for people to stay anxious or remain stressed out.
Using CBD Oil for pain is a great way for people who want the benefits of CBD in a quick and easy-to-take way. This makes them perfect for individuals who can't use marijuana or don't want to consume it because they do not want the psychoactive side effects associated with THC.
Imagine being able to reap the benefits of medical marijuana, or the cannabis plant, without having to get high? Well, you now can with the help of the best CBD oils.
If you are experiencing chronic pain, or even severe forms of pain, pure CBD might make you feel better by taking off the edge that this type of pain brings with it.
Other than that, you won't really "feel" the effects of taking it. If you try to treat chronic pain with CBD, you're not going to really notice anything different in your mind or body, like some pain medications can make you feel.
You'll simply notice the pain caused by your issues will subside. No, taking CBD will not cure your pain immediately and make you into a new person. Don't fall for this.
Treating chronic pain is not that easy. That said, it has definitely made a big impact on people with complex issues, like multiple sclerosis.
Even the best CBD oil won't do this. Using CBD is just a format of natural health that will help you deal with everyday life better.
CBD Oil Benefits for Pain
CBD oil is a form of the cannabis sativa plant that does not contain more than 0.3% THC, or any intoxicating properties. CBD oil is used in treating pain, arthritis, chronic pain in your joints, inflammation, rheumatic diseases, insomnia, neurological disorders, and more.
The list goes on, really.
The effectiveness of CBD in the treatment of chronic pain was investigated in a study three years ago.
Various forms of pain were investigated in this research, including:
Pain stemming from neuropathic conditions
Pain stemming from cancer
Pain stemming from fibromyalgia
Researchers determined that CBD was beneficial in overall pain treatment and had no dangerous side effects based on these investigations. Keep in mind, though, CBD is much newer than many other medications that have many studies done on them.
For this reason, I keep telling people while the research looks promising, we still need more research.
How Much CBD Oil Should I Take for Pain Relief?
In general, one or two servings of your favorite CBD products should be a good starting point. But, depending on your needs, you may want to consume more or less than that amount. Start with a low dose and increase it slowly over time if you require more relief.
Also, keep in mind that the correct CBD dose is determined by the following factors:
When CBD is consumed, it is discovered to have a bioavailability of between thirteen and nineteen percent. This indicates that ingesting roughly 20mg of CBD will result in about 3mg or less of CBD being absorbed into your system.

The body weight of the person taking it is another factor.

Body chemistry is different for everyone. How you react to CBD will be different for someone else.

The effect and potency desired when taking it.

The problem that is being addressed by the gummies. Is it just insomnia or chronic pain? Or something in between?
These are some general ideas to keep in mind when you take a CBD product. It is critical to understand your product. Look on the packaging of your CBD oil tincture for additional guidelines on use.
Finding CBD Oil for Pain Relief
Related article: Finding the Best CBD Oil
It can be overwhelming for people new to CBD to try to find a product. Before we get into this part, I want to answer something about the legality of CBD.
Is CBD legal in the United States? Yes. Hemp derived CBD oil for pain is federally legal in the U.S. since the hemp plant is legal. The hemp plant makes CBD legal. Marijuana derived CBD products are not legal, though, due to the high amount of THC content. We get asked this question a lot.
Now, the Food and Drug Administration still hasn't approved CBD for use as dietary supplements. This is what confuses a lot of people, I think. Yes, CBD is legal, no, the FDA hasn't endorsed it as dietary supplements – yet. This is the easiest way to think of it.
The fact that it is now legal is a big deal. You no longer have to worry about your state medical marijuana laws, because CBD is no longer classified under the marijuana plant.
1. Hemp source
People should consider buying hemp from brands that obtain hemp sustainably. Several businesses employ hemp farmed in the United States, while others use hemp imported from other nations. This is a major part in making CBD products.
A full spectrum hemp extract, or other form of hemp extract, are required to make the end product – your CBD oils. Making sure this extract is nothing but the best quality means that the final product will be great too.
As long as the hemp is organic, you'll be good to go. A potent CBD oil for pain will contain high amounts of organic extract.
2. CBD Oil with THC for Pain
Using CBD oil with THC for pain is what some prefer to do. Keep in mind, though, hemp products containing less than 0.3 percent THC content are permitted on a federal level. Before purchasing a product, make sure to verify the THC concentration. You can do this by scanning QR codes on the product packaging that look like this:
Full spectrum CBD, broad spectrum CBD, and CBD isolate will all fall under this category, as long as they come from hemp. All spectrums have pain relieving benefits, but most people prefer CBD oil products that are not an isolate.
3. Third Party Lab Reports
When you scan the QR code, make sure it links you to a third party lab report. This report will show you the exact content of things like CBD content, heavy metal screenings, and pesticide content.
Basically, you'll want to make sure there are no heavy metals or pesticides, and that the CBD content is what the product claims it is. Also make sure there is little to no THC in the product (under 0.3% to be exact).

If a product doesn't have a QR CODE, DO NOT BUY IT! You have no clue what you'll be ingesting into your body.
4. Customer Service
With the sheer amount of CBD companies out there, it can be hard to choose the right brand. Buying CBD oil for pain is not cheap. Don't you want to know that should you need help, someone will have your back and take your call?
A great pointer is to look them up, and make sure you can get in touch with someone. If you cannot get in touch with anyone, please, continue looking.
They just want your money, and they don't care about your results. This type of customer service, unfortunately, is common in the CBD industry.
Does CBD Oil Help With Pain in Joints?
CBD oil has been shown to have powerful anti-inflammatory properties which help relieve joint pain, swelling, stiffness, and reduce inflammation in joints and muscles. This is simply one of the ways CBD oils work to reduce pain.
This makes CBD oil an effective alternative treatment for arthritis and other forms of joint pain. In fact, it is my opinion that some of the best arthritis creams use some form of CBD. Joint pain is miserable, and being able to take off the edge can be a game changer for you.
To assist with stiff, achy joints, combine CBD oil with your favorite moisturizer and apply it straight to your skin. It has been shown that transdermal cannabidiol reduces inflammation in the immediate area.
For this reason, CBD balms are a big hit – especially CBD for seniors. You apply the topical CBD straight to your skin, and just wait for the effects to kick in. Some people report they can actually alleviate chronic pain with different CBD oils.
Cancer Pain Treatment Relief
No, CBD cannot, and will not, cure cancer. What it might be able to do, is help alleviate some of the pain related behaviors that goes along with having cancer.
I would like to point out some studies revolving around cancer and cannabinoids like CBD. Many of these use cannabidiol as experimental medicine in pain caused by cancer. That said, more research is still needed.
The National Cancer Institute (NCI) has identified CBD as a possible viable approach for reducing chemotherapy side effects such as:
Discomfort
Lack of appetite
Additional Studies
Eleven years ago, research participants received oral sprays of THC-CBD in a study on cancer-related pain. Opioids were utilized in combination with the THC-CBD extract.
The spray offered more effective pain alleviation than the opioids alone, according to this study.
A similar conclusion was reported in a 2013 research on THC-CBD oral sprays. Many of the same researchers that worked on the previous study contributed to this one and came to the same interpretations about the positives of CBD and pain relief.
In no way, shape, or form, are we telling you that taking nonprescription CBD products will cure, or even make your life significantly better if you have cancer. If you feel you may have cancer, please seek professional medical advice.
Your doctor can provide medical advice which you need, and you will not get from online blogs about CBD.
CBD Oil for Chronic Pain from Fibromyalgia
Although current evidence is currently limited, the developing data suggests that CBD can have a favorable effect on Fibromyalgia.
Fibromyalgia can come along with a form of severe neuropathic pain, which can be crippling for some people. CBD capsules, or the top CBD oils, are likely the best form if you're looking for effective pain relief.
How Does CBD Help Pain?
How does CBD help with pain? Well, for starters, you can thank your endocannabinoid system.
A lot of pain is caused by some form of inflammation. Cannabinoids suppress inflammatory responses from the body, thanks to the endocannabinoid system.
CBD interacts with different CB1 and CB2 cannabinoid receptors that make up this complex bodily system. CBD oil works by stimulating these receptors, which results in different pain related behaviors being dulled out.
Is CBD Oil Good for Pain?
As far as the endocannabinoid system itself is concerned, CBD oil can bring about different responses, based on how much CBD you are using, and when. Other cannabinoids within a full spectrum CBD oil, or broad spectrum CBD oil, may elicit certain responses, too.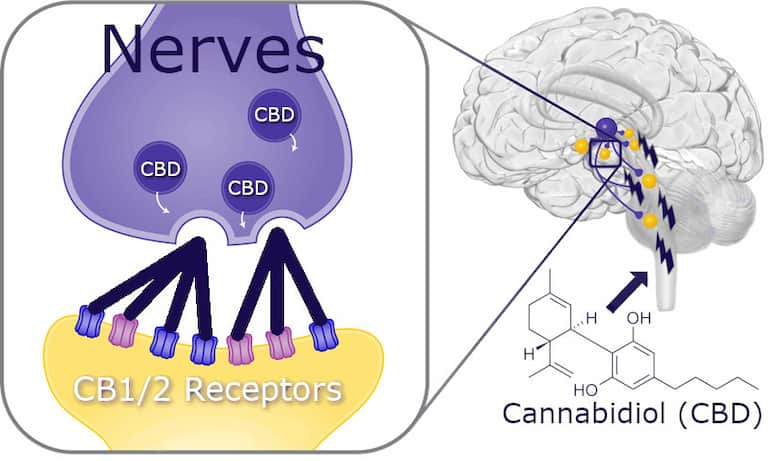 The safety and side effects of CBD are also phenomenal. The world health organization considers CBD very safe for use, and side effects usually come in the form of nausea or headaches when you take too much CBD oil.
That said, certain medications may interact with CBD, like some prescription pain killers.
Night-Time Pains
While CBD has been traditionally known for the qualities above, more recently it has also been gaining popularity because of its use in sleep support. After all, many people who suffer from chronic pain also don't get the best sleep.
This is where using CBD oil for sleep comes into play.
CBD oil is widely used by people who suffer from mild anxiety or insomnia. It aids in promoting relaxation and calming the mind which leads to a good night's rest.
New Phase Blends created a specialized CBD and melatonin combination to help even the most severe insomniacs get sleep.
Trouble Sleeping?
Melatonin is a hormone produced by the human body that regulates your sleep-wake cycle.
Respected CBD oil company New Phase Blends combined melatonin with a high-quality, premium hemp extract to make their product Sleep.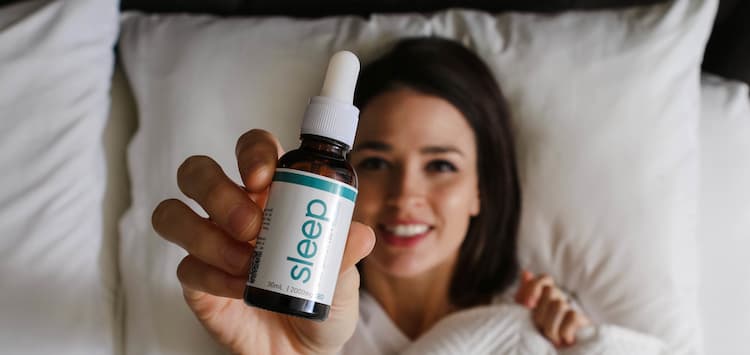 Enjoy 15% off your order of 'sleep' CBD drops by entering coupon code sleep15 at checkout!
Simply squeeze a few drops under your tongue before going to bed to get the great benefits of Sleep. You'll feel tired soon after and will sleep, feeling rejuvenated and energized when you wake up.
The end result is a supplement that combines CBD with melatonin's inherent calming qualities. While the oil is fast-acting, many people prefer CBD gummies for sleep. These gummies are some of the most impressive broad spectrum CBD products on the market.
Enjoy 15% off your order of 'sleep' CBD gummies by entering coupon code gummies15 at checkout!
New Phase Blends' patent-pending CBD and melatonin sleep aid may be precisely what you need if you're having issues laying awake in bed or having difficulties falling asleep due to bad sleep patterns or aches and pains.
What Brand of CBD Oil Should I Use for Pain?
There are a ton of brands out there right now. With the CBD boom of 2018 came a literal boom of companies, all trying to sell you CBD. Sure, options are great, but right now there are just an overwhelming amount of CBD items and organizations.
Stick with New Phase Blends (NPB), a veteran owned and operated organization that specializes in CBD development for things like pain, sleep, and anxiety relief. Let's go over a couple of different products by NPB that are phenomenal.
CBD Oil for Pain
Our top choice is New Phase Blends' Pure premium range of oils and capsules. You can customize the CBD product spectrum, taste, and strength.
1000 mg – 2000 mg CBD strength
30mL (30 day supply @ 1mL per day)
Broad or full spectrum options
Citrus / natural mint flavors
Free shipping
Money back guarantee
When it comes to CBD tinctures for pain, New Phase Blends only uses the finest, organically cultivated hemp. They also provide third-party results as proof that this is the case. Pure CBD oil at it's finest is what you see here.
If you prefer CBD gummies, New Phase Blends also has a range of these, too. CBD-infused gummies can assist with the pain management of several symptoms caused by a variety of health concerns.
According to a research done by the FDA, almost half of the labeling on CBD oils was wrong, and those items were either underdosed or contained no CBD at all. You won't have to worry about this with New Phase Blends – at all. In fact, if you don't like anything you buy, just return it. They offer a 30 day money back guarantee on anything you buy. They only make the best CBD oils – hands down.
CBD Gummies for Pain
Some people prefer taking CBD gummies for pain. Gummies are a simple and effective way to get cannabidiol into your system. While they might not work as quickly as the CBD drops, they still give great results.
The same pure product line we talked about above comes in the form of CBD gummies, too.
Full Spectrum CBD
30 gummies per bottle
45 mg of CBD per gummy / 1350 mg per bottle
Fruit fusion flavor
Free shipping
Money back guarantee
These are becoming a national hit, slowly but surely. It is hard to find a high-quality CBD gummy that isn't filled with strange chemicals and sugars. At a whopping 45 mg of full spectrum CBD per gummy, these are some of the strongest CBD gummies you'll ever find.
CBD Oil Pills for Pain
Try these CBD oil pills for pain. They are part of our 'pure' product line.
Broad spectrum CBD
60 CBD oil pills for pain per bottle
40mg CBD per pill

Vegan certified

Free shipping
Money back guarantee
These vegan certified, softgel capsules come with a whopping 40mg of CBD per pill. Most other companies require two CBD oil pills for pain to achieve this strength. Not us.
How to Take CBD Oil Drops Under the Tongue
Related read: How Many Drops of CBD Oil Should I Take?
Taking CBD oil for pain management is very, very easy. CBD oils are commonly administered via squeezing drops of it under the tongue, which is known as sublingual administration. This works because membranes, both under the tongue and on the inside of your cheeks, are able to absorb the CBD and get it into your bloodstream quickly.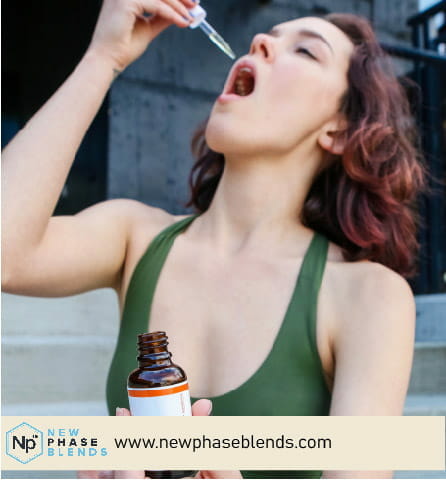 These membranes are densely packed with blood vessels, which transport blood to and from the heart through veins, capillaries, and arteries. Ever heard of the sublingual vein? This vein sits under your tongue.
The reason that sublingual CBD can get distributed so quickly, is because of this vein. It bypasses the digestive tract, and results in a higher bio-availability of the CBD. This simply means more CBD oil for pain can get into your bloodstream than by swallowing it.
When you take CBD oil this way, your pain relief comes even quicker. Read more below on swallowing CBD oil drops.
As a result, everything that can be absorbed by these membranes can enter the circulation directly as long as they are there long enough to be absorbed. Keep the following in mind:
When you take CBD oil drops under the tongue, you need to make sure that you are not swallowing them. If they are swallowed, some of the CBD oil will pass through your digestive system and some will remain in your mouth.

If using a dropper, place one drop on your tongue and hold for 30 – 60 seconds, but – again – make sure not to swallow
All in all, if you need a fast and effective way to get the CBD into your body, you should stick with a CBD tincture (also known as CBD drops). Most tinctures will come with a 1mL dropper that makes measuring the oil simple.
Do you Swallow CBD Oil?
As mentioned previously, you CAN swallow CBD oils, but you should definitely take it under the tongue for faster, and better, results.
Swallowing CBD oil for pain relief will still work, but it takes longer to kick-in. Most people suffering from things like arthritis pain, or neuropathic pain, want pain management to work as possible, for as long as possible. This is why we recommend the oil under the tongue method.
That said, if you prefer to swallow CBD products, it is perfectly fine. It will just take a little longer to work.
I would recommend things like CBD capsules, CBD gummies, or other CBD edibles for those who like to eat their natural CBD oils.
CBD Oil and Pain: Dosing Guide
There is no such thing as a "proper" CBD oil dosage. A serving size to help with inflammatory and neuropathic pain may be 32mg for some people, and 16mg for others. It depends on your needs, the condition you're needing pain relief from, and your body type.
As a general rule of thumb, stick to around .25mg of CBD per pound of bodyweight, per serving. For example, if I weigh 160 pounds, I would try starting out with 40mg of CBD, and go from there.
You can use this CBD dose calculator to help get started with figuring out your dose for pain:
Can You Take Too Much CBD Oil When Treating Pain?
Related article: Can You Take Too Much CBD Oil?
While it is possible to overdose on CBD, it is highly unlikely. Some studies show that it takes roughly 12,000mg of CBD to overdose. This is a TON OF CBD.
Always start with the lowest dose that you can get pain management from, and work your way up from there.
Calculating the correct quantity of CBD per milliliter of oil can sometimes be the difficult part. The good news is that – once you know what dose you need, most high-quality CBD brands will give you a 1 mL dropper for accurate dosing.
Are There Side Effects of CBD?
To be technical, yes, there can be side effects from CBD use. Keep in mind though, most of these side effects are reported after taking too much CBD. Studies that review these side effects mention doses between 10,000mg and 20,000mg!
That is a LOT of CBD. A lot!
Some of the reported side effects of CBD include: nausea, headaches, and lethargy. If you experience any of these, you should stop using the CBD and speak with your doctor. They can recommend a different dose, or address other things that may be causing the side effects.
Summary: Does CBD Oil Work for Pain?
As we've shown above, CBD oil for pain has many advantages for many ailments. While this article is revolved largely around pain management, people use it for things like anxiety disorders, sleep disorders, and even post traumatic stress disorder.
A lot of people are turning to CBD oil for its many health benefits. Some of the most common uses for CBD oil in different types of pain are:
chronic pain relief
insomnia caused by pain
nerve pain
muscle spasms

If you are desperately looking for pain relieving effects that hemp derived CBD products might offer you, please, give it a try. New Phase Blends offers a 30 day money back guarantee when you buy CBD oil online, through them. You have nothing to lose. If you end up being like the thousands of others who experienced relief from our CBD oils, you'll thank yourself for trying it.
The increasing amount of studies show CBD oil is not just here to stay – it's helping 1 in every 7 Americans get through their day a little easier.
Want to learn more? Visit the best CBD blog on the internet, and find the topics that suit you best. We know there are many CBD oil companies out there, and we appreciate your time spent here.
References
Cancer.gov: https://www.cancer.gov/
Cannabis and Cannabidiol (CBD) for the Treatment of Fibromyalgia: https://pubmed.ncbi.nlm.nih.gov/
Food and Drug Administration: https://www.fda.gov/
Journal of Pain and Symptom Managementhttps://www.jpsmjournal.com/
Singlecare: https://www.singlecare.com/blog/news/cbd-statistics/
USA Today: https://eu.usatoday.com/