How does CBD help people? This is a great question, and one that can be answered in a short, non-scientific manner. As much as I love digging into the science behind hemp-based products, like CBD oil, sometimes it isn't necessary to get the point across. Let's take time to review how CBD might help you, and how to use it.
*Please note that unless otherwise stated, all the benefits listed above are based on scientific research and not official statements by the FDA. It is very important to stay in line with the (lack of) FDA regulations when it comes to CBD oil and other hemp-based items.
Understanding the Cannabis Plant
The cannabis plant has a long history of providing therapeutic benefits to it's consumers. Most of us equate marijuana to cannabis. While this is accurate, hemp also falls under the cannabis family.
The main difference between hemp and marijuana, is the THC content. Hemp contains almost no THC (according to law, hemp must contain less than 0.3% THC content) while marijuana can contain a lot.
For this reason, hemp is non-psychoactive while marijuana is very psycho-active. This is because THC has a strong binding affinity for CB receptors, and CBD does not.
You do not need a medical cannabis license in order to use CBD. You definitely need one to use marijuana, and marijuana based products, though.
Information gathered from preliminary research shows us that CBD was used for things like wound healing, menstrual irregularities, and tapeworm infection in Ancient Chinese and Roman medicine.
We've discovered even more ways for how to use CBD oil today, and we'll go over them a bit later on.
Modern Day Cannabis Use
These days, the use of the cannabis plant is beginning to shift from THC, or tetrahydrocannabinol, use to CBD (and other cannabinoids) use. A cannabinoid is just a fancy word that means 'plant chemical.'
Humans most likely always knew about marijuana and it's psychoactive properties, but THC use has skyrocketed over the last 100 years, or so.
THC is the primary compounds responsible for giving users the feeling of being 'high.' It does a fantastic job and helping mitigate chronic pain, and also plays a significant role in sedating people.
We now know the cannabis plant has so much more to offer other than simply 'getting high.' Imagine being able to reap all of the well-documented health benefits from cannabis, without having to get high? Well, it's now possible through CBD use.
How does CBD help people, then? You'll have to keep reading to find out.
Cannabidiol (CBD): The New, Big Cannabinoid
CBD oil has been identified to potentially possess antioxidant, antimicrobial, antidepressant, anti-tumor, anticancer, anti seizure, anti-inflammatory, analgesic, and anxiolytic properties.
The only reason I say potentially, is because of the lack of additional research from clinical trials to confirm the preliminary research (when compared to other drug research).
Related article: Broad Spectrum vs Full Spectrum CBD
The preliminary research being done with CBD is showing promising results. These identifications can be found in the growing amount of peer-reviewed scientific articles on cannabis research.
As a bonus, the World Health Organization reports that CBD is generally safe to use, too.
FUN FACT: as humans, we actually have TWO receptors that can process cannabinoids, like CBD. These are known as the CB1 and CB2 receptors. They are located all over our body, and CBD oil does a great job at targeting these receptors. The health benefits of CBD are nothing short of incredible.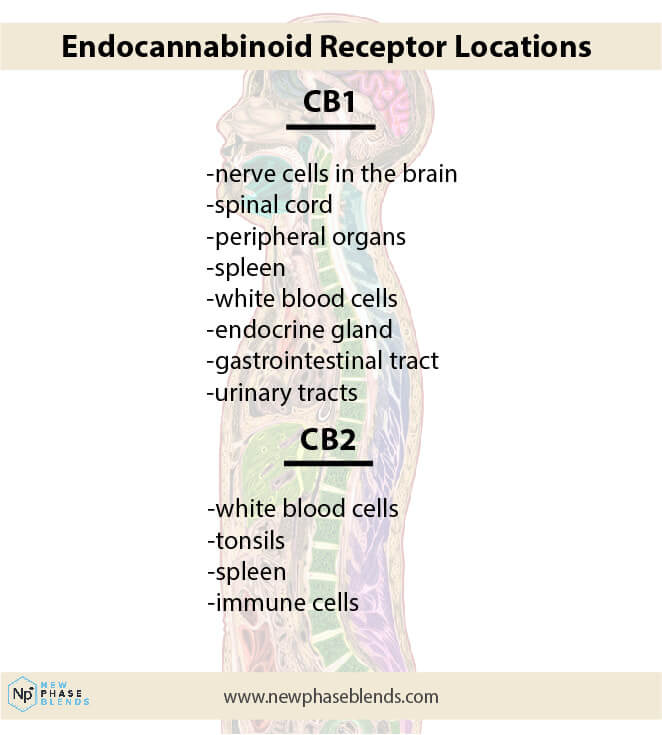 As you can see, these receptors are responsible for different forms of health benefits. For example, the anti inflammatory properties of CBD oil come from triggering these receptors.
How to use CBD effectively depends on which receptors you want to target, among other things.
Continue reading below to see how CBD oil helps people…
How Does CBD Oil Help People?
I am now going to answer several of the different manners in which CBD can help people. The answers will be somewhat short, but still informative.
Should you feel the need to dig deeper into each section, New Phase Blends hosts several articles on each of these areas.
If you use the search feature when visiting the New Phase Blends' Best CBD Blog, you can search for whatever subject you want to learn more about.
How Does CBD Help People With Relieving Chronic Pain?
CBD oil and pain relief are basically inseparable. This is one of the main health benefits it can offer us. It's ability to interact with the cannabinoid receptors to control pain responses can come in quite handy for assisting with pain relief.
Related article: Is CBD Addictive?
It can block the establishment of chronic pain in the body cells and tissues. CBD acts as a very effective anti-inflammatory. When most people think of CBD oil and how CBD can help people, they normally think about the pain relief properties.
Reportedly, the pain experienced through our nerves can be dulled from CBD use, too.
Addressing inflammatory and neuropathic pain is a big deal. Neuropathic pain can be a real, real problem to deal with. When your nerves ache in severe pain, well, there are few things more dreadful than this condition.
If CBD oil can be used to treat pain like this, I think it will find a host of new users very soon.
Promoting a Healthy Diet & Lifestyle
The endocannabinoid system plays an important role in appetite control. When CBD interacts with the cannabinoid receptors, it can help to promote healthy bowel movements, trigger weight loss, and aid in the digestion of food.
Several researchers have reported the role of CBD oil in aiding in hormonal homeostasis. We all know that fluctuating hormones can lead to things like acne, and excessive weight gain.
Related article: Effective Acne Treatment for Teens
According to Kirkham and Tucci (2006), "Specific insights into the potential role of endocannabinoid-CB1 receptor systems in central appetite control, peripheral metabolism and body weight regulation herald the clinical application of CB1 receptor antagonists in the management of obesity and its associated disorders."
How Does CBD Help People with Anxiety and Depression?
CBD oil can trigger the release of "feel-good hormones", which help keep the body calm and relaxed.
Some research studies have also discovered it's role in boosting the production of brain cells for better coordination and response. Perhaps the second most common aid that people think CBD brings is that of a sedative nature.
Related article: Can You Take Too Much CBD?
It helps people relax and settle down, which can come is very useful for those who have hyper-active minds, or suffer from high anxiety.
Post Traumatic Stress Disorder
Post traumatic stress disorder, or PTSD, is often associated with severe anxiety and stress. While the studies are somewhat lacking in this area, using CBD for PTSD is a popular thing for many people. They report that it does wonders for their symptoms.
Seizure Management
CBD is an approved, pharmaceutical treatment for seizures associated with chronic forms of epilepsy. Epidiolex is one example of an FDA approved drug containing CBD isolate as it's main ingredient.
This approach in CBD treatment has been used over the years to assist people in managing epileptic episodes.
Improved Memory and Mental Health
The benefits of CBD oil can potentially elicit antioxidant and neuroprotective activities, which can boost mental health, improve cognitive ability, and reduce the occurrence of diseases like dementia, Alzheimer's, and other neurodegenerative disorders/diseases.
As a neuroprotectant, CBD oil can reverse the neurodegenerative effects of diseases like Huntington's, Parkinson's, and Alzheimer's diseases, which are all most prevalent amongst seniors.
Related article: CBD for Focus and Energy?!
CBD can interact with the Endocannabinoid System to boost nerve health and proper functioning of the brain and can also neutralize the harmful effects of free radicals, thereby keeping the nerve and myelin sheath free from deterioration.
How Does CBD Help People Sleep?
CBD can act as a sedative in higher doses. Depending on the time of administration or dosage, it can serve to aid in promoting a good night's rest.
Keep in mind that CBD by itself, is not the best approach for sleep.
If you have mild symptoms of insomnia, it may help a little just because of it's relaxing nature. CBD oil seems to be getting promotion in the area of it's ability to help people sleep.
This is not entirely true, as the health benefits of CBD oil by itself doesn't support people in staying asleep which is what most moderate to severe insomniacs require.
New Phase Blends' flagship product, 'sleep', is based off of the sedative nature of phytocannabinoids, like CBD. It makes it a lot more effective by blending it with CBN, CBG, CBC, and melatonin.
All of these cannabinoids, in the perfect mixture, result in a powerful sleep aid.
Let's move on to discussing how to use CBD for relief.
How to Use CBD
The first thing you need to address before answering how to use CBD, is why you are using it to begin with. This will help answer how to use CBD in a more effective way.
There are tons of different CBD products out there, and different ones help accomplish different forms of relief. For example, some people prefer to use a CBD gummy for pain relief, while other prefer to place some drops of CBD under their tongue. The end results are going to be similar, although the products are different forms of CBD.
Let me explain.
How to Use CBD on the Skin
CBD topicals like balms, salves, and lotions have become extremely popular over the last few years. The are fantastic at helping relief pain, locally.
For example, if you have muscle aches, joint pains, or other isolated areas that ache, a topical CBD balm is going to be your best bet for real relief.
People normally start with roughly a dime sized amount of CBD balm, and rub it on the skin of the affected area. If you remember from reading earlier, we have CB receptors in our skin.
Related article: How Does Topical CBD Work?
Our skin will absorb the CBD and put it to use quickly. Most people report feeling relief within literally minutes.
These receptors will help offer relief in that specific area, as opposed to an oral CBD item that will help dull pain throughout the entire body.
Finally, many people like to take an oral product with a CBD balm. This is probably the most effective way to train more severe aches and pains.
By introducing the CBD into your digestive tract, you are getting CBD into the bloodstream. Coupled with the skin absorbing the CBD, well, you're essentially using a two-staged approach to pain management. Remember, how to use CBD all depends on the relief you're looking to get.
How Long Does CBD Stay in Your System?
CBD can stay in your system for a surprisingly long time. While CBD will begin to break down after roughly 8 hours of taking it, trace amounts can remain in your body for several weeks.
A lot goes into how long these trace amounts remain, like your metabolism, age, body composition, and general health.
How to Use Oral CBD Products
How to use oral CBD products also depends on what exactly you are looking to get, as far as relief is concerned. There are gummies, drops, CBD softgels, and a ton of other types of CBD.
It really doesn't matter what form you prefer, what matters it the amount of CBD you will be taking. Many people prefer a 1,000mg 30mL tincture of CBD drops. This provides around 33mg of CBD per 1mL serving. This serving is typical for most people new to CBD.
Let's use overwhelming anxiety as an example of the type of relief you want.
You'll want to both remove the feeling of anxiety, and then prevent them from occurring again. Start by taking 1mL of something like 'pure' by New Phase Blends. See the picture below for clarity on what this product is, and what it looks like.
Begin by drawing out 1mL of the CBD drops from the tincture. Most CBD drops come with a marked dropper that shows you exactly how much you are pulling out.
Place the drops under your tongue so the sublingual vein can distribute the CBD into your blood stream quickly.
You should feel relief soon, within 10 20 minutes. While the drops do not work as fast as the topical CBD balms do, it does offer a greater area of pain or anxiety relief.
Consider using more CBD drops throughout the day to help keep relaxed and anxiety free. Most of this is going to be user dependent, but people report taking CBD drops or gummies every 4-5 hours to help keep things at bay.
This example of how to use CBD for anxiety relief can be applied to other scenarios, like pain too. Take the CBD drops to help relieve the pain, then continue to take it throughout the day to help keep the pain at bay.
Related article: How Should I Take My CBD?
Conclusion | How Does CBD Help People?
CBD has many therapeutic potentials that can serve to assist with people in one way or another. Although some of these benefits are yet to be verified by the FDA and other regulatory bodies, it is clear that CBD has a great future and lots of benefits to offer.
New Phase Blends' mission is to aid others by offering them effective CBD products that help people manage the aches and pains of life. We recognize the power in this natural compound, and hope you consider trying it if you need real relief, without the harsh side effects of pharmaceuticals.
Also, unlike over-the-counter or prescription drugs, no current research shows that CBD produces side effects on users. To recap, here are a few of the ways in which CBD may be able to help you…
Pain relief
Anti-inflammatory
Calming agent
Seizure management
Mental health issues
This was a lengthy article, but I trust you now better understand both how to use CBD, and the many different ways CBD can benefit you.
References
Brain and Behavior: https://www.ncbi.nlm.nih.gov/pmc/articles/PMC6043707/
Brazilian Journal of Psychiatry: https://www.scielo.br/scielo.php?script=sci_arttext&pid=S1516-44462006000200015
Dove Medical Press: https://www.ncbi.nlm.nih.gov/pmc/articles/PMC2503660/
Food and Drug Administration: https://www.fda.gov/news-events/public-health-focus/fda-regulation-cannabis-and-cannabis-derived-products-including-cannabidiol-cbd
Forbes: https://www.forbes.com/sites/abbierosner/2019/07/09/cannabis-based-medicine-a-breakthrough-for-healing-intractable-chronic-wounds/?sh=640999d19387
Harvard: https://www.health.harvard.edu/blog/cannabidiol-cbd-what-we-know-and-what-we-dont-2018082414476
HHS Journal: https://www.ncbi.nlm.nih.gov/pmc/articles/PMC5970012/
History Channel: https://www.history.com/topics/crime/history-of-marijuana
Journal of Pharmacy and Therapeutics: https://www.ncbi.nlm.nih.gov/pmc/articles/PMC5312634/
National Institute of Drug Abuse: https://www.drugabuse.gov/publications/drugfacts/marijuana
National Library of Medicine: https://pubmed.ncbi.nlm.nih.gov/16787229/
Rambam Medical Journal: https://www.ncbi.nlm.nih.gov/pmc/articles/PMC3820295/
The Health Effects of Cannabis and Cannabinoids: https://www.ncbi.nlm.nih.gov/books/NBK425767/
The Permenente Journal: https://www.ncbi.nlm.nih.gov/pmc/articles/PMC6326553/