The popularity of CBD products seems to show no signs of slowing down. Since there are a ton of options to choose from, new CBD users might become overwhelmed. They may be wondering which product to try but have no idea where to start. New Phase Blends line of hemp gummies (or CBD edibles) is the best place to begin your CBD journey.
Our hemp and CBD edibles not only taste amazing, but they're also third-party lab tested. This means you'll be getting a pre-dosed, highest-quality product that will give you enjoyment with each chew!
A pre-dosed gummy means there's no guessing how many gummies per day to take, measuring of oil, or having to swallow a capsule just chew and enjoy!
If you want to learn more about the world of hemp and CBD edibles, let's take a closer look at gummies. From the key differences of CBD gummies and hemp gummies, to potential health benefits, and more!
We'll explore the CBD craze called "gummies".
What are the Benefits of Hemp Gummies?
Both CBD oil and hemp oil have potential health benefits. Hemp gummies, hemp extract gummies, and CBD gummies are all the same. Aside from being a tasty way to get CBD, there are added nutritional benefits to consuming them.
Classified as a food product, a hemp edible provides the body with specific nutrients and cannabinoids. Inside each tasty gummy edibles are things like antioxidants, omega-3 and omega-6 fatty acids, and even vitamin D and B. This is the reason that hemp oil can be found in almost every store that sells health products.
The numerous health benefits of hemp gummies include:
Cardiovascular health Hemp edibles contain hemp seed oil, which is loaded with vitamins and minerals, and fatty acids. The high levels of omega-3 fatty acids work wonders for the health of the cardiovascular system.

Healthier Skin Hemp seed oil contains Omega-6s and Omega-3s. Research shows that these are great at giving your skin a better look and overall function.

Improved Brain Function Omega-6s and Omega-3s do more than just improve the skin; they are great for brain function. Adding these nutrients to your diet may help a person if they are suffering from brain fog. The addition of Omega-3 and Omega-6 per gummy may even help a person think more clearly.
Want to learn more about CBD edibles? Are you looking for a list of the top gummy bears available today? Keep reading our guide to learn the ins and outs of CBD gummies along with top brand recommendations.
As always, read labels of the new food products you are about to eat or speak to a healthcare professional before taking any new product.
What are the Benefits of CBD Gummies
Related: Make Your Own CBD Gummies
Like a hemp gummy, a New Phase Blends CBD gummy also has numerous health benefits. With great tasting flavors such as cherry mango, strawberry lemonade, citrus punch, and limoncello, these edibles may be an excellent option for different effects.
These effects include reducing stress, keeping a person calm, and possibly relieving a person of aches and pains and may even help reduce inflammation.
Made with all-natural ingredients, you can make GBD gummies a daily routine.
Loaded with flavor, these easy-to-digest gummies have a lab-tested report that lists the ingredients and the dosage, ensuring you get the right amount of CBD per gummy and how many gummies per day is recommended.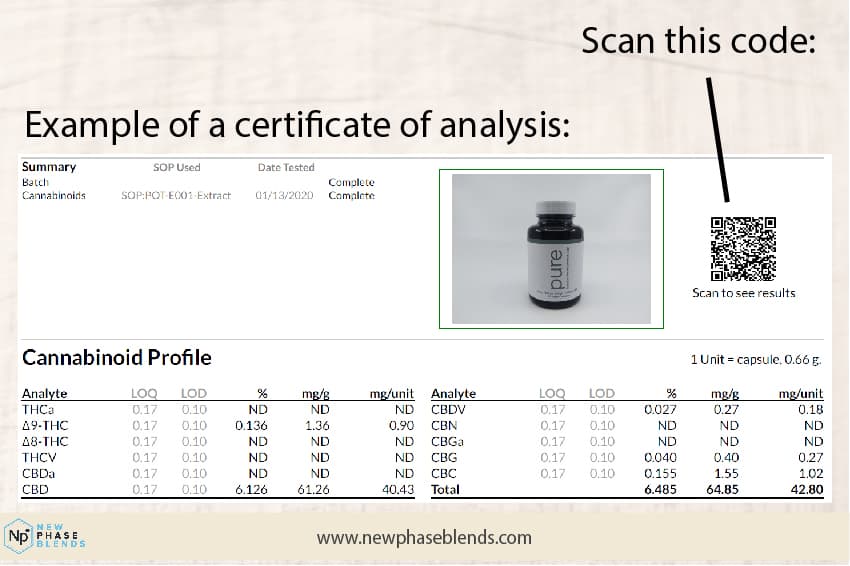 Great taste aside, here are some of the main reasons CBD gummies are a popular choice:
Keep calm and carry on A calm blend CBD oil or gummy bear may be a great way to reduce stress and anxiety when a person really needs it. If you have to speak in public or take a long journey, CBD oil products may keep you calm and relaxed.

Sleep tight Want a good night's sleep? You might be a chronic insomniac, or maybe you wake after only a few hours and can't get back to sleep. Whatever the reason for a poor night's sleep, CBD products (like a CBD sleep gummy) may stop your mind from racing so you can fall asleep more easily. Studies show that taking a CBD gummy 30 minutes before bed may help you get that good night's sleep you've been waiting for.

Anti-inflammatory properties Pushing yourself during a workout can tear the muscle fibers, followed by soreness as the immune system comes to the rescue of those torn fibers. Arthritis bothering you? Many believe that CBD may provide you with pain relief.

Keeps your energy levels constant CBD products can have a calming effect, and many people have associated it with a sense of drowsiness. However, this is not exactly the case. A low dose of our CBD gummies may help stabilize a person's moods, giving them a boost in energy overall.
Are Hemp Gummies the Same as CBD Gummies?
Hemp gummies are divided into two versions: Hemp seed oil gummies and CBD gummies. Both have similar properties, but differ in key ways. Let's look at the differences between these hemp varieties.
Hemp Seed Oil Gummies
The main ingredient of hemp seed gummies is, of course, hemp seed oil. Hemp seed oil is extracted from hemp seeds. One of the main differences between hemp seed oil gummies and CBD gummies is that the hemp seed version is much lower in price, and for good reason.
Hemp seed oil gummies have no CBD in them.
They are made from the hemp seed extract of the hemp plant

They do not contain any cannabinoids

Some CBD companies mislabel these gummies as hemp-derived CBD products
Always check the labeling of the gummies you are about to purchase. Look for things like that it's third-party lab tested, and make sure you are buying a CBD product that contains healthier ingredients such as natural colors, is gluten-free, GMO-free, and made from USA-grown hemp.
Hemp seed gummies are still a great source of healthy fats, but do not take them thinking that you will be receiving the benefits of CBD, because you won't.
Hemp-Derived CBD Gummies
Hemp-derived gummies are more commonly known as CBD gummies. CBD gummies contain many different cannabinoids, and may be attributed to certain health benefits, such as reducing inflammation and pain relief.
Aside from cannabinoids and terpenes used in the composition of the CBD oil used in the gummies, some of the main factors that make a CBD gummy are:
The gummy is legally derived from hemp

Is third-party lab-tested

Has added possible health benefits

Non-psychoactive levels of THC (less than 0.3%)
Both CBD products have merit since they originate from hemp plants, but the difference lies in their health benefits. One way to distinguish the two is through their name. Hemp gummies are made from the leaves, stalks, and flowers of the hemp plant.
Hemp seed gummies are only made from the seeds.
Hemp seeds have health benefits tied to fatty oils such as olive and coconut oil. They are good for the brain, hair, and skin. CBD gummies, on the other hand, contain cannabinoids that help a person relax, deal with pain, reduce anxiety, and manage inflammation.
Versions of Gummies
There are many factors to consider when deciding to buy hemp gummies. How much CBD per gummy is there? Are they broad-spectrum CBD or full-spectrum? The extraction method is also important, in addition to what beneficial compounds can be found in each gummy version.
New Phase Blends products are made with organic cane sugar and organic hemp oil extract. We never use high fructose corn syrup or artificial sweeteners, or artificial ingredients. Our gummies are never sugar-coated. Knowing more about the gummy you are about to purchase is extremely important.
Here is some language that you may see from time to time when you start looking at CBD products such as hemp seeds, hemp seed oil, vapes, and of course, gummies.
Full-Spectrum CBD Extract
Full-spectrum CBD gummies contain flavonoids and terpenes but also contain minor cannabinoids, including CBG and CBN. The THC content of full spectrum products can near 0.3%, too. When the compounds of a cannabis plant are all present, studies show they may work better.
This is commonly referred to as the "entourage effect."
Regardless of which spectrum you choose, there will not me enough THC to get you high. Since hemp, legally, must contain less than 0.3% THC, this means you cannot (and will not) get high. There is simply not enough THC in hemp-derived products to get a person high.
Broad-Spectrum CBD Extract
Full-spectrum and broad-spectrum both contain the same compounds from the hemp plant, but the main difference is that broad-spectrum CBD contains near 0.0% THC. Although the THC content in the full-spectrum is small and both give off the same effects, some people wish to avoid THC altogether.
CBD Isolate
CBD isolate means that the CBD has been isolated from all of the other compounds of the hemp plant. This includes isolating any flavonoids and terpenes.
Since this version has no other cannabinoids or plant chemicals, hemp and CBD gummies that use CBD Isolate may not be a person's first choice.
However, choosing either spectrum all comes down to personal preference.
We Take Care of Your Gummy Needs
New Phase Blends put all of our CBD and hemp products to the test literally!
We third-party lab test all of our products, even our gummies, to ensure you receive the best possible gummy for your needs. So, if you're looking for a good night's sleep, want to take the edge off of a stressful situation, or want to find relief from nagging pain, our gummies are designed to do the trick!

Getting that good feeling is just a click away. Our product page has more information about our gummies.
Here at new Phase Blends, we understand the importance of maintaining a healthy body and mind. Our CBD and hemp edibles, oils, and vapes are made with your approach to wellness in mind. Talk to your health care professional today about supplementing with CBD, and visit our articles pages for tons of reference material on CBD and hemp products.
The Right Choice
New Phase Blends has the perfect amount of gummies per package, gummies per serving, and of course, CBD per gummy. Flavor, nutrition, and healthy ingredients are at the top of our list when it comes to production.
With so many CBD and hemp products available, knowing which ones are the best for you can be confusing. We'll help take the guesswork out of your gummy purchasing. We deliver the purest quality CBD and hemp gummies on the market.