There are many misconceptions about CBD oil and its use to your benefit and the wealth of your well-being. The first step of any journey should start with knowledge and understanding. Getting to know what CBD oil is (and how it can benefit you) will help you understand what you should look for when searching for the best CBD oil.
Choosing the correct type of CBD can be tricky, at first (especially if you are new to CBD). Here is everything you need to be able to make the right choice so you can start your journey to finding relief.
Finding The Best CBD Oil: Start Here
When starting your journey to better health, it is essential to know what problems you are treating, or would like to treat. It is a great idea to make a list of the issues you are hoping to treat if you have several.
This method will help you pick the right CBD oil product for your lifestyle and the problems that need to be treated.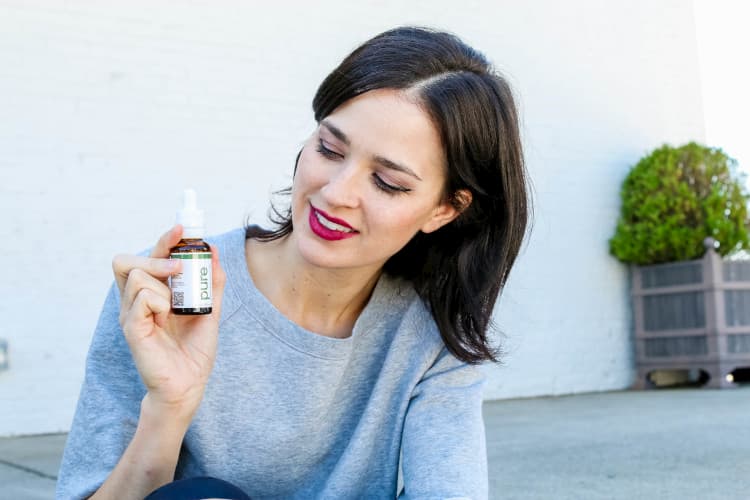 Now that we have this figured out, let's move into an overview of where to purchase premium CBD oils, why they work so dang well, and where to buy New Phase Blends products. After all, thousands of people have used them to find relief so there must be a reason people keep choosing us over all of the other brands.
New Phase Blends' CBD Oils
Luckily for you, New Phase Blends is more than your average CBD oil brand. We offer our customers a unique experience when it comes to taking charge of their health. It's a chance to get better CBD oil than what you might have experienced from other CBD oil brands that claim to have outstanding CBD products.
When people buy CBD oil from New Phase Blends, they are making a commitment to truly finding relief.
While the CBD market is saturated, it is crucial to remember that there are CBD oil products that target several problems and specifically created CBD products that target particular issues. New Phase Blends offers a range of organic CBD oil-based products that can benefit your health daily.
All of our CBD comes from the hemp plant, and are considered hemp-derived CBD. This means that all of the CBD products we carry are legal.
For those that don't know, hemp and marijuana both make up the cannabis plant family.
While CBD is also found in marijuana, so is THC (and in large amounts). Marijuana-derived CBD will get you very high, and is also very controlled in the US. We stay away from THC and marijuana.
Best CBD Oils: The Basics
At New Phase Blends, we're not in the business of selling hundreds of oil blends. Instead, we have a very select range of dedicated blends that can treat many ailments that directly affect you.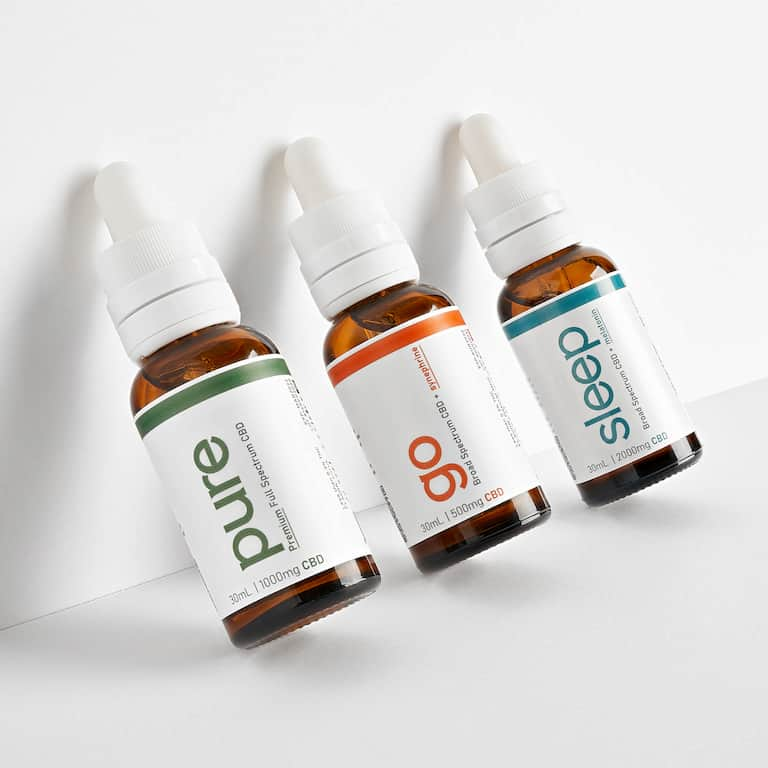 They come in various forms, including the purest CBD oils, Softgel oil capsules, and the famous pure CBD Gummies.
Alongside our CBD oil tincture range, we offer a topical balm and cream made from CBD oil to help you soothe your skin from the outside and within.
Again, you will not find tens, or even hundreds, of different types of hemp-derived CBD items here. Our goal as a company is not to produce every single type of CBD product known to humans it's to make the most effective CBD product on the market.
According to many different organizations and people, we do just that!
The Best CBD Oil in the US
Our specialized range of products will help deal with almost any ailment. Whether you need a little help getting to sleep or need robust pain management, there is an NPB CBD oil designed to help you manage your life a bit better.
Remember, at the end of the day, if you deal with serious conditions you won't be 100% pain free, or 100% anxiety free without a long stint of physical therapy or counseling, for example.
To note, we don't carry any CBD isolate, or inhalable CBD products. Why no CBD isolate, you ask?
Well, we find that a vast majority of people prefer the cannabinoids contained in a broad spectrum CBD oil or full spectrum CBD oil. There is more to a great product that just CBD. There's over 120 different cannabinoids, and they all help in their own unique ways.
A CBD isolate won't contain any other cannabinoid besides CBD. If you are looking for this, New Phase Blends won't be able to help you.
What Can You Expect of Our CBD Tinctures?
What you can expect though, is for our CBD oils to get your levels of discomfort down to a level that is completely manageable. THAT is our goal.
Far too many CBD companies promise that if you take their products they will cure you and make all of your problems go away. Unfortunately, a type of product like this just doesn't exist. If you know of one, please let me know because I would LOVE to use it too (haha).
As far as flavored CBD oil is concerned: we offer two: natural mint and citrus flavored CBD oil.
Finally, we use an organic MCT oil as a carrier oil. We find that MCT oil is both beneficial to our bodies, and mixes well with the hemp extract in its' lipid form.
Sleep: The Best CBD Oil Tincture for Sleep
Specially formulated with our premium CBD and melatonin combination to create a product that helps you fall asleep for a great night's rest when you need it. This patent-pending CBD oil for sleep allows you to fall asleep naturally and sleep soundly, all through the night. 
Enjoy 15% off your order of 'sleep' CBD drops by entering coupon code sleep15 at checkout!
The basics: This powerful, broad spectrum CBD oil tincture has 2000mg of rich, broad-spectrum CBD per bottle for a total of 66.4mg per serving. The added benefits of Melatonin can help you achieve a deeper sleep, with 90mg of natural Melatonin per bottle / 3mg per serving.

The result: You wake up feeling better than ever. Your mind will be rested, and you will feel rejuvenated. The CBD sleep aid is designed to help you reach the deepest levels of sleep. Say goodbye to waking up feeling groggy thanks to this patent-pending formulation.
Go: CBD Oil Tincture for Energy
If you've ever felt your day begin lagging, the advantage of Go CBD oil is its unique blend of Synephrine and CBD for energy.
The Go drops include a broad spectrum CBD oil with extracts from the hemp plant and MCT brain fuel! For times where you need a little boost from nature. 
Save 15% off your order of go CBD for energy by entering coupon code go15 at checkout.
The basics: Each Go bottle has 500mg of CBD-rich hemp extract per bottle for a total of 16.6mg of CBD per serving. Focus and energy found in this tincture come from 300mg of synephrine per bottle or 10mg per serving. Again, you can expect broad spectrum CBD oil to be included in this formula.

The result: GO: CBD will give you plenty of focus and natural energy that will last you throughout the day. There's no 'crash' that comes from using the Go drops since Synephrine is a natural alkaloid found in citrus fruits. Synephrine keeps you focused and alert. Another added benefit of using natural energy from your body is its natural ability to help you burn fat due to the added Synephrine.
Pure: Premium CBD Oil Tincture
This Pure CBD oil comes in two different that allows you to choose between broad spectrum CBD oil or full spectrum CBD oil. The difference is very slight when it comes to actual THC content; however, you can find comfort knowing that the Broad spectrum has 0% THC while the Full Spectrum CBD has 0.3% THC.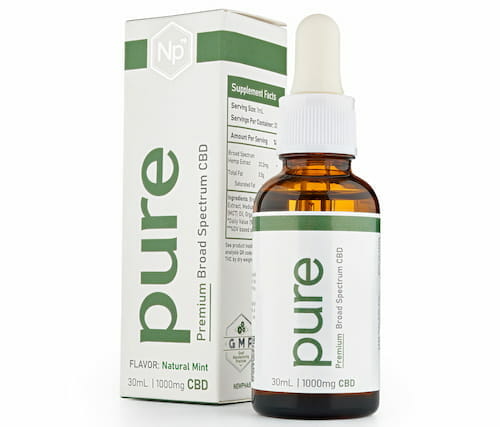 Enjoy 15% off your order of 'pure' CBD drops by entering coupon code pure15 at checkout!
The basics: You can feel no psychoactive effects on the brain with this blend. Each bottle contains about 1,000 mg-2,000 mg of rich CBD extract or 33-66mg of CBD per dose, depending on which spectrum you choose.
The result: Whether you opt for a tranquil mint flavor or a citrus zing, you can be sure to reap all the benefits from this Pure CBD tincture. That can be used daily with a host of health benefits.
These are the three best CBD oils on the market. If you don't like them, just ask for a refund. We do not want to take your money for something that you aren't completely satisfied with. Refunds must be made within 30 days of the original order.
CBD Oil Doesn't Interest You? Check These Products Out Instead!
There is more to CBD than just CBD oil, too. Let's take a look at some of the other popular products by New Phase Blends.
CBD Gummies for Sleep
These CBD gummies for sleep are the same formulation as the CBD Sleep oil for those who enjoy eating delicious gummy bears and like to get a good night's rest.
Enjoy 15% off your order of 'sleep' CBD gummies by entering coupon code gummies15 at checkout!
These gummies come in a great wild cherry flavor, and eating one a half an hour before bedtime is all you need. They contain the same CBD oil and melatonin formula to help you get to sleep and rest all night long peacefully. 
The basics: This broad spectrum CBD-rich organic hemp extract contains 45 mg of CBD + 3 mg of Melatonin per gummy.

The result: The best sleep you have ever asked for! Just like the CBD Sleep oil, you'll wake up refreshed and ready to start your day. 
High Strength Vegan Softgels
If you prefer the convenience of softgel capsules, these are made with 100% plant-based glycerin that you can take with you anywhere.
These softgels are made with pure, organic CBD oil; it's also 100% certified for Vegan usage and has been proven to improve your mood and reduce anxiety or stress while helping you feel relaxed.
Enjoy 15% off your order of 'pure' vegan CBD softgels by entering coupon code pure15 at checkout!
The basics: These 100% Vegan capsules come with 2,400mg of CBD per bottle (total) and 40mg of CBD per serving (one capsule). They are completely non-psychoactive, like everything else we sell. If you are looking to get high, our products aren't for you.

The result: All the health benefits of CBD in an easy-to-take, cruelty-free softgel capsule. 
6) Soothe: Potent Topical CBD Balm
If you're looking for immediate pain relief for various aches and pains anywhere in your body, this product is for you. This Full-spectrum CBD-infused balm is delicately scented with lavender. This soothing mixture contains jojoba oil, beeswax, hemp seed oil, and MCT oil (made from coconuts). The aromatherapy benefits of soothing lavender are a bonus.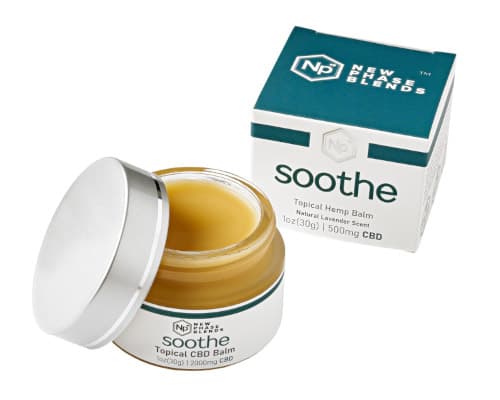 Enjoy 15% off your order of 'soothe' CBD balm by entering coupon code soothe15 at checkout!
The basics: Each jar of soothe CBD balm contains between 500 mg to 2,000 mg of CBD-rich full-spectrum hemp extract.

The result: Fast-acting pain relief. This soothing balm works fast and absorbs quickly into the skin, helping to reduce discomfort and inflammation wherever you apply it.
The Best CBD Gummies
Who doesn't love CBD gummies? They are extremely simple to use, discreet, and taste great. You get all of these benefits without having to deal with dosing the right amount of oil out of a dropper.
The down side is, they take a bit longer to kick in, but if you can deal with that you should give our pure CBD gummies a try!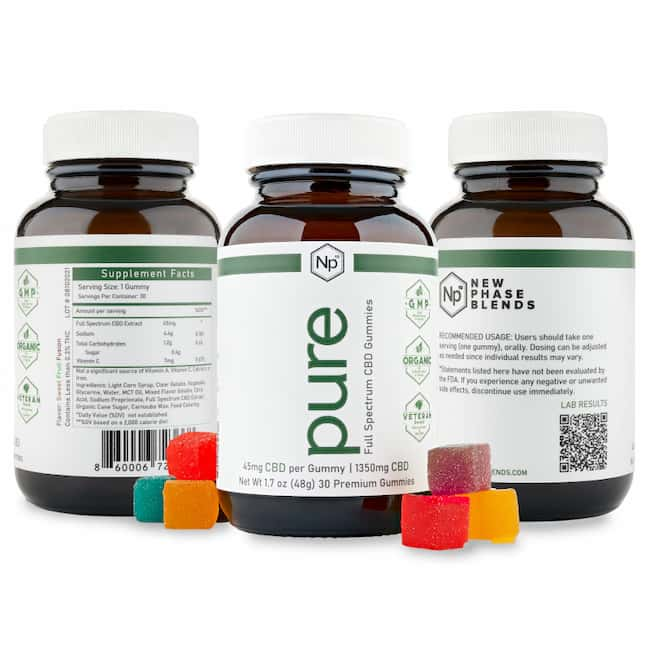 Enjoy 15% off your order of 'pure' CBD gummies by entering coupon code gummies15 at checkout!
The basics: Each bottle contains 30 gummies at 45 mg of CBD per gummy. There is 1350mg of 100% organic, full-spectrum CBD (total) in each bottle.

The result: Similar to the other pure products, you can expect relief from things like pain, inflammation, anxiety, and an increase to your overall wellbeing.
How We Differ From Other CBD Companies
With so many CBD oil brands on the market making claims all over the internet, many of these products aren't as effective and simply don't work. The New Phase Blends CBD store takes a very serious approach by letting our customers know that we stand by each of our products.  
We ensure that we provide accurate and up-to-date information on each of our products. Each product bottle is carefully labeled with all the information you need in an instant. You are never in the dark about what you are taking.
Each ingredient we use is listed, and each bottle has accurate dosage instructions.
What's on the Label?
Each of our products is meticulously labeled to make sure that all guidelines are followed, exactly; you will find all of this information on the label:
The Different Spectrums
Each bottle and product provides a spectrum level that tells you what type of spectrum you have. Two types include full-spectrum CBD or broad-spectrum. For those who are looking for 0% THC, broad-spectrum CBD products are recommended.

The full-spectrum CBD oils only contain 0.3% THC; however, you will not feel any psychoactive effects. Many people do not want their CBD products to have any of the effects caused by THC. Whether you opt for full spectrum CBD or broad spectrum, you can be assured that you will not feel any psychoactive effects.

Third Party Lab Testing
We use a trusted, third-party lab testing facility to give an unbiased and honest look behind our product preparation. New Phase Blends labels have what's called a 'QR code' that links you to our third-party testing lab results.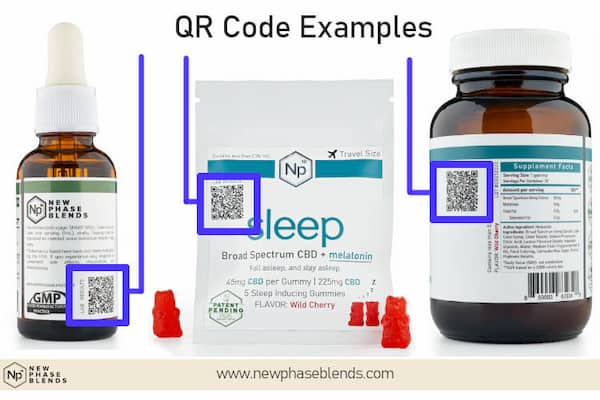 All you need to do is scan this with your smart phone or tablet, and it will link you to the lab analysis of that particular batch.
Related read: How to Read a Certificate of Analysis
Also known as a certificate of analysis, this report will provide you with immediate answers on the exact THC content of your product. You can also view different types of cannabinoid content, pesticide screenings, a heavy metal analysis, and other bits of useful information.
Regardless of if you buy from New Phase Blends or not, I would highly suggest that you not purchase any CBD item that doesn't have a QR code on the label. You just never know what you'll end up getting if a company can't prove their product's worth.
This also gives us further credit to let others know that we produce some of the best CBD oil products. We are not in the business of making wild claims. This differentiates us from other CBD companies on the market.
Certifications of the Best CBD Oils
NPB follows the FDA's standards on goods intended to be reviewed, with continual quality control and product standards. Each of our products is branded with the seal of approval from Good Manufacturing Practice.

This reduces any risk involved for any type of pharmaceutical products and testing of these products. This seal also lets our customers know their safety and well-being are guaranteed as our products are vetted by strict regulations to prevent defects.
You'll also see a veteran owned and operated stamp, 100% organic hemp stamps, and non-GMO stamps. We figure if someone is going to ingest our stuff, they deserve to only have the most premium, high-quality CBD on the market.

Money Back Guarantee
All of our company's products are backed up with a 100% money-back guarantee; you're assured that all New Phase Products will be worth every penny. This is a claim that many others try to follow but will be reluctant to carry out.
If a CBD product hasn't worked for you before, it is most likely because it is not a high-grade CBD product made with quality ingredients. We also stand behind our return policies to ensure that you've had the best service experience possible.
The Endocannabinoid System
Many CBD oil companies don't openly discuss the endocannabinoid system and how it can affect you. We want to be fair and let you know more about the endocannabinoid system and how it can help you obtain a grip on your health and wellness.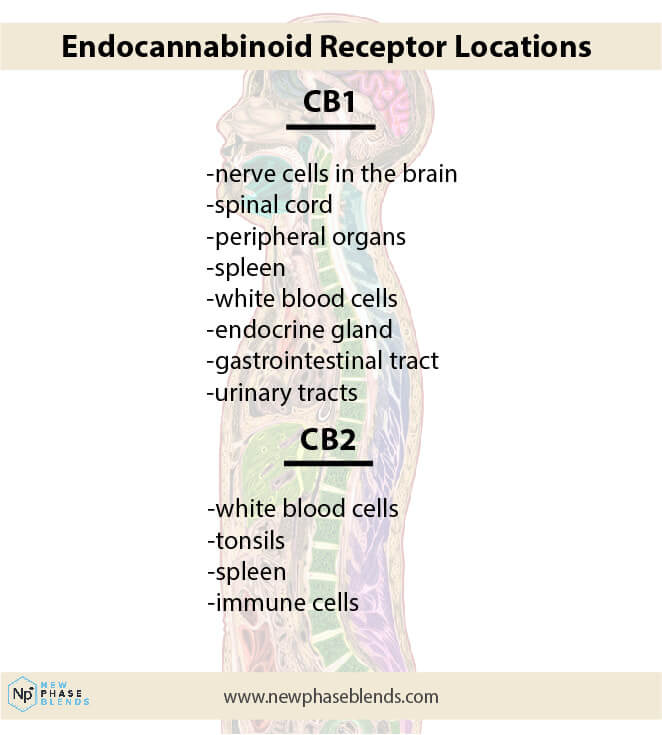 We aim to deliver some of the most essential facts. Since our bodies produce endocannabinoids naturally, some people have lower amounts than usual. This is where CBD products come in handy; they can help stimulate your body to produce these regularly, and naturally.
The Effect CBD Has on The Endocannabinoid System
It's a well-known fact that many athletes use CBD oil to help reduce the effects of sore muscles after games and competitions or demanding training sessions. So it's also imperative to understand that CBD oil also has beneficial effects that have been proven to improve mental conditions and the overall quality of life. This is precisely how CBD oil helps the endocannabinoid system in our bodies.
Your body produces endocannabinoids on demand. When their production is stimulated through the introduction of CBD oil into the body, it acts just like a flow control to slow down and, in most cases, stops the release of neurotransmitters that cause your body to be more subjected to specific conditions.
These conditions can include pain, anxiety, inflammation, and PTSD (Post Traumatic Stress Disorder).
Did You Know CBD Oils Are Prescribed by Doctors?
It's used more often than you think in the medical world to treat arthritis, Parkinson's, psoriasis, substance abuse, and even schizophrenia! Depending on the CBD oil dosage used, many ailments that develop due to neurotransmissions being sent to various parts of our body can be controlled.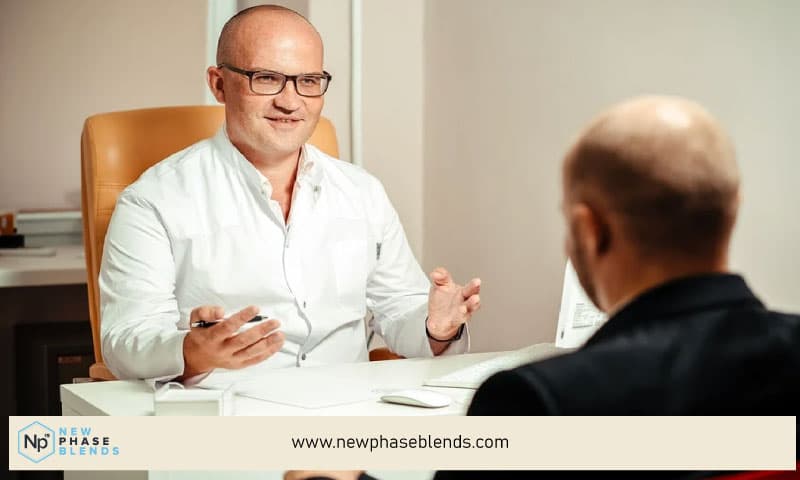 Our CBD requires no prescription, by the way.
Is CBD Part of the Endocannabinoid System?
CBD is not naturally occurring in the body; it is not part of the system. However, CBD oil was found to improve and stimulate the production of endocannabinoids in living subjects. It's more likely to be found in animals that forage on greens and happen to eat hemp plants that contain CBD oil.
This is why CBD can be found in various animals that have consumed hemp plants as part of their regular daily diets.
All living mammals, birds, fish, and even reptiles have shown that they also have the same endocannabinoid system. Animals exposed to CBD oils had a better ability to be more aware and avoid being caught. Many pet owners have found that they can treat their pets with CBD oil to reduce depression in dogs and cats.
It's not only limited to them as nearly any animal that's kept as a pet can share these benefits likewise. Did you know that monkeys will only eat cannabis plants rich in THC when sick in the wild? They understand how to use nature as it is intended.
Because our endocannabinoid system isn't being exposed to pure amounts of CBD oils regularly, the receptors in our body will cause all sorts of problems. This is why CBD oil has the potential to treat a wide variety of illnesses and ailments.
The Role of the Endocannabinoid System
This system plays a big part as a regulator for your entire body. It helps control dopamine and serotonin levels and sends out signals via neurotransmitters to various parts of our body when it functions correctly.
They also respond to physical changes that you can feel, such as pain or inflammation. It can also act psychologically according to your feelings, including sadness, excitement, and unproductive behavior.
The endocannabinoid system should work correctly for your health to thrive, but like everything else, it's a very complicated physiological system. Modern living and a host of other conditionals mean that doesn't always work 100% correctly.
It can be related to a proper diet, yet not everyone gets depressed if they do not eat a well-balanced meal. You can control the production of endocannabinoids through certain foods that aren't considered healthy at all.
One example is how eating chocolate has improved mood and is often called the happy hormone' for women who get depressed. This is precisely how it works when the best CBD oil products are used as a supplement by those who have trouble regulating their endocannabinoid system.
The Effects of Endocannabinoids on the Brain
The brain is the control center of everything within our body and will send out thousands of neurotransmissions all through the day. This helps regulate the organs in our bodies, respond to sights and senses, and coordinates actions and motion.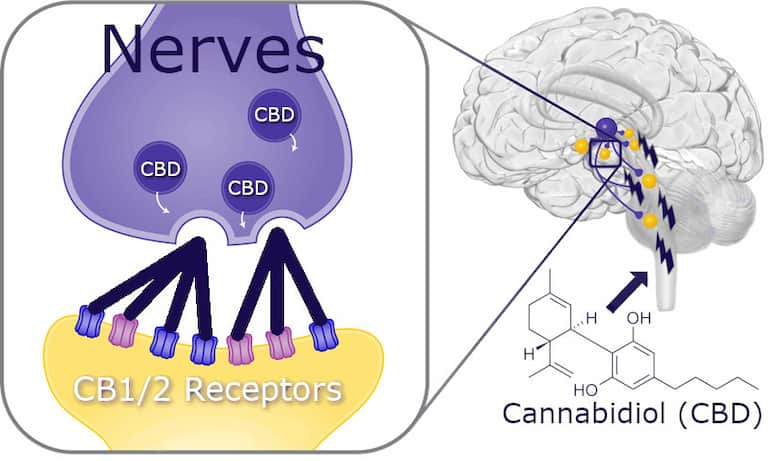 Without endocannabinoids produced, your body's ability to produce hormones that relate to your mood and well-being will begin being affected. Our bodies can actually use cannabinoids, like CBD, via the endocannabinoid system.
If the endocannabinoid system is disrupted for any reason, your health is most certainly at risk. Most of these effects aren't considered life-threatening but can make day-to-day life more stressful and challenging.
The long-term effects of endocannabinoid system disruption can have a lasting impact on your life. If the production of serotonin is disrupted, it can make a person more prone to feelings of anxiety and confusion. This is where CBD oil steps in and help combat these disruptions.
Managing your endocannabinoid system through CBD oils can help you stimulate the brain to produce a regular flow of natural endocannabinoids. This, in return, allows you to live life to the fullest without nagging ailments that can get in the way.
The Benefits of CBD 
Now that you've learned a little bit more about endocannabinoids and what they do in your body, let's look at CBD oil's health benefits and what they do for you. There are more than a few reasons CBD treatment can affect you and improve even the most minor details.
There are also significant advantages that make CBD a perfect choice for treating more serious problems that can't be controlled so easily. Here we can begin unpacking a few of the most important questions that you might have about CBD.
Is CBD Oil Safe to Take Daily?
The advantage of CBD oil is that you can use it every day without harming your body. It's a healthy supplement that improves your concentration and general mood. No matter how you decide to use CBD oil, the results are safe, fast, and effective.
It's not a blocker (like certain pain medications) and doesn't result in addiction since it's not a drug. Those who use CBD oil every day will find that their health and mental outlook are significantly improved.
Functionality of Products Made From the Hemp Plant
Functioning without discomfort due to aching joints and muscles is another great reason to use CBD oil daily. Those who suffer from continual arthritis problems will find they can manage pain better.
Having a clear mind is even better for those who need to think with critical precision more often. It's also the perfect choice for those who have insomnia and have trouble sleeping.
An Added Boost
Adding carefully selected ingredients that offer an extra boost and enhance endocannabinoid production so you can readily produce serotonin to have deeper levels of sleep. It can also be beneficial to have Synephrine mixed with CBD oil for higher natural energy levels when you need it most. Since these are all-natural ingredients, you won't have any nasty side effects that most drugs typically have.
What's The Best Time to Take a CBD Tincture?
Most people will use CBD tinctures in the morning and afternoon. The only requirement with CBD oil meant for sleeping always is used at night time when you want to sleep.
It's not advised to take it during the day, since the increased serotonin levels will make you drowsy and more prone to causing an accident when operating machinery. For the most part, you can enjoy CBD oil products at any point in the day, depending on your needs.
Your best bet is to try a dose, at night, and see how you respond. If it doesn't make you too drowsy, then you are good-to-go for daytime use!
Please note, for those that enjoy our sleep product line, you should avoid operating heavy machinery after use, and only take it when you are prepared for sleep.
Purpose Dependent
When you take your CBD products will also depend according to what you are treating. If you need to treat aches and pains, you can use the balms at any time of the day or night. It can be right before working out or immediately after playing sports or exercising.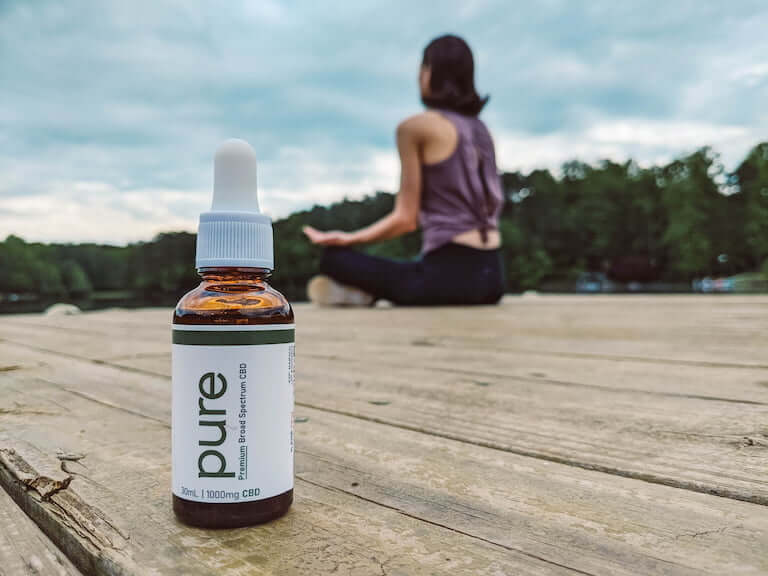 You can increase your CBD level to counter stress and moments that are difficult to deal with during the day if you are moderating doses. There's no wrong time to take CBD since it will automatically help your body to adjust quickly to nearly any situation that's happening.
What's The Right Dose?
The right dose of CBD is going to differ from person to person. That said, we usually recommend starting off with about 0.25 mg of CBD per pound of body weight.
Work your way up, as needed.
Even if you're just starting to use CBD oil for the first time or have had problems with blends that weren't pure concentrations, you'll find immediate results with minimal doses. You can further self-regulate these doses to find the right level that helps you feel your best every day.
Does CBD Improve the Skin?
Not only does CBD have the ability to improve major changes in your mood or deal with pain from aching joints or sore muscles, but CBD oil helps soothe your skin. When CBD oil is added to creams and balms, the effects are impressive when treating psoriasis, eczema, and even acne.
There are added all-natural ingredients in these formulations that are safe to use and help create healthy skin.
Soothing Anti-Inflammation
Salicylic acid in tiny amounts is a naturally occurring compound found in the citrus rind. The ingredients help soothe the skin while allowing our best CBD oil to penetrate easily into your skin. Because CBD oil has anti-inflammatory abilities, it will help reduce swelling and skin irritation much faster.
This is especially helpful for getting rid of skin blemishes caused by acne and pimples.
CBD oil reacts with endocannabinoid reactors within your skin; localized pain and irritation are relieved immediately. CBD is not acting as a steroid; it won't leave your skin with residual side effects. It is 100% natural with helpful additives that help your skin.
Overdosing on CBD Oil Tinctures
In general, there is no such thing as taking too much CBD oil; the trick is to find the correct dose and regulate it daily. You don't want to take more than you need to; to find the right balance. Taking more than you can handle can cause an upset stomach, feeling too tired, and even diarrhea.
It will not kill you, but amounts that are too extreme can cause liver damage if you're going way over the recommended doses.
CBD oil only needs to be used when you need it; you're self-regulating your intake. The same would apply to drinking too much milk or water.
Neither of these will be enough to cause death; however, there is a limit that you're used to. Stick to a daily level that you are comfortable with based on your needs for that day.
Non-Habit Forming
If you need to increase your doses for any reason, you can quickly reduce these doses without any problem. Since CBD oil isn't habit-forming, you cannot become addicted to increased amounts. You can increase or decrease your dosage anytime you need to.
Although there are many questions about the correct dosage, every person also has a different rate of metabolism based on weight and age; your lifestyle also impacts how you metabolize things.
The key to finding the correct dose is to start with one drop, to begin with, steadily gauging the results. It's not going to be long before you see results; for some, it may require another drop. If you're taking CBD oil for sleeping, the recommended dose should only be one drop or one gummy bear to start feeling drowsy within half an hour.
It's always recommended to only start with the lowest dosage and increase by one drop at a time only when there is little to no effect.
What to Look for in CBD Tinctures?
You certainly don't want to buy CBD products that will not be effective enough for your needs. This is why you also need to know what to look for when choosing suitable CBD oils. You don't want to stray too far from what CBD oils can achieve, but the quality of the oil should be your first concern.
Many companies in the CBD industry like to boast about their formulas and have wilder claims to what they can do for you.
Here's really what you want to look for:
The first rule of thumb is you'll want to know if it works effectively, and that all comes down to how pure the oils are. Look for 100% pure CBD oil (sometimes labeled as hemp oil but NEVER hemp seed oil); it should be listed on the label.
It should also tell you exactly what percentage of THC is within that mixture. Ideally, you'll be better off with 0.0% THC, but a formulation with 0.3% is ideal as well.

These tell you that zero THC is present and it will never produce psychoactive effects on your body.
You also want to look for all-natural ingredients, and carrier oil mixtures added into these products, such as natural flavors, Melatonin, or Synephrine, are perfectly acceptable.
Even the addition of natural ingredients like MCT oil made from coconut, jojoba oil, beeswax, and hemp seed oil will be excellent additives that are safe for your skin and body. If you see added chemicals that seem out of place, stop and reconsider using that product.
You need to know if your CBD blend is a full-spectrum CBD extract or contains broad-spectrum CBD extracts. Every ingredient should be listed on your product's label, along with supplemental facts. This determines how pure the oil you're using is based on the actual THC content.
Which Strength CBD Oil is Best for Me?
Most CBD tinctures are offered in different strengths. This strength is listed in milligrams of CBD that is available per CBD oil product and dose.
CBD Gummies, unfortunately, are not always made equal between each CBD brand. All of the gummies produced by New Phase Blends contain 45mg of pure CBD hemp oil with 3mg of Melatonin since they're intended for sleeping. We ensure that our gummies are accurately measured according to dose to ensure you get the best out of every night's sleep.
Standard blends with 1,000mg-2,000mg are considered high potency, while 500mg is reserved as a mid-potency level. Lower milligram levels mean that your dosage per drop is 16.6mg for mid-potency, while higher doses that aren't mixed with natural additives can be higher with 33-66mg when 1,000-2,000mg units are purchased.
You can adjust the strength accordingly to your needs and how the products make you feel. If you need something a little more substantial, opt for higher strength; you can quickly drop down to mid-level potency on days that you need a lighter touch.
Choosing the right oil that matches your ailment or problem also counts for getting the right amount of milligrams needed per dose.
Of course, this all depends on how refined the CBD oil happens to be. New Phase Blends go to great lengths to have 3rd party lab testing performed; we offer a certificate of analysis for each product offered.
Which Drugs Should Not Be Taken With CBD?
Your overall health is vital, but there are some things you should know about CBD oil that could conflict with medical regimens and prescription medications that you may already be taking.
The first step is to consult a doctor to determine if your drugs will interact with CBD oils. Since different kinds of medications all work differently, there are side effects that may reduce the effectiveness of CBD in general.
While some medical studies have taken a closer look at this issue, the overall consensus is that CBD could compromise the metabolism of medicine you already take. If you don't take any medication, there is no potential for side effects whatsoever using CBD oil.
Additionally, if you experience any side effects from CBD products, it's recommended to stop using them immediately.
CBD oil will be 100% safe to use if you aren't currently taking particular medications. A quick check with your doctor or pharmacist will tell you right away if you're a good candidate for taking any CBD products in general. It's best to check ahead before running into any complications that can arise later.
Pure CBD Oils: You Can Count on Us
New Phase Blends continually provides information and promotes awareness of the many health benefits of CBD. The positive nature of CBD oil products and CBD topicals and how they work is in a constant phase of discovery. New wonders of what it can offer the body and are regularly found.
As opposed to the popularity of CBD oils containing THC, these are not endorsed by New Phase Blends and can contribute to many complications and health risks. New Phase Blends products are THC-free or have a very minimal amount (0.03% these are carefully labeled for your ease of mind)
One of the BEST CBD Brands on the Market Guaranteed Or Your Money Back
We have taken every step to ensure that our products are the purest and most effective CBD Hemp oil that we can produce. Many other CBD brands won't make this promise and will not provide a guarantee that's been given the Good Manufacturing Practice (GMP)stamp of approval.
This is why we stand behind our products and the potential health benefits they can offer you. Unlike other CBD oil-producing companies, we are dedicated to providing immediate answers right away.
New Phase Blends; Get in Touch
If you have questions, we are happy to help answer them. Most of the information you need is easily found on our website. You can contact us during regular business hours or reach out to us on Facebook and Instagram.
We also have many instructional and helpful videos on YouTube that give you further information on the best CBD oils made for you. We welcome your comments and will be more than happy to hear from you all across the internet.
References:
European Journal of Pain: https://www.ncbi.nlm.nih.gov/pmc/articles/PMC4851925/
Forbes: https://www.forbes.com/sites/andrebourque/2019/06/24/as-competition-increases-cbd-companies-need-the-right-mentors-to-survive/
Journal of Clinical Medicine Research: https://www.ncbi.nlm.nih.gov/pmc/articles/PMC7092763/ , https://www.ncbi.nlm.nih.gov/pmc/articles/PMC6678684/
Pharmacology Review: https://www.ncbi.nlm.nih.gov/pmc/articles/PMC2241751/