"Hey Dale, How can I identify good CBD sleep products, and where can I buy some?"
This is one of the questions people ask whenever they have trouble sleeping, and wish to turn to CBD for some help. Research has shown that CBD, while interacting with the endocannabinoid system and neurotransmitters, can produce a wide range of results relating to:
antioxidant
sedation
antimicrobial
analgesic
anti-inflammatory
anti-depressant
While these effects are interesting (at the least), and may make you rush to purchase the first CBD product you see, adequate care must be taken not to purchase a CBD product without any active CBD in it. Some companies are selling either under-dosed, or fake CBD products. Make sure to do a google search on the product you are about to buy. You can tell right away if it is legitimate, or not.
If you are looking for some good CBD products for sleep, then you are in the right place.
In this article, we have compiled a list of CBD products you can try for your sleep-related conditions. Please note that these products were listed based on client feedback and not endorsements from the FDA or any other regulatory body.
The Best CBD Sleep Products
Here are some of the best CBD sleep products on the market (if not the best). New Phase Blends has developed a patent-pending formulation that involves cannabinoids like CBD. Their sleep products are top notch, and will work or your money back.
Sleep CBD + Melatonin Gummies for Real Sleep
This is one of the few CBD products that effortlessly promotes sleep in users. The combination of CBD and melatonin makes it a natural remedy for people who are battling sleep-related disorders like insomnia.
The product is made from a combination of premium, CBD-rich hemp extract and melatonin formulation to promote interaction between the neurotransmitters and sleep. The result is a deep sleep that you won't wake up from until morning.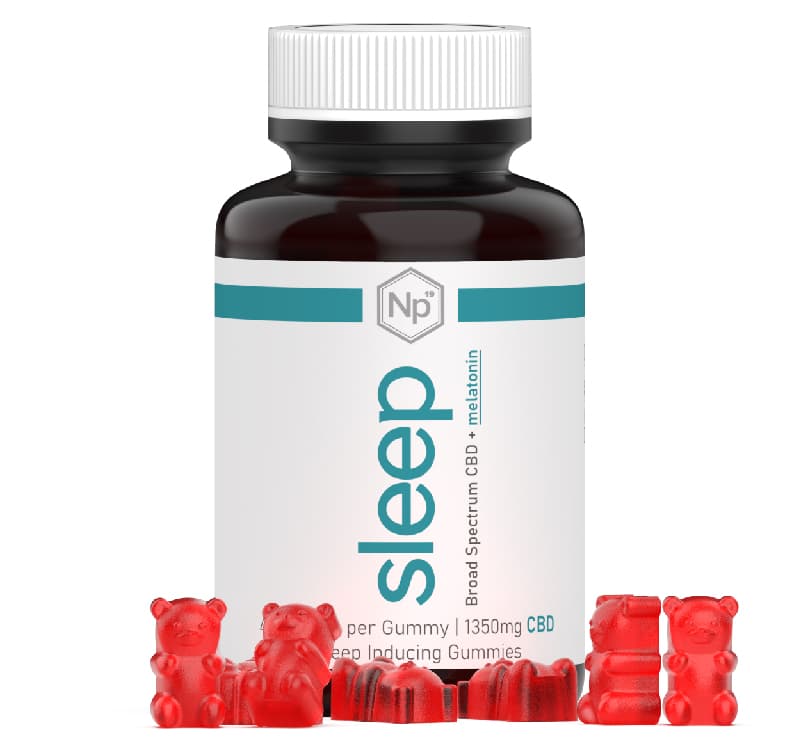 It is important to note that the body produces melatonin as the hormone responsible for controlling when we sleep or stay awake. The hormone's activity is affected by the presence of darkness, thus the reason why we fall asleep easily in a dark room.
By combining CBD and melatonin in this product, New Phase Blends created a synergy between the most important factors responsible for sleep. While melatonin stimulates the sleep-wake cycle, CBD interacts with other neurotransmitters like serotonin and GABA to trigger the release of feel-good hormones. Only the best CBD sleep products take advantage of this little-known fact. This keeps the user relaxed and ready to enjoy a good sleep.
As a sign of quality and dedication to customer needs, New Phase Blends focus on using premium-grade, organic hemp with little to no THC (less than 0.3%). This serves to take care of concerns arising from failing a drug test to battling with the psychoactive effects of THC. You will not feel any psychoactive effects  at all. It isn't possible.
The cherry-flavored CBD gummies are excellent and leave you feeling sleepy, or your money back! They come in a travel-friendly 5 pack, or full-sized 30 count bottle.
CBD Sleep AID: CBD + Melatonin Drops
CBD sleep products have a long history of providing one of the best sedative effects. This is thanks to the slow enzymatic processes that release them after you consume it. When it comes to dealing with sleep challenges, experts and users have attested to CBD oils' power in triggering a wide range of beneficial reactions to reduce pain, take care of inflammations, and promote internal balance and relaxation.
All that's required is for the user to identify the right dose, and they are on their way to experiencing their best sleep in a long time.
The CBD sleep products from New Phase Blends come from premium-grade hemp containing less than 0.3%. The hemp comes from organic farming practices without traces of pesticides or other additives.
This product may assist users to fall asleep or stay asleep for a long time. It combines the power of CBD with melatonin (like the gummies mentioned above) to bring a natural remedy to sleep-related challenges. The product features a combination of 2000mg of CBD and 90 mg of melatonin per tincture, with 30 servings per tincture.
Apart from taking care of sleep-related disorders, CBD sleep aids are equipped with the right tools to tackle chronic pain, anxiety and depression, and a host of other conditions.
Soothe: Potent Topical CBD Balm for Relaxation
CBD balms and topical creams can be as effective as CBD oils in providing the much-needed effects of CBD. This is because the skin is well supplied with cannabinoid receptors that can interact with CBD. There are reports on how applying CBD balm on local areas with pain can promote sleep. In most cases, users have attested to feeling relaxed 30 minutes after applying CBD balms on an area that they are experiencing pain (i.e.: sore elbows or joints), which helped them sleep well.
To give users a third choice, our topical CBD balm features a varying concentration of 500 – 1000 mg of CBD extracted from organic hemp. The CBD-rich balm is 100% contains less than 0.3% of THC, which means it's federally legal and it cannot get you high.

The wonderful lavender scent is the icing on the cake. A lot of CBD balms have a horrible smell, but not 'soothe.'
Soothe also features ingredients like beeswax, jojoba oil, and hemp seed oil. The hemp seed oil is not a source of CBD. It helps create the perfect texture for an effective balm. CBD sleep products aren't all taken orally, and 'soothe' is a perfect example of this.
Watch out for products that only have hemp seed oil. Hemp seed oil contains no CBD. Some companies are actively trying to trick people into buying it.
Information from research shows that CBD balms can penetrate the skin and allow the dermis to absorb all the nutrients.
Conclusion | Get Better Sleep Tonight
All CBD sleep products stem from several years of research about the cannabinoid system. Please note that all direct medical claims in this article are from research. There are not any official statements from the FDA or any other regulatory body. The FDA still hasn't approved CBD for use as a dietary supplement. Therefore, we have to be very careful in what we can, and cannot, say.
Now you know a little more about CBD sleep products. It's time to make your purchase, if you're sold. Make sure you find a reputable source before purchasing. Great CBD companies are out there, and their products are top-notch.
Feel free to browse through our collection of CBD products and let us know what you think after trying them. People love New Phase Blends for a reason: we offer effective, real CBD products that give real results.