When you think of all the therapeutic benefits that come with using reliable, high quality, CBD products, it's no wonder why so many people are interested in at least giving them a try. Some studies show that CBD can help with managing the symptoms of some conditions, including anxiety, epilepsy, and pain. Free shipping is simply an added benefit to this wonderful product.
New Phase Blends is rapidly growing as a popular option for many people interested in purchasing the best quality CBD products on the market. Not only are their products made of high quality, organic hemp, there is one more factor that has led to their massive growth in recent years.
All CBD items come with free shipping within the United States. That's right.
There's no need to try to find coupon codes or a discount code for free shipping, because it comes with every order. Most online merchants do not offer this.
Before you purchase the products, you should check local legislation, especially if you're traveling. You should also keep in mind that the Food and Drug Administration (FDA) has yet to approve nonprescription CBD products.
Fake products might be labeled inaccurately by CBD brands watch out for this. With the number of products available on the market, you might feel a little overwhelmed. That's why New Phase Blends has made it easier for you to access the top CBD products available, with a price, quality, and ease that no one else can compare to.
But before we get into those details, let's make sure you understand how to best protect yourself and make sure you are making a legally allowed purchase, based on where you live.
Is CBD Legal?
CBD (cannabinoid) that's derived from hemp is federally legal within the United States. All CBD oil products made from hemp can be sold and used without any legal repercussions.
However, CBD that's made from marijuana is only legal in a few states that have legalized the use of marijuana. Makes sense, right?
It's very important that you purchase the products from a trusted source, like New Phase Blends. In the United States, hemp-derived CBD products that have less than 0.3% are federally legal, but they're still illegal under a select few state laws. So for most people, these are legally and medically safe products to purchase online.
All the CBD products sold by New Phase Blends online store are considered THC free since they contain less than 0.3% THC.
Free Shipping on CBD
If you've ever purchased CBD products online, then you know how frustrating it can be to see your free shipping code show up as invalid. Some CBD brands offer discount promotions in the form of discount codes that give free shipping.
The problem with these promo codes is that they typically don't last long, or there are certain conditions that must be met, like buying a certain dollar amount.
New Phase Blends offers free standard shipping on all orders within the USA. Whether you spend $15, or $100 you get free shipping through their merchant website. They also offer expedited and rush shipping options.
While an extra payment is required for those options, it is quite reasonable, especially when compared to other CBD suppliers. It's very rare to find any CBD company that offers free shipping, and also has high quality products. Despite offering free shipping, the delivery speed with New Phase Blends is quite fast.
Additionally, you get 15% of your entire order of CBD oils when you use the coupon code CBDblog at checkout. Imagine, high quality CBD products, great prices, free shipping that doesn't require fresh coupons, plus 15% off.
It's almost too good to resist.
The Best CBD Edibles With Free Shipping
New Phase Blends offer a fantastic selection of CBD edibles with a detailed ingredients list and QR code on every single product sold.
They also make it easy to choose flavors, spectrums, and strengths. Since all hemp-derived CBD products are legal, their CBD products are completely safe to possess and use. It's a great company with great products.
It's truly difficult to find a company like this that constantly offers the best deals in the CBD industry.
There are many essential elements that go into making cannabis oil, like CBD oil. While there are many more details that are able to be seen throughout their website, it is important to note they have real certifications and achievements, including Good Manufacturing Practices (GMP) certifications, Non-GMO items, patent-pending products (filed with the US Patent & Trademark Office), all with a 100% risk free money back guarantee.
They are also veteran owned and operated, which is probably why they are so dedicated to their customer base.
There are many companies in the CBD industry that are trying to make fast money at the expense of people's health and wellbeing. It's good to buy from a trusted source like New Phase Blends, especially when you consider the fact that they offer free shipping without the use of coupons, coupon codes, or other promo codes.
You even get access to your own membership page where your order history is maintained.
CBD Items Explained
If you suffer from different types of pain, then CBD is a solution worth considering. CBD has a number of different potential health benefits including those that relate to: inflammation, anxiety, pain, and even quality sleep.
The level of effectiveness of the CBD oil products is determined by the interaction between endocannabinoid (ECS) and CBD receptors in our body. All the products have a proper dose of CBD that can effectively interact with the CB1 and CB2 receptors in order to offer you real relief.
New Phase Blends has a variety of topical CBD products that provide you with relief for different conditions. You'll get access to things like full spectrum CBD balms that have all of the naturally occurring cannabinoids found in the cannabis plant.
The products can be used for control of skin defects, such as eczema and acne, while also helping with pain than can be associated with certain skin issues. You won't suffer any psychoactive effects with the balms because they have less than 0.3% THC, which is the cannabis plant compound that makes someone high. CBD is non-psychoactive, and is completely different from THC.
Consumers Save Money Through Good Products
Some people use CBD several times a day while others use it more sparingly. Regardless of how often you use it, you will be able to feel the relief that it brings (unlike many other brands).
With the wide variety of benefits, high-quality products, reasonable pricing and free shipping, it is no wonder why New Phase Blends is growing in popularity and consistently getting 5 star reviews from its customers.
You can view the reviews of the products they sell on every single product page. They maintain an extremely high product review rating, which isn't surprising.
Organic Ingredients Make a Better Product
All of the products from New Phase Blends are made with organic hemp and organic essential oils for mild flavoring adjustments.
During manufacturing, different botanicals are combined with pure, organic hemp extract that provides you with some of the safest products that are available on the market. You will only find legal, GMP certified hemp products at New Phase Blends. All the products manufactured are tested and backed by a third party certificate of analysis that verifies their consistency and quality.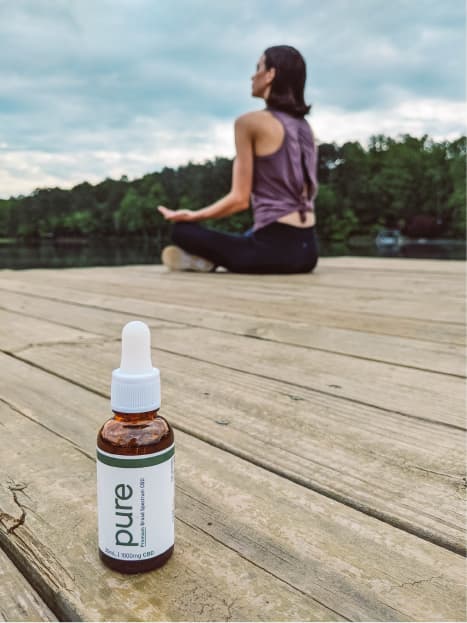 Every product you purchase passes all the current federal guidelines. They don't contain any weird chemicals or unwanted solvents.
See for yourself and scan a QR code on their products. It will instantly bring you to that product's certificate of analysis which shows things like cannabinoid profiles, heavy metal screenings, and residual pesticide content.
Some CBD brands have QR codes, but all the codes do is bring you to their webpage. This is not a sign of quality. If anything, it's trickery.
Affordability
All New Phase Blends' CBD products are very affordable when compared to other organizations. You get the best hemp-derived CBD products on the market that are simply unbeatable at a very reasonable price without having to pay any ridiculous shipping fees.
On top of all that, you'll get a 30 day money back guarantee. Don't like what you bought? Return it within 30 days of your original order and you'll be refunded in full.
Do yourself a favor and check out the wonderful selection of products at New Phase Blends. Get the health solutions you need and take advantage of their fast and free shipping today!
Why You Should Choose New Phase Blends' CBD Products
New Phase Blends is a veteran-owned and operated CBD company that provides a variety of CBD products. The store has some of the best CBD topicals and oral products that are very effective.
Customers can also find useful links to to educational articles all about CBD and hemp. No other brands on the market can compare. All the hemp products work wonders, according to several happy customers.

You most likely won't have any complaints on a product not working like it's supposed to. Their CBD products are made from premium, organic CBD oil infused with other effective compounds that provide you with relief from a variety of life's challenges. All of the products are thoroughly tested, and contain very few traces of THC (less than 0.3%), too.
Try it out and see for yourself. You'll be glad you did.