The best natural sleep aids of 2022 may come in a form that you wouldn't expect. If you've landed on this page, you are like one of the millions of people who struggle with getting a good night's sleep. Remember when you were a child, and you could put your head on the pillow and wake up in the morning? I know I do, and it was great! It can be this way, again. You may be surprised at exactly what makes the list as the best natural sleep aid in 2022.
Sure, some people may require a more serious medication to help them sleep. However, did you know that most insomniacs, really just need a little bit of help that can come in the form of a completely natural sleep aid? Let's go over some of the best natural sleep aids in 2022.
Are Natural Sleep Aids Effective?
Some of the best natural sleep aids available are actually quite simple in nature. Since they are natural, it isn't necessary to overwhelm people with several different chemicals to force their body to get some sleep.
Sometimes when some people try an 'all-natural' approach to medicating, they don't feel results. Then, they think that natural compounds just don't work. I can understand why they think that. However, just because their experience with one natural medication wasn't good, it doesn't mean they are out of luck.
Natural sleep aids are a fantastic approach to sleep management because you aren't throwing a ton of chemicals into your body that overwhelm your brain. The sides effects of doing this are things like: excess grogginess, an even greater inability to sleep, or a messed up sleep pattern.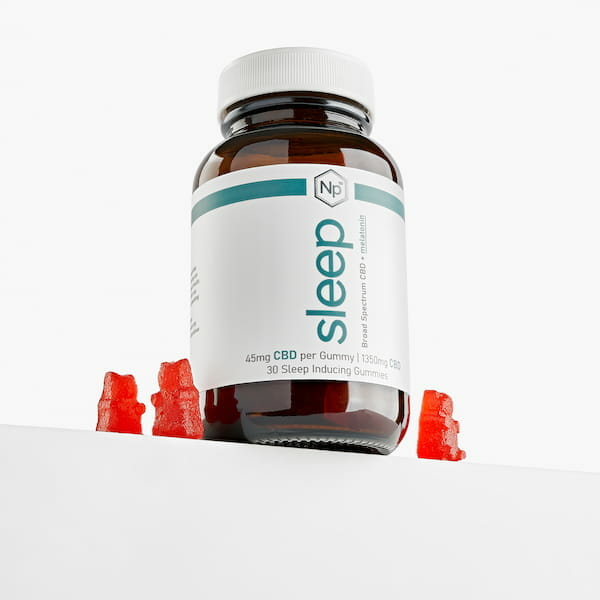 Most people would benefit from a natural sleep aid, but they need sleep so badly they want to strongest sleep aid possible. They will often do anything to get a good night's sleep.
How Do Sleep Aids Work?
Keep in mind that different compounds work within our bodies differently. For that reason, this section will be a little broad when it comes to how sleep aids work.
Sleep aids typically target different areas in the brain, and help induce certain states of relaxation or sleepiness. They try to influence the sleep-wake cycle (also known as the circadian rhythm) in an effort to make you fall asleep when you otherwise wouldn't be sleepy.
The area of the brain responsible for this is found partially in the hypothalamus. Without getting too into the nitty gritty details, this part of the brain contains melatonin receptors.
You've heard of melatonin, right? I'll get more into exactly what melatonin is later on in this article, and why it is important.
The Best Natural Sleep Aid of 2022
'Sleep' by New Phase Blends is a patent-pending, CBD-based natural sleep aid that is proven to work quite well at it's job. A CBD-based sleep aid simply means that the main formulation revolves around using cannabinoids, like CBD, to help achieve a real, deep sleep. Imagine a sleep so deep, you would think you're a child again.
This completely natural sleep aid uses an effective two-stage formulation. This helps you not only fall asleep, but more importantly, stay asleep. Here are the major ingredients:
Cannabidiol (CBD) has gained a lot of popularity since the Farm Bill of 2018 was signed into law. This bill legalized hemp and hemp-based products, so long as they contained less than 0.3% of THC. CBD is one of the ingredients in hemp, and studies show it can aid in helping you relax. It is non-psychoactive, and not addicting at all. Many people understand the therapeutic benefits of THC, but THC is only one of several beneficial compounds within cannabis.
People have been relying on melatonin as a sleep aid for quite some time now. Melatonin is a hormone released by our bodies that tells us "Hey! It's time to go to sleep." This is what makes it a powerful combination when mixed with CBD. CBD and melatonin work insanely well together. The melatonin helps put you to sleep while the CBD helps you stay asleep.
The other ingredients are MCT (medium chain triglyceride) oil, and natural flavoring: either citrus, or natural mint. That's it! Those are the only ingredients.
This goes to show that you do not need a bunch of laboratory chemicals to help you achieve real results when it comes to better sleep. Keep this in mind when reading about the best natural sleep aids of 2022.
Tell Me More About New Phase Blends
New Phase Blends (NPB) is a veteran owned and operated organization that aims to help provide relief. They do this by blending CBD with other natural, well known substances that are proven
to give real aid. CBD products are a dime a dozen, and while people are finding a little relief by using CBD alone, it can be far more effective when paired with other compounds.
In fact, NPB is so good at making quality CBD products, they are featured in major news networks across the United States. Click here to read a Forbes report on the CEO, Dale Hewett, and what he is doing to help people learn more about CBD.
Dale has an interesting story when it comes to using CBD as a natural sleep aid. He suffered a spinal cord injury while on Active Duty in the US Army, and began taking CBD a step further by creating products, like 'sleep.' Read more about Dale and his CBD journey that led to the creation of New Phase Blends. His story alone helps add to the credibility of why 'sleep' is one of the best natural sleep aids of 2021.
Try it Tonight You'll Thank Us Later
I get it you need some help getting sleep. I've been there before, too. 'Sleep' is absolutely one of the best natural sleep aids of 2022on the market today. This patent-pending sleep aid has helped thousands of people get the sleep they deserve. Nothing is worse than hopelessly hoping and praying you fall asleep, only to make falling asleep even ore difficult.

There is a reason so many people are using this natural sleep aid. It works plain and simple. If it doesn't work, just ship it back for a full refund. New Phase Blends offers a 30-day money back guarantee on every product they sell, except for the eBooks. Do yourself a favor and get your body and brain back on the right track with some quality sleep.